The 13 Best Options for Flower Delivery in Adelaide
We know picking a florist is hard. On top of that, they also have to be reliable? Have the bouquet you love? Available TODAY? Now that's just impossible.
Luckily, we did the work for you.
Here we are, far too many coffees later: our list of the best options for flower delivery in Adelaide, ranked by their quality, variety, delivery, and prices!
We promise they're all tried-and-true, mother-approved. So, without further ado…
NOTE: Due to the current pandemic crisis, most stores in our list have implemented changes in their services. We've noted these restrictions on our list below.
1. Adelaide Flowers

| | |
| --- | --- |
| BEST FOR | Simple, affordable and long-lasting bouquets & arrangements |
| SELECTION SIZE | Medium |
| PRICE RANGE | AUD 50 – AUD 157 |
| DELIVERY FEE | Free Same Day Delivery |
| WEBSITE | www.adelaideflowers.co |
| CONTACT | Contact Form |
| PAYMENT | Visa, Mastercard, Paypal, Bank Transfer |
Adelaide Flowers spreads happiness and optimism through their beautiful flowers. Their beautifully crafted and affordable blooms can effortlessly put a smile on their customer's face, especially since their top-notch quality go hand-in-hand with fast and reliable flower delivery. That's why their slogan is "Happiness delivered wherever in 90 minutes!" Their professional florist handcrafts each order using the freshest blooms sourced from world-renowned flower farms for long-lasting floral designs. From modern hand bouquets, gorgeous grand opening stands and comforting funeral wreaths, Adelaide Flowers pays special attention to details to convey the appropriate story and emotion. Then, their impressively fast flower delivery in Adelaide ships the order from the shop to the recipient's doorstep in less than 2 hours. So, make someone happy today with Adelaide Flowers!
2. Bloom Town Flowers

BEST FOR
Freshly-picked, garden-style bunches
SELECTION SIZE
Medium
PRICE RANGE
AUD 25 – AUD 416.95
DELIVERY FEE
Calculated at checkout
WEBSITE
www.bloomtown.com.au
CONTACT
(08) 8278 4970 | 

[email protected]

PAYMENT
PayPal, Visa, Mastercard, American Express, Diners Club, Stripe
Owner Camilla has been in the floral industry for 22 years working locally and internationally. While abroad, she longed to open her own florist in her home neighbourhood of Blackwood. Bloom Town has enabled her to share her skills from adventures overseas in the Adelaide Hills by providing gorgeous blooms for everyone and for every occasion.
The Bloom Town philosophy is to present beautifully fresh seasonal flowers, foliage and plants highlighting Mother Nature's wonder. Far from the usual floral fare, Bloom Town delights in the unusual and unique. Their floral range is complemented by expert advice and if you need something other than flowers, their creative team will happily assist you in choosing the perfect item from their range of gifts.
You can order flowers to be collected or delivered from Monday to Saturday with same day deliveries guaranteed for local orders placed by 12pm.
NOTE: They only have limited stocks available but rest assured that they'll give you the best alternative to your desired choice of flowers. Visit their Facebook and Instagram to see their available collections.
3. Luxe Blooms

| | |
| --- | --- |
| BEST FOR | Boxed arrangements, preserved roses |
| SELECTION SIZE | Small |
| PRICE RANGE | AUD 39 – AUD 424 |
| DELIVERY FEE | AUD 15 |
| WEBSITE | www.luxeblooms.com.au |
| INSTAGRAM | @luxebloomsadelaide |
| CONTACT | [email protected] |
| PAYMENT | AfterPay, PayPal, Visa, Mastercard, American Express |
Luxe Blooms is online florist providing flower delivery to Adelaide's Northern, North-Eastern and North-Western suburbs. Same day delivery is possible in some circumstances, just contact them to find out. Customers also have the option of picking up orders at Blakeview. They specialise in luxury rose boxes, preserved roses that can last a year, and metallic gold and copper roses. At Luxe Blooms, buying flowers online is a quick and easy experience, especially with their friendly customer service. Their upcoming collection of preserved rose boxes will soon be available for interstate shipping, so watch out for announcements on their site.
NOTE: After years of service, they've decided to officially close the store and it's currently up for sale.
4. Portrush Flowers
| | |
| --- | --- |
| BEST FOR | Lush birthday bouquets, anniversary and sympathy flowers |
| SELECTION SIZE | Medium |
| PRICE RANGE | AUD 29 – AUD 550 |
| DELIVERY FEE | Calculated at checkout |
| WEBSITE | www.portrushflowers.com |
| CONTACT | (08) 72257539 |
| PAYMENT | Credit or debit cards |
Portrush Flowers' cute little cottage house in the eastern suburbs welcomes you with a smile as you enter. This charm translates into their beautifully designed bouquets and arrangements for birthdays, anniversaries, tributes, functions and weddings. Their lux posies start at AUD 29 with same day delivery applicable for orders placed by 2pm. Instead of sending generic designs your way, their florist pays attention to the little details so that each bouquet is tailored specifically to each customer.
The fresh flowers included in their beautiful botanical bouquets are hand-picked fresh from local growers cultivating premium blooms in line with their eco-friendly and conscientious approach to floristry. No job is too difficult, so feel free to collaborate with their team to achieve customised designs or a bespoke bouquet for a special occasion.
5. The Local Bunch

The Local Bunch is an online florist that delivers lovely flower bunches, wreaths, and crowns in Adelaide. To ensure that their products are always fresh, they visit the local flower market each morning and source the freshest flowers to create a floral design in our garden style each weekday. Delivery is can also be free for those that fall under 200+ Adelaide suburbs, but for those that aren't in the free zone, there's  extra $15 for delivery. The Local Bunch takes orders before 3pm each weekday or until sold out. Then from 1pm – 5pm, they will deliver your bunch right to your recipient's location.
NOTE: They currently have a limited supply but as soon as they've secured more flowers from local suppliers, they'll be accepting more orders. They've also changed their delivery procedures for the meantime.
6. The Blu Tulip

BEST FOR
Seasonal blooms in charming, rustic packaging
SELECTION SIZE
Medium
PRICE RANGE
AUD18.50 – AUD115
DELIVERY FEE
Funeral Deliveries – AUD6.50 surcharge
Sunday Deliveries – AUD30.00 surcharge
Urgent Deliveries within Next 3 hours – AUD15 surcharge
Residential After 4pm Deliveries – AUD10 surcharge
WEBSITE
www.theblutulip.com.au
INSTAGRAM
@theblutulipflorist
CONTACT
1300 866 968 / (08) 8355 0204 | [email protected]
PAYMENT
PayPal
The Blu Tulip provides beautiful seasonal flowers available for delivery in Adelaide and the surrounding suburbs. Their bouquets and arrangements look freshly picked and lush, handcrafted with love by a local Adelaide florist. Their interesting, enchanting choices of fillers adds a charming twist and dynamic textures to the floral bunches. Plus, they have a 7 day guarantee which ensures the freshness of the flowers for 7 days! If you follow the usual floral upkeep of changing the water every day, cutting the stems and using the flower food provided by Blu Tulip, the flowers should last 7 days.  If the blooms don't make it to the 7 day mark, Blu Tulip will replace them free! Finally, orders must be received by 10am on the day of delivery in order to guarantee same day delivery.
NOTE: For the time being, they can only provide limited online offers and there'll be no available delivery service.
7. Gawler Flower Gallery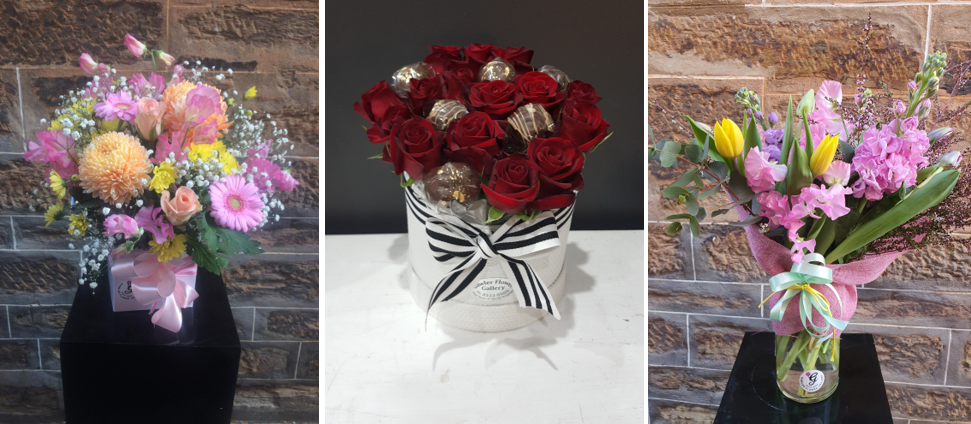 | | |
| --- | --- |
| BEST FOR | Big, bucolic bouquets and mixed seasonal flowers |
| SELECTION SIZE | Medium |
| PRICE RANGE | AUD 35.00 to $AUD 250.00 |
| DELIVERY FEE | From AUD 8 |
| WEBSITE | www.gawlerflowers.com.au |
| INSTAGRAM | gawler_flower_gallery |
| CONTACT | +61 8 8523 0500 | [email protected] |
| PAYMENT | Apple Pay, Mastercard, Visa |
Gawler Flower Gallery is a family-owned business that has been in operation since 1998 in Gawler. They source high quality fresh flowers directly from local farms, interstate and other parts of the world to create the perfect arrangement for any occasion. Their diverse catalogue of floral designs range from a single-stem rose and mono bouquets to large, striking arrangements featuring a variety of blooms and foliage. You can likewise collaborate with Gawler Flower Gallery to make your vision come to life with stunning flower arrangements for your wedding or event.
8. Blackwood Florist

This homegrown business has been providing fresh, quality flowers and personal friendly service to the community since the early 1980s. Blackwood Florist, located in the Adelaide Hills, has a large selection of creative designs for any occasion as well as unique gifts and home decor. If you want something more personalised and unique, they can create and design to your specific requirements using their quality hand-selected and market-fresh flowers. Blackwood Florist also provides arrangements for weddings and special events in Adelaide, collaborating closely with clients to design the perfect celebration or event flowers and make it a memorable occasion.
Fresh flower deliveries from Blackwood Florist are available to Adelaide and surrounding suburbs with same-day delivery to orders completed before 1pm. For delivery to a business address, submit your order before 12pm to ensure same-day delivery. They can also deliver on Saturdays if the order is placed before 11.30am.
9. Hayley's Flower Shop

BEST FOR
Personalised service, quality flowers and stylish balloons
SELECTION SIZE
Medium
PRICE RANGE
From AUD 50
DELIVERY FEE
From AUD 15
Next day delivery for orders placed by 12pm the previous day.
WEBSITE
www.hayleysflowershop.com.au
INSTAGRAM
@hayleys_flowershop
CONTACT
0402 774 230 / 0424 157 726 | [email protected]
PAYMENT
Credit Cards
Hayley's Flower Shop is an online florist based in Adelaide. They provide flowers for all occasions, no matter the occasion, big or small. For fresh flowers every day, you can choose from a curated selection of floral boxes, wrapped hand bouquets and vase arrangements professionally handcrafted for maximum form and freshness. For flower lovers, you can also sign up to Hayley's floral subscription starting at AUD 40.
10. Flowers by Marisa

BEST FOR
Fresh & Silk Flowers, Arrangements for All Occasions
SELECTION SIZE
Medium
PRICE RANGE
AUD 25 – AUD 1,200
DELIVERY FEE
Calculated at checkout
Order before 2pm on weekdays and before 10am on Saturdays to assure same-day delivery
WEBSITE
www.salisburyflowershop.com.au
INSTAGRAM
@flowersbymarisa
CONTACT
08 8285 9500 | [email protected]
PAYMENT
PayPal, Visa, MasterCard, Diner's Club Card and American Express
Flowers By Marisa, a Salisbury Florist, offers the finest floral arrangements and gifts backed by friendly and prompt customer service. They always aim to make all transactions as seamless and satisfactory as possible. Their range of floral products and gifts are suitable for various occasions, so you won't have any trouble finding the perfect present for a loved one. Flowers by Marisa also offers wedding bouquets and wedding function flowers to add to the romantic vibe of your big day.
11. The Wild Flower Company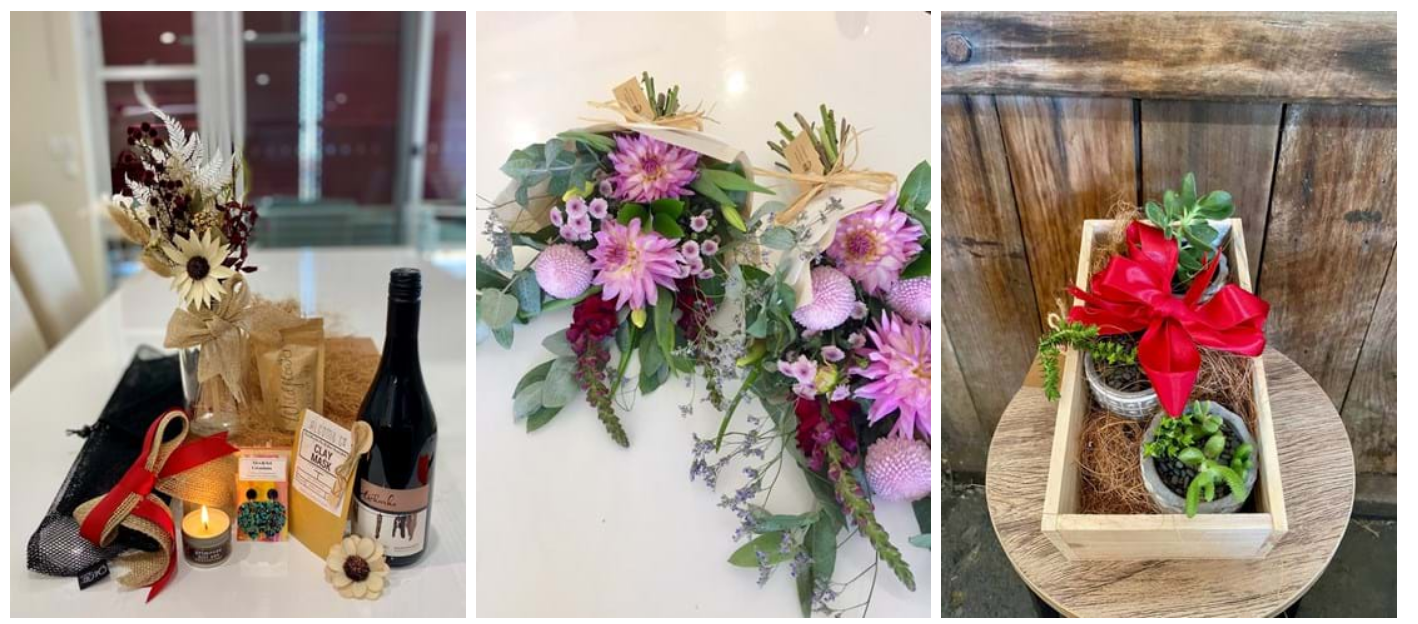 From hampers to gift boxes, The Wild Flower Company crafts creative bouquets and arrangement from a variety of inspirations. Trust that their florists make floral compositions in various sizes and in various ways, so they can offer various prices with designs for different occasions.
Adelaide florist Kate Phippard founded The Wild Flower Company in her home of South Australia. She's passionate about offering gorgeous flower arrangements to showcase nature's best and put us in harmony with the astonishing artistry of our natural world.
12. Folara Florist
Folara Florist was established in 2018. Since then, their team has been providing various clients in Adelaide and other nearby areas with the beauty of all their floral pieces.
13. OZ Flower Delivery

OZ Flower Delivery takes away the hassle of ordering flowers and makes it easy to send a stunning flower bouquet from an independent florist for flower delivery in Australia. Their carefully selected florists are hand-picked to give you an excellent choice of inspired flower arrangements and plants, and an easy same day delivery option for surprising someone special.
So that was our list of the best flower delivery options in Adelaide. Did we miss someone? Let us know in the comment section below.
Looking to send flowers to someone else? Check out our list for the best in Brisbane, Perth and Gold Coast.
---
Product photos are taken from each flower delivery or florist's official website.