The 10 Best Options for Gift Baskets in Florida
If you think that buying pre-arranged gifts such as gift baskets will make your present less personal, that is where you are wrong. There are actually a lot of shops especially in Florida that offer personalized or custom made gift baskets so you'd still have that personal touch while lessening the work for you.
While you're thinking of ways to design your gift baskets, take a look at this list below for the shops near you.
1.      HAMPERS USA

Hampers USA specializes in stunning wrapped bouquets which they consider to be one of their top selling gifts from their collection. They also sell chocolates and balloons which can be a perfect combo for your choice of flowers. The shop guarantees that whichever you get from their shop will be a perfect choice.
WHAT PEOPLE LIKE
100% CUSTOMER SATISFACTION. Most of the reviews that the shop is getting from their clients are praises and compliments due to their amazing gift collection and not to mention these are sold at very reasonable prices. They are also applauded for their professionalism and quick responses to queries and requests.
RELIABLE DELIVERY. A combo of excellent products and efficient gift delivery services is what makes Hampers USA one of the top choices of the people in the USA in the industry of gift-giving.
PRODUCTS
Gift Hampers – $79 to $300
Wine Hampers – $104 to $1000
DELIVERY AND PAYMENT
Contact shop for details
2.      ORLANDO GIFT BASKETS

Orlando Gift Baskets leverages a creative flair and relationships with unique Florida businesses to design customized, memorable gift baskets unlike any others.
This gift shop was founded by Katie Korell founded Orlando Gift Baskets in 2010 after several years as Gift Basketeer at Disney World's Floral & Gift Basket Department.
The shop prides themselves with their creatively designed gift items that will be certainly loved by all ages.
WHAT PEOPLE LIKE
CUSTOM-ORDERS. The shop allows their clients to customize their gift baskets according to their desired sizes. Whether big or small, Orlando Gift Baskets promises that they always keep their products in the best qualities.
CREATIVELY DESIGNED PRODUCTS. If you are a fan of some cartoon characters, then you'd enjoy the gift baskets designed by Orlando Gift Baskets as they feature some of the most favorite and popular cartoon characters of all time.
PRODUCTS
Holiday Baskets – $70 to $300
DELIVERY AND PAYMENT
Contact shop for details.
3.      GIFT BASKETS BY DESIGN SB, INC.

Gift Baskets By Design Sb, Inc. is a local gift Baskets Company that specializes in custom hand-made gift baskets filled with various baked and other fresh goods perfect for all ages and for any gift-giving reasons.
You may also easily browse through their collection and place your orders through their mobile application so their service really comes in handy. You may also get discounted prices if you do so! Great deal, right?
WHAT PEOPLE LIKE
MOBILE APP. Having a hard time memorizing web addresses? Don't worry because with Gift Baskets By Design Sb, Inc., you no longer have to. You just simply have to download their mobile app and easily place your order anytime and anywhere you are.
PRODUCTS
Fruit Baskets – $29 to $300
Birthday Gifts – $46 to $300
DELIVERY AND PAYMENT
MasterCard, PayPal, AMEX, JCB, Visa, Discover, Shopifypay, Diner's
4.      DELECTABLE GOURMET GIFT BASKETS

Delectable Gourmet Gift Baskets aims to provide their clients with high quality gift baskets that will not only satisfy but exceed their expectations and needs. The business started in 2002 and ever since it opened its doors to the public, it has never failed to amaze their clients with their outstanding gift basket products.
WHAT PEOPLE LIKE
SAME DAY DELIVERY. The shop is known for their reliable and efficient delivery services and this includes their same day delivery. Just make sure to always communicate with the team for the schedule.
VALUE FOR MONEY. Delectable Gourmet Gift Baskets wants their clients to get the best value for money. That is why they make sure to create and design their products in the most beautiful and practical way.
PRODUCTS
Gourmet Gift Baskets – $49 to $300
Fruit Baskets – $59 to $300
Get Well Baskets – $49 to $200
DELIVERY AND PAYMENT
Contact shop for details.
5.      GIFT BASKET VILLAGE

Gift Basket Village would not be called such if they do not have a huge selection of premium gift baskets perfect for any kind of celebration and occasion. Whether you need a food basket or a non-edible one, the company is always prepared to provide you with the best that you deserve.
WHAT PEOPLE LIKE
AFFORDABLE BASKETS. The shop never compromises the quality of their products despite its relatively low prices which is perfect for those who are working on a budget yet very meticulous about the products that they get.
PRODUCTS
Wine Baskets – $74 to $106
Valentine's Baskets – $25 to $200
DELIVERY AND PAYMENT
Visa, MasterCard, AMEX, Discover
6.      GIFT BASKETS ETC

Gift Baskets Etc. Florida premier gift basket company specializes in gourmet gift baskets, Spring, Summer, Easter, Mother's Day, Father's Day, Fall, Halloween, Thanksgiving, Christmas, Valentines Day,, Holiday gift baskets for any occasion.
WHAT PEOPLE LIKE
HIGH QUALITY PRODUCTS. One of the prides of Gift Baskets Etc. is the ensure 100% high quality of all of their products. From selecting the products to arranging the baskets, they always make sure that they live up to the high standards that they set.
PRODUCTS
Baby Gift Baskets – $54 to $300
Graduation Gift Baskets – $44 to $300
DELIVERY AND PAYMENT
Visa, MasterCard, Discover, PayPal
7.      FANDOM AND FANTASY

Fandom and Fantasy offers geeky gift baskets. Customers may either choose one of their designs or customize their own! All gift baskets will be made to fit the occasion, you will surely not waste your money on them. Fandom and Fantasy creates gift baskets for fans of Harry Potter, Star Wars, Star Trek, Marvel, DC and more! Give them the gift of fandom! Order now!
SPECIALTY
Custom Gift Baskets
SELECTION SIZE
Large
STARTING PRICE
Starts at $6
DELIVERY FEE
$14.00 (within 25 miles of Orlando)
WEBSITE
https://www.fandomandfantasy.com/
SOCIAL MEDIA
FB, Twitter, and IG: Fandom and Fantasy
CONTACT DETAILS
Email:

[email protected]

Kevin Zoph
​407-276-0301
​
Maricela Cardenas
​407-470-0713
WHAT PEOPLE LIKE
WIDE RANGE OF PRODUCTS. Fandom and Fantasy offers a huge selection of products that ranges from vinyl decals to different TV show fandoms such as Marvel, DC, Stranger Things, and more.
PRODUCTS
Vinyl Decals – $6.00
TV Shows Related Gift Baskets – Starts at $75
DELIVERY AND PAYMENT
Contact for more information
8.      UNIQUELY YOURS GIFT BASKETS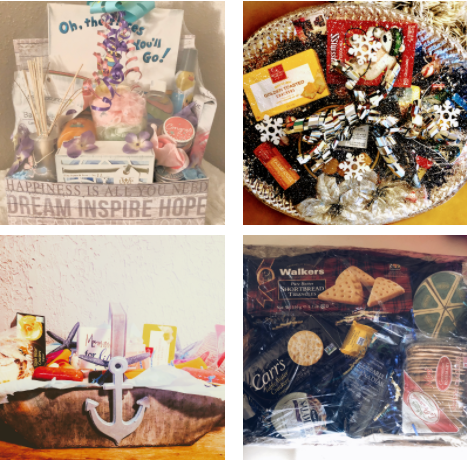 Uniquely Yours Gift Baskets offers their customers to customize their own gift baskets to suit their preferences and budget. They are open 24/7. Contact them and choose gifts for you or your loved ones now!
WHAT PEOPLE LIKE
CUSTOMIZATION. The store offers their customers to curate their own basket to add a personal touch and to make it more meaningful for their loved ones.
PRODUCTS
Contact for more details
DELIVERY AND PAYMENT
Contact for more details
9.      SERENDIPITY BASKETS

Turn to none other than Serendipity Baskets for well-made gift baskets for your loved ones. They understand that each of their customers are looking for different things. This is why they make sure to listen you attentively to ensure that the product you're getting meet and exceed all your expectations
| | |
| --- | --- |
| SPECIALTY | Any Occasion |
| SELECTION SIZE | Medium |
| STARTING PRICE | Starts at $65 |
| DELIVERY FEE | Contact for more details |
| WEBSITE | https://serendipitybaskets.com/ |
| SOCIAL MEDIA | N/A |
| CONTACT DETAILS | 239-938-4333 |
WHAT PEOPLE LIKE
FOR ANY BUDGET. Regardless of the budget you've set for the gift you're getting your loved one, you can be sure that we have a wide range of items for you to choose from.
MANY OPTIONS. Aside from a wide price range, our gift baskets are composed of different things. From food to comfort blankets, we have what you need.
PRODUCTS
Lavender Retreat – $80
A Day at the Spa – $99
Positive Energy Box – $99
DELIVERY AND PAYMENT
Contact for more details
10.      MOUSE TO YOUR HOUSE

The best kind of gift is an unexpected surprise! Imagine getting back to your room after a long day in the parks to be greeted by a snack tote totally out of the blue! Or checking the mail to find a box of magic on your doorstep!
Whether you're looking to delight a guest of the theme parks in Orlando, FL or a Disney enthusiast craving some of that magic at home, Mouse to Your House combines the element of surprise with the magic of Disney & Universal to make a huge impact on your behalf at a price that won't break the bank! Plus, Mouse to Your House offers a special program for Travel Agents looking to go above and beyond to gift their clients and make their stay more enjoyable at a price that won't eat up your whole commission.
WHAT PEOPLE LIKE
SWEET TREATS. Give a delightfully crisp(y) bouquet of treats that will bring a smile to everyone's face! Great for gatherings or as a sweet treat just for you! (Plus! They're from the same bakery the theme parks use!)
THEMED BASKETS. Most baskets come with a choice of Disney or Universal theme and ALL baskets offer tons of add in options to make it your own special surprise!
PRODUCTS
Classic Crunchies – $30.80
Snacks + Surprise – $21.60
Be Prepared! A Build-Your-Own Park Survival Kit – $22.00
DELIVERY AND PAYMENT
American Express, Visa, Discover, JCB, Master Card