Spread love, brighten someone's day or bloom your own home with a beautiful bouquet of farm-fresh flowers. Of course, this means finding the best and most reliable flower delivery service to get the freshest bunch of blooms for any occasion. Fortunately for you, we've done the necessary research and came up with the 10 best choices for same day flower delivery in Hong Kong. So even if you're pressed for time, these amazing online florists and flower shops won't let you down!
1.      A Better Florist

BEST FOR

Modern and affordable flower arrangements

SELECTION SIZE

Medium

PRICE RANGE

HKD 380 – HKD 1200

DELIVERY FEE

Free Same Day Delivery

WEBSITE

www.abetterflorist.com.hk

INSTAGRAM

@

abetterflorist

CONTACT

+852 5808 7515 |

wendy@abetterflorist.com
A Better Florist is Singapore's fastest flower delivery service, and they're in finally in Hong Kong! Just like in Singapore, with their express same day flower delivery Hong Kong, you can get your fresh bouquet of flowers within 90 minutes! This uncanny speed is what makes them stand out from every other online florist in Hong Kong. What's even better is that they don't compromise on quality. Each bouquet is handcrafted by their talented florist on the same day of purchase, so you get the blooms in peak freshness and form. They have a carefully curated selection of hip and modern flower arrangements at affordable prices. Finally, A Better Florist ships flowers for free to any location in Hong Kong. What's not to like?
2.      Her Flowers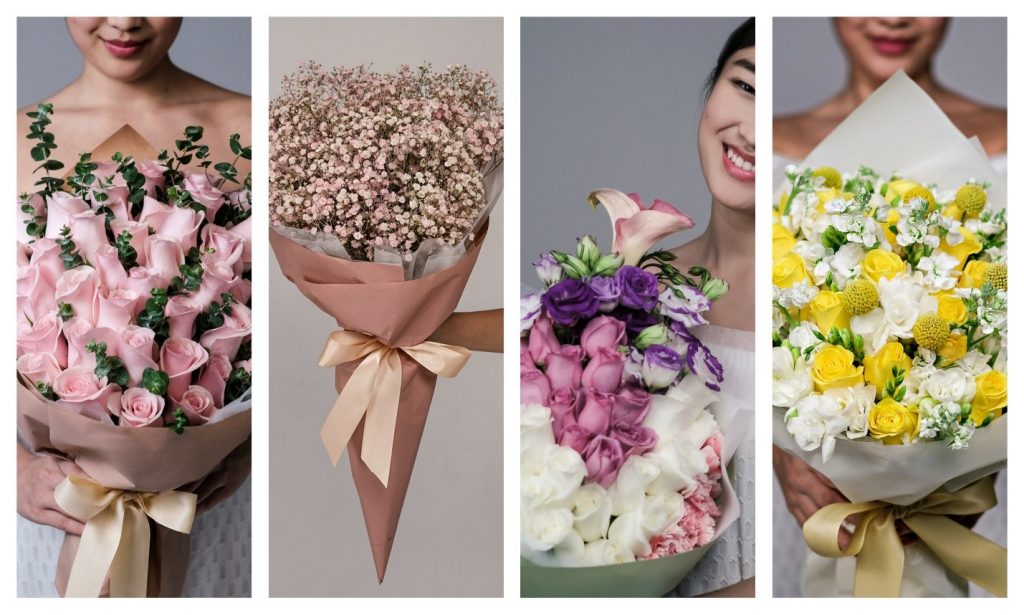 | | |
| --- | --- |
| BEST FOR | Large, luxurious hand bouquets with affordable price tags |
| SELECTION SIZE | Medium |
| PRICE RANGE | HKD 380 – HKD 1200 |
| DELIVERY FEE | Free Same Day Delivery |
| WEBSITE | www.herflowers.com.hk |
| INSTAGRAM | @herflowerssg |
| CONTACT | +852 5808 7515 |
Her Flowers champions empowerment and self-care through their gorgeous flower arrangements. Want some eye-popping Hong Kong flowers for your next date or anniversary?  Or maybe you just want to treat yourself with fresh, Hong Kong flowers? Their bestselling collection of Boutique Beauties includes a bunch of elegant and luxurious hand bouquets that would impress anyone. For the more budget conscious among you, they also have affordable and stylish bunches handcrafted to perfection by their professional florist. All orders of these Instagram-worthy flower arrangements come with free same day delivery in Hong Kong, provided you place your order before 3pm.
3.      BYDEAU

BEST FOR

In-season flowers

SELECTION SIZE

Medium – Large

PRICE RANGE

HKD 300 – HKD 1,850; Flower subscription starts at HKD 2,000

DELIVERY FEE

Free

WEBSITE

www.bydeau.com

INSTAGRAM

@

givebydeau

CONTACT

+852 5525 0037 |

info@bydeau.com
BYDEAU's unique selling point is their commitment to sustainable practices in the flower industry. So instead of stocking up on year-long popular blooms, they craft flowers that are in season. This eco-friendly approach is in favour of customers because not only are you being environmentally conscious, you are also getting unique bouquets depending on the availability of flowers. So if you like a bit of surprise in your hand-tied bundle of blooms, this florist will not disappoint. For same day flower delivery Hong Kong, don't forget to order by 2pm. They offer free delivery to certain locations on the northern island, while other delivery zones has a surcharge.
4.      Anglo Chinese Florist


Anglo Chinese Florist is a tried and tested brand due to their long history. They were established back in 1946 and has become one of the pioneers in Hong Kong's flower industry market. Years of experience means they have well-established relationships with suppliers and a large collection of flower arrangements as evident in their online shop. So whatever occasion it may be, you can be sure that you'll find the right flower and arrangement for it. They can deliver within 2 hours for simple flower arrangements. Their same day flower delivery fee starts at HKD 60 with surcharges on peak seasons like Valentine's Day and Chinese New Year.
5.      Flower Frenzy

Flower Frenzy has all the popular flowers in their online collection, including gerberas, roses and lilies. They have a lot of table arrangements that already come with glass vases or box containers to make it easy for the recipient to use the fresh flowers as a centrepiece. So they're ideal as thank you gifts, sympathy flowers or birthday blooms for your friend or parent. Same day flower delivery Hong Kong is available for all orders placed before 12pm.
6.      Give.Gift.Boutique

Sometimes we just want everything laid out in front of us so we don't have to look anywhere else. I suppose this is the goal of Give Gift, so they are essentially a one-stop-shop for gifts and not just flowers. So if you like adding a little bit of token or present for your loved one, like a bottle of wine or decadent chocolates, then you can certainly buy them as add-ons to your selected bouquet. Rush orders and same day flower delivery is accepted and you can also track your orders via their online comprehensive delivery tracking system.
7.      Fleur Hong Kong Florist

BEST FOR

European and Japanese-inspired flower arrangements

SELECTION SIZE

Large

PRICE RANGE

HKD 350 – HKD 10300

DELIVERY FEE

Free

WEBSITE

www.fleur.hk

CONTACT

+852 2136 7427 |

flower.girl@fleur.hk
Fleur Hong Kong's online shop is very kawaii, so an initial viewing already informs you of their overall aesthetic. They ship flowers for free to Central, Causeway Bay and Wan Chai. For other areas, there's a delivery surcharge. Since they prepare their bouquets fresh daily to ensure optimum freshness, they prefer advance orders. However, they have a few flower arrangements which are available for rush orders and same day delivery Hong Kong. Their flower selection is large and caters to a wide range of budgets, from simple bundles to luxurious centrepieces.
8.      Flowers in the Attic

Flowers in the Attic has been selling flowers since 1989. They have hundreds of flower arrangements in their inventory for same day flower delivery Hong Kong. They can also design custom arrangements just for you! While their flower delivery is free for most commercial areas in Hong Kong, delivery to other regions will incur additional delivery fee starting at HKD 50.
9.      Flowers.com.hk


BEST FOR
SELECTION SIZE
Large
PRICE RANGE
$30-$1000
DELIVERY FEE
Flat delivery fee of HKD102 ( USD 12.95 )
For most cases, same day deliveries can be made with orders that are received before 12 noon.
WEBSITE
https://flowers.com.hk/
INSTAGRAM
CONTACT
WeCare@Flowers.com.hk
PAYMENT METHODS
PayPal, Major credit cards
Flowers.com.hk provides reliable flower delivery in Hong Kong, making sure the actual flowers delivered are as advertised. Since starting the business in 2000, their professionalism has allowed them to grow. With a large selection of diverse floral designs and compositions, customers can find the perfect floral gift for any occasion.
10.      Flower Delivery Hong Kong

| | |
| --- | --- |
| BEST FOR | Large flower bouquets |
| SELECTION SIZE | Large |
| PRICE RANGE | HKD 467 – HKD 2767 |
| DELIVERY FEE | Free |
| WEBSITE | www.flowerdeliveryhongkong.com |
| CONTACT | +852 3590 5123 |
Flower Delivery Hong Kong has a strong online presence. They have free same-day shipping and 10% of their profit goes to charity. Their bestselling bouquet is the classic "99 roses" collection which is great if you want to wow your significant other. Their free flower delivery Hong Kong applies to Central, Admiralty, Wan Chai, Causeway Bay, Sheung Wan Kowloon, while all other areas are charged from HK$30 to HK$300 depending on distance.
11.      Secret Garden Florist

Secret Garden Florist has mini, petite and classic bouquets depending on the kind of floral fix you need. The arrangements are often whimsical and romantic with lots of pastel colours. Standard delivery to areas in Kowloon Bay is free of charge, Hong Kong Island for HK$70 and up, the New Territories at HK$80 and up, while Airport, Tung Chung and outlying Island would cost HK$200 and up. Same day delivery or rush orders may incur additional fees, so they prefer calls prior to payment for special requests.
---
Product photos are taken from each flower delivery or florist's official website.