The 21 Best Flower Delivery Services in Melbourne
Picking a florist is hard in Melbourne, where there are just too many options. On top of that, they also have to be reliable? Have the bouquet you love? Available TODAY? Now that's just too hard to find. 
Luckily, we did the work for you.
Here is our list of the best florists in Melbourne, ranked the best in quality, variety, and price. Plus, most offer same-day delivery, so you can get the bouquet delivered TODAY!
We promise they're all tried-and-true, mother-approved. So, without further ado…
NOTE: Due to the current pandemic, we've indicated some policy changes in which most of the stores on our list are still taking orders but with limited services.
1. Melbourne Flowers

(Source)
| | |
| --- | --- |
| BEST FOR | Beautifully curated, budget-friendly modern hand bouquets |
| SELECTION SIZE | Medium |
| PRICE RANGE | A$ 57 – A$207 |
| DELIVERY FEE | Free Same Day Delivery |
| WEBSITE | www.melbourneflowers.co |
| PAYMENT | Visa, Mastercard, Paypal, Bank Transfer |
Melbourne Flowers offers hassle-free flower delivery service for their gorgeous and high-quality floral products. Their master florist meticulously curates their collection of hand bouquets, flower stands and table arrangements that are not only modern and Instagram-worthy, they also look beautiful in real life!
Their biggest selling point to customers is their 90-minute guaranteed free flower delivery in Melbourne. So if you need last-minute gifts for an event or if you foolishly forgot your anniversary, then Melbourne Flowers' express flower delivery will save the day with a professionally handcrafted bouquet filled with farm-fresh flowers.
2. My Flower Room

My Flower Room is a Melbourne-based online florist delivering fresh flowers and gifts from Monday-Saturday to all homes and business within a 20-km radius of Melbourne CBD. Founder Shaneka has over 12 years of experience as a florist, so you know you're getting professionally handcrafted bouquets and arrangements with each purchase. To make your flower delivery extra special, you can add gifts such as a copper candle, HUSK hand soaps, french champagne, a cute teddy or some chocolate. Fortunately, they offer staggered payment with AfterPay to accommodate all budgets. Remember to order by 12.30 for same day delivery.
3. Hi Petal

Sometimes, the simplest bouquets and flower arrangements can convey sincerity perfectly to your intended recipient. Without the fancy trimmings and shiny distractions, the beauty of the blooms get to shine. This is why Hi Petal keeps their packaging unfussy and eco-friendly. Their beautiful posies come in a clean glass jar or your choice of ceramic pot. Meanwhile, their graduation posies are wrapped in newspaper with a cute bear in a toga, then finished off with a simple ribbon to secure the bouquet. You'll also find cacti and succulents in their online shop, the perfect plants to complement their minimalist and low-maintenance aesthetic.
4. Sandringham Florist

BEST FOR
Premium flowers from the finest growers
SELECTION SIZE
Medium
PRICE RANGE
AUD 40 – AUD 250
DELIVERY FEE
Calculated at checkout
WEBSITE
www.sandringhamflowers.com.au
INSTAGRAM
@sandringhamflowers
CONTACT
+61 3 9598 6825 |

[email protected]

PAYMENT
eWay, PayPal
When it comes to buying bouquets and arrangements from Sandringham Flowers, what you see is what you'll get. They handcraft vibrant, elegant and exotic floral arrangements for all occasions using only the freshest, premium quality flowers selected from the finest growers. Sandringham Flowers also provides same day flower delivery to make sure your surprise flowers arrive in a timely manner.
5. Oollie Flora

BEST FOR
Custom flower arrangements
SELECTION SIZE
Small
PRICE RANGE
From AUD 75
DELIVERY FEE
Free delivery to most Melbourne suburbs.

Check out their delivery zones for more details.

WEBSITE
www.oollieflora.com
INSTAGRAM
@oollieflora
CONTACT
+61 425 806 011
Oollie Flora understands diverse tastes and preferences, so they offer custom flower arrangements to give customers flexibility in choosing specific colours and choice of seasonal flowers. You can also choose the packaging (bouquet, box, wooden box, hat box, basket or vase) with several options for sizes. You can even add champagne, chocolate or a teddy bear to your one-of-a-kind arrangement. As for the bouquet's colour palette, the options are pastel, white & green, or vibrant. Of course, they also have a curated selection of O'ollie'spicks if you want to leave it up to the capable hands of their professional florist. To guarantee same-day flower delivery, order before 12pm. They deliver 7 days a week except public holidays, so you can surprise loved ones even on weekends!
6. Flowers Melbourne City

Flowers Melbourne City have been delivering flowery happiness since 2000  catering to many of the businesses and its employees in the city. They have been one of a kind since the shop and staffs provide a convenient and easy delivery service throughout the CBD and listed suburbs. Their flowers are available in all occasion with  high quality and same day delivery. To maintain the freshness of flowers, Flowers Melbourne City does not stock refrigerated flowers and buys daily from the market. What makes them unique as well is they wrap their bouquets using a material wrap with satin ribbons. Flowers Melbourne City also offer champagne, chocolates and teddy bears which can be added to your order.
7. Fowler Flowers

In 2010 Fowlers Flowers opened its doors in leafy Clifton hill as a small local florist, born from the garden of Mixed Business Cafe. With a focus on sustainable practise, seasonal blooms and a natural, contemporary aesthetic, the shop quickly blossomed into a warm and approachable place to indulge in all things floral. From a hand tied posy for your loved one, a bespoke wedding or an impressive, personalised event, they will be ready for your request.
8. Flowerly Yours

BEST FOR
Elegant flower boxes, same day bouquets and jars
SELECTION SIZE
Large
PRICE RANGE
AUD 29.99 – AUD 249.99
DELIVERY FEE
Calculated at checkout

Same day deliveries must be placed before 12 pm
Same day midnight deliveries must be placed before 2 pm

WEBSITE
www.flowerlyyours.com
INSTAGRAM
@flowerlyyours
CONTACT
+61450151308 |

[email protected]

PAYMENT
Visa, Mastercard, American Express
Flowerly Yours was established with the goal of becoming a high-quality, smart and reliable online florist. With this in mind, they continue to use their passion for excellence to drive them into making buying flowers and gifts for people as rewarding as possible. To satisfy customers, they keep a variety of fantastic floral arrangements in stock along with unique limited edition and seasonal items that fit any budget.
9. Fleur

| | |
| --- | --- |
| BEST FOR | Floral styling for weddings and events |
| SELECTION SIZE | N/A, customised for client's needs |
| PRICE RANGE | Contact the studio for prices |
| DELIVERY FEE | Fees may vary |
| WEBSITE | www.fleurs.com.au |
| INSTAGRAM | @thestudiobyfleur |
| CONTACT | +61 (3) 9804 3522 |
Fleur McHarg, a well-known floral designer and event stylist in Melbourne, is the creative driving force behind the brand. With a career spanning 25 years, McHarg's vision and innovations in the art of floristry, decorating and design can breathe life into any venue by turning bunches of blooms into inspiring works of art. McHarg and her team has worked for high-profile events like fashion week, editorials and memorable weddings. They have been praised for their professionalism, innate style and sheer creativity.
10. Lilac and the Cat

BEST FOR
Ethical and sustainable flora designs
SELECTION SIZE
Small, Curated
PRICE RANGE
From AUD 85
DELIVERY FEE
Calculated at checkout
WEBSITE
www.lilacandthecat.com.au
INSTAGRAM
@lilacandthecat
CONTACT
0419 562 253 |

[email protected]

PAYMENT
Amex, Apple Pay, Mastercard, PayPal, Shopify Pay, Visa
Lilac and the Cat takes inspiration from the variations and unconstrained arrangement of flowers and foliage in nature to create their wild and loose floral designs. Founder Janelouise uses her creativity and intuition to handcraft bouquets and arrangements brimming with personality. You can choose a style or preferred presentation, but the final product will always be one-of-a-kind. As Melbourne's leading ethical and eco-friendly florist, Lilac and the Cat opts for recycled materials. They also love using upcycled vases and pots where possible and commit to buying seasonally and locally grown blooms which they turn into beautiful flower designs held with mindfulness and love.
11. Fig and Bloom

Fig and Blom's talented florists are passionate about creating beautiful floral arrangements made from the best quality, ethically grown flowers from Australian farmers. From their store in Kew, Fig and Bloom can deliver to more than 150 suburbs across Greater Melbourne.
12. Sakura Flowers

Sakura Flowers Melbourne draws inspiration from their vast wedding experiences in Japan, Holland, U.S.A. and Australia. Weddings are not their only specialty. They also make use of traditional as well as contemporary floristry techniques to create beautiful individual bouquets and arrangements available for flower delivery in Melbourne. They make it a point to consult customers to ensure their floral designs are unique and personalised.
NOTE: You can still make orders online or by phone and you can either pick it up on their store or have it delivered at your home.
13. Adam The Flower Man

BEST FOR
Fresh, seasonal blooms and original floral designs
SELECTION SIZE
Medium
PRICE RANGE
AU$19.99 – AU$214.99
DELIVERY FEE
Calculated at checkout
WEBSITE
www.adamtheflowerman.com.au
INSTAGRAM
@adamtheflowerman
CONTACT
9533-4885 |

[email protected]

PAYMENT
Major credit cards
Adam Beehre is a florist based in southeast Melbourne competent in all aspects of floristry. With an honours degree in fine arts at Melbourne University and a Certificate in Floristry with Bloom College, Beehre took a leap of faith and launched Adam The Flower Man in January 2018. Customers can purchase flowers from their online shop with the option to customise the design by leaving a note on preferred colour or flower. You can also call the florist to help you create your ideal gift or look. For weddings, simply book a consultation for a close collaboration, from the initial consultation, to delivery and setup of the flowers on the day.
14. Thrive Flowers & Events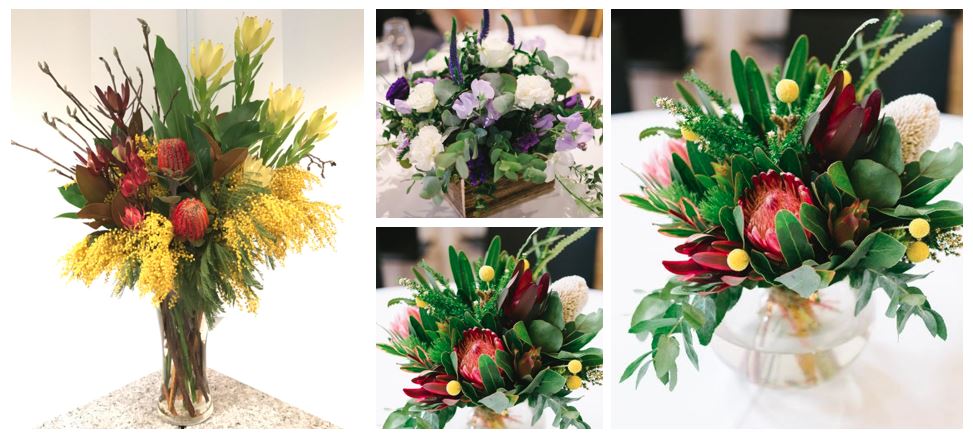 BEST FOR
Bespoke arrangements, floral styling for weddings and events
SELECTION SIZE
Large
PRICE RANGE
Contact florist for prices and packages
DELIVERY FEE
Fees may vary
WEBSITE
www.thriveflowers.com.au
INSTAGRAM
@thriveflowers
CONTACT
(03) 9486 0565 |

[email protected]

PAYMENT
Major credit and debit cards
This award-winning florist has a team of qualified floral designers and consultants working closely to give customers and clients an amazing floral experience each and every time. Thrive Flowers & Events specialise in weddings, floral styling for events, corporate flowers as well as bespoke arrangements for different occasions. Their passion and love for flowers and floristry shines through their unique floral creations than stand out from the usual floral fare.
15. Dope Florals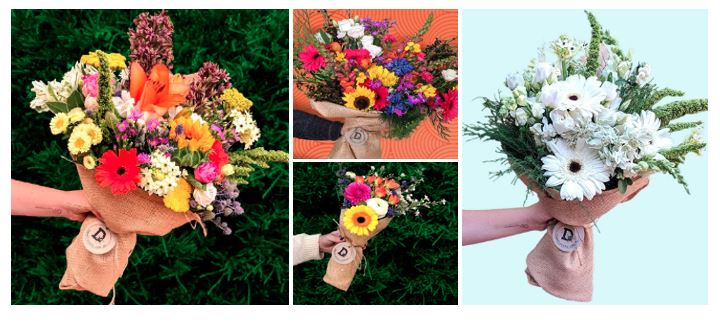 Each Dope flower arrangement is created on-the-spot within that aesthetic using only the freshest and in season flowers. They use a natural hessian wrap, hessian string, recycled and biodegradable hang tags, even the plastic to keep moisture around the stems is biodegradable! Dope Florals are committed to maintain minimal impact on the Earth while still making it more beautiful with flowers.
16. Amazing Graze Flowers

(Source)
With your booking in Amazing Graze Flowers, you'll receive a 1 hour free consultation with Angel from Amazing Graze Flowers or one of her qualified staff/stylists. During this detailed consultation, they will discuss detailed florals, decorative requirements and all items required for your wedding day. By then, you should at least have some ideas, pictures, and color swatches you may have that you can share with the Amazing Graze Flowers team.
NOTE: You can only make online orders and they also still provide same-day delivery service.
17. The Little Market Bunch

If you get easily overwhelmed by a large catalogue, then The Little Market Bunch is the simple and straightforward online florist you need. They have curated their arrangements into the essentials, using flowers like peonies, roses and orchids with options for add-ons. You can also choose a market bunch which already includes goodies for your recipient. They have T2 tea, candles, marshmallows or wine. Sign up to their floral subscription if you want regular deliveries of farm-fresh blooms.
NOTE: This shop still accepts online orders with contactless delivery and collection.
18. BG Flowers

BEST FOR
Elegant and chic floral arrangements
SELECTION SIZE
Large
PRICE RANGE
AUD 45 – AUD 350
DELIVERY FEE
Calculate at checkout
Same Day Flower Delivery – Orders must be placed by 1.30pm EST, Monday – Friday
WEBSITE
www.bgflowers.com.au
INSTAGRAM
@bg_flowers
CONTACT

[email protected]

 / 03 98277117
PAYMENT

Visa, Master, American Express, PayPal
Established in 2003, BG Flowers has a team of florists with over 10 years of floristry experience from all over the world, from Japan to Korea to New Zealand and Australia. Global influences and extensive knowledge give them the versatility and artistry to create all kinds of floral designs. Whether you desire a few simple blooms or a grand and lavish statement, let the team at BG Flowers do their magic. The flowers they use are hand-picked from their daily selection of the freshest seasonal blooms and custom designed to suit any occasion or intended message.
19. Sophia Kueh Flowers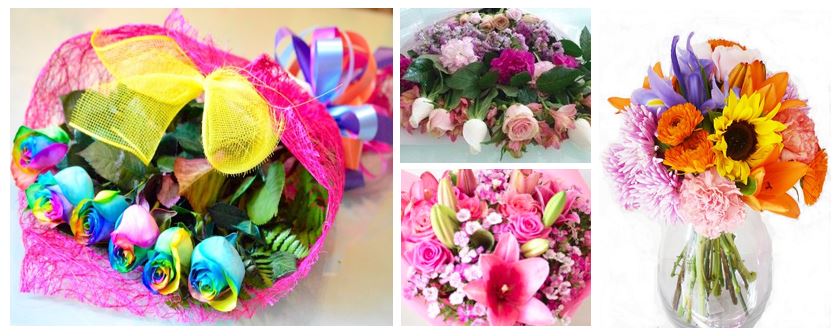 BEST FOR
Fresh and silk flowers
SELECTION SIZE
Large
PRICE RANGE
From AUD 45
DELIVERY FEE
Contact for delivery options
WEBSITE
https://sophiakueh.com.au/
INSTAGRAM
—
CONTACT

[email protected]

| +61 402 240 235
PAYMENT
Contact for payment options
Sophia Kueh Flowers delivers Fresh & Silk Flowers, Plants delivered to homes, retail shops, offices, churches, all funeral homes, Botanical Gardens, cemeteries, aged care homes and hospitals across Melbourne. Same Day Flower Delivery is also available in the following areas: Melbourne CBD, Melbourne Inner City Areas, East Melbourne, North Melbourne, Flemington, Carlton, South Melbourne, South Yarra, Richmond, South East Melbourne, all Eastern Suburbs of Kew, Camberwell, Balwyn, Doncaster, Templestowe, Blackburn, Forest Hill, Viewbank, Greensborough, Rosanna, Heidelberg, Ivanhoe and surrounding areas.
20. Hampstead Flowers

BEST FOR
Elegant flower arrangements
SELECTION SIZE
Small, Curated
PRICE RANGE
From $40 AUD
DELIVERY FEE
Calculated at checkout
Minimum spend for delivery is  $40 AUD. The cut off point for same day deliveries is 12pm.
Free delivery to Epworth Hospital, 89 Bridge Road, Richmond, 3121.
WEBSITE
www.hampsteadflowers.com.au
INSTAGRAM
@hampstead_flowers
CONTACT
+61 3 9428 1250 |

[email protected]

PAYMENT
Visa, Mastercard, PayPal
Hampstead Flowers specialises in contemporary floral designs professionally handcrafted by experienced florists. Jane Gilliam, owner and head florist, uses her extensive experience in the industry, both local and international, to infuse creativity and sophistication to Hampstead Flowers. Even though they embrace natural styles and add lots of texture to the floral designs, the end product never looks messy or untidy. Each piece is distinct and custom designed for every occasion.
NOTE: You can only make online or phone orders and have it delivered to your home or pick it up on the store. 
21. Ayr Brae Flowers

BEST FOR

Flower Arrangements and Bouquets

SELECTION SIZE
Contact for more information
PRICE RANGE
Contact for more information
DELIVERY FEE
Starts at $1.00 pero kilometre
WEBSITE
http://www.flowersfromayrbrae.com.au/
INSTAGRAM
N/A
CONTACT

[email protected]


(03) 9850 4641 | (04) 5846 5376
PAYMENT

Payments can be made in the form of cash or via bank deposit with email confirmation.
For over 25 years, Ayr Brae Flowers has been providing only the most unique arrangements for all occasions. From weddings, christenings to other festive occasions, their expertise has made them a reputable florist in the area.
They also have plants, gifts and novelty items like herbs and floral arts as perfect gifts or for yourself. Trust Ayr Brae Flowers for your flower needs, and you will definitely only receive professional and expert floral service.
NOTE: You can only make online or phone orders and have it delivered to your home or pick it up on the store. 
---
Product photos are taken from each flower delivery or florist's official website.