The 28 Best Options for Flower Delivery in Sydney
Trying to find the best bouquet, at the best deal, from the freshest florist…to be delivered TODAY? We know that's hard. We're here to help!
Lo and behold, 20 hours, 89 emails, and far too many coffees later, here is our list of the best florists in Sydney, ranked by their quality, variety, delivery, and prices! 
We promise they're all tried-and-true, mother-approved. So, without further ado…Here we go!
NOTE: Due to the current pandemic, we've noted the relevant service changes for some of the florist shops listed below. Most stores are still accepting online or phone orders as well as deliveries.
1. Sydney Blooms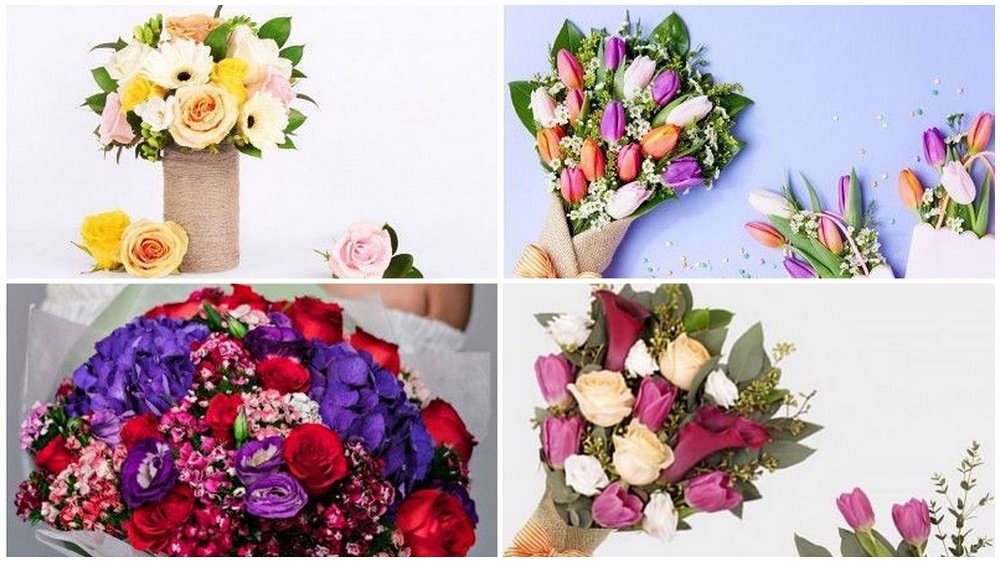 | | |
| --- | --- |
| BEST FOR | Affordable, Instagram-worthy modern bouquets |
| SELECTION SIZE | Medium |
| PRICE RANGE | A$70 – A$175 |
| DELIVERY FEE | Free Same Day Delivery |
| WEBSITE | www.sydneyblooms.com |
| PAYMENT | Visa, Mastercard, Paypal, Bank Transfer |
Everything about Sydney Blooms is fast and efficient. Their online shop boasts a thoughtfully curated collection of modern arrangements and hip floral designs. Their safe and secure payment option adds comfort to the overall ease of transaction. Their bestselling hand bouquets are professionally handcrafted daily by their talented florist, so you get them in perfect form and freshness every time. Though their biggest edge over other Sydney florists is their 90-minute guaranteed delivery of bouquets and farm-fresh flowers straight to your doorstep! Order before 3pm for same day delivery anywhere in Sydney.
2. Floral Expressions

Floral Expressions is located near Parramatta in the heart of metropolitan Sydney. They deliver flowers across Sydney using their own flower delivery courier which means that your blooms are handled with utmost care. Floral Expressions is known for their beautiful, long lasting flower arrangements and exceptional customer service. They have a great online presence as well as a charming flower shop in Northmead. It is the only florist in Sydney that can raise funds for your school; they offer  a school fundraising program that rocks!
3. Lucy's Florist

BEST FOR
High quality flowers at affordable prices
SELECTION SIZE
Large
PRICE RANGE
From AU$38
DELIVERY FEE
Calculated at checkout
Order before 12 noon for same day delivery
WEBSITE
www.lucysflorist.com
INSTAGRAM
@lucysflorist
CONTACT
(02) 9799 2111 |

[email protected]

PAYMENT
Major credit cards
Lucy's Florist proudly offers premium floral designs at affordable prices. This is in line with their motto: "Flowers they'll love, at prices you'll love." Lucy first opened a small florist in 1985. She decided to pursue her creative side through floristry after many years of being a restaurateur. To polish her skills, she undertook studies in floristry and design both in Sydney and abroad. Customers get to enjoy the product of her hard work with a thoughtful catalogue of creative floral designs for all occasions.
4. Sydney Floral Events

BEST FOR
Wedding and event styling
SELECTION SIZE
Small
PRICE RANGE
AUD 25 – AUD 65
DELIVERY FEE
Calculated at checkout
WEBSITE
www.sydneyfloralevents.com.au
INSTAGRAM
@sydneyfloralevents
CONTACT
0490 337 507 |

[email protected]

PAYMENT
Credit Cards
Sydney Floral Events is a local family-run business specialising in botanical styling for various functions and events. They can bring your ideas to life by working on your preferences and specific needs. Whether you want your blooms and foliage loose and wild, lush and whimsical or polished and traditional style, Sydney Floral Events will go above and beyond to execute it flawlessly. As for their flower delivery, you'll find a carefully curated selection of bouquets and arrangements suitable for a variety of occasions or message you want to convey. Same day delivery applies to orders placed before 8am.
5. Petals For Days

| | |
| --- | --- |
| BEST FOR | Flowers that stay fresh for one whole year |
| SELECTION SIZE |  Curated (3 sizes, Small Medium, Large) |
| PRICE RANGE | Starts at AUD 49 |
| DELIVERY FEE | Free Delivery on all orders over AUD 100 |
| WEBSITE | www.petalsfordays.com.au |
| INSTAGRAM | @petalsfordays |
| CONTACT | [email protected] |
| PAYMENT | PayPal, Visa, MasterCard, American Express, Afterpay |
Petals For Days specialise in fresh flowers that last for one whole year. The flowers do not need to be watered and will remain it's fresh look when following the care instructions on their website. All flowers will come with a complementary dust brush and offers door to door courier delivery on their flower orders over $100 within Sydney Metro Area.
6. The Fresh Flower Project

(Source)
Enjoy nature's blessed blooms on any occasion or day by also helping preserve its beauty with The Fresh Flower Project's products. Based on an acreage property in the Sydney Hills, the shop recycles, uses eco-friendly products, and repurposes their waste and don't use any plastic to wrap their bunches. This is possible through their collaboration with local coffee roasters to upcycle their coffee sacks to wrap The Fresh Flower Project's homegrown and locally or Australian-grower sourced flowers. Instead of using foam to water trap the flowers, they use recyclable and compostable materials. And lastly, they use hemp & twine rather than ribbon when adding the finish touches to their bouquets. They offer flower delivery Monday – Friday, with same day delivery available if orders are place by 11am across all Sydney suburbs.
7. The Floral Decorator

BEST FOR
Beautifully wrapped floral bouquets and posies, unique floral arrangements, to extraordinary containers, vases and giftware
SELECTION SIZE
Medium
PRICE RANGE
AUD 20 – AUD 250
DELIVERY FEE
Calculated at checkout
WEBSITE
www.thefloraldecorator.com.au
INSTAGRAM
@thefloraldecorator
CONTACT
02 9516 3113 |

[email protected]

PAYMENT
Credit cards
The Floral Decorator opened its doors January 2000 in Erskineville Village. Their motto is "there is something for everyone and every budget." Choose from their beautiful selection of floral designs using seasonal, abundant, hand-selected and market-fresh blooms. If you want something unique, avail their Bouquet Builder to create your own bouquet, posy or arrangement.
Flower delivery is available 7 days a week, Monday to Sunday, with same day shipping for orders received before 1pm and before 3pm for home delivery. Plus, if you're really in a hurry, you can request for VIP delivery for your flowers to be delivered in 1-3 hours!
NOTE: This shop isn't taking any orders as of the moment. But they'll be back on the 18th of May.
8. The Flower Crew
Online flower delivery has never been easier with The Flower Crew. Their online collection has a combination of the freshest flowers, quality independent florists and beautiful floral arrangements. All prices published in their online shop are in Australian dollars and include GST.
NOTE: They're still taking online orders and phone orders for same-day contactless delivery. However, they only have limited collection, particularly with the imported flowers but rest assured that they'll give you the best alternative to your desired choice of flowers.
9. Dawn Blossom Florist

BEST FOR
French-style floral arrangements
SELECTION SIZE
Small, Curated
PRICE RANGE
From AUD 25
DELIVERY FEE
Calculated at checkout
Online order must be received before 2pm
WEBSITE
www.dawnblossom.com.au
INSTAGRAM
@dawnblossomflorist
CONTACT
+61-414197365 |

[email protected]

PAYMENT
Amex, Apple Pay, Google Pay, Mastercard, PayPal, Shopify Pay, Visa
Dawn Blossom boasts a small yet thoughtfully curated selection of floral products available for flower delivery in Sydney. The look of their floral products are inspired by the French aesthetic–stylish and unfastidious. You'll find timeless rose bouquets, classic round bouquets, wreaths, natives, elegant and bold designs to impress your intended recipient.
NOTE: This store is still taking online orders with their usual delivery service.
10. Urban Flower

BEST FOR
Modern arrangements and curated floral gifts
SELECTION SIZE
Large
PRICE RANGE
AU$60 – AU$549
DELIVERY FEE
From AU$12.95
Order by 1pm for Same Day Delivery
WEBSITE
www.urbanflower.com.au
INSTAGRAM
@_urban_flower_
CONTACT
1300 225 510 / 61 2 9745 1668 |

[email protected]

PAYMENT
Paypal, and all major credit cards; VISA, Mastercard, American Express, and Diners
Urban Flower is a family business, providing fresh flower arrangements and friendly customer service in Sydney since 1975. In 2001, they established their online presence to make their diverse range of floral products more accessible to a wider market. Their floral gift bundles make it easier for customers to find luxurious gifts for any occasion. Or you can add-on items separately for a perfect care package, such as candles, essential oils, soap, blankets, indoor plants as well as a range of wellness items. They also specialise in Corporate, Office and Events, Weddings, Funerals and Parties.
11. iGift Fruit Hampers
| | |
| --- | --- |
| Best For | Flowers along with fruit baskets |
| Selection | Large |
| Price Range | Starts at $89 |
| Delivery Fee | Free |
| Website | http://www.igiftfruithampers.com.au/ |
| Contact | +61 1300 691 296 |
| Payment | Visa, Mastercard, PayPal, American Express |
Aside from alcoholic drinks and chocolates, one option that you can to give to someone is a fruit basket with flowers. Not only it is a healthy option but it is also relatively cheaper than other gift baskets. One best thing about iGift Fruit Hampers is that they deliver their delicate products for free!
12. Fig and Bloom

Fig and Bloom's talented florists are passionate about creating beautiful floral arrangements made from the best quality, ethically grown flowers from Australian farmers. From their store in Alexandria, Fig and Bloom can deliver to more than 700 suburbs across Greater Sydney.
13. Monday Blooms

BEST FOR
Large, showstopping bouquets
SELECTION SIZE
Small, Curated
PRICE RANGE
AU$29 – AU$399
DELIVERY FEE
Order before 12 noon for same day delivery
WEBSITE
www.mondayblooms.com.au
INSTAGRAM
@monday_blooms
CONTACT
+61 450 033 388 |

[email protected]

PAYMENT
VISA, Mastercard, American Express, PayPal
Monday Blooms provides innovation, creativity and chic style in their floral designs. They can craft all sorts of styles, from a small bouquet, a surprise thank you, designer flowers or corporate blooms. You can purchase floral gifts online for same-day delivery or next-day delivery to most inner Sydney suburbs. Check their delivery page for more details. They can also tailor an arrangement based on your preferred style, colour and budget. For weddings, they can do wedding posies and boutonnieres for your outdoor ceremony, table decorations for your launch party and centerpieces for small to medium size events.
14. Dragonfly Floral Design

BEST FOR
Romantic bouquets, wedding and event floral design and styling
SELECTION SIZE
Medium
PRICE RANGE
AU$50 – AU$155
DELIVERY FEE
Fees may vary
WEBSITE
www.dragonflyfloraldesign.com.au
INSTAGRAM
@dragonflyfloraldesign
CONTACT
02 9387 3299 | 

[email protected]

PAYMENT
Major credit cards
Debbi Weiss, owner and creative force behind Dragonfly Floral Design, works with a passionate and professional team to produce dozens of beautiful and unique florals tailor-made for clients and customers. Their efficiency and professionalism allow them to execute concepts and ideas in close collaboration with each client. They have provided floral styling on major life events, including weddings, christenings, birthdays and bar/batmitzvahs. Customers can also purchase bouquets and floral arrangements from their online shop featuring their signature artistic and wild organic look.
15. Portobello Rose

BEST FOR
Versatile floral designs,  corporate interiors, weddings
SELECTION SIZE
Small, Curated
PRICE RANGE
From AU$ 85
DELIVERY FEE
Calculated at checkout
Order before 10am for same day delivery
WEBSITE
www.portobellorosefineflowers.com
INSTAGRAM
@portobello_rose_
CONTACT
+61 2 9967 0046 / +61 2 9904 1665
PAYMENT
Major credit cards
Portobello Rose draws inspiration from both vintage-style, romantic 19th century posies as well as modern and the motley mixes that typify Notting Hill. Their aesthetic showcases lush contrasts, always infusing nuanced palettes into their floral compositions. They specialise in corporate interiors and weddings, paying special attention to details to create the perfect atmosphere.
Fortunately, customers can also purchase individual floral creations through their online shop with secure and fast transactions to surprise your intended recipient. They have curated their floral selection to cater to all sorts of preferences and styles, including bold, whimsical, sculptural or wild & rustic arrangements.
16. Floriade

| | |
| --- | --- |
| BEST FOR | Uniquely designed bouquets |
| SELECTION SIZE | Medium |
| PRICE RANGE | From AU$60 |
| DELIVERY FEE | AU$16 – AU$40 |
| WEBSITE | https://floriade.com.au/ |
| INSTAGRAM | — |
| CONTACT | 02 9969 9944 |
| PAYMENT | VISA, Mastercard, AMEX |
Floriade is your friendly boutique florist serving the communities of Mosman, Neutral Bay, St Leonards, North Sydney and the Lower North Shore. The signature of a Floriade bouquet is that no two bouquets are ever the same so each and every bouquet is tailor made to meet your requirements.
17. En Saison

BEST FOR
Fresh, seasonal blooms
SELECTION SIZE
Small, Curated
PRICE RANGE
From AU$ 60
DELIVERY FEE
Calculated at checkout
WEBSITE
www.ensaison.com.au
INSTAGRAM
@ensaison
CONTACT
(02) 9958 4556 |

[email protected]
En Saison, formerly Plumbago Flowers, is a Willoughby-based florist creating stunning arrangements for home, events, weddings and more. The florist is aptly named En Saison which is the French translation for "In Season." Fresh, seasonal flowers are delivered straight from the growers to their door in Willoughby. They have also introduced homewares and gift lines, so customers can consider them as a one-stop shop for flowers and gifts for all occasions.
18. Daily Blooms

BEST FOR
Natural, garden-style hand-tied bouquets; Floral subscription
SELECTION SIZE
N/A, Unique daily bouquets
PRICE RANGE
From AU$33
DELIVERY FEE
Calculated at checkout
Order before 12pm for same day delivery
WEBSITE
www.dailyblooms.com.au
INSTAGRAM
@dailybloomsmel
CONTACT
0475 850 740 |

[email protected]

PAYMENT
VISA, Mastercard, AMEX, PayPal
Daily Blooms delivers naturally inspired hand tied bouquets across Melbourne and Sydney. They have a team of flower enthusiasts & professional florists handcrafting beautiful bouquets from the finest seasonal blooms sourced from local growers. Florists hand-select fresh flowers from the local farmers to create unique bouquets inspired by a love of natural and wild arrangements. Customers can purchase one-off flower bouquets or sign up to ongoing subscriptions to receive or send flowers weekly, or fortnightly.
19. Chanele Rose Flowers

An Elite Wedding & Events florist business based in Sydney, Chanele Rose Flowers is famous for lush & decadent stylish floral designs that reflect their customer's preferences. Their services range from floral arrangements for your home or office to full event services for weddings and corporate events, christenings, birthdays, Public Relations, funerals, parties or anything that their client wants to customize.
20. Jodie McGregor Flowers

BEST FOR
Lush, garden-style bouquets
SELECTION SIZE
Medium
PRICE RANGE
AUD 75.95 – AUD 369.95
DELIVERY FEE
From AUD 15
WEBSITE
www.jodie.com.au
INSTAGRAM
@jodiemcgregorflowers
CONTACT
(612) 9566 1999 |

[email protected]
Jodie McGregor Flowers has a team of dedicated floral professionals who handcraft the bouquets and arrangements with great care and passion. They started with a small shop in Annandale in 1999 with little more than a table overflowing with flowers, a drawer to put the money in and a pair of scissors. Since then, the shop has flourished to cater to a wide range of customers with varying budgets and style preferences. Order by 4pm for same day delivery.
NOTE: This shop has implemented temporary trading hours: Weekdays & Saturdays 7 am to 5 pm and Sunday 8 am to 4 pm. They only have limited selections but substitutions may still be needed for the options that remain. They also accept online and phone orders with contactless delivery and for in-store visits, they only allow 1 customer at a time limit.
21. Pure Flowers

BEST FOR
Wildflowers, Australian natives and vintage arrangements
SELECTION SIZE
Medium
PRICE RANGE
From AUD 35
DELIVERY FEE
Calculated at checkout based on delivery distance from their Lane Cove boutique.
WEBSITE
pureflowers.com.au
INSTAGRAM
@pureflowers_lanecove
CONTACT
02 9427 8214 / + 61 2 9427 8214 |

[email protected]

PAYMENT
Visa, Mastercard, American Express, PayPal
Pure Flowers is an award-winning boutique florist providing flower delivery of gorgeous bouquets for all occasions. Their vase arrangements are great as gifts, but they're perfect as decor for blooming your home as well. Instantly brighten rooms and spaces with their stylish floral designs. You can also customise your order by choosing the size, colour palette and add-ons. Same-day delivery is possible for orders placed by 11am, Monday to Friday, and by 9am on Saturdays.
22. Best Buds

BEST FOR
Floral styling for weddings and events
SELECTION SIZE
Small, Curated
PRICE RANGE
AU$65 – AU$384
DELIVERY FEE
Calculated at checkout
WEBSITE
www.bestbuds.com.au
INSTAGRAM
@bestbudsflorist
CONTACT
(02) 9310 1136 |

[email protected]

PAYMENT
Major credit cards
Best Buds has a team of experienced Senior wedding florists with a combined experience of 50 years in the wedding industry. This means you get a professional team to competently handle floral styling to make your special day a memorable one. They will make sure everything is implemented flawlessly from consultation to execution. This level of professionalism has been duly recognised with their recent Award of Floral Designer of the Year at the 2012 ABIA awards. You can also buy beautiful individual bouquets from their online shop to surprise your loved ones.
23. Flowers with Passion

| | |
| --- | --- |
| BEST FOR | Over 100 unique flower arrangements |
| SELECTION SIZE | Large |
| PRICE RANGE | From AU$44.95 |
| DELIVERY FEE | Calculated at checkout |
| WEBSITE | https://flowerswithpassion.com.au/ |
| INSTAGRAM | — |
| CONTACT | 0409 975 022 |
| PAYMENT | Mastercard, Visa, PayPal, Stripe, Google Pay, Apple Pay |
Flowers With Passion is a Sydney-based and Australian-owned small boutique with an online shop. They have been in the florist business since 2017, providing only original designs conceived by the talented artisans in their Chippendale workshop. If you can't find exactly what you want in their shop, then give them a call and they can create a design that stands out.
24. Susan Avery Flowers and Events

BEST FOR
Grand wedding themes
SELECTION SIZE

Large

PRICE RANGE
Contact the store for quotes
DELIVERY FEE
Contact the store for delivery options
WEBSITE
https://www.susanavery.com.au/
INSTAGRAM

N/A

CONTACT
0409 766 663 |

[email protected]

PAYMENT
Contact for more information
With a record breaking success of servicing 4,000 weddings for over 30 years, Susan Avery and her team has become the go-to floral professionals in NSW. From small to large, from simple to grand, Susan Avery Flowers and Events can do it all, including design, install, and even clean up.
25. Posy & Twine Florist
Posy & Twine Florist is a flower shop in Telopea. With Penny redmond and Katherine Owens 30 years of experience as florists, they believe that in able to provide an amazing customer service, they are willing to make adjustments in order to create the arrangement their customer desires.
They use fresh and dried flowers for their unique arrangements. Along with this, they use an eco-friendly wrapping.
26. Belles Fleurs

Belles Fleurs Sydney is an online Sydney florist specialising in premium fresh floral and everlasting rose arrangements. They also create event florals for all occasions. Their floral arrangements make a statement in our gorgeous handcrafted signature hat boxes to any home. They also have a range of colours in stock, but if you have a suggested colour that they don't have, just send through your request and they can order it in for you.
27. Kiko Design
Kiko Design is a floral design and styling studio. In comparison to others, their studio offers floral styling for weddings, events, corporate spaces and editorials across Sydney and beyond.
Even though their selection is only medium-sized, you will still be abale to find the perfect flowers for your loved ones. Per flower, you can still select a size, whether it is wrapped or in a vessle, and if you want to add a luxury candle.
With these simple choices, you can make your gift extra special!
You know what's great about them? Aside from selling flowers, they can also cater to events, especially to  weddings.
As seen on their websites, the flowers they use are exquisite. Their arrangements can make your venue look even better than you can imagine.
28. Bloomeroo

| | |
| --- | --- |
| BEST FOR | Chic and classic flower arrangments |
| SELECTION SIZE | Medium |
| PRICE RANGE | A$14.90 – A$239.90 |
| DELIVERY FEE | Calculated upon checkout |
| WEBSITE | https://www.bloomeroo.com.au/ |
| PAYMENT | American Express. Apple Pay, Google Pay. MasterCard, Shop Pay, Visa |
Bloomeroo provides a wide range of fresh flowers for all your floral needs. Their niche flower arrangements send good vibes with every order to bring a big smile to your face. Both classic and native flowers add to the unique character of Bloomeroo's selection.
They encourage inspiration through their wide selection of native flowers and creatively fashion it into a wonderful bouquet, vase arrangement, or flower basket to suit your preference. They take pride in the ability to present chic flower arrangements that showcase nature's beauty.
Bloomeroo further connects you to top-rated flower experts in the area. Rest assured, each arrangement is created with both passion and high-quality expertise. Additionally, their flowers are sourced locally through an ongoing effort to promote and encourage other local homegrown flower suppliers and florists within their community.
We recommend this florist shop for its balanced approach to convenience with the freedom to order online. Effortless shopping with highly customizable features enables them to create flower arrangements you will fall in love with!