The 9 Best Options for Same Day Flower Delivery in Melbourne
We know how difficult it is to pick the perfect gift. You have so many things to consider—first, the basics: style and budget.
Then there's the important part; Will this make the recipient happy and special?When you finally thought things couldn't get much harder than this, another problem is thrown your way. You need the gift delivered today.
Okay, relax. This is where we come in. To help you out, we've already compiled the best options for same-day flower delivery in Melbourne. Special bouquets guaranteed to make anyone happy available on the same day!
1. MELBOURNE FLOWERS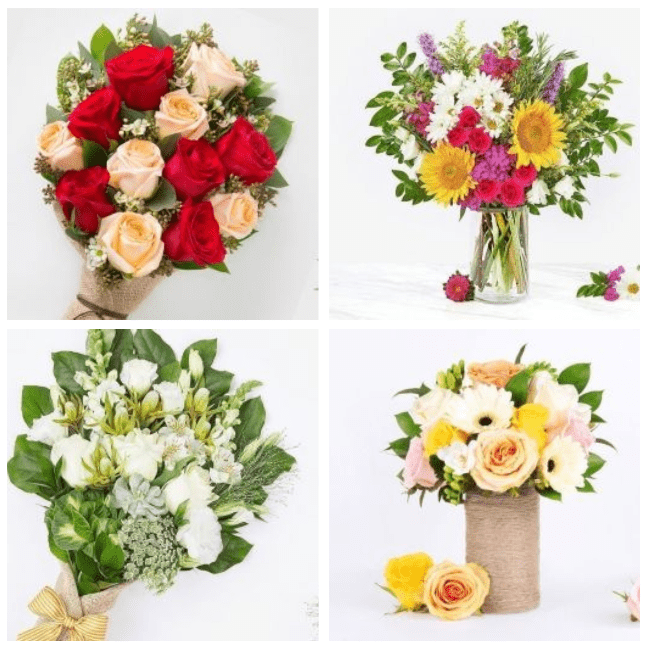 | | |
| --- | --- |
| BEST FOR | Fresh, vibrant flowers delivered for free |
| SELECTION SIZE | Large |
| PRICE RANGE | Starts at $66 |
| DELIVERY FEE | Free |
| WEBSITE | https://www.melbourneflowers.co/ |
| INSTAGRAM | n/a |
| CONTACT | https://www.melbourneflowers.co/contact/ |
| PAYMENT OPTIONS | Major credit cards |
Melbourne Flowers offers free same-day delivery all over Melbourne, so you can be sure that your intended recipient will get the bouquet right on time! This is a good flower shop to go to for prompt service as well as genuinely fresh blooms.
WHAT PEOPLE LIKE
FRESH FLOWERS. Melbourne Flowers only sends out the freshest flowers, so they actually change the flower arrangements available on their website when needed. This assures you of the quality of their products!
FREE DELIVERY. In a rush to have your bouquet delivered? Don't worry, because if you make the ordering time cutoff, your bouquets are not only delivered for free but on the same day that you order them!
PRODUCTS
THE ROSE: $207
THE LILA: $100
DELIVERY & PAYMENT
Free same-day delivery is available, but you have to order before a particular hour. You can use a number of payment options.
2. FLOWERS FOR JANE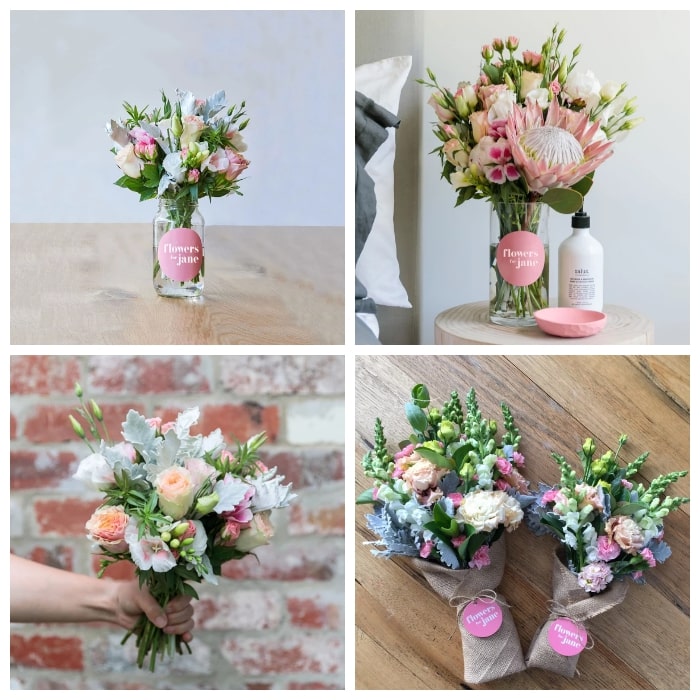 Tired of the generic-looking flowers you always see online? Want something reliable without losing that hand-made feel? Then trust Flowers for Jane to give you the freshest daily flowers in Melbourne. Each day different blooms are arranged in a unique bunch so no two bouquets are ever the same!
SPECIALTY
Daily Flowers
SELECTION SIZE
Curated
STARTING PRICE
$35.00
DELIVERY FEE
Free delivery in inner-city
WEBSITE
https://www.flowersforjane.com.au
SOCIAL MEDIA
Instagram: @flowersforjane
Facebook: @flowersforjane
CONTACT DETAILS
[email protected] | 0490149769
WHAT PEOPLE LIKE
DAILY FLOWERS. Each day, the people over at Flowers for Jane upload their fresh blooms to their Facebook and Instagram accounts at around 7:30 in the morning. All week long you can order the freshest seasonal flowers in different designs!
FLAT-RATE BOUQUETS. Since there's only one design available each day, they've made it much more simple for you. You can have your bouquet in a glass jar/vase or Hessian wrapped. The glass option starts at $43 and the hessian wrapped bouquets start at only $35.
By opting for a single design daily, they've not only cut back on waste but also on costs! You can get these high-quality bouquets at honest prices and get it delivered for free. Expect your bunches to come between 10 am to 6 pm.
PRODUCTS
FLOWERS IN A GLASS JAR/VASE: $43 – $125
HESSIAN WRAPPED BOUQUET: $35 – $95
DELIVERY & PAYMENT
Same day delivery is available, just order before the items are sold out. Pre-order is also encouraged. Payment options are available upon checkout.
3. MELBOURNE FRESH FLOWERS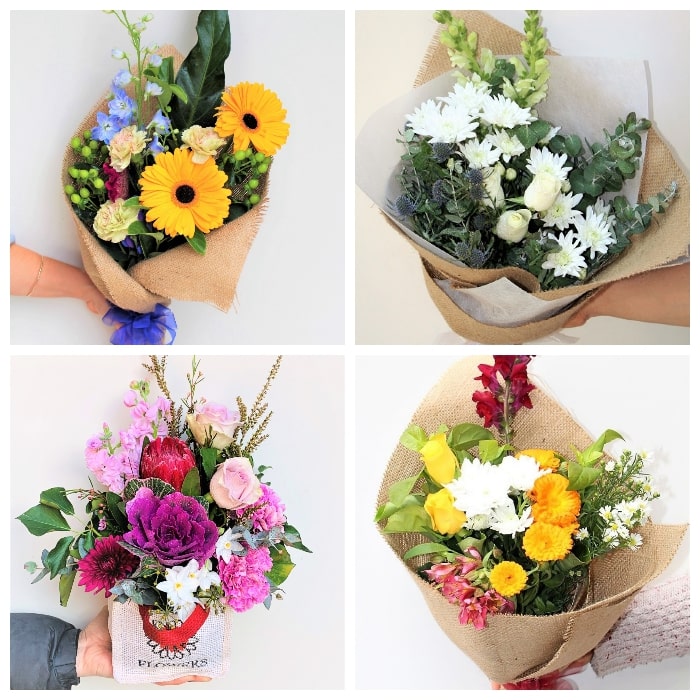 When it comes to Melbourne favorites, this list can't be complete without the trusted Melbourne Fresh Flowers. One of the most popular online florists in Melbourne, they've garnered a number of loyal customers through their consistent quality goods and services.
SPECIALTY
Classic hand-wrapped bouquets
SELECTION SIZE
Curated
STARTING PRICE
$9.90
DELIVERY FEE
Calculated at checkout
WEBSITE
https://www.melbournefreshflowers.com.au
SOCIAL MEDIA
Instagram: @MelbourneFreshFlowers

Facebook: @MelbourneFreshFlowers

CONTACT DETAILS
1300 60 20 11
[email protected]
WHAT PEOPLE LIKE
CREATE YOUR OWN. They offer personalized bouquets that you can work on online. You can finish your DIY bouquet order in just 6 easy steps. The good thing about this is it works for all budgets. You can get this from $49 to $199.
FROM MARKET TO YOURS. Their florists only use the freshest flowers available at the market every day as per orders received. The hand-arranged bouquets are then delivered straight to you. This assures your bunches are always fresh and long-lasting.
WIDE VARIETY OF BOUQUETS. Flowers for every budget and style are available at Melbourne Fresh Flowers. You'll never run out of choices for high-quality flowers whether you need it for occasions like birthdays or something romantic like anniversaries and valentines.
PRODUCTS
ANNIVERSARY: From $9.90
BIRTHDAY: From $9.90
CONGRATULATIONS: From $24.90
MOTHER'S DAY: From $29.00
DELIVERY & PAYMENT
Order By 12.30 pm for same-day delivery. Payment options include PayPal, VISA, MasterCard, and AmEx.
4. DAILY BLOOMS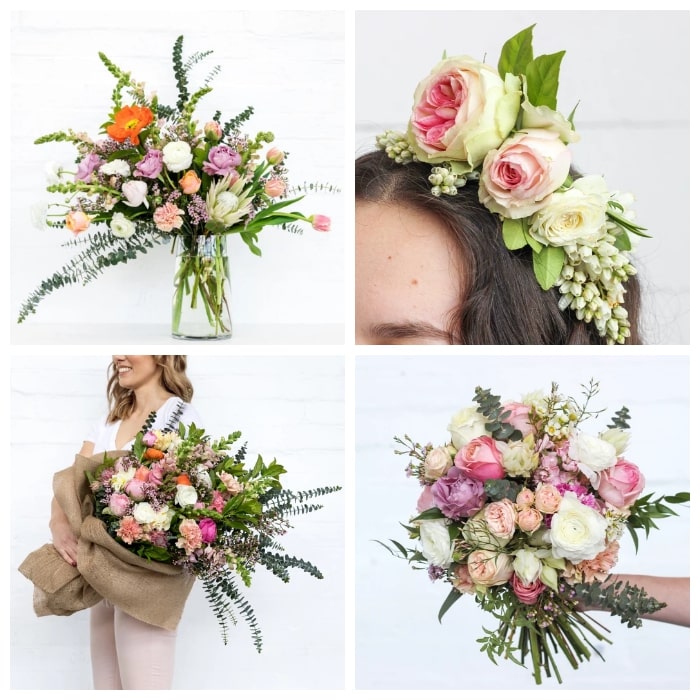 Self-dubbed flower obsessed florists, Daily Blooms loves creating rustic style hand-tied bouquets using the best and freshest seasonal flowers available. We fell in love with their simple bunches of naturally arranged flowers and we know you will too.
SPECIALTY
Seasonal hand-tied bouquets
SELECTION SIZE
Curated
STARTING PRICE
From $38
DELIVERY FEE
Free for orders $100 and over
WEBSITE
https://dailyblooms.com.au
SOCIAL MEDIA
Instagram: @dailybloomsmel

Facebook: @dailyblooms

CONTACT DETAILS
[email protected]

0475 850 740
WHAT PEOPLE LIKE
NATURALLY ARRANGED FLOWERS. Daily Blooms' florists draw inspiration from farmlands and cottage gardens. Think rustic. Like freshly picked wildflowers bunched up effortlessly. The minimalist arrangement results in an understated and charming style we really love.
LARGE BOUQUETS. There are generally 2 standard styles of bouquets you can purchase besides the bridal and flower headband available. The first one is a hand-wrapped hessian style and the other one in a vase. If you want to make an impression choose the largest size available in these options for a memorable gift.
SUBSCRIPTIONS. If you want a steady supply of fresh flowers to brighten up your home or office, do check out their flower subscription. They can deliver flowers weekly or fortnightly. It starts at $33.00.
PRODUCTS
FLOWERS IN A GLASS VASE: $80 – $165
HESSIAN WRAPPED BOUQUET: $38 – $120
FLOWER HEADBAND: $85
BRIDAL BOUQUET: $150
DELIVERY & PAYMENT
Same day delivery is available for orders placed before 12 pm. Payment options include PayPal, VISA, MasterCard, and AmEx.
5. CANARY JANE'S FLOWERS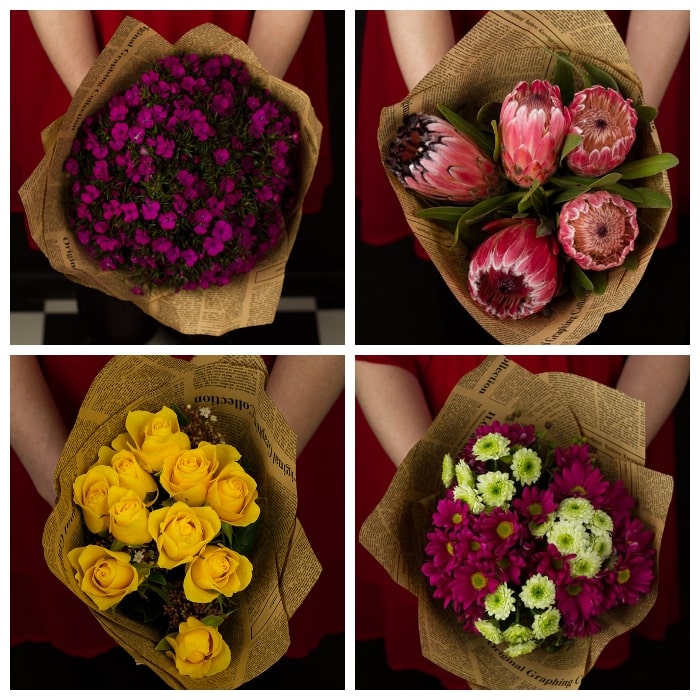 Canary Jane's Flowers offers flower arrangements, bouquets, and bunches. Each with unique designs sure to make your loved one swoon.
SPECIALTY
Flower arrangements and gifts
SELECTION SIZE
Large
STARTING PRICE
$15
DELIVERY FEE
Calculated at checkout
WEBSITE
https://www.canaryjanesflowers.com.au
SOCIAL MEDIA
Instagram: @canaryjanesflowers
Facebook: @canaryjanes
CONTACT DETAILS
 (03) 9818 0344
WHAT PEOPLE LIKE
SWEEET LOCAL GOODS. If you're looking for high-quality gifts that are locally sourced, you can never go wrong with Canary Jane's Flowers. From blooms and greenery to giftwares and knick-knacks, all products are proudly local!
FRESH ARRANGEMENTS. This company prides itself on supporting its local community. They reach out to local farmers for their fresh blooms and plants assuring their customers of the standard they uphold for their products. Straight from the farms and hand-arranged!
PRODUCTS
BOUQUETS: $25.00 – $150.00
ARRANGEMENTS: $15.00 – $195.00
BUNCHES: $25.00 – $50.00
GIFTS: $2.50 – $65.00
DELIVERY & PAYMENT
Order Before 2 pm for Same Day Delivery. PayPal and major credit cards accepted for online payments.
6. THE FLOWER SHED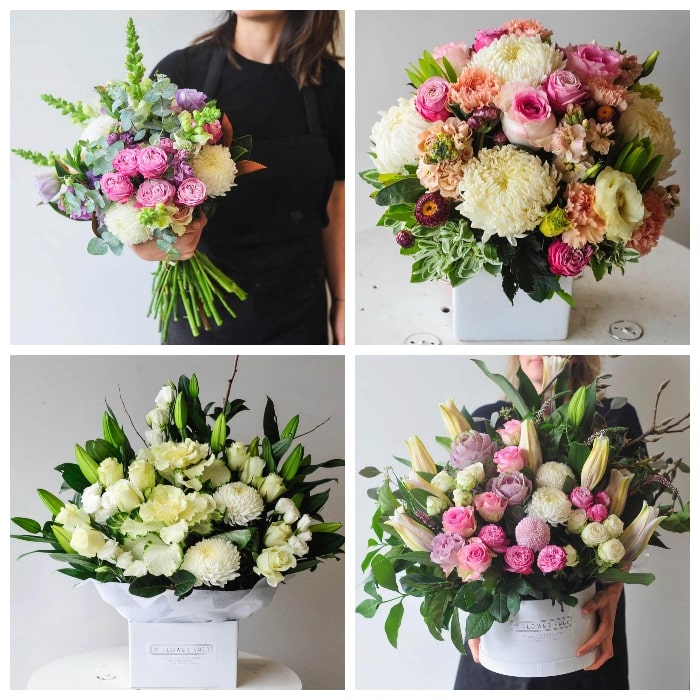 The Flower Shed charmed us with their expertly arranged bouquets that just screams luxurious. Their collection is never generic and always remains sophisticated without trying too hard. See Hatboxes.
WHAT PEOPLE LIKE
Their collection of hatboxes is simply amazing. The regal style of flower arrangement partnered with their signature white hatbox highlights the natural beauty of the flowers and foliage. Somewhat pricey but definitely worth it!
FLOWERS FOR WEDDING, CORPORATE, AND EVENTS. One way to guarantee your event is gonna pop is by adding much-needed greenery. And what better way to do that by consulting with their in-house florists for stunning flower decorations.
PRODUCTS
ANNIVERSARY: From $60
BIRTHDAY: From $45
CONGRATULATIONS: From $35
MOTHER'S DAY: From $35
DELIVERY & PAYMENT
For same-day delivery, orders must be placed before 12:00 pm (business deliveries) and before 1:00 pm (residential deliveries). Major credit cards accepted for payment.
7. CBD FLORIST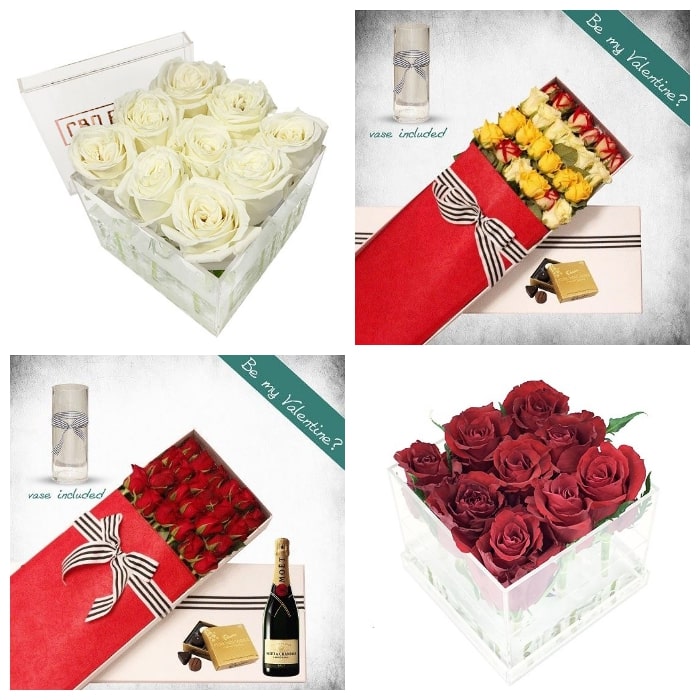 People in Melbourne Metro & other surrounding suburbs can rest peacefully knowing that there's always the reliable CBD Florist ready to deliver topnotch bouquets the same day!
| | |
| --- | --- |
| SPECIALTY | Classic flowerboxes and letterboxes |
| SELECTION SIZE | Large |
| STARTING PRICE | $39 |
| DELIVERY FEE | $15.00 |
| WEBSITE | https://cbdflorist.com.au |
| SOCIAL MEDIA | Facebook: @cbdflorist |
| CONTACT DETAILS | (03) 9798 6017 | [email protected] |
WHAT PEOPLE LIKE
FLOWER BOXES AND LETTERBOXES. There's nothing wrong with classic hand-wrapped bouquets but you have to admit that when you see the same arrangement in a box or letterbox, it suddenly looks so bougie! And we're a sucker for pretty packaging so definitely check this out.
CHEAP FLOWERS. Who says you need to break the bank for some beautiful bouquets? Here at CBD Florist, you can get cheap flowers without worrying about the quality. They have an assortment of stunning arrangements and bunches all under $49.
PRODUCTS
ANNIVERSARY: From $39
BIRTHDAY: From $39
CONGRATULATIONS: From $39
GET WELL: From $39
DELIVERY & PAYMENT
Order before 12 pm for same day delivery. Payment options include PayPal, VISA, MasterCard, and AmEx.
Images were taken from each company's official websites/social media.
8. Daily Blooms

Daily Blooms is an Australian florist that provides a selection of bouquets and flower subscriptions.
All their flowers are sourced from local growers and their arrangements are designed and created each day which ensures that no two arrangements are the same. They also offer options as to the wrapping of the client's orders.
WHAT PEOPLE LIKE
Unique bouquets from seasonal blooms

Fresh blooms sourced straight from local growers
PRODUCTS
Pixie – $40

Blushing – $80

No Stress Bridal Bouquet – $150
DELIVERY & PAYMENT
Daily Blooms delivers flowers across Melbourne metro and Geelong. They accept payments through American Express, MasterCard, Visa, and PayPal.
9. BLOOMEROO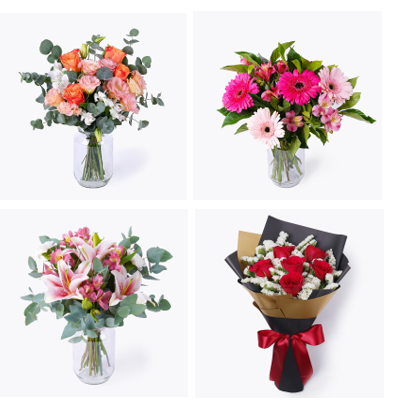 Bloomeroo provides a wide range of fresh flowers for all your floral needs. Their niche flower arrangements send good vibes with every order to bring a big smile to your face. Both classic and native flowers add to the unique character of Bloomeroo's selection.
They encourage inspiration through their wide selection of native flowers and creatively fashion it into a wonderful bouquet, vase arrangement, or flower basket to suit your preference. They take pride in the ability to present chic flower arrangements that showcase nature's beauty.
Bloomeroo further connects you to top-rated flower experts in the area. Rest assured, each arrangement is created with both passion and high-quality expertise. Additionally, their flowers are sourced locally through an ongoing effort to promote and encourage other local homegrown flower suppliers and florists within their community.
We recommend this florist shop for its balanced approach to convenience with the freedom to order online. Effortless shopping with highly customizable features enables them to create flower arrangements you will fall in love with!
WHAT PEOPLE LIKE
HASSLE-FREE TRANSACTIONS. They are highly commended for their easy checkout and orering process that will ensure that you have a pleasant and stress-free experience with them. Their website has a comprehensive and easy to navigate feature when it comes to placing orders on their online store, and should you need any guidance they are always ready to help you.
BEAUTIFUL BOUQUETS. Their bouquets are often characterized to be aesthetically presentable and exceeds their client's expectations. The quality of their flowers are represented and placed in a way that will sreuly make you marvel the beauty of nature's finest.
PRODUCTS
HAPPY BIRTHDAY FLOWERS: $74.90 – $149.90
ANNIVERSARY FLOWERS: $69.90 – $149.90
DELIVERY & PAYMENT
American Express. Apple Pay, Google Pay. MasterCard, Shop Pay, Visa
Images were taken from each company's official websites/social media.