The 6 Best Options for Same Day Flower Delivery in Perth
When it comes to finding the best florists in town, it's better to leave it out to the pros. We already did the long hours of researching, calling and testing so you don't have to!
Below is the list of the best options for same-day flower delivery in Perth.
And trust us when we say you'd want their contact details when you desperately need that bouquet of flowers delivered pronto.
1. A LITTLE BUNCH

For the freshest and lushest flowers in season, you can never go wrong with A Little Bunch. This company hunts for the best flowers each morning for your daily posies. Only one style of bouquet is available each day and it changes throughout the week so no two bouquets are ever the same!
SPECIALTY
Daily flowers and posies
SELECTION SIZE
Curated
STARTING PRICE
$35.00
DELIVERY FEE
Free (Prices include delivery fee)
WEBSITE
https://alittlebunch.com.au
SOCIAL MEDIA
Instagram: @alittlebunch
Facebook: @alittlebunch
CONTACT DETAILS
[email protected]
WHAT PEOPLE LIKE
FRESH DAILY FLOWERS. Each morning, around 7:30 to 8:00 am, you can go on to their Instagram and Facebook page to check out the bouquet of the day. These lovely posies are made from the best flowers and foliage in the market that very morning so you know it's super fresh!
FLAT-RATE BOUQUETS. The good thing about one-style bouquets is that the pricing is now simple and not to mention cheap. Look all you need to choose is the size. Cash in $35 for the little bunch and $70 for the bigger size.
FAST AND FREE SAME-DAY DELIVERY. How can we not fall in love with A Little Bunch when they offer the cutest posies in honest prices AND they deliver them for free? For the full list of areas they deliver to, check this out.
PRODUCTS
LITTLE BUNCH: $35
BIG LITTLE BUNCH: $70
DELIVERY & PAYMENT
Order by 12 noon or before sold-out for same-day delivery. Payment options include MasterCard, AmEx, and VISA.
2. THE FLOWER RUN

Fresh locally grown flowers delivered right at your doorstep the same day you ordered. This is what The Flower Run promises the lovely people of Perth. And they do just that. Every. Single. Day.
SPECIALTY
Daily wrapped bouquets and jar arrangements
SELECTION SIZE
Curated
STARTING PRICE
$35
DELIVERY FEE
Calculated at checkout
WEBSITE
https://www.theflowerrun.com.au
SOCIAL MEDIA
Instagram: @theflowerrun

Facebook: @Theflowerrun1

CONTACT DETAILS
0478 041 037 | [email protected]
WHAT PEOPLE LIKE
STYLISH BOUQUETS. Though they offer a very limited choice of bouquets (actually they only offer one style per day), the freshness and expertly styled flower arrangement duly make up for it. It's just naturally charming. We have no other words.
PRE-ORDER OPTION. We really love daily flowers since it cuts on costs and wastes but one tiny problem we have on it is it gets sold out fast. Well, not really fast per se, you just have to order early. Good thing you can pre-order on the date you like to assure you won't miss out.
HAND DELIVERED. We all know flowers are such a personal gift. But they're even more touching when they're hand-delivered. Leave it to the flower runners to make sure that your flowers get delivered on time.
PRODUCTS
OUR SMALL BUNCH: $38
THE BIG BUNCH: $76
SUBSCRIPTIONS: from $35 per delivery
DELIVERY & PAYMENT
Order By 1 pm or before sold-out for same-day delivery. Payment options are available at checkout.
3. A TOUCH OF CLASS

One of the most trusted flower delivery companies in Perth, A Touch of Class has a variety of flower arrangements fit for every occasion. They also offer a notable variety of topnotch chocolate, gifts and gift baskets you can partner with your flowers.
SPECIALTY
Flower baskets and hand-tied bouquets
SELECTION SIZE
Large
STARTING PRICE
From $38
DELIVERY FEE
From  $10
WEBSITE
https://atouchofclassflorist.com.au
SOCIAL MEDIA
Instagram: @atouchofclassflorist

Facebook: @Atouchofclassfloristperth

CONTACT DETAILS
(08) 9256 2415 | [email protected]
WHAT PEOPLE LIKE
HUGE COLLECTION OF FLOWERS. From floral baskets to vase arrangements, there's a perfect bouquet that will suit your style and budget here at A Touch of Class. We especially like the Softly Serene Flower Basket, so do check that out.
GIFTS AND GOURMET GIFT BASKETS. A Touch of Class is proving to be a one-stop gift shop for Perth locals to enjoy. Not only do they have a big collection of topnotch flowers, but they also have a great collection of gifts and treats you should totally check out.
CHOCOLATE BOUQUETS. Giving someone a bouquet of flowers is sweet. No doubt. But you know what's even sweeter? Giving them literal chocolate bouquets. Which of course are available at A Touch of Class.
PRODUCTS
HAND-TIED BOUQUETS: $45 – $200
FLORAL BASKETS: $95 – $115
SMALL FLOWER ARRANGEMENTS: $20 – $50
GIFT BASKETS: $59.50 – $450
DELIVERY & PAYMENT
Same day delivery is available for orders placed before 10:45 am. Payment options are available at checkout.
4. FLOWER BROS

"Premium flowers. No bullshit." This is the official tagline of Flower Bros. And we totally agree. If you want a straightforward flower delivery company that makes ordering online super easy and convenient, they're your guys.
SPECIALTY
Premium bouquets
SELECTION SIZE
Curated
STARTING PRICE
$79
DELIVERY FEE
$14.95 (Free delivery for any signature bunch)
WEBSITE
https://www.flowerbros.com.au
SOCIAL MEDIA
Instagram: @flowerbros
Facebook: @officialflowerbros
CONTACT DETAILS
 0432 533 603
WHAT PEOPLE LIKE
CONVENIENT ONLINE SHOPPING. Their streamlined approach to online ordering makes it super easy for customers to buy their bouquets. Uncomplicated, safe and easy⁠—just the things you'd want at any online flower delivery.
PREMIUM BOUQUETS. They promised and they delivered. These expertly arranged flowers are so visually appealing that you'd want to buy them for yourself (which we support btw, you deserve it).
PRODUCTS
CLASSIC BOUQUETS: $79
PREMIUM BOUQUETS: $129
SIGNATURE BOUQUETS: $179
DELIVERY & PAYMENT
Order Before 11 am for Same Day Delivery. Pre-order is also available. Payment options are available at checkout.
5. LITTLE POSY CO.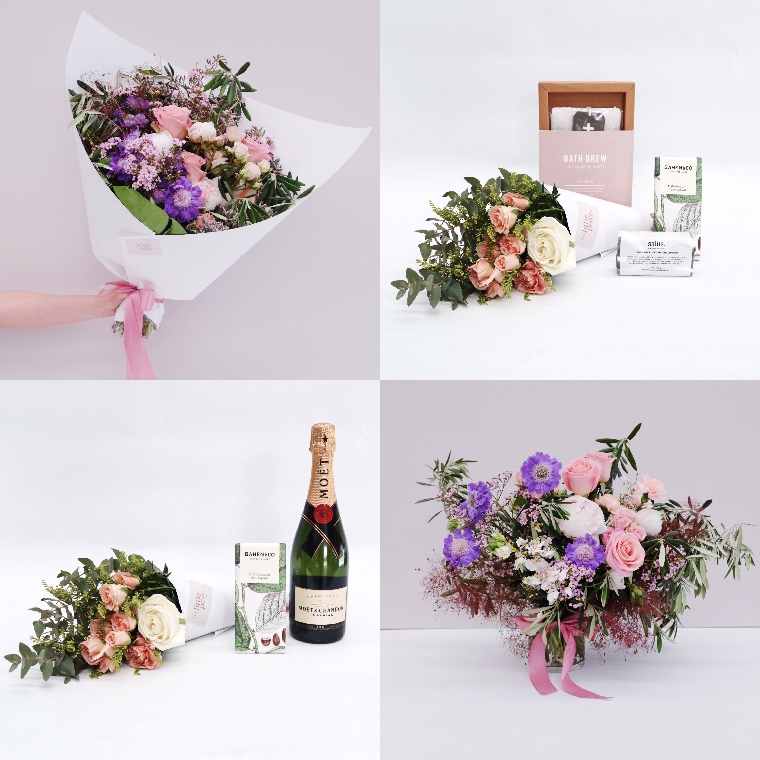 The Little Posy Co. is a Perth-favorite that earned its place here on our list, not only due to their popularity but also due to their consistently great service. Beautifully arranged fresh flowers? Check. Convenient online transactions? Check. Fast Delivery? Check!
WHAT PEOPLE LIKE
A new selection of flowers is assembled each day ready for order and delivered in Perth. These stylish posies come in three sizes. Prices start at $37. If you want something bigger and more eye-catching, you may opt for the big glass vase arrangement.
SUSTAINABLE AND LOCALLY GROWN BLOOMS. For a company that sells daily blooms, it's highly important that they source out the freshest flowers and foliage each day. This is why they've partnered with local growers and Rainforest Alliance Certified farms.
PRODUCTS
THE ORIGINAL POSY: $37
THE DOUBLE POSY: $74
THE TRIPLE POSY: $111
THE GLASS VASE ARRANGEMENT: $148
DELIVERY & PAYMENT
They take orders until 12.30 pm each day for same-day delivery but preordering is highly encouraged. Payment options are available at checkout.
6. ST. ANNES FLORIST & HAMPERS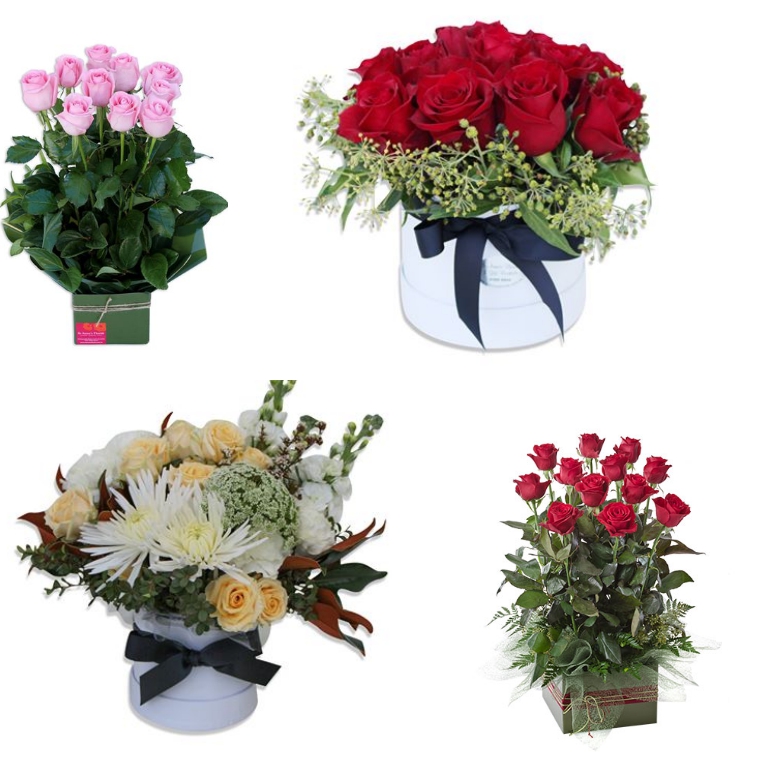 St. Annes Florist has one of the widest coverage in Perth. From the metropolitan area to the suburbs and even to a number of outer Perth metro area suburbs, bet that they'll deliver your flowers and gifts on time.
| | |
| --- | --- |
| SPECIALTY | Flowers in a box |
| SELECTION SIZE | Large |
| STARTING PRICE | $55 |
| DELIVERY FEE | From $17 |
| WEBSITE | https://stannesflorist.com.au |
| SOCIAL MEDIA | Facebook: @stannesflorist |
| CONTACT DETAILS | (08) 9388-8844 |
WHAT PEOPLE LIKE
FLOWER BOX AND PRESENTATION BOX. Normally wrapped bouquets are fine but there's something charming about flower boxes that we can't seem to get enough of. Suddenly, they look a bit more expensive? And that totally works for us.
PLANT GIFTS. If you want something alternative or maybe you just want to add another gift alongside the beautiful bouquet you have in mind, then their collection of plants is the way to go. For one thing, they're going to last longer than the lovely flowers you sent.
PRODUCTS
FLOWERS IN A BOX: From $55
ROSES: From $60
ARRANGEMENT: From $55
BOUQUETS: From $65
DELIVERY & PAYMENT
Order before 12 pm for same-day delivery. Payment options include VISA, MasterCard, and eWay.