The 7 Best Options for Chocolate Delivery in London
Chocolate is one of the treats that is hard to say no to. Whether it's in the form of a bar, a cake, gelato, or a hot drink, chocolates really make their way to our tummy.
It will definitely be a lot harder to avoid chocolates if you knew that you can actually have them delivered to you anytime you want. We have researched the shops that offer chocolate delivery across London and here are the results.
Note: Taking into account the COVID crisis in the UK, these chocolate delivery shops will continue to serve customers whilst implementing and following safety protocols. Furthermore, expect a limited product selection from these confectionery. This post will be constantly updated, so be sure to check back often.
1.      BOROUGH BOX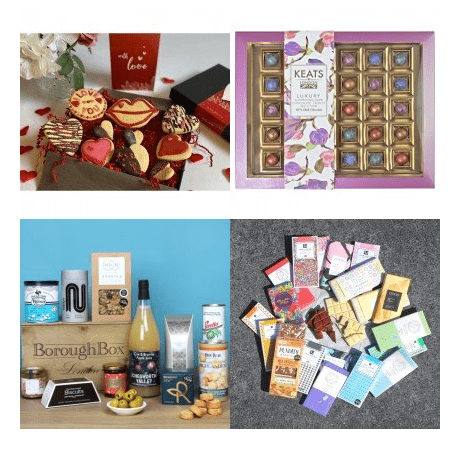 Borough Box is an online marketplace filled with various food and drink products coming from multiple independent producers across the UK and nearby areas.
Borough Box makes sure that all of the products passed on to them undergo strict quality control so you are guaranteed to always receive high quality products.
Borough Box sells all kinds of food items, more particularly fine wines and chocolates.
WHAT PEOPLE LIKE
VARIETY OF OPTIONS. The shop does not only limits itself with fine wines, but they also open their business for a wider range of options when it comes to food and drinks.
VALUE FOR MONEY. Your money will never be put into waste if you choose to purchase your wine orders from Borough Box as they always guarantee that you get the best that you always deserve.
PRODUCTS
Chocolate Gifts – £14.99 to £200
Valentine's Chocolate GIfts – £14.99 to £200
DELIVERY AND PAYMENT
PayPal, MasterCard, Visa, Maestro, AMEX
2.      EDIBLE BLOOMS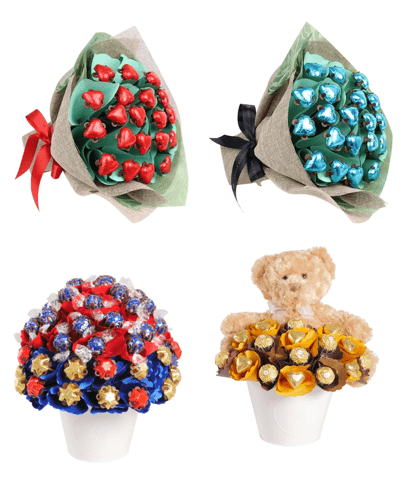 Send someone a special gift which is a combination of two wonderful items- chocolates and flowers. The shop specializes in edible blooms made out of sweet chocolates which are perfect gift especially for birthdays. The shop also offers free delivery services for as long as your order reaches a total amount of $120 and above.
WHAT PEOPLE LIKE
CUSTOM MADE. The shop offers to customize your gift products so your recipient will feel extra special and more personal. This is also your chance to make your gift exactly how you think the recipient would like it.
FREE DELIVERY. The shop offers free delivery to their clients whose orders have a total amount of $120 and above.
PRODUCTS
Chocolate Bouquets – £37 to £300
Dark Chocolate Gifts – £20 to £300
DELIVERY AND PAYMENT
Visa, PayPal, AMEX
3.      HOTEL CHOCOLAT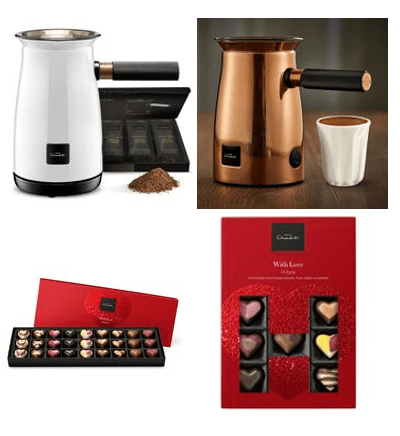 Chocolates is one of the best gifts to send your friends and loved ones especially if they are packaged beautifully and of course if they taste so heavenly like the ones made by Hotel Chocolat.
Aside from chocolate bars, the shop also sells delightful hot chocolates that are mixed with other flavours like peppermint, gingerbread, salted caramel, etc.
WHAT PEOPLE LIKE
Can't get enough of the shop's delicious chocolates? Then make sure to subscribe to their shop so you are always filled with the supply of their scrumptious products.
GIFT HAMPERS. Fill your gift baskets with the shop's premium chocolates by availing their gift hampers which you can also send to your friends.
PRODUCTS
Hot Chocolate – £9 to £100
Chocolate Hearts – £2.50 to £100
DELIVERY AND PAYMENT
Contact shop for details.
4.      PLANET CHOCOLAT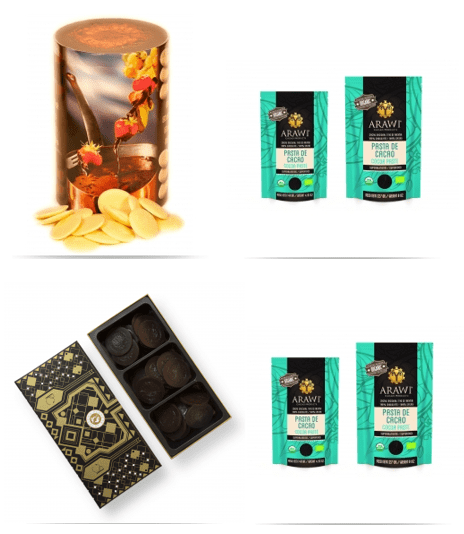 Planete Chocolat is truly a world full of scrumptious chocolates. It has one of the largest collections of chocolates that also provide delivery services to a wider range of areas.
Not only do they offer their delivery services in London alone but in the entire United Kingdom. Deliveries are sent via DHL Express all throughout the weekdays so you can have these delicious chocolates anytime you want.
WHAT PEOPLE LIKE
BEAUTIFULLY PACKAGED. The chocolate products of Planete Chocolat are packaged so beautifully making them perfect as gifts. These chocolates are mostly Belgian and will definitely make you fall in love with chocolates over and over again.
PRODUCTS
Chocolate Fondue – £27 to £50
Sugar-free Chocolate – £42 to £100
DELIVERY AND PAYMENT
Visa, MasterCard, Maestro, PayPal, Diner's, Discover, JCB, AMEX
5.      THORNTONS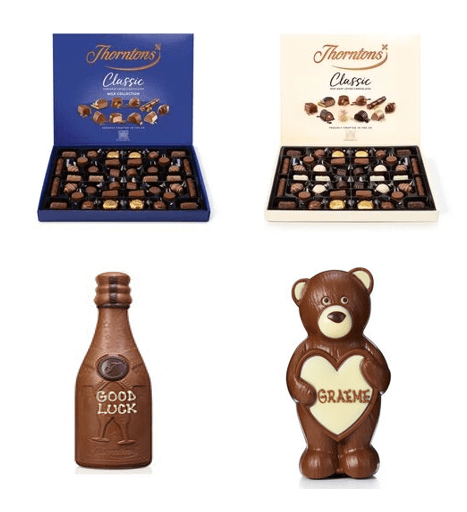 Thorntons is one of the most popular shops in the UK that offer chocolate delivery services.
The shop is the go-to shops of the people in the area for their gift needs and never did they disappoint their clients as they always have the available products that they specifically need.
The shop houses thousands of different gift items including premium chocolates that you will definitely love.
WHAT PEOPLE LIKE
PERSONALIZED GIFTS. Aside from their pre packed chocolate bars and other gift products, the shop also accepts orders to be personalized so your favorite chocolates will be much closer to your heart.
PRODUCTS
Chocolate Boxes – £8 to £100
Chocolate Models – £8 to £100
DELIVERY AND PAYMENT
Contact shop for details
6.      ARTISAN DU CHOCOLAT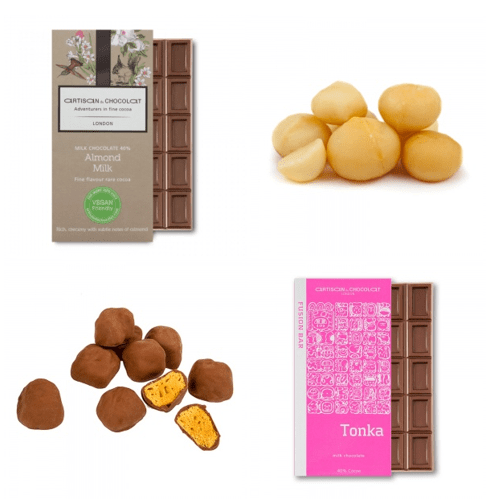 Artisan Du Chocolat offers some of the most scrumptious chocolates products all over the city of London. Not only do they sell typical chocolate bars but they unleash their creativity by creating other products like chocolate drinks, chocolate milkshakes, chocolate fondant, chocolate cheesecakes, and many more.
For chocolate lovers, Artisan Du Chocolat will definitely make you feel as if you are in cloud 9 with their undeniably exceptional selection of chocolate products.
WHAT PEOPLE LIKE
FREE DELIVERY. Get your chance to save a few bucks and avail the shop's free delivery services if you purchase a total amount of £60 and above. Surely, with products these delightful, you won't have a problem achieving this goal.
PRODUCTS
Nut Lover Chocolate – £3.99 to £50
Milk Chocolates – £3.99 to £50
DELIVERY AND PAYMENT
Visa, PayPal, MasterCard, Discover
7.      80NOIR ULTRA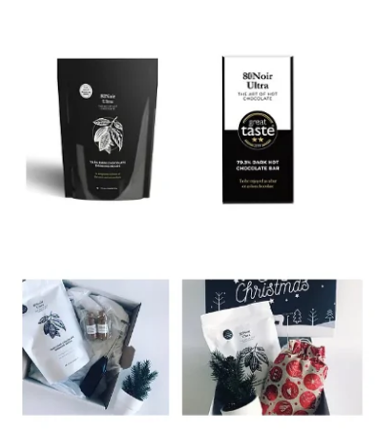 Tastes great, works wonders. 80Noir Ultra bespoke Multi Award Winning Dark Chocolate range is revolutionising the way people look after their mental and physical wellbeing & fitness. Aside from the mini daily dose of greatness bars and training bars, they also sell the perfect hot chocolate to help soothe, balance and bring a sense of calm to your winter. 80Noir Ultra is gluten, palm oil free and vegan friendly.
WHAT PEOPLE LIKE
DELECTABLE DARK CHOCOLATE. Their dark chocolate is smooth and has a consistent texture, they are perfect to boost your energy and improve your mood.
A DAILY DOSE OF GREATNESS. The bars are beautifully packaged in weekly, monthly boxes to help improve and boost your mind and body
HYGGE HOT CHOCOLATE GIFT SETS AND WELLBEING KITS. Show you love your friends and family, but that you care for their mental and physical wellbeing
PRODUCTS
Hot Chocolate – £7 – £99
Mini Bars £1 – £99
DELIVERY AND PAYMENT
Contact or message them for more information.