The 6 Best Options for Chocolate Delivery in Singapore
Let's admit that there are days when we just want to curl up in bed and watch the latest movie while devouring our favorite snacks.
To help you enjoy this cozy feeling, there are various chocolate shops in Singapore that offer to deliver premium and scrumptious chocolates straight to your place.
All you have to do is place your orders at the comfort of your homes. Here are 6 of the best options for chocolate delivery in Singapore.
Note: COVID-19 and Circuit Breaker have changed things, so some of these shops have altered a few of their policies or services. We've checked, and where we could confirm such changes, we've noted them below. Unless otherwise noted, though, most of these still do deliveries.
1.  HELLO CHOCOLATE

Got a friend with a sweet tooth? Why not send them some sweet and delicious boxes of chocolates straight to your place? No, you don't have to send it yourself because Hello Chocolate can make that work for you. They even offer same day delivery service for rush orders.
WHAT PEOPLE LIKE
DIVERSE COLLECTION. The shop does only feature chocolates that are locally made; they also offer food products from all over the world so it is as if you have toured from one country to another when you get to taste all the chocolates from their collection.
AFFORDABLE CHOCOLATES. You'd be surprised to know that these premium chocolates are actually sold at very affordable prices. If you want to see the products available, you can visit their website.
PRODUCTS
Dark Chocolate – $16 to $50
Milk Chocolate – $8 to $50
Raw Chocolate – $10
DELIVERY AND PAYMENT
Visa, MasterCard, PayPal, AMEX
2.  LITTLE FLOWER HUT

Little Flower Hut has all kinds of chocolates that are mixed up in a basket to create a wonderfully packaged gift baskets. These boxes are sold at very reasonable prices so you will surely see how the shop values your money. The shop also offers other gift items that will perfectly go along with your choice of chocolate.
WHAT PEOPLE LIKE
NEXT DAY DELIVERY. The earliest delivery that the shop could make is next day delivery so make sure that you place your orders ahead of time so your recipient will be greeted with a big basket of chocolates early in the morning.
FOR ALL OCCASIONS. The shop is prepared to provide you with their precious products any time of the year and whatever occasion you may be celebrating.
PRODUCTS
Chocolate Hamper – $59 to $200
DELIVERY AND PAYMENT
Visa, MasterCard, Discover, AMEX
3.  SINGAPORE FLORIST

Singapore Florist is not only one of the best flower providers in Singapore, but they also have a huge inventory of gift items that are equally in premium quality. One of these products is their delicious and sweet chocolates. These chocolates can be sent as gifts or as a reward for yourself. You can avail the shop's delivery services for a less hassle purchase.
WHAT PEOPLE LIKE
AFFORDABLE PRICES. The shop offers a lot of chocolates in different brands and flavors but there are two things in common- all of their products are high in quality and affordable.
PRODUCTS
Chocolate Box – $16 to $50
DELIVERY AND PAYMENT
Visa, MasterCard, AMEX, DBS, UOB, POSB, PayPal
4.  LAURENT BERNARD
Laurent Bernard Chocolatier sells their premium chocolates not only to serve as your desert but also a healthy snack which they see as one of the most nutritious and easy to digest foods. Their chocolates contain lots of vitamins that are good for your body and contain many premium ingredients that will please your tongue.
Note: They're still filling online orders by delivery, but their physical stores are closed for the moment.
WHAT PEOPLE LIKE
EASY TO ORDER. The shop makes it easier for their clients to place their orders and purchase their desired chocolates by simply visiting their website and settling their payments.
CORPORATE ORDERS. If you are still looking for the best corporate gift to send to your clients and business partners, the chocolates that Laurent Bernard sell can actually be a good starter.
PRODUCTS
Chocolate Bars – $13 to $50
Chocolate Boxes – $72 to $300
DELIVERY AND PAYMENT
PayPal, Visa, MasterCard, Discover, AMEX
5.
6.  HEDIARD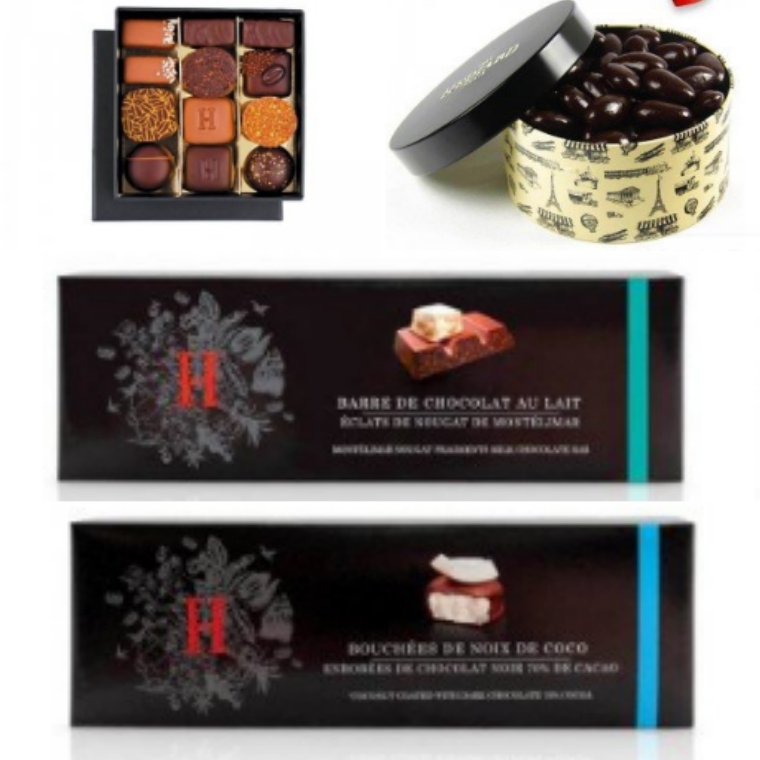 Hediard is one of the most popular shops in Singapore that offer chocolate delivery services. Hediard is the go-to shops of the people in Singapore for their gift needs and never did they disappoint their clients as they always have the available products that they specifically need. The shop houses thousands of different gift items including premium chocolates that you will definitely love.
Note: The Singapore store has ceased activity indefinitely and even did a clearance sale in April.
WHAT PEOPLE LIKE
EXTENSIVE SELECTION. Hediard will make you shop until you drop with their huge collection of gift items. You will never really run out of options if you decide to purchase your gift needs from Hediard.
PRODUCTS
Classic Chocolates – $12 to $200
Chocolate Bars – $8 to $15
DELIVERY AND PAYMENT
Visa, MasterCard, AMEX, Discover, PayPal