The 9 Best Options for Cupcake Delivery in Manchester
Manchester is the third most visited city in the UK, after London and Edinburgh. With the place's architectural beauty and rich culture, it is undoubtedly a great place to wander around while devouring the city's finest cupcakes.
We have listed some of the bakeshops where you can directly head to once you arrive in Manchester.
Note: Despite the ongoing crisis of COVID-19, most of the stores herein featured still take your online orders. One of them has closed temporarily in the best interest of the health and well-being of its team and customers. As for those accepting orders, deliveries will take a little longer than usual. Other than that, we will update this post frequently, so you can check back soon.
1.      CANDY'S CUPCAKES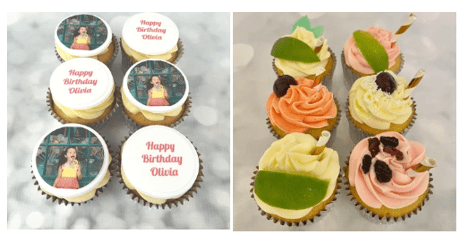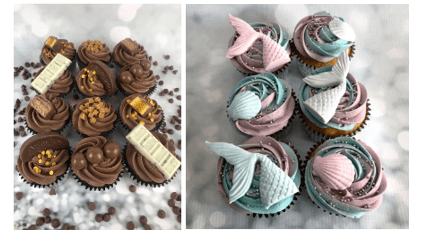 Sky's the limit for different cake and cupcake designs Candy's Cupcakes can provide for her beloved clients in Manchester. For as long as you can imagine it, guaranteed that she can make it into a reality.
Have your personalized cakes and cupcakes be served on your birthday, anniversary, bridal shower, or any other events so your party will be extra special and sweet, exclusively brought to you by Candy's Cupcakes.
WHAT PEOPLE LIKE
The shop's clients loved how they are able to request specific designs for their cake and cupcake orders making their events more intimate and looking so elegant.
The creativity that Candy's Cupcakes showcase on her pastry products is something that constantly amuse her clients.
PRODUCTS
DELIVERY AND PAYMENT
I accept bank transfer, cash or PayPal. I have a "PayPal Here", so I can take card payments.
2.      RACHAEL'S KITCHEN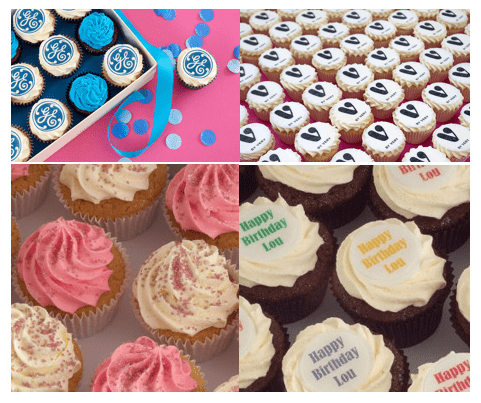 Rachael's Kitchen is passionate about cupcakes, and loves designing, making and delivering their delicious gifts and treats to happy people all around the UK.
They can provide you with cupcake-filled boxes for all occasions or even on just a random day. These fine boxes may have a 6 or 12 pieces of cupcakes, depending on your preferences but one thing in common and they really take pride in, is that all of their baked goodies are scrumptious and in the best qualities.
WHAT PEOPLE LIKE
VARIETY OF FLAVOR. You will never run out of options for cupcakes if you choose to buy from Rachael's Kitchen because they have tons of flavors to choose from, from the classic to most sophisticated ones.
DIY DESIGN. Have the chance to decorate your own cupcake for a more personalized touch and let's face it, it's just plain fun.
PRODUCTS
Corporate Cupcakes
Birthday Cupcakes – £22.00 to £100
DELIVERY AND PAYMENT
Contac shop for more details.
3.      HEY LITTLE CUPCAKE
From the simplest to the most grandiose looking one, Hey Little Cupcake provides a delectable selection of freshly baked cupcakes for everyone in Manchester. What's better news is they sell these at very affordable prices.
If you want to have a little chit chat date with your friends or treat your kids on a fancy play date, the shop warmly welcomes you to try their afternoon tea where they serve some hot tea and a selection of cupcakes and other pastries.
WHAT PEOPLE LIKE
CUPCAKE CLASSES. Have fun baking and decorating your own cupcakes alone, with your friends, or with your kids at Hey Little Cupcake's cupcake classes.
Of course, they won't miss the chance to cater some beautiful events like weddings so you can hire them to fill your dessert table with their most delicious selection of cupcakes and other pastries.
PRODUCTS
Seasonal Cupcakes – £1 to  £100
DELIVERY AND PAYMENT
Delivery services are available within MCR City Center and Trafford.
4.      THE LITTLE CUPCAKE COMPANY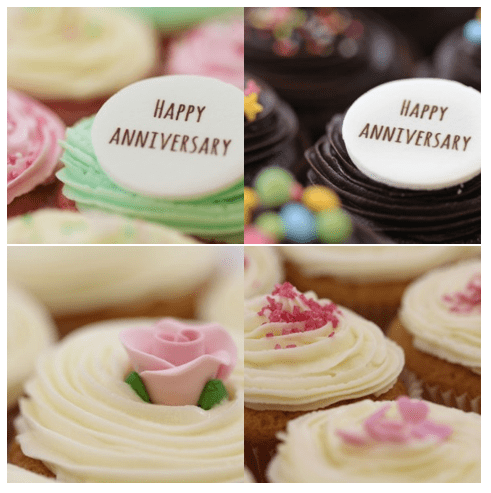 The Little Cupcake Company is home to tons of different baked goods and other pastry products including their utmost specialty—cupcakes. These cupcakes are made of only the finest and freshest ingredients so you are guaranteed that they are all in the best qualities.
You will also enjoy their creative cupcake candy toppers that vary in sizes and shape and some are even molded from safari animals and other colorful characters.
WHAT PEOPLE LIKE
AFFORDABLE PRICES. You wouldn't think that a cupcake sold at a low price tastes like gold. But if you have a bite of one of The Little Cupcake Company's cupcakes, you will definitely believe so.
PRODUCTS
Anniversary Cupcake – £2.25 to  £100
Wedding Cupcake – £2.25 to £100
DELIVERY AND PAYMENT
Their delivery service covers London, Cambridge, most of the UK, the Channel Islands and the Isle of Man.
5.      ALEX'S BAKERY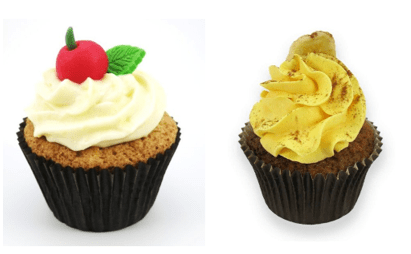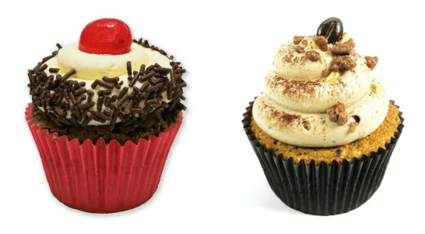 Alex's Bakery takes pride in their freshly baked and creatively designed cupcakes which you may have customized depending on the theme of your events. They specially create bespoke corporate cupcakes where you may request your logo to be incorporated through a customized topping.
Every week, Alex's Bakery features a variety of cupcakes which they call the Yummies of the Week. Nonetheless, the shop promises that all of their products are equally savory.
WHAT PEOPLE LIKE
DELECTABLE SELECTION. At Alex's Bakery, you will find a huge collection of delicious cupcakes in a variety of flavors and designs so every day you will try something new yet tasty.
CUSTOM MADE. If you wish to have your cupcakes designed uniquely, the team will gladly do so while keeping the products in the highest quality.
PRODUCTS
Cupcakes – £8.80 to  £200
DELIVERY AND PAYMENT
Contact shop for more details.
6.      MUMS BAKE CAKES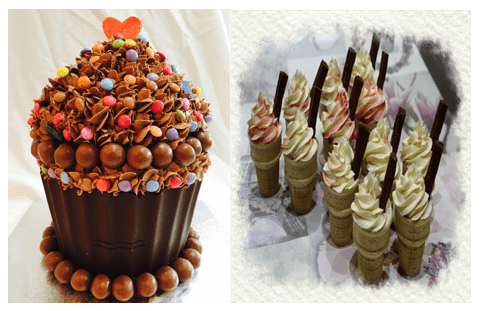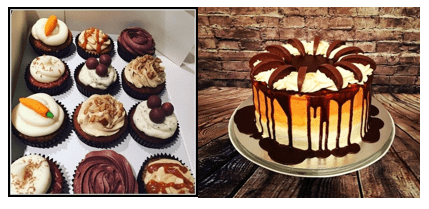 Mums Bake Cakes is a marketplace where local bakers can sell their scrumptious cakes and hand-deliver them to customers in their local area. They partner only with trusted and high quality bakeshops so they consistently deliver premium cupcakes for the people in Manchester.
Mums Bake Cakes has one of the largest inventory of cakes and cupcakes in the area so you have plenty of options to choose from and more flavors to enjoy.
WHAT PEOPLE LIKE
VEGAN SELECTION. Aside from regular cupcakes, you can also find some healthier options in their collection like vegan and gluten-free cupcakes
PRODUCTS
DELIVERY AND PAYMENT
Contact shop for more details.
7.      FREEDOM BAKES
Based in Cheshire and dedicated to making high quality cakes, Freedom Bakes stands out from the crowd. If you are looking for that WOW factor, you have come to the right place. They will surely handmake any design you can dream of.
WHAT PEOPLE LIKE
ALLERGEN FREE BAKED GOODS. Rest easy knowing that they can provide you with cupcakes and cakes that are gluten, dairy, egg, nut, and sugar free.
PRODUCTS
DELIVERY AND PAYMENT
Contact shop for more details.
8.      ZARA CAKES

Not everyone can afford to spend hundreds of dollars on a single cake. However, that doesn't mean you can't get beautiful cakes on a budget. Zara Cakes is your best choice if you don't want to sacrifice quality. They can adjust to any price point, and work with their clients to get the best design possible.
WHAT PEOPLE LIKE
SUBSCRIPTION BOX. You can get to try their delicious range of cakes, cupcakes, brownies, donuts and so much more anywhere in the UK. Let them surprise you every month!
PRODUCTS
DELIVERY AND PAYMENT
Major credit cards
9.      PINK AUBERGINE CUPCAKES

At Pink Aubergine Cupcakes, cupcakes are their passion, and they love baking and decorating every single one! Whether you want to treat yourself, a special person, your team or colleagues, or are organizing a party, event, or marketing promotion, they can help you!
WHAT PEOPLE LIKE
FRESH INGREDIENTS. Based in the beautiful Derbyshire Peak District, they are lucky to be able to source fresh, local ingredients wherever possible to ensure that their cupcakes are the best quality.
HANDMADE. Each cupcake is handmade to order and decorated with delight.
PRODUCTS
Branded logo cupcakes – £20
Rose swirl cupcakes – £17.50
Happy birthday star cupcakes – £22
DELIVERY AND PAYMENT
Contact for more details
10.  English Rose Bakery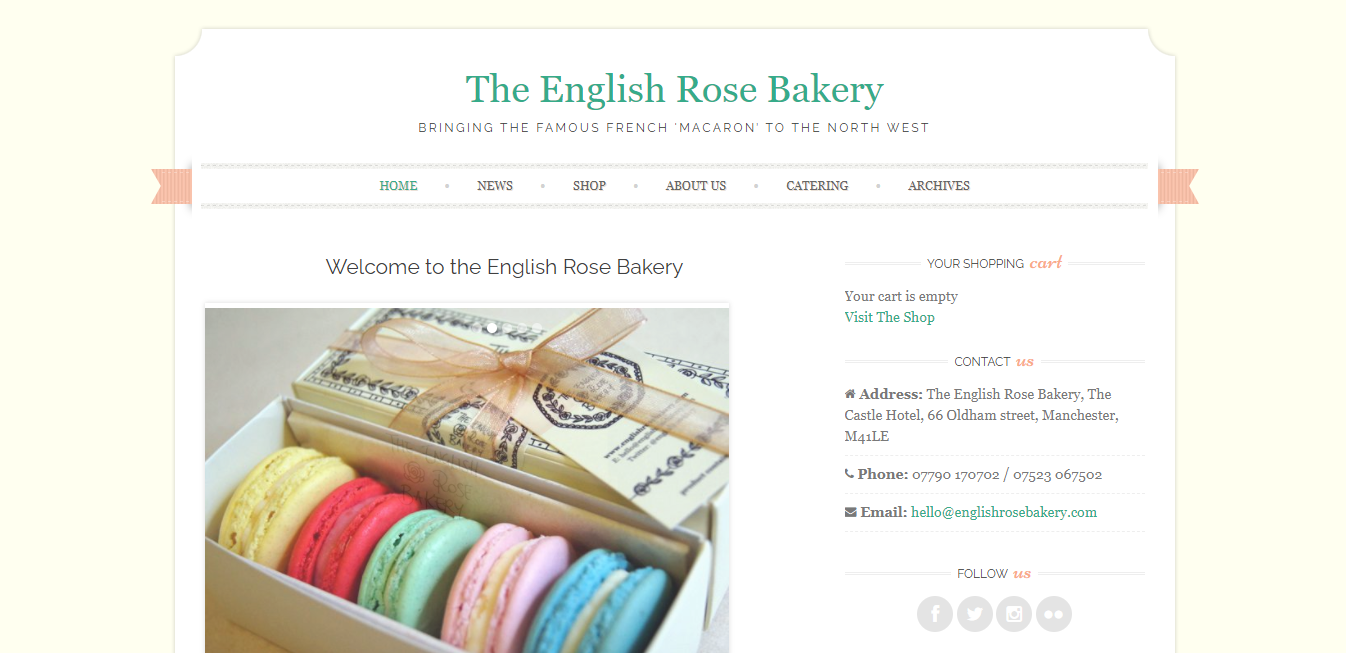 English Rose Bakery offers a variety of different sweets and pastries, but they specialize in the art of making perfected-French macarons. After all, nowadays, macarons have become the new bite-sized cupcakes.
With their expertise in macarons, they have even gone so far as making their very own version of vegan macarons. For special events, you can try out their macaron tower, which features various flavours.
And if you want to make those tasty treats by yourself, you can also enrol in English Rose Bakery's macaron classes.
What People Like 
Variety of flavours — English Rose Bakery has over 40 flavours, including raspberry daiquiri, mojito, and mango and passionfruit, that you can choose from. Besides, they are also experimenting and creating new tastes now and then, so just stay updated on their latest creations.
Products 
Delivery and payment
Accepts major credit cards