The 7 Best Options for Flower Delivery in Bahrain
Flowers can help convey various human emotions such as sincerity, sympathy, and gratitude. However, the arrangement also affects the overall impact of the blooms. Fortunately, we have florists that we can count on.
To make it easier for you to choose floral arrangements, we have provided a list of the best flower shops in Bahrain. This also contains some information, such as pricing, delivery, payment, and social media accounts. So, without any more ado, let us take a look at the flower shops that offer flower delivery in Bahrain. Scroll down to know more information.
NOTE: Due to the current pandemic outbreak, we've noted the relevant service changes for some of the shops listed below. Most stores are still accepting online or phone orders as well as regular delivery services.
1. ALIA FLOWERS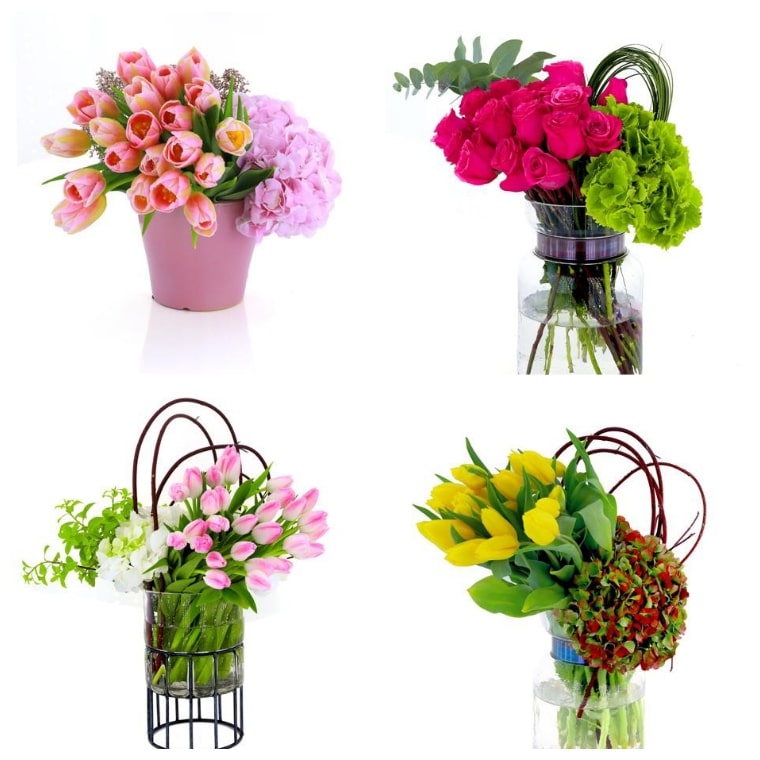 Alia Flowers is considered to be one of the best flower shops in the region. It was founded by Serene who is renowned for her creativity and unique way of dealing business. She is open to new ideas in order to cater the needs and demands of its customers. Here, you can find varieties of flower bouquets and arrangements, blooms of different colors or sizes are combined into one bundle.
SPECIALTY
Contemporary design
SELECTION SIZE
Moderate
STARTING PRICE
BD15
DELIVERY FEE
BD20
WEBSITE
https://www.aliaflowers.com/
SOCIAL MEDIA
Instagram: @aliaflowers

Facebook: /AliaFlowersBahrain

Twitter: @FlowersAlia

CONTACT DETAILS
+97317714696 | [email protected]
WHAT PEOPLE LIKE
CASH ON DELIVERY. In case you don't want to use enter credit card information or other personal details, you can choose the COD option as payment. That means that you will pay the item once it arrives on your doorstep. This is a relief to those who don't want to risk their card details on the web. So, if you think paying in cash is better, then this is a good shop to order flowers from.
AVAILABLE IN MOBILE APP. Since they want to make sure that their customers will be able to shop their products, they also have applications that can be downloaded on your mobile phone. You can visit the Google Play Store or the App Store to install the mobile app of the shop. Simply search for Alia Flowers and it will be shown on your screen.
PRODUCTS
FLOWER BOUQUET: BD15 – BD45
FLOWER ARRANGEMENT: BD12 – BD132
PLANTS: BD6 – BD68
CHOCOLATE: 5 – BD44
ACCESSORIES: 2 – BD35
DELIVERY & PAYMENT
Accepted payment: VISA, MasterCard and American Express (Amex holders receive 20% off when ordering flowers/plants), as well as cash and via bWallet, the latest mobile digital wallet from Batelco and AFS
2. BAHRAIN FLOWERS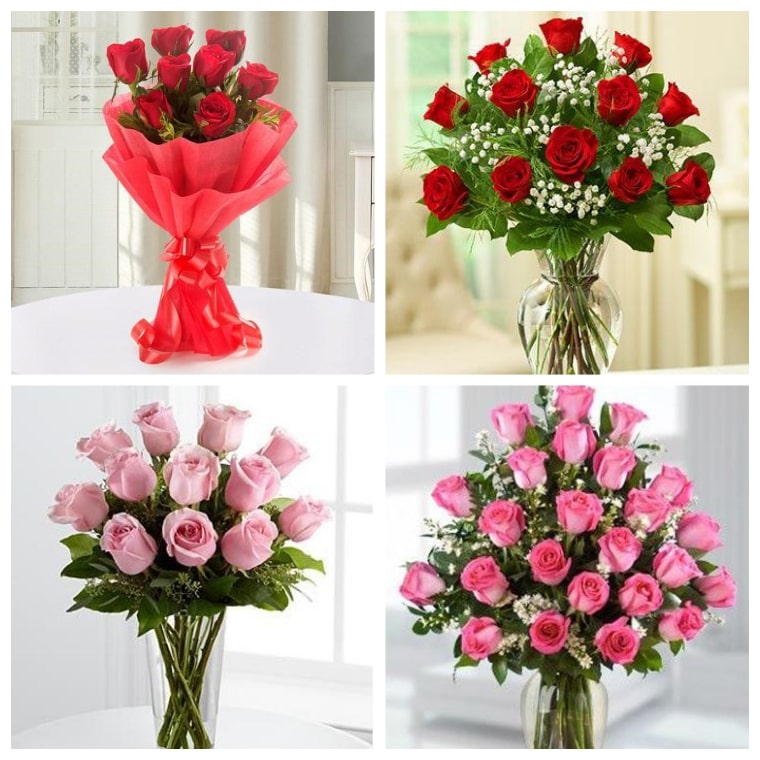 Bahrain Flowers aims to provide its customers with high-end blooms and bouquets for their birthdays, graduation, and other special celebrations. Their arrangement contains fresh cut flowers, foliage, and other decorations that will help in beautifying the blooms. You can shop from their online site or call their customer support to place an order.
SPECIALTY
Premium floral arrangement
SELECTION SIZE
Moderate
STARTING PRICE
BD10
DELIVERY FEE
Calculated upon checkout
WEBSITE
http://bahrainflowersbh.com/
SOCIAL MEDIA
Instagram: @bahrainflowersbh

Facebook: /bahrainflowersbh

Twitter: @bahflowersbh

CONTACT DETAILS
+973 17311121 | [email protected]
WHAT PEOPLE LIKE
BUDGET-FRIENDLY FLOWERS. Bahrain Flowers has cheap and affordable blooms. In fact, you can already buy a decent flower at BD10 or some fresh blooms at BD8. So, if you are trying to save money, then you can contact the shop for your needs.
EASE OF SHOPPING. The online site has a simple and basic layout which makes it user friendly. You can easily browse through their pages and order from their shop. Just go to Categories and find the best match for you.
PRODUCTS
FLOWER ARRANGEMENT: BD10 – BD110
FRESH FLOWERS: BD8 – BD90
DELIVERY & PAYMENT
3. FLOWER LINK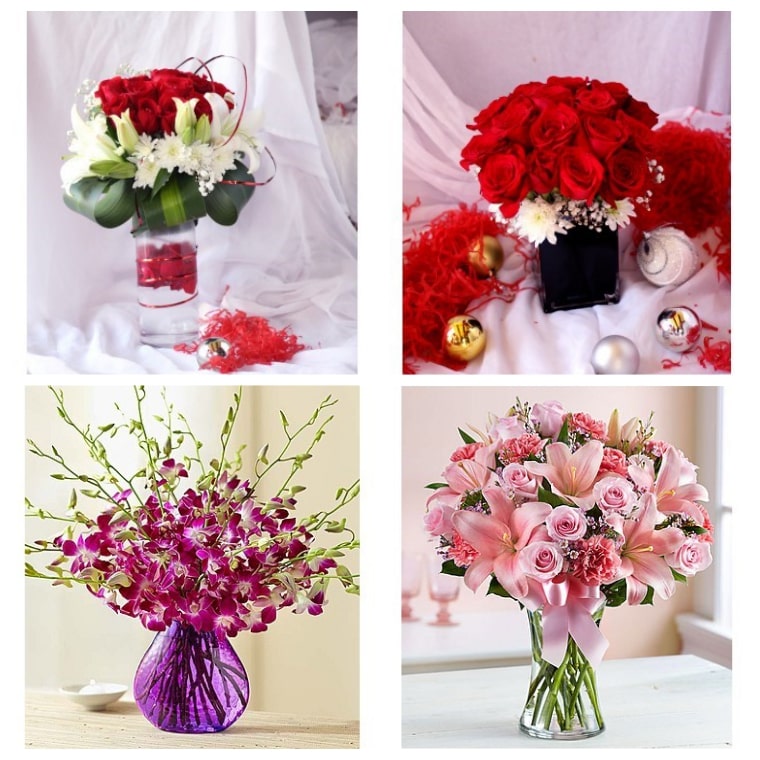 Flower Link Bahrain was established in 2013. Although it's relatively new to the business, it has been recognized by the local for its gorgeous flower arrangements. This is thanks to their trustworthy and dedicated florist which creates stunning bouquets and flower vase arrangements. Further, their experience in the field of floristry helps them to craft unique and refreshing styles of blooms.
| | |
| --- | --- |
| SPECIALTY | Premium vase arrangement |
| SELECTION SIZE | Enormous |
| STARTING PRICE | BD12 |
| DELIVERY FEE | Calculated upon checkout |
| WEBSITE | https://flowerlink.net/bahrain/ |
| SOCIAL MEDIA | Facebook: /pages-Flower/Link |
| CONTACT DETAILS | 973-33441480| [email protected] |
WHAT PEOPLE LIKE
OFFERS RETAIL AND WHOLESALE FLOWERS. In case you intend to open a shop or buy in bulk, you can rely on Flower Link for your needs. Not only do they offer retail sales of their blooms, they also provide wholesale. As such, you can purchase in large amount from the shop.
CATEGORICAL SHOPPING. Customers praised how the site categorically arranges their products. For instance, you want to buy other items aside from flowers. You can easily go to that certain category and choose from the available options.
PRODUCTS
FLOWERS FOR ANY OCCASION: BD12 – BD199.90
CHOCOLATES: 90 – BD38
CAKES: BD12
DELIVERY & PAYMENT
4. NAWAL FLOWERS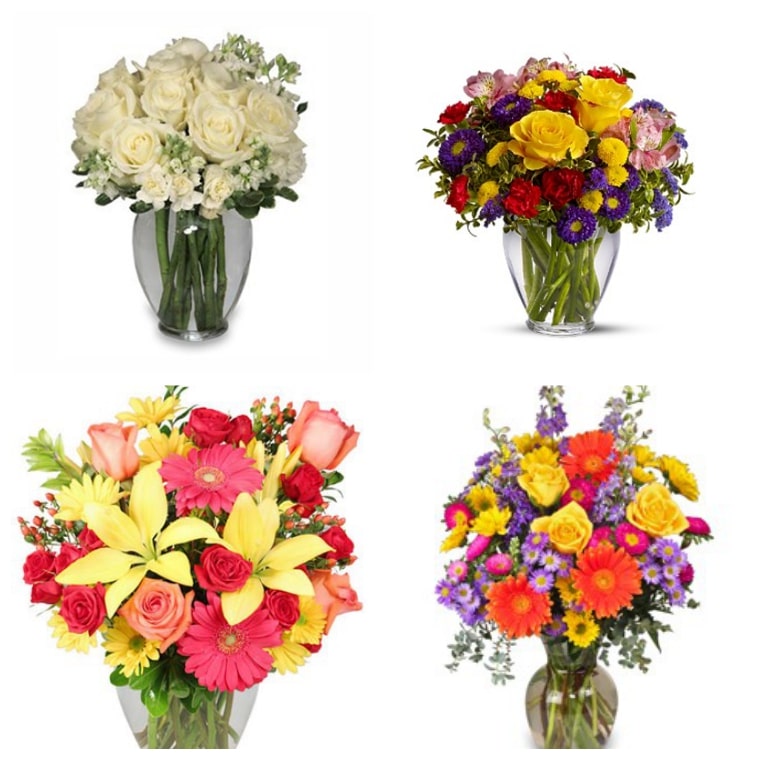 Another shop that you can rely on for your flower needs is Nawal Flowers. It is popular for its hand-tied bouquets and floral arrangements. Further, their blooms are characterized by long stems and solidify color. Throughout their years in the business, they see to it that they explore various styles. So, you can find a variety of design on their shop.
| | |
| --- | --- |
| SPECIALTY | Flowers with chocolate |
| SELECTION SIZE | Moderate |
| STARTING PRICE | BD12.60 |
| DELIVERY FEE | Standard delivery fee applies for BD25, lower than that, an additional BD3 will be imposed. |
| WEBSITE | https://www.dragonflyflowers.com/ |
| SOCIAL MEDIA | Instagram: @nawalflowers |
| CONTACT DETAILS | +973-1727-6200 | [email protected] |
WHAT PEOPLE LIKE
EVENT SERVICE. For upcoming events, you can ask the shop to take care of your flowers. Their florist will make sure that your venue is designed and decorated according to your theme or preference. Don't forget to consult to the shop in order to make sure that your demands will be heard.
RETURN AND EXCHANGE POLICY. Customers can also return and exchange their orders for another. However, this should be made within 24 hours after the delivery. Further, it only applies to defective blooms. So, if the blooms were destroyed because of your fault, you cannot ask for an exchange.
PRODUCTS
FLOWERS FOR ANY OCCASION: 60 – BD80
DELIVERY & PAYMENT
The shop accepts payment through VISA, MasterCard, American Express, UCB, and Benefits.
5. BAHRAIN GREETINGS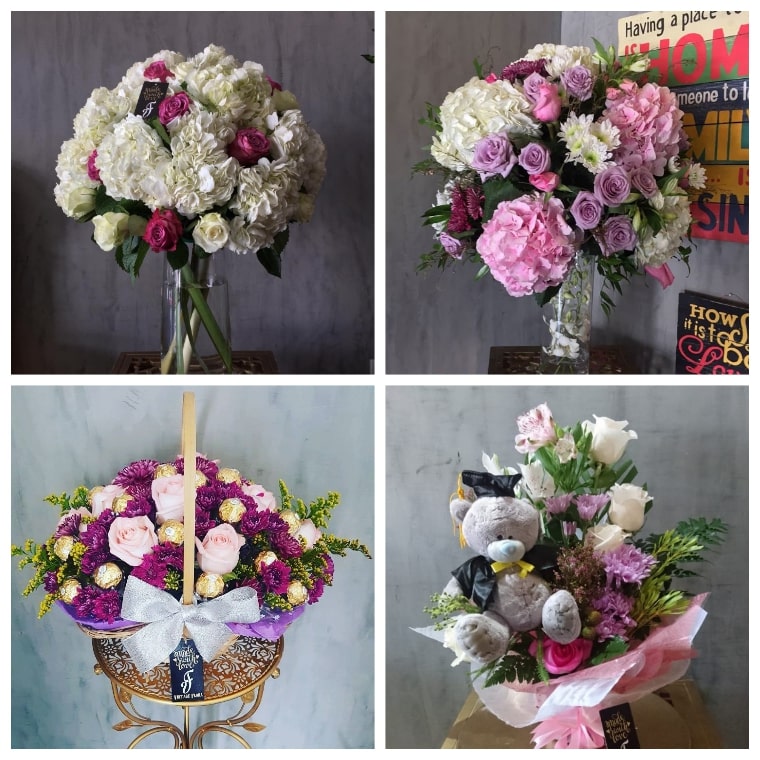 Bahrain Greetings is an ecommerce site which provides different gift items for its customers. It partnered with various florists in order to supply its clients with blooms. Since they want to protect their reputation, they make sure that only premium floral arrangements and blooms will be dispatched from each shop.
SPECIALTY
Same Day Flowers
SELECTION SIZE
Moderate
STARTING PRICE
BD29.18
DELIVERY FEE
Free for orders BD45.09 and above
WEBSITE
https://bahraingreetings.com/
SOCIAL MEDIA
Instagram: @bahraingreetingsdotcom

Facebook: /BahrainGreetings

CONTACT DETAILS
204 775-8483
WHAT PEOPLE LIKE
SAME DAY DELIVERY. For busy people, the shop offers same day delivery. You can find all the items that are subject to this policy under the "Same Day Flower" option. That being said, it does not apply to all. So, make sure that you check this category first before assuming that your flowers will be delivered on the day you ordered it.
OPENS 7 DAYS A WEEK. Since they want to cater all customers, they also operate on weekends. Thus, you can place your orders on Sundays or Saturdays. You won't need to rush your orders. Simply visit their site and choose the flowers that you want from there.
TRACK ORDER. Customers can also track their orders from the site. They provide an option to allow its clients to check the status of their flowers. Thus, you will know when to expect your parcel.
PRODUCTS
FLOWERS FOR ANY OCCASION: 18 – BD663.09
PLANTS: 95 – BD79.99
DELIVERY & PAYMENT
Payments may be made through VISA, VISA Electron, MasterCard, Maestro, American Express, Diners Club and PayPal.
NOTE: You can still make orders online or by phone and they also kindly remind the customers that the delivery hours will be limited from 10 am to 3 pm.
6. LALA BELLA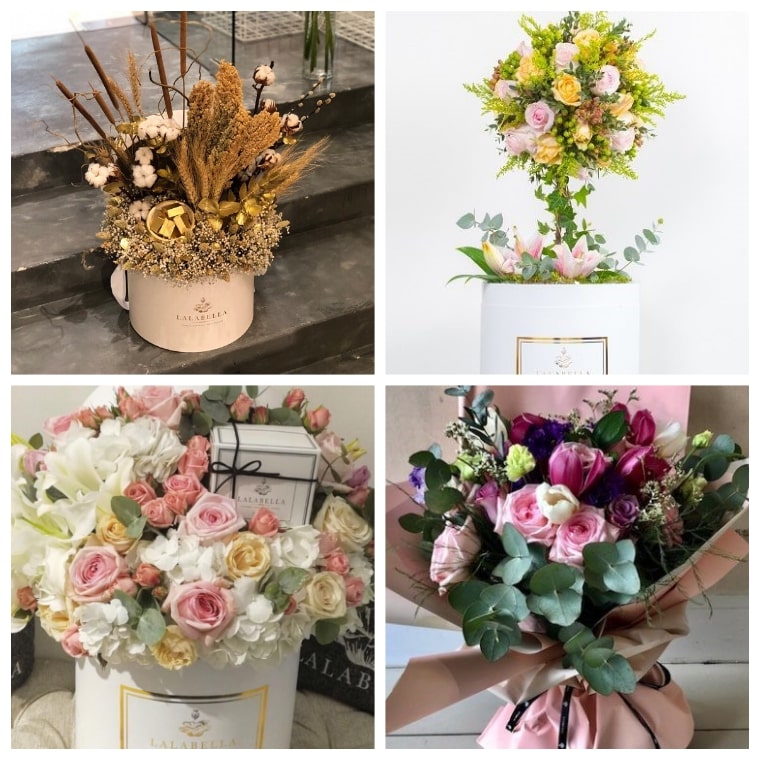 LalaBella, when translated, refers to passion, luxury, and elegance. That being said, the florists of the shops have their own way of creating arrangements and bouquets. You will find unique and neat arrangements within the page.
SPECIALTY
Hand-tied arrangement
SELECTION SIZE
Curated
STARTING PRICE
Contact shop for prices
DELIVERY FEE
WEBSITE
https://www.lalabellabh.com/
SOCIAL MEDIA
Instagram: @lalabellabh

Facebook: /lalabellabh

CONTACT DETAILS
973 77011114 | [email protected]
WHAT PEOPLE LIKE
SAME DAY DELIVERY. Lala Bella also provides same day delivery for its customers. Thus, you can expect your flowers to be delivered to your recipient on the day you ordered them. Just make sure that they received your orders within the cutoff time.
PROVIDES WORKSHOP. If you want to learn a thing or two with flowers, you can sign up for the lesson of Lala Bella. Here, you will know the basics of taking care of blooms as well as how to arrange it effectively and aesthetically.
PRODUCTS
FLOWERS FOR ANY OCCASION: contact shop
DELIVERY & PAYMENT
7. Cake N Flowers

Cake N Flowers is a ONE STOP SHOP for all your gifting needs . Established since 2005 , Cake N Flowers has delivered over 1.5million orders across the Globe by putting a smile on recipients faces & conveying your feelings across borders. They go the extra length to make sure every order placed is a perfect one with timely delivery and top notch customer support. With Cake N Flowers , you are not only assured of Top Quality flowers & cakes but also Unbeatable Prices & Customer Service. Your Solution for Any Occasion !!!
WHAT PEOPLE LIKE
SAME DAY DELIVERY. Cake N Flowers also provides same day delivery for its customers.
UNMATCHED QUALITY. To ensure customer satisfaction, their team of professionals does whatever is necessary to deliver excellent results.
PRODUCTS
FLOWERS AND CAKES FOR ANY OCCASION: contact shop
DELIVERY & PAYMENT
Credit Card
Paypal
COD
PBD
Western Union