Featured Image Source from The Spruce
Situated in northern Europe, Finland has one of the most magnificent views to behold. It's the glowing Northern Lights that can be seen on a clear night sky, particularly in the Lapland region.
That scene would be perfect to surprise someone with flowers, don't you think? But, you can create a special moment at any time by giving someone a sweet rose bouquet and chocolate box.
So if you're wondering which florist to buy from, no problem, as we've listed our options for the best flower delivery in Finland here!
However, before we go to our list, we will zero in on the cost of flower delivery in Finland. This will help you choose a flower shop, later on, that's right for your budget.
How Much Does Flower Delivery in Finland Cost?
Flower deliveries in Finland differ from florist to florist. The total cost consists of the flower, additional gift, and delivery prices.
Now, flowers typically cost around €4 to €356 from a single-stem rose to luxury bouquets. The national average cost of this price range is €180.
We retrieved the prices from leading florists in Finland and indicated them in the table below.
| | | |
| --- | --- | --- |
| Flower delivery shop | City | Flower price range |
| Syväsen Kukka | Helsinki | €4 – €125 |
| Kukkahuone Meritorni | Kotka | €5 – €150 |
| Kampin Kukka | Helsinki | €8 – €100 |
| Form & Flora Oy | Helsinki | €8 – €120 |
| Kukkakauppa MicciShop | Turku | €8.43 – €170 |
| Interflora Suomi | Helsinki | €14 – €356 |
| Inbloom Kukkakauppa | Helsinki | €35 – €100 |
| Joensuun Kukkatalo | Joensuun | €2.95 – €189.95 |
Next, if you plan to add a personal gift like a fruit basket, a stuffed animal, or tasty treats, then these will also bring up the price. Make sure to check your budget so that you won't overspend.
Furthermore, the delivery fee ranges between €5 and €28 depending on how far the address is located whether that be in Finland or a different country like the USA, UK, or Australia.
Some flower boutiques offer free flower delivery on the same day too. However, others put a restriction to it such as the delivery is only free if the shipping location is within 200m of the shop.
Also, to get your money's worth, look out for flower sales and discounts and avail them if you can. For this, check out the florist sites when special occasions are around or if you have the time.
The Best Flower Delivery in Finland
With that in mind, we now present to you our top choices for flower delivery in Finland!
1) Syväsen Kukka

PRODUCTS
Congratulatory
Greeting
Thank you
Business gift
Condolences
Bouquet of roses
New Year
Valentine's Day
Women's Day
Easter
Student Day
Father's Day
Christmas
STARTING PRICE
€4
DELIVERY FEE
Helsinki (from Monday till Friday): €10
Other cities in Finland and Saturdays: €15
Countryside and international: please ask the florist for the price
WEBSITE
http://www.floristi.net
SOCIAL MEDIA
Facebook, Instagram,
CONTACT DETAILS
+358 9 7263 200


[email protected]

ADDRESS
Porthaninkatu 10, 00530 Helsinki, Finland
Syväsen Kukka provides simple yet elegant and foliage-balanced bouquets for all occasions. Here, you'll find flowers for congratulations, thank yous, birthdays, graduations, Valentine's Day, Women's Day, and more.
The florist also offers floral decoration services for corporate events, weddings, and parties, making your event a night to remember with many snapshots to look back on.
However, they don't offer complimentary gifts like chocolates, plush animals, greeting cards, and wines. This means that you'd have to buy these things from someplace else.
They deliver to Helsinki and nearby places as well as nationwide and abroad through their Interflora and Dataflora partners.
Their buyers say that it's extremely easy to order from them. Not to mention that they also have a range of payment options like Visa, Mastercard, Amex, and PayPal.
That said, their delivery fees are a bit higher if you compare them to other shops. But, on the flip side, you will not be disappointed with their arrangement as it's made exactly as you want.
Affordable rates
Delivers locally and abroad
Accepts Visa, American Express, and Mastercard credit cards
Hefty delivery fees
Doesn't offer chocolates or plush animals
Customer Reviews
All of their clients were satisfied with their personalized bouquets and affordable rates. Also, those buying from a different country had an easy time ordering with them.
Here's feedback from one buyer, Sophie:
"I emailed the shop from abroad to have some flowers delivered for my friend in Helsinki. They were super helpful, friendly and responsive. Most of all I am so pleased about the bouquet, as she received exactly the kinds of flowers that I requested. Thank you Syväsen Kukka!"
Also, Anu said this:
"Well listened to wishes, friendly service, beautiful and pleasant result."
2) Kukkakauppa MicciShop

PRODUCTS
Roses
Bouquets
Indoor plants
Outdoor plants
Funeral flowers
Wedding flowers
Gifts
Flower accessories
Cards
STARTING PRICE
€8.43
DELIVERY FEE
0 – 150m: free delivery
0.2km – 1km: €7
1km – 4km: €9
4km – 8km: €14
8km – 16km: €17
16km – 22km: €28
22km and over: according to the agreement

*Gift product deliveries (other than flowers) will be sent by post and cost 14€
WEBSITE
https://www.verkkokauppa-miccishop.fi/
SOCIAL MEDIA
Facebook, YouTube
CONTACT DETAILS
+358503248758


[email protected]

ADDRESS
Maariankatu 3B, 20100 Turku, Finland
Fragrant and seasonal, Miccishop's bouquet will never fail to delight your recipient. It will be sent with a special message from you to complete your gift to the person.
Miccishop can provide delivery on the same day provided you order before 4.00 PM. Unfortunately, they only offer free deliveries for addresses within 150m of the boutique.
Though they have a limited flower selection online, you can find romantic red roses to charming spring bouquets and can modify them to your own liking at a small fee.
Moreover, they also sell indoor and outdoor plants, dolls and dollhouses, clocks, candles, lovely hanging decorations, and others. There's so much to get here for a relative or friend's daughter.
We recommend this Turku flower shop because of their stunning and fresh flowers and wonderful service. They are easy to contact and very helpful to their patrons when buying from them.
Free same-day delivery available
Wide range of payment options
Open 7 days a week
Limited bouquet selection
High delivery fees
Customer Reviews
Though there were some reviewers that gave 3 or 4 stars, most clients were impressed with their helpful service and lovely and fresh flower arrangements.
Let's hear Katja's review of MicciShop:
"The miccishop is almost always open and you can get wonderful, fresh and durable flowers in beautiful arrangements. Or just like that! Credit flower shop, quality at a good price. As a bonus, still good service!"
What's more, Sue gave them a perfect score and wrote:
"Fabulous colours and design, my friend was thrilled with her flowers. Micci was amazing, really helpful when I called from UK to check all details etc…highly recommend and will definitely drop by next time I am in Turku."
3) Inbloom Kukkakauppa

It's quite rare for a flower shop to allow bouquet customization on the product order page. This is what makes Inbloom stand out from the rest of the florists on this list.
You can choose what size of bouquet you want, colour scheme, shape, size, delivery time, and pick-up time. Their convenient system even lets you compose a message for your receiver.
Even if you have to wait until the next day for the flowers to be delivered, you can be assured that they will be delivered in your exact order specifications.
That said they don't offer same-day bouquet deliveries. Another downside is their flower prices are a bit high compared to other flower shops.
As to what they offer, they can cater to any occasion from casual surprises to wedding celebrations. Plus, they have a bouquet and gift combo selling for a value price!
Inbloom's florists pride themselves on their exceptional-quality flowers and customer service, as many buyers can confirm.
Having been around for 13 years, you can visit their relaxing Punavuori shop to see their natural and fantastic blooms on Monday, Tuesday, Thursday, Friday, and Saturday from 10 AM.
Customizable bouquets
Next-day delivery available
Has a store-pickup option
No same-day flower delivery
Higher price compared to others
Customer Reviews
The florist achieved a 4.7 over 5 stars on Facebook with most buyers praising their wonderful blooms and excellent customer service. Also, one reviewer described the latter as sincere and heartfelt.
Henna posted this comment:
"Thank you for the lovely customer service and absolutely stunning & unique flower bouquet! It exceeded all of my wishes. Very highly recommend. This is no doubt my favorite flower shop in Helsinki!"
Here's another written by Kirsti:
"The most amazing flower shop in Helsinki! All flowers are always fresh, and Tiina has an impeccable style. She's lovely and always listens to your wishes, and serves you with the same level of enthusiasm whether it's a simply and tiny bouquet that you're after or your wedding flower arrangements. Highly recommended."
4) Kukkahuone Meritorni

If you want a hassle-free flower delivery experience, Kukkahuone Meritorni might be for you. The frequented flower shop is based on the island's southeastern end in Kotka, Finland.
They offer a wide assortment of bouquets and cut and potted flowers that can be styled to your requirements. They also have body care products, home decoration, and gifts to pair with your arrangement!
You can order from their digital store using a credit card, debit card, PayPal, or internet banking. Nothing can hold you and your flower purchase back unlike with other stores.
Kukkahuone Meritorni is ready to deliver your flowers any day of the week. If you're in a hurry or buying at the last minute, your surprise gift won't be a problem with this florist.
According to clients, they have creative and fabulous flowers and have a dependable team who can help you pick the right one for your girlfriend, mother, or colleague. That's why they belong to our list of the best flower delivery in Finland.
For whatever occasion you can think of like a wedding, anniversary, funeral, reunion, special event, you can absolutely rely on them.
Competitive rates
Multiple payment options (Visa, Mastercard, American Express, and PayPal)
Open from Mondays to Sundays
Doesn't offer international deliveries
Customer Reviews
Kukkahuone received a 4.5 out of 5 score on Google. Buyers enjoyed the large selection of flowers available, flawless service, and of course, the gorgeous flowers that were nicely wrapped.
Here's a review from Lotta about the florist:
"You can always get first class service from this store! I live abroad myself and mom in Kotka so at least on Mother's Day I'm ordering cheer up for mom. A salesperson is always ready to help you choose the best arrangement or plant. It's even possible that mom herself comes and chooses if she wants to. emails and messages always respond very quickly. I can warmly recommend this flower shop!!"
Moreover, Marja remarked:
"Lovely flower shop. Friendly service and beautiful wrapping!!! I came happy, thank you! I recommend and will definitely visit again."
5) Form & Flora Oy

Okay, forget that their website is hard to find unless you dig for it on their Facebook page. The fact that their talented florists can make beautifully crafted bouquets for all seasons and occasions more than makes up for it.
Whether you want flowers finely wrapped in brown paper, eye-catching wedding bouquets, heartfelt casket sprays, vibrant party florals, something that will make her smile, Form & Flora Oy has you covered.
Flowers aren't the only thing that's important but customer service too. This is the aspect of their service where they truly shine and also the reason they have many loyal customers.
Their florists can arrange your flowers to your personal style or of the one you're having it delivered to.
Aside from that, one of their perks is you get an awesome price for their arrangements. They won't burn a hole in your pocket.
Multiple payment options are offered including Amex, Visa, Visa Electron, Mastercard, Aktia, MobilePay, PayPal, Handelsbanken, and so on.
One of the prime flower delivery shops in Finland out there, they're open from Monday to Saturday and you can reach them by phone or email and they'll be handling your order.
Same-day delivery available
Multiple payment options
Store-pickup available
Small product catalogue
Closed on a Sunday
Customer Reviews
Clients lauded the expert florists who prepared their flowers with care and attention to detail. They also mentioned that the service was smooth and efficient from order to floral delivery.
One buyer, Silja, wrote this Facebook comment:
"Thank you for your professional service. I've been shopping for flowers for several years and recently called for the first time and ordered grief flowers from a distance. The bouquet was according to my wishes and everything went smoothly. Thank you very much!"
Liisa also said this:
"Friendly and fast service also delivered. Wonderful flower arrangements according to your wishes and just by asking for something suitable for different occasions! I'm just saying that."
6) Joensuun Kukkatalo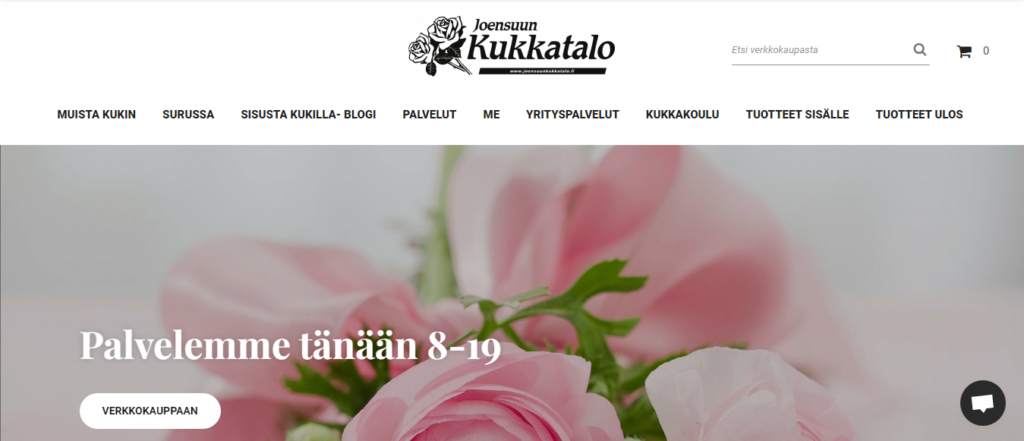 Since 1997, Joensuun Kukkatalo has been up and running as the most all-around professional florist in Joensuu region. Do you need flowers for a specific event and you are in Joensuu region of North Karelia in Eastern Finland? They got your back!
They offer a huge variety of products such as flowers, bouquets, gift items for every occasion, and plants and ornaments for decoration.
They also have all the things that you need when starting your garden, from pots and fertilizers to different kinds of green and flowering plants.
Not everyone has a greenthumb. That is why we believe that this place also provides versatile and professional services ranging from party decoration, yard design landscaping and maintenance. They also conduct classes in order for your planting skills to enhance.
Compared to other stores, Joensuun really provides great service in getting the plant that you want. Without a doubt, new plants are being posted on their online store but if you have a plant in mind that is not seen on their online store, you may get in touch with them for it.
Customer Reviews
Here are some reviews from their clients on their Facebook page which we have translated in English:
"Joensuun Kukkatalo is a heaven for a flower person, where you can always find something wonderful. Wide selection and incredibly beautiful bouquets, and also nice staff and good service. Me and my friend regularly and irregularly meet up at the Flower House to admire the flowers and atmosphere of the place. I highly recommend this place" – Ruska Tuohimaa
"Good service on the phone, a gorgeous bouquet delivered to a friend who is far away there!" – Raksu Mustonen
"A warm thank you for the expert help and friendly service to Toni" – Eija Maaranen
"Thank you for the great service! The flowers I ordered for the baby house were beautiful and the delivery was great. Thank you," – Pirkko Jokela
7) Kukka- Ja hautauspalvelu Haakana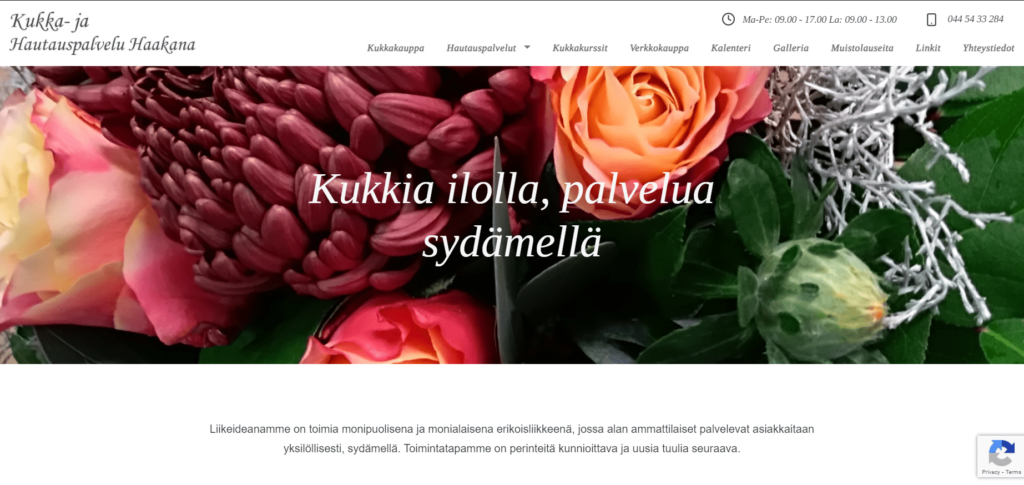 If you are in need of beautiful and vibrant flowering services in Finland, Kukka- Ja hautauspalvelu Haakana might be your next best choice.
Kukka- Ja hautauspalvelu Haakana offers special flower and burial services that can be extravagant or simple yet exquisitely elegant. This service can beautify your special occasion from birthday celebrations, graduation, or memorial service.
Aside from flower designs and occasion services, Kukka- Ja hautauspalvelu Haakana also provides flower design, binding courses, and workshops where specific topics can be covered according to the client's request. Binding designs such as flower necklaces, bouquets, still life, or planting can be booked via their online portal!
However, their workshop and courses have a student number requirement; thus, if you are thinking of starting a class, you must satisfy the number of students to join the class. Another downside is that no workspace is provided by the company, so the booking client must select a suitable workspace area for the class.
With a wide array of choices for flower designs to make your special occasions memorable and an accessible website with complete information from contact details and pricing, Kukka- Ja hautauspalvelu Haakana is your next best choice when it comes to flower delivery and services!
Customer Reviews
Here are some reviews from their clients:
"Ordered 60m bouquet for mom online: fast delivery, schedules were met, and the bouquet is absolutely GREAT UP High quality, in good condition, beautiful flowers insanely beautifully tied. The flowers were brought to the front door and handed out solemnly by a smiling flower transmitter, which made the moment special. The mother moved to tears; the bouquet was such a beautiful and touching message on the card, greetings from the children and grandchildren. Her kids are in London, Copenhagen and Kouvola on the mother's birthday but managed to delight the mother from so far away. A strong recommendation for this service! Thank you very much!" – Aune Paavola
"t was nice to take the wreath course – the results were just great for first-timers. Thank you, Anna, for a nice course and a special thanks for considering my wishes in the materials!" – Heidi Mikkonen
"I have ordered mourning bindings that have always been beautiful and executed as desired. I have always received really good customer service." – Anna Sarén
FAQs about the Top Flower Delivery in Finland
---
So that's it for now about the best flower delivery in Finland. You can order customized flowers from them and they will be delivered to your recipient within the day or the next.
Think we missed a great florist among our picks? If so, please let us know and we'll see if we can update this list with your suggested florist on it.
Other than that, you may want to check out our other flower delivery series. For example, we also have the best options for flower delivery in Sweden!