The 10 Best Options for Flower Delivery in Gold Coast
Making your loved ones happy and letting them know they are special do not have to be complicated or expensive! A simple bouquet of fresh flowers made with love and delivered efficiently can change a frown into a smile in a snap. To make this happen, of course you need a talented Gold Coast florist with reliable delivery service. So here are our top picks of flower delivery in Gold Coast to help you spread joy and love.
NOTE: Because of the current pandemic crisis, we've noted the relevant service changes for some of the florist shops listed below. Most stores are still accepting online or phone orders as well as deliveries.
1. Gold Coast Blooms


| | |
| --- | --- |
| BEST FOR | Affordable, contemporary floral designs |
| SELECTION SIZE | Medium |
| PRICE RANGE | A$60 – A$193 |
| DELIVERY FEE | Free Same Day Delivery |
| WEBSITE | www.goldcoastblooms.com |
| PAYMENT METHOD | VISA, Mastercard, American Express, PayPal, Bank Transfer |
If you need to perk up a friend or surprise your significant other, Gold Coast Blooms is the ambassador of happiness you're looking for. They offer thoughtfully curated, beautifully crafted and affordable blooms available for delivery throughout the Gold Coast. To make sure they put a smile on their customer's face, quality and speed go hand-in-hand. That's why their slogan is "Happiness delivered wherever in 90 minutes!" They have a professional florist who handcrafts each order using the freshest blooms sourced from the best flower farms and nurseries to ensure long-lasting floral designs. From modern hand bouquets, gorgeous grand opening stands and comforting funeral wreaths, Gold Coast Blooms pays special attention to details to convey the appropriate story and emotion. Plus, their impressively fast flower delivery in Gold Coast ships the order from the shop to the recipient's doorstep in less than 2 hours. So, make someone happy today with Gold Coast Blooms!
2. A Better Florist

A Better Florist's exceptional flower delivery service is matched by the top-notch quality of their floral products. Their meticulously curated collection of hand bouquets, flower stands and table arrangements are modern and highly Instagrammable, but they look better in real life!
Their biggest selling point to customers is their 90-minute guaranteed free flower delivery in Gold Coast. So if you need last-minute gifts for an event or if you foolishly forgot your anniversary, then A Better Florist's express flower delivery will save the day with a professionally handcrafted bouquet filled with farm-fresh flowers.
3. Adam's Garden Florist

(Source)
Adam's Garden Florist has a lean team committed to providing friendly customer service and quality flowers for individuals and businesses across the Gold Coast. Their floral artists are experienced in interior, product and graphic design. This is evident in their unique designs and contemporary aesthetic. Expect none of the generic flower arrangements you often see from the usual flower shop catalogue, from geometric glass containers, test tubes and flasks.
NOTE: They're still open but with limited trading hours and stocks. They also provide drive-thru pick-ups for contact-free collection.
4. Flowers at the Door

(Source)
| | |
| --- | --- |
| BEST FOR | Unique, rustic floral arrangements; Vintage style bouquets |
| SELECTION SIZE | Large |
| PRICE RANGE | AUD 8.80 – AUD 220 |
| DELIVERY FEE | Order before 11 am weekdays and 10am Saturdays for same day delivery |
| WEBSITE | www.flowersatthedoor.com.au |
| INSTAGRAM | @flowers.at.the.door |
| CONTACT | +61 7 5665 8658 |
| PAYMENT | Visa, Mastercard, PayPal |
Flowers at the Door is a respected florist in Helensvale using hand-picked fresh blooms from local markets. Each arrangement is meticulously handcrafted using a generous quantity of top-notch blooms. Unlike huge, franchise florists and flower shops, at Flowers at the Door, you get to enjoy personalised service with the attention to detail your deserve. You can arrange a more memorable surprise flower delivery in the Gold Coast with add-on gifts of either alcohol, chocolates or an adorable teddy bear. These gifts are also available when you order flowers online at Flowers at the Door.
NOTE: Due to limits on flowers during COVID 19, all flower arrangements will be florist choice.
5. Coastal Flowers

(Source)
BEST FOR
Eco-friendly flower bouquets and arrangements
SELECTION SIZE
Medium
PRICE RANGE
AUD 46.50 – AUD 190.50
DELIVERY FEE
AUD 8
Place your order before 1pm Mon-Fri and 10am Sat to receive same day delivery.
WEBSITE
www.coastalflowers.com.au
INSTAGRAM
@coastalflowers_qld
CONTACT
(07) 5627 4063 | [email protected]
PAYMENT
Apply Pay, Google Pay, Mastercard, PayPal, Shopify Pay, Visa
Coastal Flowers is a small, independently owned family business providing floral products which are prepared and packaged in an eco-friendly way. To make sure they leave minimal footprint on the environment, most of their sundries are reusable, recyclable, or biodegradable. They also support local growers, makers, wholesalers and suppliers where possible.
Their online catalogue features unique, beautiful and inspiring floral designs in various designs and suitable for a wide range of budgets. For instance, they have a Mini Floral Range for affordable arrangements perfect for a random surprise to your significant other or to cheer up a friend.
6. Wild Lotus xxx

(Source)
BEST FOR
Bespoke bouquets and arrangements
SELECTION SIZE
N/A, Customised
PRICE RANGE
From AU$55
DELIVERY FEE
Fees may vary
Same day delivery is guaranteed for orders placed before 3pm
WEBSITE
www.wildlotusxxx.com.au
INSTAGRAM
@flowersby_wildlotusflorist
CONTACT
07 5573 7717 / 0405 084 351 | [email protected]
PAYMENT
Major credit cards
Wild Lotus xxx is a boutique florist located on the northern Gold Coast offering gorgeous flowers to suit your every need. Their talented staff can craft a diverse range of floral designs, whether you want it pretty and pink, simple and elegant or funky and unusual. They can provide stunning individual wedding bouquets and corporate work, to celebrating the arrival of new babies or simply just beautifying your home.
7. Flower Hunt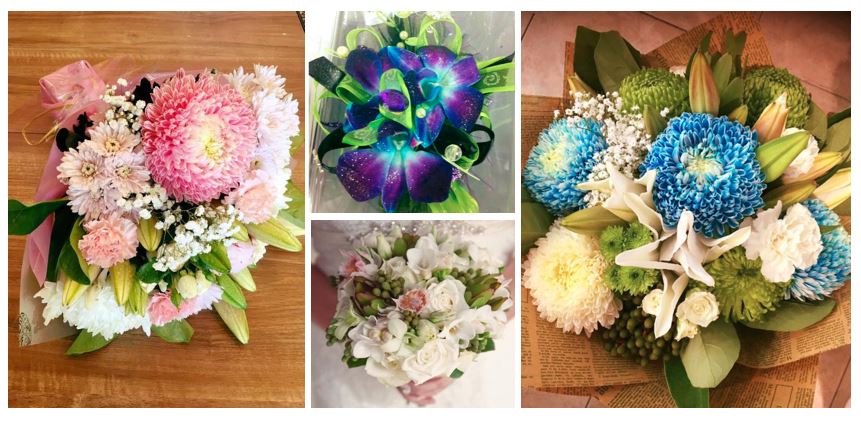 (Source)
| | |
| --- | --- |
| BEST FOR | Classy flowers for delivery in Robina |
| SELECTION SIZE | N/A, Customised |
| PRICE RANGE | Contact for prices |
| DELIVERY FEE | Fees may vary |
| WEBSITE | https://flowerhunt.com.au/ |
| INSTAGRAM | — |
| CONTACT | [email protected] | 0417 452 513 |
| PAYMENT | Contact for payment options |
Flower Hunt offers a huge range of seasonal flowers and giftware for absolutely any occasion under the sun. You can combine these freshest flowers on the Gold Coast with balloons, chocolates, wine and soft toys. They also offer same-day delivery from Surfers Paradise to Coolangatta.
8. Nesst

(Source)
| | |
| --- | --- |
| BEST FOR | Creative, seasonal bunches |
| SELECTION SIZE | Curated |
| PRICE RANGE | From AU$20 |
| DELIVERY FEE | Calculated at checkout |
| WEBSITE | www.thenesst.com |
| INSTAGRAM | @thenesst |
| CONTACT | [email protected] |
| PAYMENT | American Express, Apple Pay, Mastercard, PayPal, VISA |
Professional make-up artist Ness started the Nesst brand when brides began requesting fresh flower crowns from her. These initial opportunities allowed her hobby to blossom into a business. Formal studies about floristry came next, followed by her first wedding bouquet in 2015 and the rest, they say, is history. Fast forward to the present, Nesst now boasts an extensive portfolio with a long list of editorial features in magazines and notable publications. Ness has also worked and collaborated with with creative labels and businesses such as: Rhythm, Dissh, Nine Lives Bazaar, Annake Swimwear, Valley Eyewear, The Freedom State and White Magazine, plus some rewarding charity work with AWL. Fortunately, customers can enjoy Nesst's floral designs by purchasing individual bouquets and arrangements for all occasions to impress even the most discerning recipient.
9. Flowers Gold Coast
(Source)
Flowers Gold Coast is a local flower shop located in Gold Coast, Queensland in Australia. This local flower shop visualizes their business to make their customers satisfied and happy with their fresh and locally sourced flowers.
Flowers Gold Coast may have a small selection of products in their shop, but they guarantee you that your bouquet will be unique from others. They also do arrangements for different occasions such as birthdays, graduations, weddings, or corporate events.
10. Florenna

(Source)
Florenna maintains and raises that initial level of awe that flowers have with any creation, regardless of how they are arranged. They aim to educate and share the idea that any creation can be beautiful and suitable for many occasions, which includes removing the concerns of flower types, longevity, and money. Their niche lies in designing two beautiful seasonal fresh flower bouquets which change every week. This keeps ordering from them fun, interesting and unique as you'll want to stay updated to find out what the next week's colours and flowers will be.
What people love about Florenna is that they've made ordering flowers a convenient, simple and easy task by only offering two fresh bouquet designs and a selection of ready-made dried flower arrangements, all of which can fit any occasion. Florenna also accepts custom dried orders if the premade designs aren't quite what you're after.Their designs are also unique and perfect for minimalists.
Another factor why people like them is they deliver from Monday to Friday and offer same-day delivery if you order before 12:00 PM. They deliver from Oxenford to Coolangatta.