26 Best Flower Delivery in Kuala Lumpur & Klang Valley
We know picking a florist is hard. On top of that, they also have to be reliable? Have the bouquet you love? Available TODAY? Now that's just too hard to find. 
Lo and behold, far too many coffees later, here is our list of the 22 best florists in Kuala Lumpur and Klang Valley, ranked by their quality, variety, delivery, and prices! 
We promise they're all tried-and-true, mother-approved.
So, without further ado…
Note:

Due to the Movement Control Orders, most private businesses in Malaysia have been forced limit their services to comply with government orders, including flower delivery shops. However, some of these shops are still accepting orders, unless otherwise stated.
We've noted the shops with significant policy changes below
1. Happy Flowers

A Better Florist is already known in Singapore as one of the fastest flower delivery services there. Their expansion to Malaysia, their main source of premium blooms, is a natural path to take. Fortunately, they've also maintained their speedy delivery of flowers KL with their 90-minute guaranteed flower delivery for free to all KL and Klang Valley locations! Order before 3pm for same day flower delivery.
Aside from their remarkably fast flower delivery, their talented florist also manages to handcraft bouquets and arrangements on the same day of purchase to ensure maximum form and freshness for your orders. Arrangements are modern with a rustic touch using burlap wrapping or twine-wrapped containers for flowers in full bloom.
2. Giflorist

| | |
| --- | --- |
| BEST FOR | Beautiful designer bouquets |
| SELECTION SIZE | Large |
| PRICE RANGE | MYR 99 – MYR 1,128 |
| DELIVERY FEE | Free Same Day Delivery |
| WEBSITE | www.giflorist.com.my |
Giflorist Florist began as an online KL florist in 2016. Their specialty floral products are designer bouquets, table arrangements, balloon bouquets, cakes, opening and condolence stands for all occasions, including events like weddings and proposals. You can also request for a bespoke bouquet for special occasions requiring thoughtful and customised creations from a master florist. All their gifts and fresh flower arrangements are available for free same day delivery all over KL, Klang Valley and Selangor. To get your flowers on the same day, don't forget to order before 11am from Monday to Saturday. Sunday orders will be processed and delivered on the next working day.
Note: Giflorist is still accepting orders, but some may not be accommodated due to the limited selection of bouquets.
3. Heva Gifts

BEST FOR
Flowers and gifts combos
SELECTION SIZE
Large
PRICE RANGE
MYR 68 – MYR 1500
DELIVERY FEE
Free Delivery to selected areas in KL, PJ, and Kepong
Free Delivery to the whole Klang Valley for orders from MYR 200 and above
WEBSITE
www.hevagifts.com.my
INSTAGRAM
@hevagifts.com.my
Since Heva Gifts is a florist and gift shop in one, you can save a lot of time and money by going through their curated collection of combined flowers and gifts based on different occasions. For instance, they have the Mon Amour Collection and Love Collection for any romantic occasion, such as Valentine's Day or an anniversary, while the Happiness Collection can be appropriate for birthdays. If you want, you can customise the package by selecting your preferred add-on gifts from their catalogue of gifts and pastries. Remember to place your orders before 1pm for same day delivery.
With more than 4 years in the market, Heva Gifts has become one of the go-to florists for fresh tulips in Malaysia as well as homemade chocolate dipped fruits and marshmallows. However, out of all their achievements, it is their 70% return customers that they're most proud of.
Note: Expected to open on June 10, once the Movement Control Order is lifted.
4. Summer Pots Florist

| | |
| --- | --- |
| BEST FOR | Luxurious arrangements |
| SELECTION SIZE | Large |
| PRICE RANGE | MYR 75 – MYR 2,388 |
| DELIVERY FEE | Delivery fee varies depending on the area. |
| WEBSITE | www.summerpots.com.my |
If you don't mind splurging on bouquets and flower arrangements, Summer Pots Florist has a range of opulent and luxurious floral products for you. Their user-friendly online shop interface makes it easy for you to complete your transactions safely and securely. You can also check out other floral services they provide in case you have interests in fresh flower table arrangement or you would like a consultation for events and launches.
Note: Summer Pots Florists is still doing delivering throughout the Movement Control Order. Check their Facebook page to send in an order.
5. Pastel Florist

Offering flower bouquet, flower stand, opening stand, condolences stand, flower basket, flower box, and other custom flower requests, Pastel Florist is an online florist that also provides free flower delivery to all locations in Kuala Lumpur and PJ. They can also provide same day delivery for selected designs upon request.
6. Petal Bees

| | |
| --- | --- |
| BEST FOR | Anniversary bouquets |
| SELECTION SIZE | Large |
| PRICE RANGE | MYR 42 – MYR 530 |
| DELIVERY FEE | From MYR 10 |
| WEBSITE | www.petalbees.com.my |
Petal Bees has bouquets and arrangements for all major occasions, so you won't have to struggle finding a suitable floral gift. One of their best floral designs and collection is their range of romantic bouquets perfect for a date, an anniversary or Valentine's Day. Any order received before 10:30am, the delivery will be made on the same day.
7. 50 Gram

BEST FOR

Unique colored bouquets

SELECTION SIZE

Large

PRICE RANGE

Starts from RM68.00

DELIVERY FEE

Calculated at checkout

WEBSITE

https://50gram.com.my/

 
50 Gram was established in 2016 and has been serving Malaysians ever since. What makes them stand out from the other floral shops are their bouquets that consist of unique combination of colored flowers.
Aside from flowers, you can alsu buy food, beverages, and gifts from them. You may these simple items with your flower to make your loved one's day even more special.
We think they are great because even if you are on a budget, they still have a huge number of products that cost below RM100!
On their website, you may track your order by simply inputting your order ID and billing email. Their payments methods are through VISA, MAstercard, Grab Pay, TouchnGo, and FPX.
8. The Florist Market

| | |
| --- | --- |
| BEST FOR | Fresh Flower Bouquets, Creative Balloon Flower Box and Edible Bouquets |
| SELECTION SIZE | Large |
| PRICE RANGE | MYR 50 – MYR 800 |
| DELIVERY FEE | Calculated at checkout |
| WEBSITE | www.thefloristmarket.com |
TheFloristMarket is a Malaysia flower marketplace that has a comprehensive and user friendly platform with over 20 florists and 300 flowers selections. You can filter bouquets and flower arrangements based on occasion, location, popularity or price. To give them ample time to handcraft the perfect floral design, order one day in advance to receive your flowers on time.
9. Garden Scents

| | |
| --- | --- |
| BEST FOR | Lush, hand bouquets |
| SELECTION SIZE | Large |
| PRICE RANGE | MYR 40 – MYR 880 |
| DELIVERY FEE | Calculated at checkout |
| WEBSITE | www.gardenscents.com.my |
The flowers from this Malaysia online florist look lush and garden-fresh. Garden Scents' goal is to deliver happiness with each bouquet, and it shows on their picture perfect products designed to put a smile on your face.  The overall catalogue is a mix of oriental, traditional and modern designs. So, there's something for everyone.
Note: Even with the Movement Control Order, Garden Scents is still accepting orders for pickup and delivery. Check their Facebook to know how you can order.
10. Nook Flowers

Nook Flowers is a boutique floral and event design firm based in Kuala Lumpur. They offer bespoke and luxurious floral designs using tasteful colour palettes and incorporating Nook's signature whimsical style with a touch of bohemian flair, shabby chic or vintage elegance is added. This makes each bouquet or arrangement unique. Nook Flowers uses locally sourced, seasonal flowers, natural packaging and recycled materials as much as possible in line with their commitment to the environment and conducting business in harmony with nature.
Note: It has recently resumed operations last May 7, but only accepts pickups and deliveries. Cashless transactions are also strongly recommended.
11. Aliice Art Florist Shop

BEST FOR
Affordable decorative hand bouquet
SELECTION SIZE
Large catalogue
(Sizes range from small to large)
PRICE RANGE
MYR 7 – MYR 1,300
DELIVERY FEE
Starts at MYR 15
Order before 12pm, Monday to Saturday, for same day delivery
WEBSITE
www.aliiceartflorist.com
INSTAGRAM
@aliiceartflorist
FACEBOOK
Aliice Art Florist Shop
CONTACT

[email protected]

 | +60333421058 / +6012 2135079
PAYMENT
CREDIT CARD/MOLPAY/PAYPAL/BANK TRANSFER
Being one of the oldest florist in Klang town they are able to offer the best price and flower to their customers. Their delivery area cover the whole Klang Valley. For just MYR 7, you can get a mini hand bouquet, although Aliice Art Florist Shop only allows self-collection for this category. They even offer courses for floristry, from enthusiasts and hobbyists to professional design courses.
If you sign up as a member, you get 6% off on your first order. Any order placed before 12pm from Monday to Saturday will be delivered on the same working day. For Sunday deliveries and deliveries outside Klang Valley, you need to order 2 days in advance.
12. Bloom2U

| | |
| --- | --- |
| BEST FOR | Colourful hand bouquets |
| SELECTION SIZE | Large |
| PRICE RANGE | MYR 120 – MYR 2,600 |
| DELIVERY FEE | Starts at MYR 15; Can be free  depending on location and items ordered |
| WEBSITE | www.bloom2u.com |
Bloom2U is not afraid of colours. While the trend seems to veer on minimalism and subdued earthy colours or pastels, the hand bouquets at Bloom2U packs boldness and brightness. Even their flower cones are colourful, complementing the blooms used for the bouquet. Same Day Delivery in KL and Klang Valley is available for order and payment done before 12pm. And if you want the flowers to be delivered in the morning, you have to order before 6pm on the day before the delivery date.
Note: Bloom2u is still accepting orders but is working on a limited selection of flowers. Check their Facebook to know which bouquets are available.
13. My Flower Florist

| | |
| --- | --- |
| BEST FOR | Special Big Bouquets |
| SELECTION SIZE | Large |
| PRICE RANGE | MYR 119 – MYR 1,070 |
| DELIVERY FEE | Free |
| WEBSITE | www.myflowerflorist.com |
For grand gestures and proposals, you can order one of My Flower Florist's special big bouquets. No one can resist your "I LOVE YOU" or "I'M SORRY" when presented in all caps. They provide both next day and same day flower delivery in KL, Klang Valley, other areas in Malaysia as well as Singapore. Orders placed before 12pm will be delivered withing the day.
14. February Bloom

| | |
| --- | --- |
| BEST FOR | Extra Large Bouquets and Dainty Bloom Boxes |
| SELECTION SIZE | Medium |
| PRICE RANGE | MYR 79 – MYR 269 |
| DELIVERY FEE | From MYR 15 |
| WEBSITE | www.februarybloom.com |
Instead of categorizing based on occasion, February Bloom organised their catalogue based on design. From pretty, pink floral boxes to a super large bouquet of baby's breath, February Bloom keeps it simple and stylish.
15. Bloom.com.my

| | |
| --- | --- |
| BEST FOR | Korean Hand Bouquets, Flower Boxes and Flower Cakes |
| SELECTION SIZE | Large |
| PRICE RANGE | MYR 58 – MYR 1,200 |
| DELIVERY FEE | Free |
| WEBSITE | www.bloom.com.my |
Bloom is an online florist and gift shop catering to all occasions. The user-friendly online shop make it easy and convenient to express love and affection with a surprise delivery.  You can add on chocolates, toys, balloons, wines & champagne, even healthy products for the perfect care package. Same day flower delivery is available for orders placed by 2pm on weekdays and by 11am on Saturdays. They also provide a 3-hour express delivery in Kuala Lumpur and Selangor.
16. Essence of Flora

| | |
| --- | --- |
| BEST FOR | Flowers for all occasion |
| SELECTION SIZE | Large |
| PRICE RANGE | MYR 100 – MYR 800 |
| DELIVERY FEE | Free for selected areas. See here. |
| WEBSITE | https://www.eof.com.my |
Essence of Flora makes sure that you don't miss your special day even it falls on a weekend since they deliver flowers every day, including Sundays and Public Holidays (by placing advanced booking). From hand bouquets, condolence wreaths to congratulatory flowers, Essence of Flora has everything flower-related to offer.
17. Warm Wishes Florist

Whether it's a bloom box, hand bouquet, or for big occasions such as weddings and grand openings, Warm Wishes can delivery charming flower arrangements for their customers. You just need to browse their online shop to take a look at all the selections they have tailored for specific events such as graduation, and you can place your order easily. They also have jellycat plushies to make your present extra fluffy!
18. Bloem Design

Backed with excellent customer service, Bloem Design Florist is well loved by the Sri Petaling and other nearby communituies. This way they have a great number of patrons or locals who goes back to enjoy their services. Their service is topnotch and their flowers could last longer than a week.
Note: It's also accepting orders for pickups and deliveries, like most shops on our list. Check their website to know which ones are available.
19. Daun and Petals

| | |
| --- | --- |
| BEST FOR | Flower bunches for all occasions |
| SELECTION SIZE | Large |
| PRICE RANGE | From MYR 180 |
| DELIVERY FEE | Fees may vary |
| WEBSITE | https://www.daunpetals.com/ |
With over 4,000 happy clients and counting, Daun and Petals continue to delight with their superbly designed flower arrangements for any occasion and event. Aside from providing daily bunches, they can be part of your big day, tea parties or any occasion that calls for a bunch of flowers.
20. FloryGift

| | |
| --- | --- |
| BEST FOR | Imported Grade A++ Roses & Lilies |
| SELECTION SIZE | Large |
| PRICE RANGE | From MYR 195 |
| DELIVERY FEE | Fees may vary |
| WEBSITE | https://florygift.com.my/ |
FloryGift delivers flowers and gifts in Malaysia helping customers to connect and express sentiments of emotions, love and romance. They deliver premium quality gifts, beautiful bouquet of imported flowers and freshest fruit baskets which you can see from their vast selection in their online shop.
21. Scentales
| | |
| --- | --- |
| BEST FOR | Floral pieces for any event or occasion |
| SELECTION SIZE | Large |
| PRICE RANGE | From MYR 55 |
| DELIVERY FEE | Fees may vary |
| WEBSITE | https://scentales.com/ |
Scentales is an online florist located in Damansara Perdana, Petaling Jaya (PJ). They have the freshest and highest quality of local and imported flowers to design your bouquet. Their team specializes in bringing a modern and creative twist to floral arrangements.
Note: Scentales will remain in operation throughout the Movement Control Order, although offering a limited selection of flowers.
22. After Rain Florist

After Rain Florist offers an amazing range of flowers. They have bouquets, baskets, stands boxed, potted, extraordinary arrangements, vased, and kokedamas.
People love them because they do not only offer daily flower delivery, but also event decoration. No matter what your occasion is, feel free to contact them at +601159211898 and they will happily assist you!
Unlike other shops, they provide free delivery service within selected ares of Petaling Jaya and Kula Lumpur with a minimun order of RM150. 
23. Bloom 23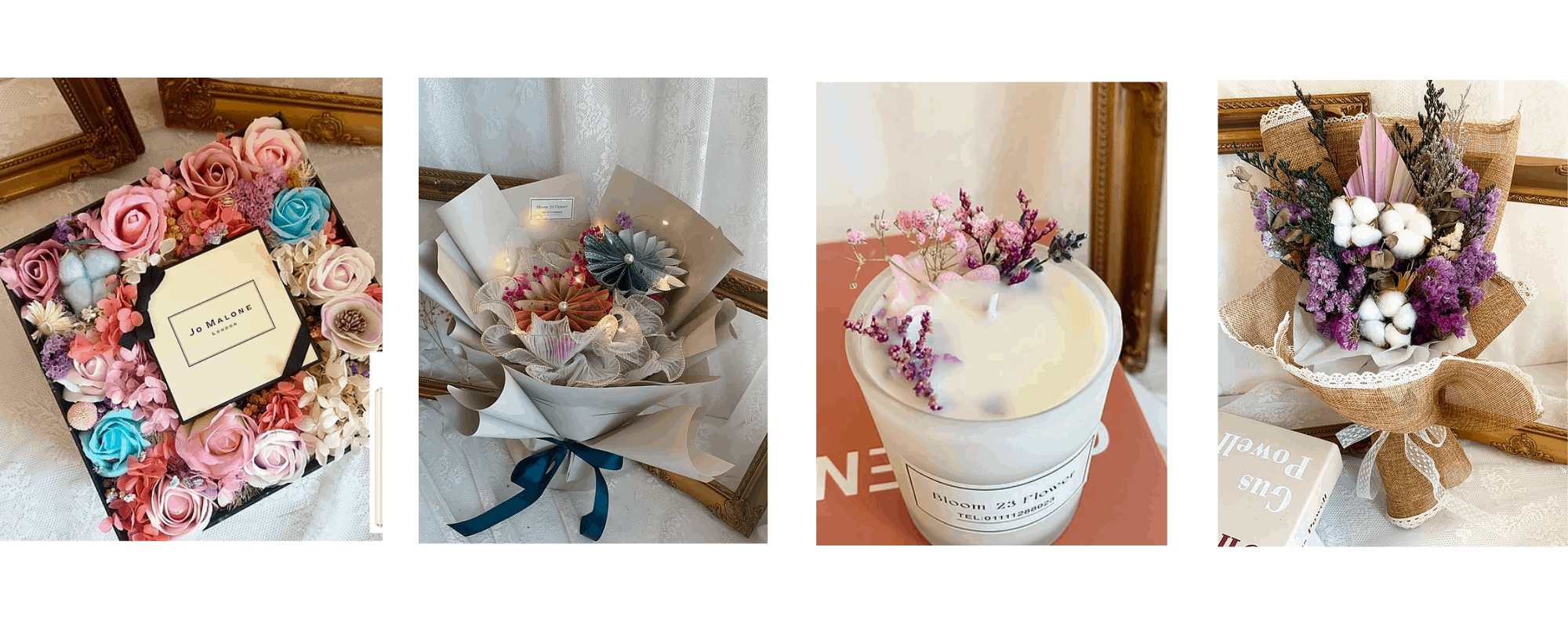 | | |
| --- | --- |
| BEST FOR | Diverse bouquet types |
| SELECTION SIZE | Large |
| PRICE RANGE | RM59 to RM690 |
| DELIVERY FEE | Calculated at checkout |
| WEBSITE | |
Bloom 23 creates bouquets with a signature look as each of its flower arrangements come with additional elements like heart-shaped stems that make the flowers' colours pop. 
But what makes Bloom 23 special is its dried flower boxes, dried flower bouquets, snack bouquets, and even money bouquets. With these options, Bloom 23 can deliver love and thoughtfulness even to those who don't appreciate traditional flowers.
Bloom 23 also offers more than just creatively crafted flower bouquets since it also sells gifts like necklaces, candles, and even alcoholic beverages. To make things more exciting, Bloom 23 also combines flowers with other gift elements, like chocolates.
All of these products are available for delivery or pickup. And to make things more convenient for its clients, Bloom 23 also accepts three different payment options, Maybank QR Pay, TNG, and offline transfer.
24. Visage Dawson

| | |
| --- | --- |
| BEST FOR | Red roses bouquets, dried flowers bouquets |
| SELECTION SIZE | Medium |
| PRICE RANGE | MYR 30 – MYR 2,480 |
| DELIVERY FEE | Calculated at checkout |
| WEBSITE | www.visagedawson.com |
| INSTAGRAM | @visagedawson |
Visage Dawson is known for several flower services in KL and Ipoh, including weddings, event decorations, workshops and flower delivery. Outside their excellent selection of hand bouquets and flower arrangements for various occasions, customers can also request bespoke arrangements. You can basically customise an entire bouquet, from the type of flower to wrapping paper and even the design of the bouquet. Whether you want it rustic or classic, simply reach out to them via WhatsApp and you can begin crafting the perfect bouquet.
25. Petals 2 U

| | |
| --- | --- |
| BEST FOR | Graduation Bouquets |
| SELECTION SIZE | Medium |
| PRICE RANGE | Starts at RM90 |
| DELIVERY FEE | Calculated upon checkout (free in some areas) |
| WEBSITE | https://www.petals2uflorist.com/ |
| INSTAGRAM | @petals2official |
| CONTACT INFORMATION | +60 111 080 5297 |
| PAYMENT OPTIONS | Major credit cards |
If you're looking for cute and unique gift bouquets for a loved one who's graduating, Petals2u is your best bet. They have cute and beautiful graduation bouquets that're sure to show your loved one how happy you are for them in their special moment.  
They also have other offerings such as fruit baskets, money bouquets, and even chocolate bouquets. 
26. Meksu Florist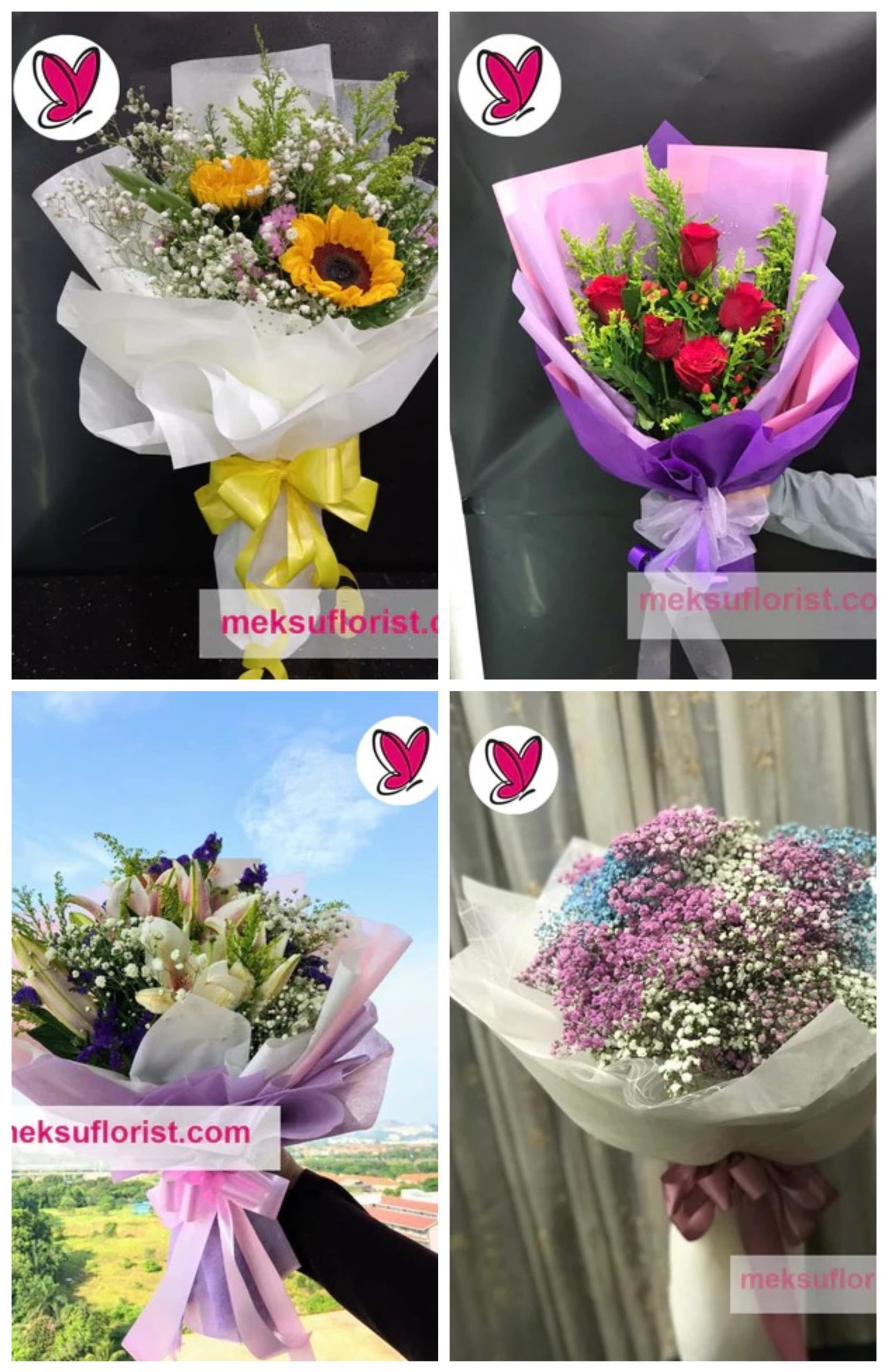 | | |
| --- | --- |
| BEST FOR | Bouquets for all occasions, Unique Bouquets |
| SELECTION SIZE | Medium |
| PRICE RANGE | Starts at RM100 |
| DELIVERY FEE | Calculated depending on the place  |
| WEBSITE | https://meksuflorist.com/ |
| INSTAGRAM | @flora_meksu |
| CONTACT INFORMATION | +6011-62622417 (What'sApp Only, available from 10:30 AM – 4:30PM) |
| PAYMENT OPTIONS | Major credit cards |
Meksu Florist is a one-of-a-kind flower shop that offers more than just flowers. They have a wide range of flowers in all shapes and sizes that would fit any occasion.
What we like about their selection is that they offer more than traditional flower arrangements. They also offer bouquets with fruit, chocolate, and money. 
They will tailor-fit an arrangement that is suited to your needs and specifications. We also appreciate that their previous arrangements are found on their website as well as on their socials. 
Meksu Florist has a detailed return and refund policy on their website, something that we also appreciate. This is great to know when you're purchasing something that could be a gift or an ornament for a special occasion as a form of safety net.
But what we like most about this flower shop is that they not only offer same day delivery, but they are also open everyday. So if you are in urgent need of some beautiful flowers to brighten someone's day, you can certainly head to their wonderful shop!
---
Product photos are taken from each flower delivery or florist's official website.
So that was our list of the best options for flower delivery in Kuala Lumpur and Klang Valley. How do you think we did? As always leave us a comment with who you picked in the comment section below.
If you're looking for other gifts to send to your family or friend in Kuala Lumpur, take a look at the best options for cake and fruit basket delivery in Kuala Lumpur.