8 Best Flower Delivery in Kowloon and New Territories
If you're looking for a Kowloon florist or flower delivery in the New Territories, you have plenty of options. You'll most likely find beautiful photos of bouquets and other arrangements for whatever reason, intention or occasion. But how do you know if the fresh flower bundle live up to the photos from the Hong Kong online florist? That's the tricky part. So to help you avoid middling flower shops and false advertisements, we have collated the most reliable and well-reviewed flower delivery in Kowloon and the New Territories so you can be sure that you're getting your money's worth!
Note: Because of the current pandemic, some of the shops we've listed here have implemented service limitations and some have even temporarily suspended operations. Where applicable, we've noted the policy or service changes for the shops below.
1.      Bydeau
(Source)
BEST FOR
Pretty and stylish vase arrangements
SELECTION SIZE
Large
PRICE RANGE
HKD 300 – HKD 1,850
DELIVERY FEE
Free delivery to certain locations on northern Hong Kong Island. Other delivery zones will incur an extra delivery fee.
WEBSITE
www.bydeau.com
INSTAGRAM
@givebydeau
CONTACT
+852 5525 0037 |

[email protected]

PAYMENT
Paypal, Apple Pay
Bydeau's catalogue are full of simple yet stylish designs. They veer away from overly dramatic, complicated and avant-garde arrangements, opting instead for paper wrapping with a simple bow or a clear glass vase to allow the beauty of the blooms themselves to shine. So if you like a no-frills flower bouquet for flower delivery in Kowloon and the New Terrtories, you'll find plenty of options here. To get your flowers on the same day, place your order by 2pm.
2.      Flannel Flowers

(Source)
BEST FOR
Classic and elegant hand-tied bouquets
SELECTION SIZE
Small
PRICE RANGE
HKD 1,000 – HKD 2,800

Bespoke arrangements start at HKD 1,200

DELIVERY FEE
Flower delivery in Kowloon and the New Territories start at HKD 80
WEBSITE
www.flannelflowers.com.hk
INSTAGRAM
@flannelflowers
CONTACT
+852 2234 7002 |

[email protected]

PAYMENT
PayPal
For traditional designs and timeless pieces, Flannel Flowers has some of the most flawless, expertly arranged hand-tied bouquets. If you wish to splurge, they also provide bespoke services for one-of-a-kind bouquets and lush arrangements to fit your specifications. A minimum of 1 day is required for processing orders, so make sure you order ahead of the occasion.
3.      Anglo Chinese Florist

(Source)
| | |
| --- | --- |
| BEST FOR | Lush, bucolic bouquets |
| SELECTION SIZE | Large |
| PRICE RANGE | HKD 500 – HD 9,280 |
| DELIVERY FEE | Kowloon flower delivery is HKD 100, delivery to New Territories is HKD 150 |
| WEBSITE | www.hongkong-flowers.com |
| INSTAGRAM | |
| CONTACT | +852 2921 2986 / Whatsapp +852 623 888 23 |
| PAYMENT | Visa, Mastercard, PayPal, UnionPay, American Express |
If you want freshly picked, lush and blooming bouquets of mixed flowers, Anglo Chinese has excellent choices. Their designs range from traditional, oriental and modern designs to suit all tastes and fit various occasions. If you want to get the flowers immediately, they can deliver with as little as 2-hour notice depending on location and flower type. Quick and convenient!
4.      B.Fleuriste

(Source)
| | |
| --- | --- |
| BEST FOR | French-style arrangements |
| SELECTION SIZE | Medium |
| PRICE RANGE | HKD 900 – HKD 2,800 |
| DELIVERY FEE | Starts at HKD 80 |
| WEBSITE | www.agnesb-happyb.com.hk |
| INSTAGRAM | |
| CONTACT | +852 2805 0631 /2563 9191 |
| PAYMENT | Payment can be made in cash, EPS or credit cards (VISA, Master, American Express, Cup, JCB) |
Well-pruned, little to no filler foliage, stylish and no fuss packaging as well as arrangements—those French chic signatures are present in B.Fleuriste's catalogue of floral products. Whether the blooms are beautifully arranged in a box or wrapped in chic, black flower wrapping, the flowers are made to shine. They deliver orders within 2 days, so if you're not in a hurry and you want impeccably crafted bouquets and bloom boxes, this one's for you.
5.    BloomBox HK

(Source)
BloomBox is the original creator of the unique signature dim sum flower boxes in Hong Kong, and they are so very proud of it. Each individual fresh flower bloombox is carefully assembled by hand, using locally and internationally sourced sustainable materials. The traditional HK style bamboo boxes are weaved by a local traditional craftsman in Sai Ying Pun, whose family has been doing this for over 40 years. Their flowers are freshly picked from local flower markets. And finally, the high-quality, non-toxic acrylic paint is sourced from Italy.
6.  Hello.Missfloral

(Source)
Hello.Missfloral is a floral artistry in Hong Kong. They believe in the strength and gentleness of words and flowers. They also encourage everyone to live their life boldly and be the one they love to be. Other than the professional floral arranger training (DFA), they also travel around for flower lessons that help them grow and learn more about the craft.
7. Bloom November Florist

(Source)
Bloom November is a reliable flower shop in Shatin, Fotan providing bouquets that come along with their wedding packages. Their products have contemporary designs that are made by their professional floral artists. With their fresh flowers, you can be sure that all their producsts are made to order to ensure 100% customer satisfaction!
8. Floristry by Art of Living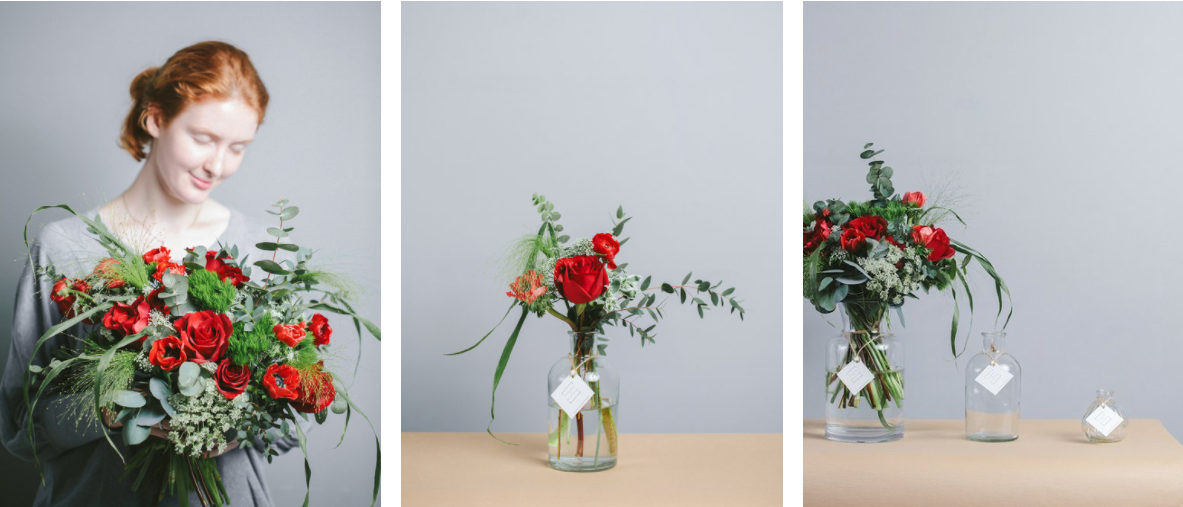 (Source)
ust by looking at Floristry by Art of Living's online shop, you would immediately know that they sell only the vibrant and fresh flowers they have. Alongside with this is their aesthetic presentation for each product.
In comparison to others, they are inspired by wild, natural flowers and life cycles, they offer a contemporary approach to the floral design concept. They are the only shop that offers a modern twist in their handcrafted bouquets, either it is a set with a vase or a set with two jars.
Aside from selling flowers, they also offer feng shui weekly subscriptions. Their different categories are Love, Family, Friendship, Health, Career, and Study.
And by the way, they are open from Sunday to Saturday from eight in the morning to eight in the evening.