If you wish to inject light, love and beauty into someone's otherwise gloomy day, you can depend on a good flower delivery in Macau to do just that. Who doesn't love being surprised with a gorgeous bouquet of fresh flowers? The trick is in finding a reliable Macau florist with premium flowers for their arrangements and a reliable shipping service, of course. Don't worry, we've done the research for you. The following are the most highly recommended flower delivery in Macau in case you want to tell someone just how much you care.
1. Happy Flowers


| | |
| --- | --- |
| BEST FOR | Simple, affordable and long-lasting bouquets & arrangements |
| SELECTION SIZE | Medium |
| PRICE RANGE | $42 – $83 |
| DELIVERY FEE | Free Same Day Delivery |
| WEBSITE | www.happyflowersmacau.com/flowers |
| PAYMENT | PayPal, VISA, Mastercard, Bank Transfer |
Happy Flowers aims to be the ambassador of happiness in Macau through their beautifully crafted and affordable bouquets. To make sure they put a smile on their customer's face, quality and speed go hand-in-hand. This is why their slogan is "Happiness delivered wherever in 90 minutes!" Their professional florist handcrafts each order using the freshest blooms sourced from the best nurseries and flower farms for long-lasting floral designs. From modern hand bouquets, gorgeous grand opening stands and comforting funeral wreaths, Happy Flowers pays special attention to details to convey the appropriate story and emotion. Then, their impressively fast flower delivery in Macau ships the order from the shop to the destination in less than 2 hours. So, make someone happy today with Happy Flowers!
2. Her Flowers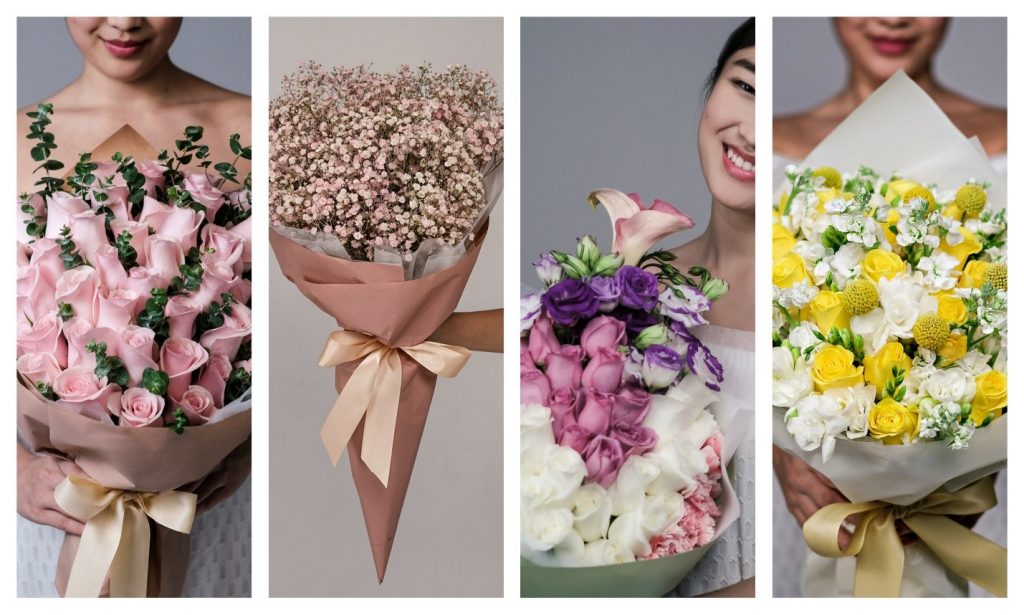 | | |
| --- | --- |
| BEST FOR | Large, luxurious hand bouquets with affordable price tags |
| SELECTION SIZE | Medium |
| PRICE RANGE | HKD 380 – HKD 1200 |
| DELIVERY FEE | Free Same Day Delivery |
| WEBSITE | www.herflowers.com.hk |
| INSTAGRAM | @herflowerssg |
| CONTACT | +852 5808 7515 |
Her Flowers veers from the usual floral fare by offering lush bouquets with a freshly picked feel. A generous amount of premium blooms are meticulously arranged in one big hand bouquet sure to impress your friends, colleagues, relatives or loved ones. Despite the luxurious feel of each floral arrangement, Her Flowers keeps their products affordable for more people to enjoy! Hong Kong residents will love their assortment of gifts to add to the chosen bouquet, from spa items to gourmet food and decadent chocolates. All purchases come with free same day delivery in Hong Kong. So, the next time you're on the lookout for an elegant and luxurious bouquet without the hefty price tag, shop at Her Flowers!
3. NFlorist


(Source)
| | |
| --- | --- |
| BEST FOR | Lush table arrangements and centrepieces |
| SELECTION SIZE | Medium |
| PRICE RANGE | Enquire for prices |
| DELIVERY FEE | |
| WEBSITE | www.nflorist.com.mo |
| INSTAGRAM | |
| CONTACT | +853 2822 5622 / 2822 5688 | info@nflorist.com.mo |
| PAYMENT | |
If you want to make your space look elegant and inviting at the same time, take a look at NFlorist's catalogue of arrangements for decorative use. Hotels, restaurants and places of business can benefit from the sophisticated and pops of colour of their designs. But who's to say you can't buy one for your living room or your dining area? Their choices range from extravagant to understated elegance, so there's room for everyone.
4. A Better Florist


(Source)
| | |
| --- | --- |
| BEST FOR | Modern and rustic bouquets with budget-friendly prices |
| SELECTION SIZE | Small |
| PRICE RANGE | HKD 380 – HKD 1,200 |
| DELIVERY FEE | Free |
| WEBSITE | www.abetterflorist.com.hk |
| INSTAGRAM | @abetterflorist |
| CONTACT | 852 5808 7515 |
| PAYMENT | Visa, Mastercard, Amex, PayPal |
A Better Florist has established a good reputation as a reliable online florist worldwide. They began as a startup in Singapore providing the fastest same day flower delivery to flower lovers. Their 90-minute guaranteed delivery of fresh flowers has allowed their business to flourish, eventually expanding their operations to include Hong Kong and Macau flower delivery.
Their daily cut-off for same-day flower delivery in Macau is 3pm, so make sure you place your order before then. Their talented Macau florist personally vets the blooms and handcrafts bouquets to perfection. Despite the meticulous curation of floral designs and dependable shipping service, they still manage to make their floral products affordable and accessible to more customers.
5. Aflorista Macau


(Source)
Aflorista Macau sells, fresh flowers, preserved flowers, silk flowers and dried flowers. If you want to step into a world of whimsy and magic, their arrangements can do that. They have preserved flowers under a glass jar which is reminiscent of Beauty and the Beast, though you can also find plenty of pastel-coloured blooms arranged in boxes, flower cones or lovely geometric vessels for a more contemporary touch.
6. Yong's Gift


(Source)
| | |
| --- | --- |
| BEST FOR | Bright and colourful flower pots |
| SELECTION SIZE | Large |
| PRICE RANGE | Starts at USD 44.95 |
| DELIVERY FEE | USD 11 |
| WEBSITE | www.yongsgift.com |
| CONTACT | 86-21-51695813 |
| PAYMENT | Major credit cards, PayPal |
Yong's Gift actually delivers in most countries in East Asia, such as Seoul, Korea and Macau. The prices are in USD since they cater to customers worldwide and not just Macau residents. So even if you are based overseas with your recipients in Macau, flower delivery is fast and easy with Yong's Gift. You can also find various gifts to add to your chosen bouquet, like cakes, chocolates, wine and stuffed animals.
7. Eeii Florist

(Source)
Eeii Florist advocates self-care and self-love through the calming and healing presence of fresh and lovely blooms. Instead of waiting for someone to send you a bouquet of fresh flowers, treat yourself to these a lush arrangement. You can brighten up your bedroom, add some colour to your living room or use them as inspiration on your workspace. The uses and positive effects of fresh flowers go beyond their beauty and that's why a bouquet remain an enduring and effective token for any occasion.