The 4 Best Options for Flower Delivery in Macau
Looking to send flowers to someone in Macau? You came to the right place!
We looked at the 65+ florists in the Macau area to bring you the very best based on quality, service and creativity.
Without further ado here is our list of the best options for flower delivery in Macau.
Note: Despite the ongoing pandemic, most industries in Macau remain in normal operations, including flower delivery services, as of the moment. However, please expect few delays given the situation.
1. NFlorist

(Source)
BEST FOR
Lush table arrangements and centrepieces
SELECTION SIZE
Medium
PRICE RANGE
Enquire for prices
DELIVERY FEE
WEBSITE
www.nflorist.com.mo
INSTAGRAM
CONTACT
+853 2822 5622 / 2822 5688 |

[email protected]

PAYMENT
If you want to make your space look elegant and inviting at the same time, take a look at NFlorist's catalogue of arrangements for decorative use. Hotels, restaurants and places of business can benefit from the sophisticated and pops of colour of their designs. But who's to say you can't buy one for your living room or your dining area? Their choices range from extravagant to understated elegance, so there's room for everyone.
2. Aflorista Macau

(Source)
Aflorista Macau sells, fresh flowers, preserved flowers, silk flowers and dried flowers. If you want to step into a world of whimsy and magic, their arrangements can do that. They have preserved flowers under a glass jar which is reminiscent of Beauty and the Beast, though you can also find plenty of pastel-coloured blooms arranged in boxes, flower cones or lovely geometric vessels for a more contemporary touch.
3. Yong's Gift

(Source)
| | |
| --- | --- |
| BEST FOR | Bright and colourful flower pots |
| SELECTION SIZE | Large |
| PRICE RANGE | Starts at USD 44.95 |
| DELIVERY FEE | USD 11 |
| WEBSITE | www.yongsgift.com |
| CONTACT | 86-21-51695813 |
| PAYMENT | Major credit cards, PayPal |
Yong's Gift actually delivers in most countries in East Asia, such as Seoul, Korea and Macau. The prices are in USD since they cater to customers worldwide and not just Macau residents. So even if you are based overseas with your recipients in Macau, flower delivery is fast and easy with Yong's Gift. You can also find various gifts to add to your chosen bouquet, like cakes, chocolates, wine and stuffed animals.
4. One Flower Macau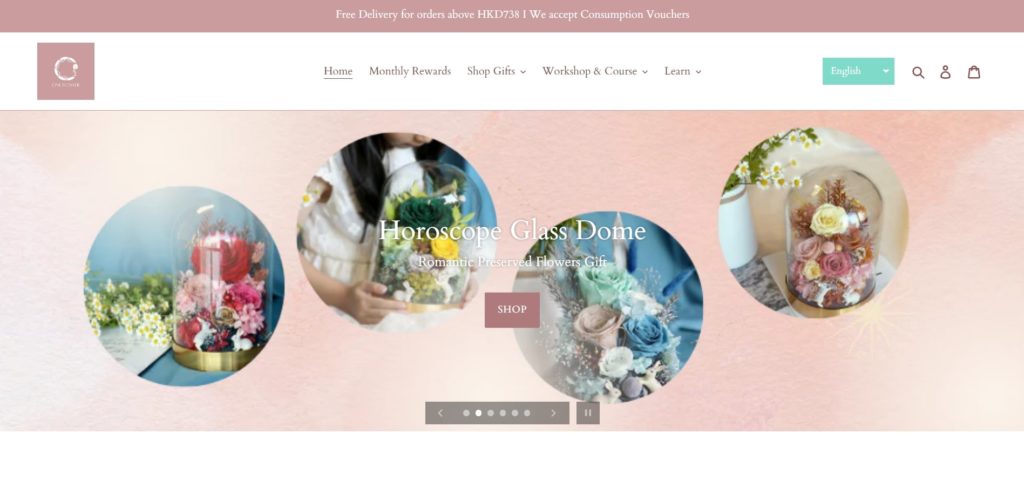 (Source)
BEST FOR

Customized Flower Arrangements

SELECTION SIZE
Medium
PRICE RANGE

HKD 400– HKD 1,880

DELIVERY FEE

HKD 120 – HKD 180

WEBSITE
https://www.oneflowermacau.com/
CONTACT
Whatsapp us:+853 6320 6363

+852 6110 2804

Email us: [email protected]

PAYMENT

Bank Transfer, HSBC, Alipay HK, WeChat Pay, FPS, Union Pay, Visa, Mastercard, Apple Pay, Shopify Pay
One Flower Macau, which opened in 2015, specializes in customized floral gifts and scents. This company was founded by two sisters who have very different personalities but share a passion for design.
We were immediately impressed by the fact that they have gifts for almost any occasion. It's also worth noting that they have a large selection of frames, candles, and gift baskets, which we thought were an excellent addition to their product line.
One Flower Macau's primary services include floral gift design, candle making, and wellness therapy workshops, which we thought were unique.
This business offers aroma candle and floral therapy workshops, which appeal to people who prefer making their own gifts from scratch.
Furthermore, we liked that they sell DIY packs of a wide range of products, such as a teacup set, glass domes, flower tool kits, and many others.
We also found their online gifting tips articles to be extremely helpful for customers who are unsure what to get their loved ones.
Although we were disappointed that some of these articles could not be translated into English, we believed that doing so would have made these tips more accessible to a more extensive customer base.
Despite this, we thought it was remarkable that they have a loyalty smile club points reward program, as we believe it's a great incentive for customers to earn points and rewards every time they purchase their products.
Overall, if you're looking for some of the best flower delivery options in Macau, you should check out One Flower Macau.
So that was our list of the best options for flower delivery services in Macau. How did we do? Let us know in the comments below.
Looking to send flowers to someone in Hong Kong click here! Looking to send flowers in Shanghai we got you covered here.