The 9 Best Options for Flower Delivery in Madrid
Today we are gonna go over our list of the best options for flower delivery in Madrid.
These florists were handpicked by our experts after looking at over 85 Madrid based florist options.
Are you ready to get started with our list of the top flower delivery options in Madrid? Check it out below!
Note: As of May 11, majority of small businesses in Spain, including flower shops, have been allowed to operate, although strict safety and health measures have to be observed at all times. Likewise, all the flower shops and florists in our list have resumed with their services, accepting both pick up and delivery orders.
1. Happy Flowers

| | |
| --- | --- |
| BEST FOR | Simple, affordable and long-lasting bouquets & arrangements |
| SELECTION SIZE | Medium |
| PRICE RANGE | €40 – €147 |
| DELIVERY FEE | Free Same Day Delivery |
| WEBSITE | www.happyflowers.es |
| PAYMENT | PayPal, VISA, Mastercard, Bank Transfer |
Happy Flowers aims to be the ambassador of happiness in Spain through their beautifully crafted and affordable bouquets. To make sure they put a smile on their customer's face, quality and speed go hand-in-hand. This is why their slogan is "Happiness delivered wherever in 90 minutes!" Their professional florist handcrafts each order using the freshest blooms sourced from the best nurseries and flower farms for long-lasting floral designs. From modern hand bouquets, gorgeous grand opening stands and comforting funeral wreaths, Happy Flowers pays special attention to details to convey the appropriate story and emotion. Then, their impressively fast flower delivery in Madrid ships the order from the shop to the recipient's doorstep in less than 2 hours. So, make someone happy today with Happy Flowers!
2. The Prestige Roses

(Source)
BEST FOR
Luxury roses in elegant boxes
SELECTION SIZE
Large
PRICE RANGE
From €69
DELIVERY FEE
Calculated at checkout
WEBSITE
www.theprestigerosesmadrid.es
INSTAGRAM
@theprestigerosesespana
CONTACT
+34 684 223 060 |

[email protected]

PAYMENT
AMEX, Apple Pay, Mastercard, PayPal, VISA
The Prestige Roses is one of the first luxury flower companies in Spain to offer innovative floral decoration, such as their bouquets of fresh roses and preserved in boxes. Their collection of preserved roses is one of their bestselling products because of their beauty and longevity. Top-notch preservation techniques are used in their preserved flowers, so the bloom's freshness and natural beauty are preserved and they can last for years! You can even customise your flower arrangement for that personal touch, just reach out to their accommodating team. As for flower delivery, if you ask before 10 am, they can try to arrange a same day delivery.
3. Floristería Jardín de Sala

(Source)
BEST FOR
Seasonal flowers, floral styling for weddings and special occasions
SELECTION SIZE
Medium
PRICE RANGE
Contact florist for prices
DELIVERY FEE
Fees may vary
WEBSITE
https://www.floristeriajardindesala.es/
INSTAGRAM
@jardindesala
CONTACT
+34 913 66 74 73 |

[email protected]

PAYMENT METHODS
Floristería Jardín de Sala creates beautiful, handcrafted arrangements that can instantly and effortlessly brighten any room and make it more stylish. The floral compositions are colourful and vibrant, using the finest seasonal blooms to impress your loved ones. They can also customise individual bouquets and arrangements for customers, working within their budget and taking their preferences into consideration to make the perfect surprise for Valentine's Day, a birthday or simply to make an ordinary day extra special.
4. Mar de Flores

(Source)
BEST FOR
Rustic floral designs, bespoke floral styling for weddings & events
SELECTION SIZE
Medium
PRICE RANGE
From € 33
DELIVERY FEE
Calculated at checkout
WEBSITE
www.mardeflores.com
INSTAGRAM
@mardefloresmadrid
CONTACT
911 622 500 / 912 347 742 |

[email protected]

PAYMENT
Major credit cards
Mar de Flores offers high-quality product and design, offering clients a personalised service for every occasion, so customers get original and exclusive designs with each transaction. Mar de Flores is composed of a small family team and a talented group of collaborators dedicated to floristry, landscaping and floral decoration in all its aspects. Their flowers and plants arrive weekly at their two locations directly from the Dutch auction which means they can keep their prices competitive while assuring freshness, quality and variety at the same time.
5. Brumalis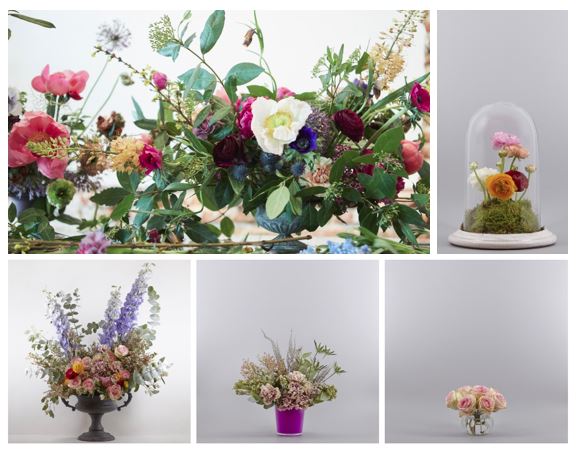 | | |
| --- | --- |
| BEST FOR | Bouquets, decorative and event flowers |
| SELECTION SIZE | Medium |
| PRICE RANGE | €40 – €120 |
| DELIVERY FEE | Contact for delivery fees |
| WEBSITE | https://brumalis.es/ |
| PAYMENT | Contact for payment options |
Brumalis specializes in floral compositions for gifting and special occasions. They've been in the business of sending beautiful flowers all over Madrid since 2012. You can contact them through [email protected] or 659632466 to discuss your requests.
6. Rosas del Agavanzal

| | |
| --- | --- |
| BEST FOR | Flowers for all occasions |
| SELECTION SIZE | Large |
| PRICE RANGE | Starts at €29.90 |
| DELIVERY FEE | Contact for delivery fees |
| WEBSITE | https://www.rosasagavanzal.es/en/home |
| PAYMENT | PayPal, Mastercard, Visa, Amex |
Rosas del Agavanzal is managed by a team of experienced florists and landscape-decorators located in Madrid (Spain) working since 1999. They deliver all their our items directly to all Madrid city and surrounding towns. You may purchase your flowers from your home and pay through online through their shop securely.
So that was our list of the best options for flower delivery in Madrid. How did we do? Leave us a comment with who you picked in the comment section below.
7. Bimflowers
| | |
| --- | --- |
| BEST FOR | Any Occasion |
| SELECTION SIZE | Small |
| PRICE RANGE | Starts at €12,00 |
| DELIVERY FEE | Calculaed at chekcout |
| WEBSITE | https://bimflowers.com/ |
| PAYMENT | AMEX, Mastercard, VISA |
Bimflowers is one of the best floral shops in Madrid. If you are looking for bridal bouquets, they have the perfect flowers for you.
In comparison to the other shops on this list, aside from flowers they also have a collection letter flowers, gift sets for children, candles, crowns, and decorations. Even though they only offer a small range of products, you can still find complimentary flowers and gifts for your loved ones.
The great thing about them is their delivery time for orders outside Madrid is only one to two days from the day it leaves their warehouse. Another nice factor is that they offer shipment outside Spain.
Just call them and they will try their utmost best to give you the best price while you get your items on time.
People prefer to buy from them because they only select the best flowers from the best suppliers. A previous buyer mentioned that their flowers are pretty affordable and the best thing was the quality is still superb, even lasting them for days.
8.Semilla Salvaje

| | |
| --- | --- |
| BEST FOR | Weekly Bouquets and subscriptions |
| SELECTION SIZE | Medium |
| PRICE RANGE | Starts at €15.00 |
| DELIVERY FEE | Calculaed at chekcout |
| WEBSITE | https://semillasalvaje.com/ |
| PAYMENT | Contact for more details |
Semilla Salvaje has been serving Madrid since 2017. Their team is committed to bringing the freshest flowers and making their pieces an intimate language between people.
Unlike other shops, they ensure that the flowers being delivered is still fresh once it arrives at your doorstep.
What they do is they place the bouquets in a waterproof transport vase that contains enough water and nutrients that can help hydrate your order throughout transportation. Plus, they use recyclable cardboards to protect your bouquets!
Aside from fresh flowers, they also sell floral art magazines, floral prints, dried flowers, and accessories that can compliment your bouquets.
These products can make you a perfect gift combination for your loved ones. With their fresh flowers and other products, you can definitely make someone's day complete.
People love buying from them because they are the only flower shop that creates unique and limited edition bouquets weekly. They combine usual flowers with unknow, yet beautiful, ones that are grown in orchards in the vicinity of Madrid.
Looking to send flowers somewhere else? Check out this list for the best options for flower delivery in Barcelona and this one for Spain.
9. Flores de Cavia
| | |
| --- | --- |
| BEST FOR | Floral arrangements, event floristy, floral retail |
| SELECTION SIZE | Small-Large |
| PRICE RANGE | €35 – €190 |
| DELIVERY FEE | Calculated at checkout |
| WEBSITE | https://floresdecaviamadrid.es/ |
| PAYMENT | PayPal, VISA, Mastercard, Bizum |
Flores de Cavia is a floral shop in Madrid, Spain that specializes in flower arrangements for weddings, funerals, and the like. They also offer a wide catalog of indoor plants, plant centers, and orchids to enjoy at home while enjoying free shipping services as well. The shop is also selling preserved flowers such as the yellow eternal rose and the black eternal rose encased in a stunning glass case suitable for display, home decor, or as a gift option as well. The prices are fixed and stated clearly on the website as well to avoid confusion.
With a wide selection of durable plants good for indoor decor such as mint, thyme, rosemary, and oregano among others, the shop also accommodates the deliveries of these flowers as gift options with free shipping as well. They also provide various payment methods such as Paypal in order to have secure yet convenient payment methods no matter where you are around the world