The 7 Best Options for Flower Delivery in Mauritius
We're always on the lookout for the best florists that can whip out the most stunning bouquets. Here at Flower Delivery Reviews, we make sure you get the best choices of flowers wherever you are.
And there are a lot to choose from in Mauritius. This beautiful island isn't only peppered with pristine beaches but also with expert florists! Thankfully, we've narrowed them down to the best of the best to help you out.
Here is our list of the 6 best options for flower delivery in Mauritius. Be sure to check them all out!
NOTE: Because of the COVID 19 crisis, we've noted relevant service changes for some of the shops below. There'll be a few adjustments on order and delivery service as well as availability of stocks.
1.      MAURITIUS LOVES FLOWERS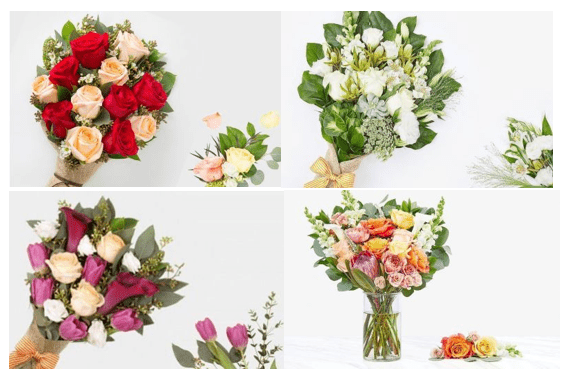 Mauritius Loves Flowers' exceptional flower delivery service is matched by the top-notch quality of their floral products. Their online store showcases a meticulously curated collection of hand bouquets, flower stands and table arrangements that are not only modern and highly Instagrammable, but they also look better in real life!
| | |
| --- | --- |
| SPECIALTY | Premium bouquets |
| SELECTION SIZE | Medium |
| STARTING PRICE | Starts at MUR1,400.00 |
| DELIVERY FEE | Calculated at checkout |
| WEBSITE | https://www.mauritiuslovesflowers.com/ |
| SOCIAL MEDIA | |
| CONTACT DETAILS | Visit their website |
WHAT PEOPLE LIKE
GOOD SERVICE. The shop receives really good reviews from their clients not only because of their high quality products but also their good communication and relationship with their clients.
VALUE FOR MONEY. Mauritius Loves Flowers shows their appreciation to their clients by providing premium quality products that truly shows the true value of your money.
PRODUCTS
The Julianne – MUR1,400.00
The Paige – MUR2,058.00
The Spring Breeze – MUR2,365.00
DELIVERY AND PAYMENT
Visa, MasterCard
2. EDWIGE BOUTIQUE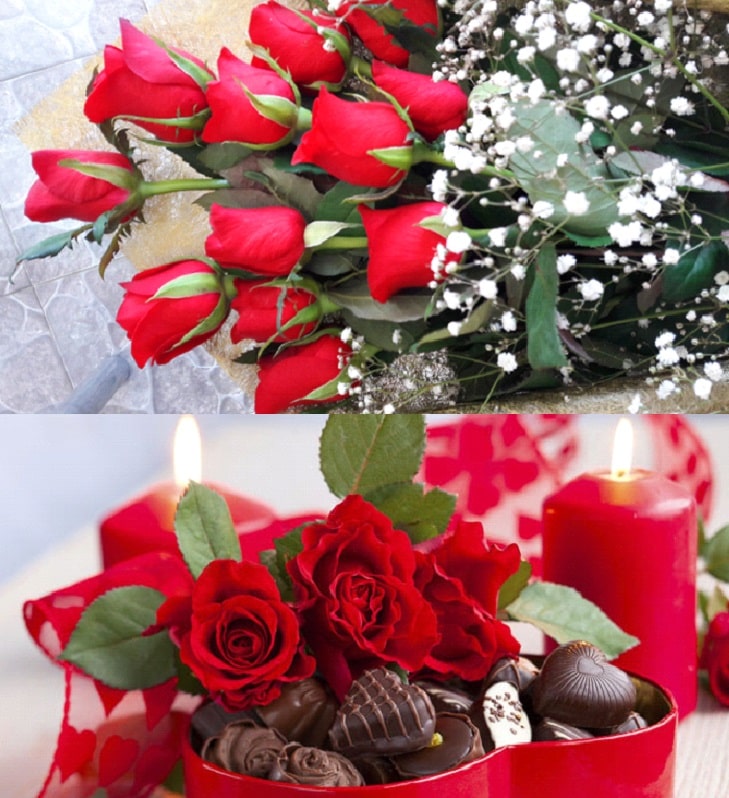 Edwige boutique is where you can find your local florists in Mauritius. Flowers, Sweets, Gifts by occasion and season. You name it and we're pretty sure you can find what you're looking for here. With over 25 years of flower expertise, trust these guys for excellent flower delivery service.
SPECIALTY
Rustic Posies
SELECTION SIZE
Curated
STARTING PRICE
Rs1000
DELIVERY FEE
Calculated at checkout
WEBSITE
https://www.edwigeboutique.com
SOCIAL MEDIA
Instagram: @edwige_boutique

Facebook: @edwigeboutiquefloristmauritius

CONTACT DETAILS
+230 57750920
WHAT PEOPLE LIKE
FLOWERS FOR ALL OCCASIONS. Making sure that the flowers you brought are appropriate for the occasion is always something you should do. Thankfully, you don't have to worry about that. Buy flowers by occasion at Edwige Boutique.
Sometimes you just need your gift to be a little bit EXTRA. Enter the Extravaganza collection. Get yourself a bouquet of mixed flowers and chocolates. Yup, this brings the chocolate-and-flowers combo to a whole new level.
SAME DAY DELIVERY. Need flowers today? No worries! Edwige Boutique offers same-day delivery for all their gifts and flowers.
PRODUCTS
BIRTHDAY: From Rs1200
ROMANCE: From Rs1000
EXTRAVAGANZA: From Rs1700
FLOWERS FOR HER: From Rs1000
DELIVERY & PAYMENT
Check item or contact store for same-day delivery availability. For payment in Mauritian Rupees, local Bank Transfer is the only option as of writing.
NOTE: They only take pick-up orders, however, they're planning to go back on full operation by June, if everything goes well. Due to flower shortages, they've reduced their current range so they strongly advise the customers to choose for the Florist's Choice option.
3. THESHOP.MU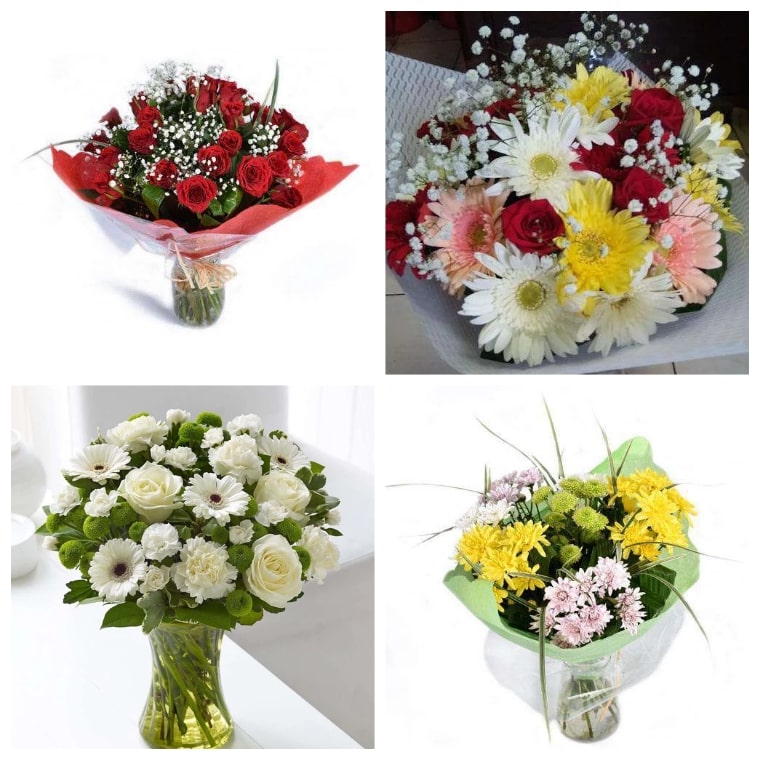 When it comes to Online Grocery Supermarket in Mauritius TheShop.mu is leading the pack. Relatively new and was only founded back in 2016, they are thriving more than ever. Their products include fresh fruits and vegetables, pastries, frozen or canned foods, baby products, household, and cleaning products, beauty, stationery, gifts, tools and of course, flowers.
| | |
| --- | --- |
| SPECIALTY | Large Selection of Gifts and Treats |
| SELECTION SIZE | Curated |
| STARTING PRICE | Rs800.68 |
| DELIVERY FEE | From Rs 199 |
| WEBSITE | https://www.theshop.mu |
| SOCIAL MEDIA | Facebook: @TheShop.mu |
| CONTACT DETAILS | +230 5250 6006 |
WHAT PEOPLE LIKE
EFFICIENT ONLINE GROCERY STORES. Convenience is really what makes TheShop.mu one of our favorites. When all you need is practically one click away, purchasing is just easier! So, whether you're looking for a gift for your foodie friend or beauty products for your skincare-obsessed loved ones, you know there's a gift for everybody here.
GARDEN SUPPLIES. Although, TheShop.mu only has a very limited choices for flowers, they have tons of other items you can buy as a present. Such as gardening supplies. Up your bouquet gift and give them some much-needed tools to start their flower garden on their own!
PRODUCTS
FLOWERS: Rs 800.00 to Rs 3,500.00
DELIVERY & PAYMENT
Same day delivery is currently not available. Choose the delivery slot that would work for you. Payment options include Debit/Credit card, Cash on Delivery, PayPal, Internet Banking Transfer, MCB Juice, Cheque, and Credit.
4. CREATIONS LES FLORALIES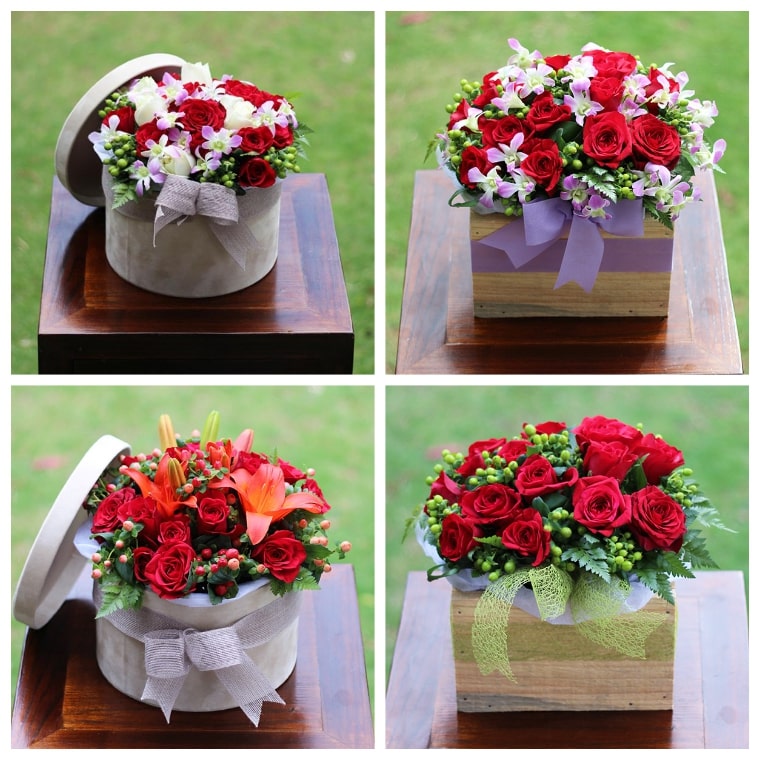 Whether you shop by occasion or shop by type, every flower arrangement is carefully designed to suit all sorts of style as well as budget. Creations Floralies also offers a good selection of gifts and accessories you might want to browse.
WHAT PEOPLE LIKE
FLOWERS IN A BOX. A simple arrangement of flowers neatly placed in a hatbox or wooden box may seem a bit boring on paper. But that's where you're wrong. Their florists expertly style each bouquet to complement the packaging resulting in an elegant set of flowers.
SYMPATHY COLLECTION When words can't carry the emotion and loss you're feeling, a simple sympathy flower arrangement can deliver that message. This collection of white lilies, alstroemeria, roses, and spider chrysanthemums is your perfect choice.
GET IT DELIVERED TODAY. They deliver the same day anywhere in Mauritius. Just hop on their website to choose, order and pay conveniently. Once your order's complete, Your flowers are ready for delivery.
PRODUCTS
BIRTHDAY: Rs600 to Rs2790
ROMANCE: Rs600 to Rs2790
GIFT BOXES: Rs1250 to Rs2500
SYMPATHY: Rs850 to Rs1200
DELIVERY & PAYMENT
Delivery and payment details are available upon checkout.
5. FLORAL.MU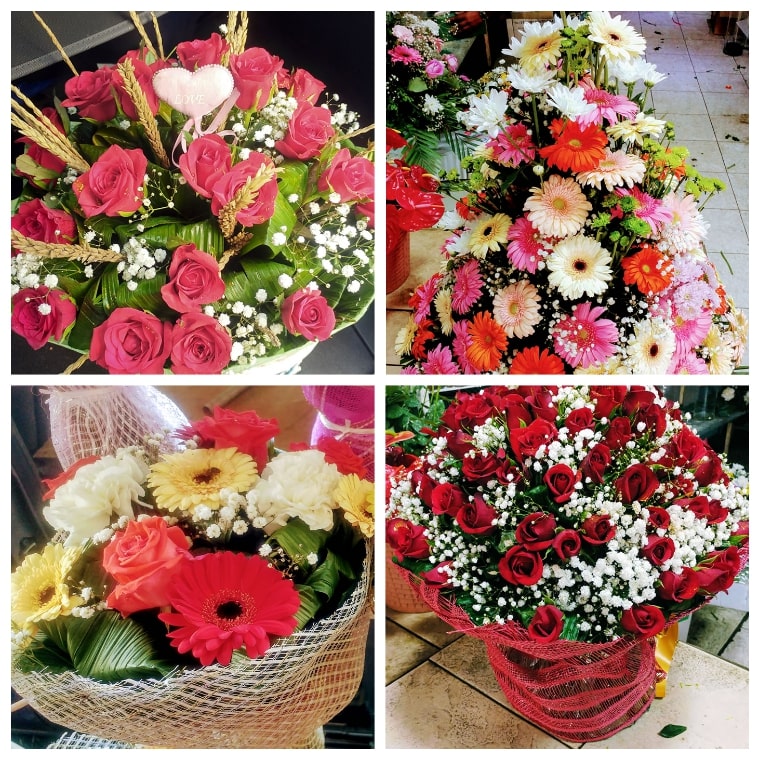 "Say it with glorious colors and a stunning bouquet of flowers." is the tagline of Floral.mu. Very fitting since their designs are often peppered with vibrant flowers popping with colors.
| | |
| --- | --- |
| SPECIALTY | Roses and Mixed Bouquets |
| SELECTION SIZE | Curated |
| STARTING PRICE | MUR 1450 |
| DELIVERY FEE | Calculated at checkout |
| WEBSITE | https://www.floral.mu |
| SOCIAL MEDIA | n/a |
| CONTACT DETAILS | [email protected] |
WHAT PEOPLE LIKE
SUPPORTS LOCAL GROWERS.mu works with the best local flower gardeners in Mauritius to source out the freshest flowers available. That's why all the bouquets that are expertly arranged by their florists look so good! (plus, they last longer than grocery-bought ones)
CUSTOM MIX FLOWERS BOUQUET. Starting at ₨ 300, you can now start creating your very own bouquet. And it's super easy too! They've streamlined your choices, so the DIY bouquet is much faster and convenient to order.
PRODUCTS
BOUQUETS: From MUR 1450
CUSTOM BOUQUET: From ₨ 300
DELIVERY & PAYMENT
Delivery and payment details are available upon checkout.
6. THE WORLD OF ROSES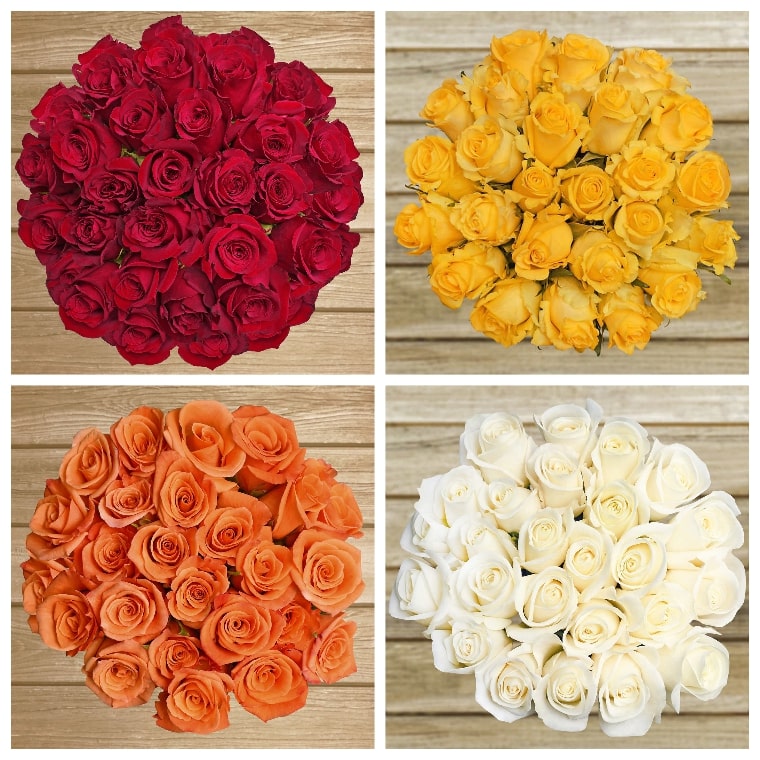 Just like their name suggests, this flower shop is all about roses! As their only product, you can rest assured that your roses are of the highest quality and perfectly arranged for delivery.
SPECIALTY
Roses
SELECTION SIZE
Moderate
STARTING PRICE
From £16.35
DELIVERY FEE
Calculated at checkout
WEBSITE
https://www.fleuristemauritius.com
SOCIAL MEDIA
Instagram: @flourandbloom

Facebook: /FlourandBloom/

CONTACT DETAILS
+230 58994924
WHAT PEOPLE LIKE
Roses have always been the number one flower for romance and love. It's so simple to say 'I love you' with a dozen or even hundreds of roses. And that's exactly what you can do. It's up to you—the number of stems and colors. Make it your own!
EASY TO ORDER. Wanna know how it works? It's easy. All you have to do is choose the number of stems, the colors you want and the number of each color you want. Personalize your bunch. Rose colors have different meanings so make sure you use their guide to make it perfect.
PRODUCTS
DELIVERY & PAYMENT
The payment is made in £ only. All their transactions are channeled through Paypal for secure online payment.
NOTE: They've temporarily suspended their flower delivery service until further notice.
7. DODO MARKET


The Dodo Market always creates beautiful, freshly-made, hand-crafted flower bouquets. In addition to this, they can add chocolates, helium balloons, or even unique handmade gifts!
Compared to other stores, their florists' expertise and attention to detail, allowing us to offer the very best flower bouquets for every occasion.
SPECIALTY
Fresh Roses, Flower Bouquets, Chocolates, and Gifts
SELECTION SIZE
Large
STARTING PRICE
From Rs550
DELIVERY FEE
Calculated at checkout
WEBSITE
https://dodomarket.mu/
SOCIAL MEDIA
FB: www.facebook.com/flower.delivery.mauritius.dodomarket/
IG: @flower_delivery_mauritius
CONTACT DETAILS
 

[email protected]

| +230 5936 1280
WHAT PEOPLE LIKE
SAME-DAY DELIVERY. You can order before 11:30 AM using their  Bongéni Gift Delivery Mauritius service for the same-day flower delivery.
HAND-DELIVERED IN MAURITIUS TO ANY LOCATION. Their flower delivery service is available throughout Mauritius including all major cities such as Port Louis, Vacoas, Quatre Borne, Curepipe, Rose Hill, and more.
PRODUCTS
BOUQUETS: from Rs 550
GIFTS AND TREATS: from Rs 550
DELIVERY & PAYMENT
VISA, Mastercard, American Express, Discover