The 7 Best Options for Flower Delivery in Munich
Where do you get your fresh flowers in Munich? If it's accessibility and convenience you're looking for, call these top-notch Munich online florists and you won't even have to leave your home. Order online, call them up, chat or email them—there are so many options! Be careful about choosing the right Munich florist, though. You don't want to receive sad, wilting flowers after parting with your hard-earned cash. These are our top picks for flower delivery in Munich.
Note: Due to lockdown ease in Germany, all shops listed are now free to operate once again but with proper sanitation measures and extreme caution.
1.     German Blooms

(Source)
| | |
| --- | --- |
| BEST FOR | Affordable handcrafted bouquets |
| SELECTION SIZE | Medium |
| PRICE RANGE | EUR 43 – EUR 162 |
| DELIVERY FEE | Free Same Day Delivery |
| WEBSITE | www.germanblooms.com |
| PAYMENT | Mastercard, PayPal, Visa, American Express, Bank Transfer |
German Blooms believes that giving and receiving flowers should be simple, affordable and beautiful. So, they have streamlined their operations to make it easier to buy flowers online. With German Blooms, you can quickly say "I love you," "Thank you" or "I'm thinking of you" through their selection of beautiful, modern bouquets. Their expert florist handcrafts each order to ensure the best form possible with each delivery. Plus, if you order before 3pm, they will provide free same day flower delivery in Berlin.
2.     Le Langage de Fleurs

(Source)
Le langage de fleurs translates to "the language of flowers." The owners know their flowers and they can use the symbolism of each flower variety to the fullest. So, if you want to be more specific and personal with the message you want to convey in your chosen bouquet, you can consult the owners about it. One of the highlights of this Munich flower shop was during the 2006 World Cup when they were responsible for the floristics and planting of the hospitals of the Frankfurt Stadium.
3.     Blumen Eldsdörfer

(Source)
| | |
| --- | --- |
| BEST FOR | Duftrosen |
| SELECTION SIZE | Large |
| PRICE RANGE | EUR 10.50 – EUR 75 |
| DELIVERY FEE | Free |
| WEBSITE | www.blumen-elsdoerfer.de |
| INSTAGRAM | |
| CONTACT | 089 36 59 47 | [email protected] |
| PAYMENT | Visa, Mastercard, American Express, PayPal, Apple Pay, Bitcoin |
Basic and simple do not have to be boring. Blumen Eldsdörfer excels at handcrafting mono bouquets, hand-tied simply and elegantly. The fresh flowers shine and the message comes across with clarity. This sincerity and lack of pretentiousness will make you fall in love with the beauty of flowers and the value of minimalism. Same day flower delivery cut off is 2pm on weekdays and by 12noon on Saturdays.
4.     Schachtner

(Source)
| | |
| --- | --- |
| BEST FOR | Colourful bouquets |
| SELECTION SIZE | Large |
| PRICE RANGE | EUR 16 – EUR 100 |
| DELIVERY FEE | Calculated at checkout |
| WEBSITE | www.blumen-schachtner.de |
| INSTAGRAM | |
| CONTACT | +49 89 34 75 10 |
| PAYMENT | Visa, Mastercard, American Express, Diner's Club, PayPal, Cash on Delivery |
If you're looking for birthday flowers, a floral basket or something bright to cheer up a friend, Schachtner's colourful bouquets are perfect. They also sell funeral wreaths and Advent wreaths available for flower delivery in Munich. For businesses, restaurants or cafés, their floral subscription service would be a helpful service to bloom spaces with regular deliveries of fresh Munich flowers ready for display. They even have the cash on delivery option if you're not willing to pay outright.
5.     Blumen Komander

(Source)
BEST FOR
Contemporary floristry
SELECTION SIZE
Large
PRICE RANGE
Bouquets and arrangements: 19,90 € – 169 €
Wedding: From 300 €
Events: From 400 €
Funerals: From 200 €
DELIVERY FEE
Calculated at checkout
WEBSITE
www.blumen-komander.de
INSTAGRAM
CONTACT
089 52 26 34 | [email protected]
PAYMENT
Visa, Mastercard, PayPal
Blumen Komander is a full-service florist specialising in contemporary floral designs. Their floral designers can craft a wide range of designs for all occasions, such as flower arrangements for baptism, birthdays, weddings, anniversaries and family celebrations. Blumen Komander was founded more than 50 years ago in Munich's Maxvorstadt and is now in its third generation with a team of qualified and trained florists.
6.     Blumen Haas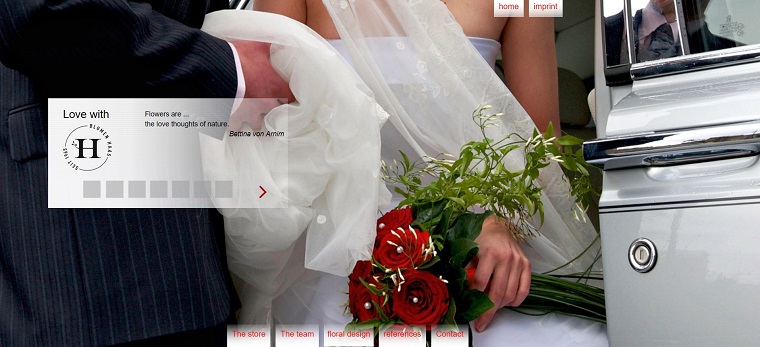 (Source)
As a family business, established in 1965, Blumen Haas has a wealth of experience handcrafting classic bouquets as well as modern and innovative arrangements. Two generations of the Haas family have helmed this homegrown Munich florist into a well-respected business. To experience their craftmanship and expertise in floristry, try ordering a customised arrangement for an event or a special occasion. Prepare to be impressed!
7.     Bahlmann

(Source)
Bahlmann retains a natural and organic quality to their flower arrangements. With their bouquets, arrangements, wreaths and decorations, Bahlmann manages to keep their designs fresh and rustic without looking messy or haphazard. Contact them for events, retail designs, flower subscription or to make your showroom pop! If you want your space look expensive and sophisticated, you know which Munich florist to call.