The 7 Best Options for Gift Baskets in Cincinnati
Needed to get gifts for multiple parties all at once? Make your job easier and more fun by sending them gift baskets all customized according to their liking and preferences.
There are lots of gift shops in Cincinnati that offers to provide you with personalized gift baskets, all you need to do is select what products to include and they will even take care of the delivery themselves!
1.      ADRIAN DURBAN

Adrian Durban has been one of the trusted flower and gift shops serving the area of Cincinnati since 1899. For more than a century, it has brought premium quality blooms and gift baskets which can be a perfect combo for a gift for any kind of occasions and celebrations.
Selecting your gift baskets from the store is also made easier because they have pre organized their products according to type and recipient so you can just filter out the ones suited best for your purpose.
WHAT PEOPLE LIKE
LARGE SELECTION. The shop offers a wide range of gift baskets suitable for every celebration. Whether you are sending a gift to a friend who had just their baby, a birthday celebrant, a sick friend in recovery, etc. Adrian Durban has got everything you need.
AFFORDABLE PRODUCTS. Adrian Urban has some of the most affordable gift baskets offered in Cincinnati considering the high quality products that they include in each basket.
PRODUCTS
Corporate Gifts – $34 to $200
Fruit Baskets – $49 to $200
DELIVERY AND PAYMENT
Contact shop for details.
2.      CINCY IN A BOX

Cincy In A Box specializes in gift boxes full of treats and goodies that anyone of all ages will totally love. They even offer these products in different sizes so you have the option to select the smallest or largest one for your gift. These boxes contain as minimal as 5 items and as much as 10.
You have the option to custom and fill these boxes with Cincinnati foods such as Skyline Chili, Busken Bakery, Grippo's, LaRosa's, Montgomery Inn, and more.
WHAT PEOPLE LIKE
FREE SHIPPING. One good thing about Cincy In A Box is they offer to deliver your orders wherever you are in Cincinnati or even as much as US-wide without any extra charges! Imagine all the money you can save!
PRODUCTS
Gift Baskets – $40 to $60
DELIVERY AND PAYMENT
Contact shop for details.
3.      COOKIES BY DESIGN

For over 20 years, Cookies by Design Cincinnati has been helping customers with their gift giving needs. The shop specializes in creating and designing uniquely beautiful gift baskets all made of freshly baked cookies that they guarantee to not only please you tongues but your hearts as well.
You can choose among their wonderfully designed cookies depending on the occasion. Some are arranged into a bouquet while some remain in classic boxes.
WHAT PEOPLE LIKE
SAME DAY DELIVERY. If you visit the website of Cookies by Design, you will be greeted with hundreds of different cookie products baked and designed uniquely and some are even available for same day delivery.
ARTISTICALLY DESIGNED. Their team does not only focus on the taste of their cookie products but they also give high attention to how well they look because they want their customers to know that their cookies taste as good as they look.
PRODUCTS
Corporate Gifts – $33 to $200
Thanksgiving Gifts – $19 to $300
DELIVERY AND PAYMENT
Contact shop for details.
4.      ADORABLE GIFT BASKETS

In just a few taps on your mobile phone or laptop, you can easily send yourself or someone close a wonderful set of products enclosed in a beautifully designed gift basket especially brought to you by Adorable Gift Baskets.
Their online shop is filled with various kinds of gift products that they certainly believe will make anyone happy and satisfied.
WHAT PEOPLE LIKE
TOP QUALITY PRODUCTS. If there is one thing that Adorable Gift Baskets is certain about, it is that all of their gift baskets are in the best qualities. They always secure the products and materials included in their products so they can promise you a delightful outcome.
SECURED PAYMENT. The shop's online store is also equipped with a high class security system. You don't have to worry about your payment details because they have a very tight and secured payment system.
PRODUCTS
Anniversary Gift Baskets – $59 to $300
Birthday Gift Baskets – $34 to $300
Corporate Gift Baskets – $46 to $500
DELIVERY AND PAYMENT
Contact shop for details.
5.      GIFT TREE

Shop until you drop with the Gift Tree's almost unlimited collection of gift items! They have all kinds of gift items for all occasions and all kinds of recipients.
From the food products to non-edible items, they surely have the best items to show you. They have also made shopping with them so easy by categorizing their products according to type and purpose.
WHAT PEOPLE LIKE
SAME DAY DELIVERY. The shop makes sure that time will not hinder anyone from sending gift baskets to their loved ones that is why they offer to deliver your orders even on the last minute. The shop offers both same day and next delivery that you can always avail.
LARGE SELECTION. You can shop all at once with Gift Tree because they house thousands of different items appropriate for all kinds of events and occasions.
PRODUCTS
Gourmet Baskets – $34 to $300
Thank You Baskets – $34 to $300
Cookie Baskets – $19 to $400
DELIVERY AND PAYMENT
Visa, MasterCard, Discover, AMEX, PayPal, Apple Pay, Diner's Club
6.      HAZELTON GIFT BASKETS

Hazelton Gift Baskets prides themselves with their coast to coast delivery service all throughout the United States. One of the areas that they serve and they are most known is in Cincinnati.
The shop does not only ensure the quality of their products but they also full attention their delivery service and they make sure to tailor a service that would fit your timeline and convenience.
WHAT PEOPLE LIKE
ORDER ANYTIME. The shop wants to make shopping easier and more convenient for you that is why they accept orders 24/7, 365 days in a year. So, whenever you need a premium quality gift basket, you know who to contact.
LARGE SELECTION. Whether you need to send someone a gift basket for their birthday, wedding anniversary, graduation, or just a random day, the shop has readily available items that you can freely choose from.
PRODUCTS
Housewarming Gift Baskets – $54 to $400
Romantic Gift Baskets – $74 to $600
DELIVERY AND PAYMENT
Contact shop for details.
7.      GIFT BASKETS GALORE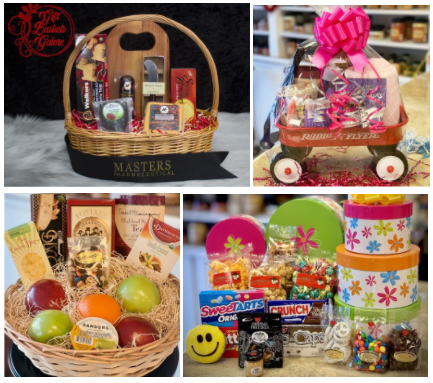 Gift Baskets Galore offers a wide selection of pre-made elegant baskets that fits in any occasion. They make sure to use the finest and highest quality products in their gift baskets.
Customizing a one-of-a-kind basket is also available in Gift Baskets Galore. The shop is committed in ensuring their customers that they would not be disappointed with their services.
WHAT PEOPLE LIKE
WIDE SELECTION. Gift Baskets Galore offers various gift products that ranges from bathroom essentials to kitchen items.
GIFTBASKETS FOR ANY OCCASION. With their wide range of products, customers would find the perfect basket for their event.
PRODUCTS
Executive Elite Diamond $299.99
Celebrate Cincinnati Diamond $124.99
Gender Neutral Wagon $99.99
Executive Elite Deluxe $99.99
DELIVERY AND PAYMENT
Contact shop for details.