The 10 Best Options for Gift Baskets in NJ
New Jersey is known for a lot of wonderful things. From the place itself, the people, their food, and even gift items that many tourists even bring back to their home to give to their family and friends.
While NJ is such a big place to explore, there are various shops in the area that we think bring the best quality gift baskets that you will certainly love.
Note: In spite of the current situation brought on by the pandemic, gift baskets stores are taking your orders for a contact-free delivery. They have been closely monitoring the situation and following the health department's guidelines, to preserve your health and safety. We'll notify you further here on more updates. 
1.      BASKETS N BEYOND

Did you have a lot on your plate and totally forgot that you have to buy presents for a friend's birthday? Worry no more because Beyond Baskets is here to save you.
Baskets N Beyond has been one of NJ's favorites since 1993 and they never fail to surprise and amaze their clients with their exceptional collection.
Their gift baskets are arranged in such a manner that it could be brought to any type of event, plus it comes at very affordable prices.
WHAT PEOPLE LIKE
LARGE SELECTION. Whether you need a gift basket most appropriate for a birthday, a wedding, an anniversary, or to tell someone to get well soon, Baskets N Beyond has everything you need. It houses thousands of gift baskets that are equally premium in quality.
EASY TO ORDER. Through the store's online shop, they have become more reachable and ordering from them has become easier and quicker.
PRODUCTS
Baby Gift Baskets – $28 to $300
Birthday Gift Baskets- $44 to $300
DELIVERY AND PAYMENT
AMEX, Discover, Visa, MasterCard, PayPal
2.      CAPALBO'S GIFT BASKETS

Capalbo's Gift Baskets has been in the business over a century ago. Their dedication and hard work has helped them establish their name in the business and consistently make their way to the top list of NJ's best gift shops.
They annually produce roughly a wide variety of gift baskets, now including wine baskets, too. They also have a spacious store on the premises, filled with a dazzling assortment of baskets to view or pick up in person.
WHAT PEOPLE LIKE
FREE SHIPPING. The shop does not only make sure that they offer premium quality products but they also pride themselves with their reliable services especially their delivery where they offer free shipping on some selected items.
100% SATISFACTION GUARANTEED. Capalbo's Gift Baskets is known for their consistent 100% customer satisfaction because of the combination of their exceptional products and services.
PRODUCTS
Fruit Baskets – $35 to $200
Gourmet Baskets – $25 to $200
DELIVERY AND PAYMENT
Contact shop for details.
3.      PERSONALLY YOURS GIFT BASKETS

Personally Yours Gift Baskets has been creating custom gifts for personal and business clients since 1988. If you would like us to design gifts uniquely for you, just let them know. They can also include your promotional items such as coffee mugs, pens, pads etc.
WHAT PEOPLE LIKE
CUSTOM MADE GIFT BASKETS. The shop always puts their clients on top of their priority. That is why they make sure that they cater to all of their gift needs. If you have special requests or concerns about your orders, they will be happy to accommodate them.
PRODUCTS
Wine Gifts – $52 to $200
Fruit Gifts – $36 to $300
DELIVERY AND PAYMENT
Local hand delivery and same day delivery available. Accepts Visa, MasterCard, American Express, and Discover.
4.      SWEET SUCCESS GIFT BASKET

Sweet Success Gift Baskets aims to provide their clients with premium handcrafted gift baskets that are perfect whenever you need them for birthdays, baby showers, Halloween party, anniversary, etc. Their goal is to create gift baskets that will come out as personal as you want them to be so these may include some photographs and other personal items.
WHAT PEOPLE LIKE
GREAT DEALS. The shop never misses the opportunity to give you the best deals for your purchase.
SUITS YOUR BUDGET. Just tell the team what kind of product you want and how much your budget is and they will craft a perfect gift product for you while keeping the best quality products that they are known for.
PRODUCTS
Gourmet Baskets – $35 to $200
Gifts for him – $72 to $100
Gifts for her – $72 to $100
DELIVERY AND PAYMENT
Accepts Visa, MasterCard, American Express, and Discover cards. Personal checks may be accepted as payment at their discretion.
5.      DELICIOUS ORCHARDS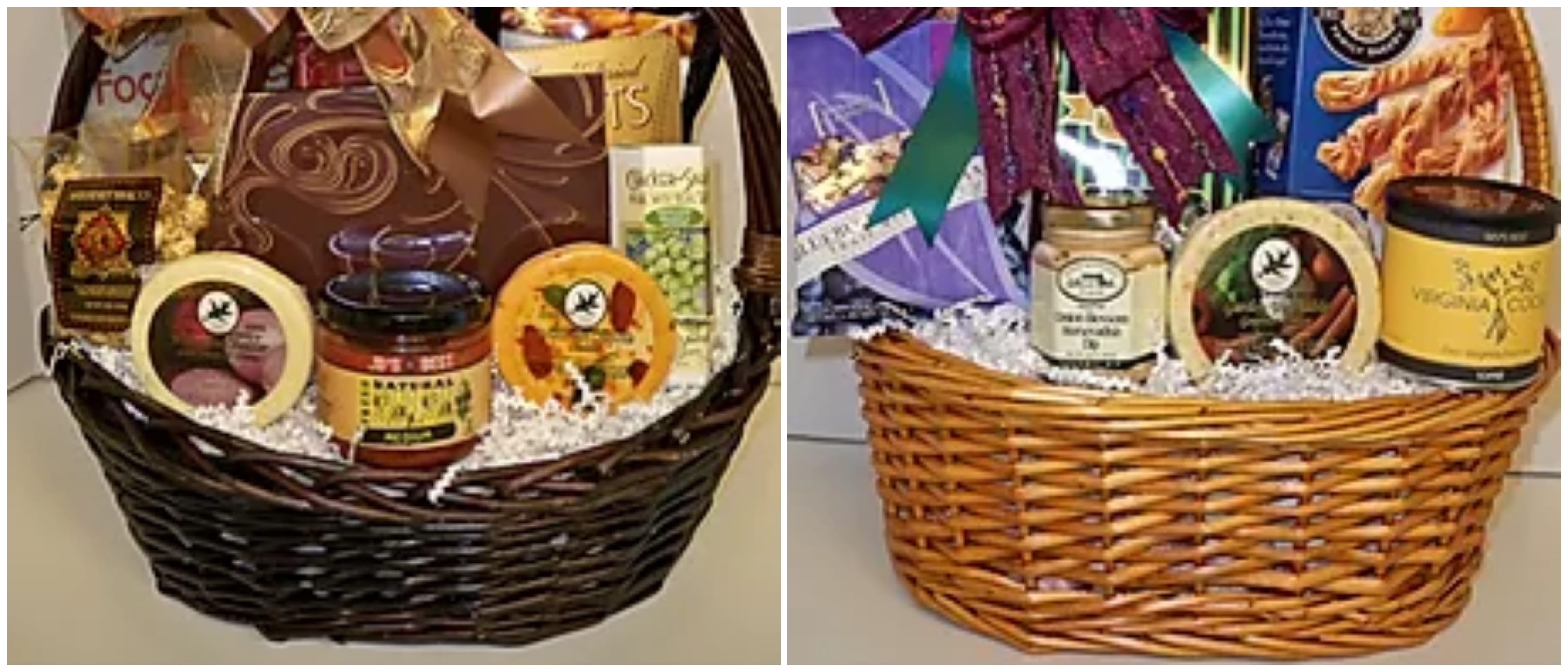 Whether you are looking for a simple fruit basket or a more elaborate one filled with fruit, bakery, gourmet items and cheeses Delicious Orchards can help you with your decision.
Their bakery boxes are their most popular items because they include fresh fruits and some delightful bakery products.
WHAT PEOPLE LIKE
RELIABLE DELIVERY. Aside from their huge selection of products, the shop is also praised for their excellent delivery services. They always make sure that your orders will arrive at the recipient's address on the agreed date and in the best quality.
PRODUCTS
DELIVERY AND PAYMENT
Contact shop for details.
6.      THE BASKET WORKS

The Basket Works prides itself with their thousands of premium gift baskets, mostly edible ones like cookies, wines, snacks, and many more. Whether you need an elegant gift basket arrangements to stun your business partners or a simple one for ordinary day gifts, The Basket Works guarantees to provide you with the best one.
| | |
| --- | --- |
| SPECIALTY | Corporate gifts |
| SELECTION SIZE | Large |
| STARTING PRICE | Starts at $29 |
| DELIVERY FEE | Calculated at checkout |
| WEBSITE | http://www.basketworksnj.com/ |
| SOCIAL MEDIA | |
| CONTACT DETAILS | 973-585-7966 |
WHAT PEOPLE LIKE
LARGE SELECTION. At The Basket Works you can entrust them to provide you with hundreds of different options for gift baskets. Each is created to perfectly suit any kinds of occasions and celebration.
BUSINESS GIFTS. Still thinking what to give your clients or business partners for the coming holidays as part of the corporate gifting? Let the shop help you and check their collection of corporate gift baskets.
PRODUCTS
Corporate Gifts – $29 to $200
Cookie Gifts – $44 to $100
DELIVERY AND PAYMENT
PayPal
7.      BROADWAY BASKETEERS

20 years ago, the leading company of gift baskets was born to deliver high quality products and services around Canada and USA. Broadway Basketeers has a big selection of baskets containing different gourmet products, alcohol, and fruits. Their containers like baskets and trays are also at the best quality to ensure that they stay with the receiver even if the foods are already gone.
WHAT PEOPLE LIKE
BULK ORDERS ARE AVAILABLE. Whether you're ordering a single basket or a whole batch to give to other people, you can be sure that they can accommodate your requests.
TRACK ORDER FEATURE. Now, you won't have to worry if your order got lost during the delivery with the order tracker available on their website.
PRODUCTS
Rose Delight Basket – $49.95
Deluxe Gourmet Brownie & Cookie Gift Basket – $99.95
Merlot Wine Basket – $89.95
DELIVERY AND PAYMENT
Mastercard, Visa, American Express, Discover, Paypal
8.      GREAT GIFT BASKETS

Need a gift for your special someone or gift basket for your employees? Great Gifts Baskets is here for your needs. They offer a wide range of gift baskets from baby, birthdays, Christmas, Thanksgiving and even in company events.
They have very accommodating customer service that will help you on what you like. Great Gifts Baskets also offers custom baskets, call their hotline to for more inquiry
WHAT PEOPLE LIKE
CUSTOMER SERVICE. They have great customer service, they are very accommodating and polite. They can give you choices that fit on what you really want.
PRODUCTS
Baby Baskets – $75-$100
Fruit and Candy Baskets – $60-$75
DELIVERY AND PAYMENT
For the payment and delivery you can contact their hotline or go to their social media account for information.
9.    THE PRETZEL PLATE

If you are looking for a store that will satisfy your sweet tooth cravings, then The Pretzel Plate is here to serve you with its delicious and tasty one of kind pretzels. This store offers a large variety of flavors for you to choose from.
The Pretzel Plate is not just all about pretzels. They also do customized packages and pretzel boxes that are perfect for giveaways, Christmas, and other celebrations.
To view their products, you may visit their website https://pretzelplate.com/
WHAT PEOPLE LIKE
Variety of flavors to choose from

– There are a total of 18 flavors being offered by the Pretzel Plate.
PRODUCTS
White Chocolate with Pink Nonpareils: $40

Long Blue Pretzel Box: $22.99

Minis Bag 3 Variety Pack- 5 oz each bag: $14.99
DELIVERY AND PAYMENT
For more information regarding their delivery and payment method, you may contact them through their website or call them via their phone number.
10.    SCRUMPTIOUS SECRETS

Scrumptious Secrets believes that natural and locally sourced ingredients are the secrets to having a tasty and healthy product. With this, they ensure that each product in every gift box will benefit the customers in terms of their physical and emotional health.
Each gift box and product from Scrumptious Secrets are beautifully crafted by local artisans. Gift boxes start at $48 which are designed to help spread love and joy, or you can shop for specialty food items starting at $2. For more information about their products, just visit their website https://scrumptious-secrets.com/ or send them a message via email or text.
SPECIALTY

Gift Boxes and Organic Products

SELECTION SIZE
Medium
STARTING PRICE

$1.20 – $200

DELIVERY FEE

East Coast Deliveries: $9

West Coast Deliveries: $16

WEBSITE
https://scrumptious-secrets.com/
SOCIAL MEDIA
N/A
CONTACT DETAILS
908-955-3374 |

[email protected]
WHAT PEOPLE LIKE
Natural and Organic Products

– Scrumptious Secrets makes sure to sell products that are made out of organic and natural ingredients. They believe that natural and organic ingredients are the secrets to having a tasty and healthy product.

Vision-Mission of the company- Scrumptious Secrets visualizes their company to provide their customers with beautifully curated gifts that will create a bond and strengthen the relationship between their customers and their loved ones. They hope that by each gift given, "relationships will grow stronger, spirits will be lifted, and a spark of love and joy will be left behind and grow." (Jess Wismer, CEO).
PRODUCTS
3 Cheese Reusable Food Wraps: $18.00 

Amongst The Trees – Mini: $58.00 

Black Tea Candle: $23.00
DELIVERY AND PAYMENT
Scrumptious Secrets charge delivery fees based on the product weight of the gift and its location. For East Coast orders, the standard delivery fee costs $9 while for West Coast orders, the delivery fee costs $16. Scrumptious Secretes accepts payment transactions made through American Express, Apple Pay, Mastercard, Paypal, Visa, Diners Club, Discover, JCB, Shop Pay, and Venmo.