The 7 Best Options for Gift Baskets in Seattle
Seattle is best known for its delicious local coffee which you can match with many kinds of snacks. These snacks may come in different packages like gift baskets which are made by local gift shops in Seattle.
To give you a better idea of what these product look like, have a look at the list that we have made below for your 6 best options for gift baskets in Seattle.
Note: In light of the current situation about COVID-19, gift basket stores can still deliver to you, albeit in a non-contact delivery. Since the logistics have been affected, they might only offer a limited product range. Furthermore, they have taken safety precautions and social distancing for the well-being of their clients and employees.
1.      GIFT TREE

Shop until you drop with the Gift Tree's almost unlimited collection of gift items! They have all kinds of gift items for all occasions and all kinds of recipients.
From the food products to non-edible items, they surely have the best items to show you. They have also made shopping with them so easy by categorizing their products according to type and purpose.
WHAT PEOPLE LIKE
SAME DAY DELIVERY. The shop makes sure that time will not hinder anyone from sending gift baskets to their loved ones that is why they offer to deliver your orders even on the last minute. The shop offers both same day and next delivery that you can always avail.
LARGE SELECTION. You can shop all at once with Gift Tree because they house thousands of different items appropriate for all kinds of events and occasions.
PRODUCTS
Anniversary Gifts – $39 to $300
Birthday Gifts – $39 to $300
DELIVERY AND PAYMENT
Visa, MasterCard, Discover, AMEX, PayPal, Apple Pay, Diner's Club
2.      SEATTLE GIFT BASKET

Seattle Gift Basket specializes in gourmet food baskets that include snacks and wine presented so beautifully so they are perfect to be sent as gifts or giveaways. These baskets vary in sizes and can accommodate 2 to 20 people.
Aside from their food baskets, they also offer specialized baskets which include other edible products best when you want to pamper yourself.
| | |
| --- | --- |
| SPECIALTY | Gourmet food baskets |
| SELECTION SIZE | Large |
| STARTING PRICE | Starts at $18 |
| DELIVERY FEE | Starts at $12 |
| WEBSITE | http://www.seattlegiftbasket.com/ |
| SOCIAL MEDIA | |
| CONTACT DETAILS | 1-800-334-0113 |
WHAT PEOPLE LIKE
LARGE SELECTION. Seattle Gift Basket has a huge selection of gourmet food baskets which include a variety of local snacks and drinks that you will definitely love.
AFFORDABLE PRODUCTS. The shop sells their products at very affordable prices without having to compromise the quality so you are always guaranteed with high quality gift baskets.
PRODUCTS
Snacks Gift baskets – $18 to $200
Specialty Gift Baskets – $28 to $100DELIVERY AND PAYMENT
Contact shop for details.
3.      MADE IN WASHINGTON

If there is one thing that Made in Washington can guarantee it is that they always strive not only to match but to exceed your expectations when it comes to gift giving. With this, they never fail to make an effort in creating and designing gift baskets that are premium in quality and stunning in design.
WHAT PEOPLE LIKE
PREMIUM QUALITY PRODUCTS. Made in Washington has some of the best and top-of-the-line products that you can see in Seattle. Their products undergo strict quality control to make sure that everything pass their high quality standards.
PRODUCTS
Gift Baskets – $60 to $300
DELIVERY AND PAYMENT
Contact shop for details.
4.      SIMPLY NORTHWEST

Simply Northwest was founded in May of 1989 as a home-based gift basket service with the purpose of helping companies acknowledge and show appreciation for their employees and clients for a variety of occasions. The business grew quickly and soon required a warehouse space for storage and assembly.
Whether you need to send someone a gift for their birthdays, weddings, baby showers, etc., Simply Northwest can provide you with all of those.
WHAT PEOPLE LIKE
WORLDWIDE SHIPPING. Wherever you are, even outside of Seattle, Simply Northwest can deliver their premium gift baskets whenever you need them. They have expanded their reach and started shipping worldwide.
PRESENTABLE DESIGN. Simple Northwest does not only focus on the quality of the content but they also give high attention to the physical design of the gift basket.
PRODUCTS
Corporate Gifts – $35 to $300
Celebration Gifts – $35 to $300
DELIVERY AND PAYMENT
AMEX, Visa, MasterCard, Discover, Diner's, Shopify Pay, Apple Pay, Google Pay, JCB
5.      BALLARD BLOSSOM

Ballard Blossom, Inc. is an online shop that primarily sells flowers and gift baskets to any point in Seattle.
The shop has made shopping easy through their website because all you have to do is visit their website, browse through their collection, place your order, settle your payment, and voila, you would just have to wait for your orders to be delivered.
They made the whole process very convenient because they believe that customer comfort and satisfaction must always come first.
WHAT PEOPLE LIKE
AFFORDABLE PRICES. You would not expect that for the kinds of products that they create, knowing that they are all of high quality and best materials that the shop would offer them at very affordable prices. This is really perfect for those who want excellent quality of products but are sort of having some troubles when it comes to the budget.
GREAT SERVICE. Aside from making sure that their products are made with high quality materials, they also maintain a good relationship with their customers. They want them to know that they value them and they will strive to always do their best to make sure that their beloved customers are always satisfied with their service.
PRODUCTS
Gourmet Gifts – $24 to $200
DELIVERY AND PAYMENT
Contact shop for details.
6.      KNACK

Knack is best known for their modern gift baskets with their aim of building lasting personal connections through authentic gift giving. They have a huge collection of gift items that vary in kind, size, shape, and color which can be perfect for all celebrations and occasions.
WHAT PEOPLE LIKE
CUSTOM MADE GIFTS. Get the chance to decide what gifts to include to your gift baskets as the shop allows their clients to customize the gift baskets all according to your preferences.
PRODUCTS
Wine Gifts – $72 to $300
Coffee Gifts – $50 to $300
DELIVERY AND PAYMENT
Contact shop for details.
7.      TOP TIER GIFTS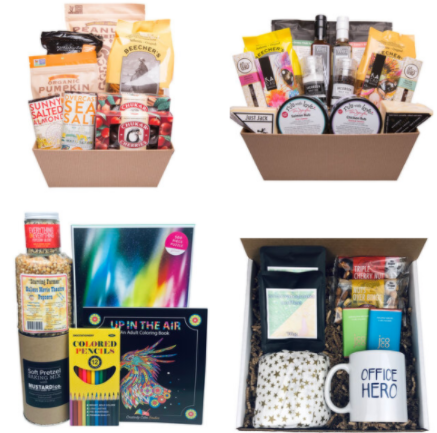 Allison and her team have been delivering exceptional customer service and creative gift solutions to corporate clients and individuals since 2016. Whether you need a custom tier system for your team to use throughout the year, or one impressive gift for a VIP, they will take the time and care to make sure each and every gifting experience is easy and effective.
WHAT PEOPLE LIKE
CUSTOM REQUEST. Fill out their online form to request unique gifts or large quantities.
THEY LOVE LOCAL. 95% of the inventory is local. We love to support other small businesses!
PRODUCTS
Stay and Play at Home – $99.99
Take Care, Give Care – $59.99
Caffeine and Quarantine – $24.99
Work from Home Gift Box – $39.99
DELIVERY AND PAYMENT
Accepted through website or invoice.