The 7 Best Options for Gift Baskets in Victoria, BC
There are five kinds of love language as the experts say and one of these is sending or receiving gifts. If you are one of these people, then you are lucky because there are so many ways to express your love.
One of your options is to find a good gift shop that can provide you with premium quality gift baskets and have them delivered directly to your loved one's home.
To help you get started, here's a list of your 6 best options for gift baskets in Victoria BC.
NOTE: Due to the current pandemic outbreak, we've noted the relevant service changes for some of the shops listed below. Most stores are still accepting online or phone orders as well as deliveries.
1.      GIGI'S GIFT CREATIONS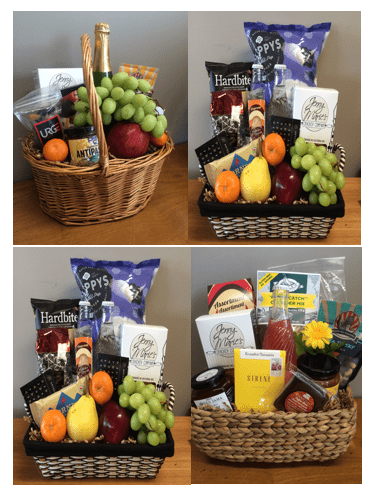 Gigi's Gift Creations specializes in small-batch artisanal BC ingredients delivered in a traditional cello wrapped basket or a west coast inspired shippable gift box. You may opt to choose from their pre-designed gift baskets or have a specifically customized one according to your preferences.
Since you are sending a gift item, they also offer complimentary mylar balloons for orders placed through their website. For dog lovers out there, you can also get your puppy free dog cookies if you just tell the team his name.
| | |
| --- | --- |
| SPECIALTY | Personal touch gift baskets |
| SELECTION SIZE | Large |
| STARTING PRICE | Starts at $13 |
| DELIVERY FEE | Calculated at checkout |
| WEBSITE | http://www.gigisgiftcreations.com/ |
| SOCIAL MEDIA | |
| CONTACT DETAILS | 250.889.3387 |
WHAT PEOPLE LIKE
PHOTO OF ORDER. Part of the shop's overall wonderful service is ensuring you that you orders are always in the best qualities and they do this by sending you a photo of your order before delivering them so you can make changes if necessary.
SAME DAY DELIVERY. The shop allows you to have the delivery scheduled on the same day that you made the purchase. Otherwise, you may opt for the next day delivery both should be ordered before 11am.
PRODUCTS
Fruit Baskets – $89 to $120
Housewarming Baskets- $13 to $200
DELIVERY AND PAYMENT
Contact shop for more details.
NOTE: You can still make orders online or via email. They deliver orders during Monday, Wenesday, and Friday.
2.      OAK BAY FLOWER SHOP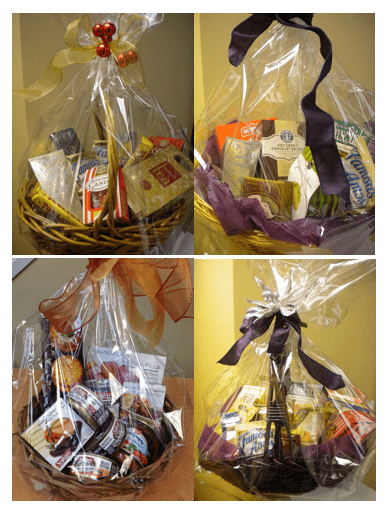 Oak Bay Flower Shop, by the name itself, primarily offers fresh blooms in different arrangements. But, with the demand for gifts rising, they have also made room for some gift baskets.
These gift baskets filled with thoughtful items are always appreciated for any occasion. They are also offered at low prices so they will be perfect for those who are working on a budget yet looking to send high quality ones.
WHAT PEOPLE LIKE
VARIETY OF COLLECTION. Oak Bay Flower Shop is your go-to shop for all your gift needs. Whether you need to send someone a gift for their birthdays, baby showers, graduation, retirement, etc. the shop promises to provide you with best quality blooms and gift baskets.
AFFORDABLE PRODUCTS. You do not need to have a large budget just to get yourself or someone a decent basket full of beautiful gifts. At Oak Bay Flower Shop, you can have plenty of choices for gift baskets at cheaper prices.
PRODUCTS
Gift Baskets – $50 to $300
DELIVERY AND PAYMENT
Visa, MasterCard, AMEX
3.      PURDYS CHOCOLATIER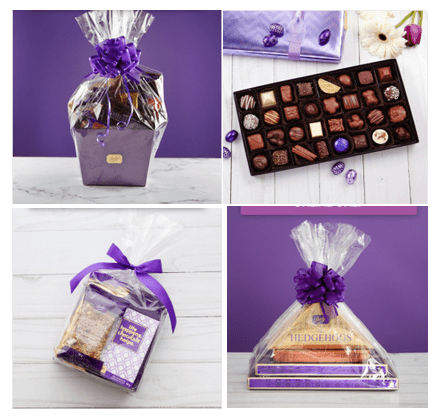 If you are looking for a shop that works best in creating and delivering luscious chocolate products, Purdy's Chocolatier is the best way to go. The shop makes an effort to provide their clients with premium quality chocolates best for personal consumption and as gifts.
While they sell tons of products in retail, they also allotted a space for gift baskets filled with different kinds of treats and chocolates that will definitely be appreciated by all ages.
WHAT PEOPLE LIKE
CUSTOM GIFT BASKETS. If you have a personal favorite or a specific product that you want to be included in or dominate your gift basket, you may freely do so and the team of Purdy's will gladly arrange them for you.
HIGH QUALITY. Purdy's give their highest attention to every detail of their products. Not only do they maintain a high standard in the flavor and consistency of their chocolates, but they also make an effort to make their gift baskets presentable and perfect to pass as gifts.
PRODUCTS
Housewarming Gifts – $21 to $400
Thank You Gifts – $12 to $300
DELIVERY AND PAYMENT
Contact shop for more details.
4.      HARRY'S FLOWERS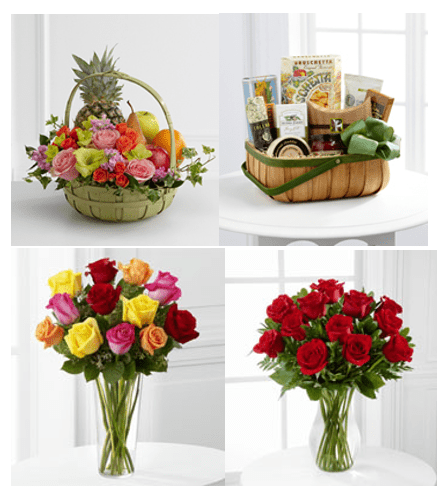 Next on our list is Harry's Flowers. The shop is home to various fresh flower products perfect for any occasion. But, the shop does not simply stop there. They are also praised for their set of gourmet baskets and corporate gift products that are truly exceptional.
These gift baskets mostly consist of food and snacks that the shop guarantees to be always fresh and in the finest qualities.
| | |
| --- | --- |
| SPECIALTY | Fresh flower arrangements; gourmet baskets |
| SELECTION SIZE | Large |
| STARTING PRICE | Starts at $47 |
| DELIVERY FEE | Starts at $13 |
| WEBSITE | https://www.harrysflowersvictoria.com/ |
| SOCIAL MEDIA | |
| CONTACT DETAILS | 250-598-3911 |
WHAT PEOPLE LIKE
CORPORATE GIFTING. If you are looking for a shop that can consistently supply you with a variety of gift items for your corporation or business, Harry's Flowers can be one of your options. They have a separate set of products specific for corporate needs so you might want to check out these items on their website.
PRODUCTS
Gourmet Baskets – $80 to $2000
Corporate Gifts – $47 to $100
DELIVERY AND PAYMENT
Contact shop for more details.
NOTE: They only accept online orders and they also have a limited collection of flowers but rest assured that they'll give you the best alternative to your desired floral arrangement.
5.      VANCOUVER ISLAND GIFT BASKET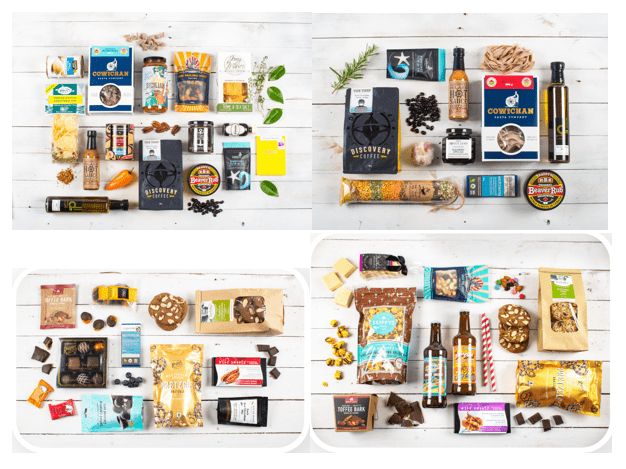 Vancouver Island Gift Basket Co. was founded in Victoria, BC in 2015 – bringing BC goodness to all parts of Canada. It is home to a huge collection of premium quality gift baskets perfect for all occasions, seasons, and events.
More importantly, the shop makes an effort to contribute to the betterment of the environment by using eco-friendly gift boxes without having to compromise the quality. They even come with personalized messages!
WHAT PEOPLE LIKE
ARTISTIC TOUCH. Vancouver Island Gift Basket Co. is undoubtedly good when it comes to designing their gift baskets and boxes. They make sure that each of these products are personalized yet never loses the creativity of the brand.
GIFTS FOR ALL OCCASIONS. If you need a shop that can provide you with 10 gift baskets for 10 different occasions, Vancouver Island Gift Basket Co. is the place to go. Their huge collection of gift baskets will never fail you in quality and quantity.
PRODUCTS
Gourmet Baskets – $139 to $300
Chocolate Baskets – $109 to $400
DELIVERY AND PAYMENT
Offers same day delivery. Hand delivers to Greater Victoria for a flat rate of $10.
NOTE: Same-day delivery is limited however, expect 1-3 days for most deliveries, depending on location. ​On rare, but some occasions, products may be substituted for a similar item of the same or greater value.
6.      BLISSFUL BASKETS BY CHRISTINA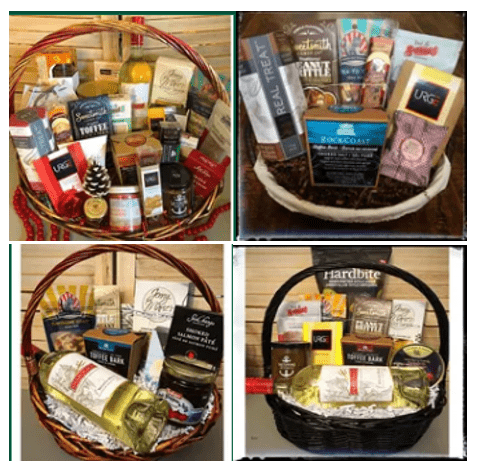 Customized baskets is the specialty of Blissful Baskets by Christina which are appropriate for both regular and special days. The shop is mostly praised for its overall wonderful customer service, thus the consistent 100% customer satisfaction rating.
Their products are also priced fairly, considering the quality of each item filled in it and the beautiful packaging that their team effortly creates. They products made by other small Canadian businesses (many right here on Vancouver Island) in all of their baskets. Whether it's BC wine, spa products, candles, chocolates, crackers, or seafood, they have supported local businesses since their establishment in 2017.
WHAT PEOPLE LIKE
PREMIUM QUALITY PRODUCTS. Since the shop primarily creates gift baskets filled with edible and perishable goods, they double their effort to handpick only the highest quality and freshest products so you get the best value for your money.
PRODUCTS
Housewarming Gifts – $59 to $300
Cheese Gifts – $59 to $300
DELIVERY AND PAYMENT
Contact shop for more details.
7.      MODERN BASKETS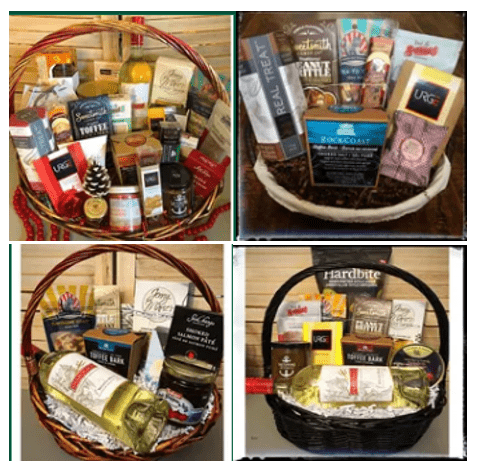 Shannon, founder of Modern Baskets, believes that the way to anyone's heart is through their stomach. She takes pride and care in every part of the process in making your gift basket.
They make sure that your baskets are filled with high quality and freshest products! Order now!
WHAT PEOPLE LIKE
HIGH QUALITY PRODUCTS. Modern Baskets gift baskets are made with edible goods. Their staff double checks the items and make sure that it is not expired nor will it expire soon.
PRODUCTS
The Little Italian Charcuterie Basket $79.00 – $174.00
The Farmers Market Bag $89.00
Mini Local Island Basket $149.00 – $219.00
DELIVERY AND PAYMENT
Contact shop for more details.