The 11 Best Options for Gift Hampers in Singapore
Rather than buying a generic gift or novelty item for friends and colleagues this Christmas, why not send them a specialty gift hamper with all their favourite goodies. Certain online shops specialise in one type of hamper, gourmet hampers or wellness hampers, while others offer a wider range of hamper options for all major occasions and intentions. So, the next time you're looking for the perfect gift, here are our top picks of the best gift hampers in Singapore.
Note: COVID-19 has caused some shops to change policies, such as offering hampers for delivery only and disallowing pickup from the store. Unless stated otherwise, most of the stores here still deliver. We've also noted any changes worth noticing to their services, where we could confirm them.
1.     A Better Florist

(Source)
A Better Florist provides luxurious gourmet hampers without the expensive price tag. Their gift hampers have been carefully crafted to impress clients, colleagues and compadres! In fact, their hamper selection serves to cater to all sorts of tastes and gifting needs. They have a premium chocolate hamper for those with a sweet tooth, a High Tea hamper for your loved ones, and the Wine and Dine set for your corporate clients. They also provide a Get Well Soon Hampers Delivery if you want to express support and promote healing for a recuperating friend or loved. Of course, all these treats will be delivered for free and no GST! A Better Florist's free same day hamper delivery is included for orders placed before 3pm, but you can also request for their rush delivery which ships your hamper within 90 minutes!
2.     Her Flowers

(Source)
At Her Flowers, you'll find both affordable fresh flower bouquets as well as well-curated gift hampers for all occasions. Their fruit baskets are generously filled with sumptuous orchard-fresh fruits perfect for Christmas, CNY or birthdays! They also have a beautifully arranged hamper for babies and mothers. For wellness, they provide a wide range of complete restoration and rejuvenation hampers full of nutritious foods. You can have all these delivered on the same day in Singapore if you order before 3pm.
3. Flowers & CO

With Flowers & CO Singapore, you don't have to suffer through last-minute supermarket dashes and disappointing deliveries. You can conveniently buy their beautiful hampers for all occasions online, at your own time and comfort, and simply wait for the hamper to be delivered in no time with their 90-minute guaranteed express delivery islandwide! They have developed their beautiful yet practical packaging that not only highlight the premium, curated items inside, they also serve to preserve and protect every food or gift item. Lastly, you won't have to blow your budget with their budget-friendly options that are of the highest quality and value for money.
4. Happy Flowers Singapore

Happy Flowers serves as an ambassador of happiness in Singapore through their beautifully crafted and affordable blooms, as well as their happy hampers and fruit baskets. To make sure they put a smile on their customer's face, quality and speed go hand-in-hand. That's why their slogan is "Happiness delivered wherever in 90 minutes!" Their team carefully curates items in each hamper, using the freshest and finest quality of products. From healthy hampers, baby hampers, holiday hampers and fruit baskets, Happy Flowers pays special attention to details to convey the appropriate message. Then, their impressively fast hamper delivery service in Singapore ships the hamper from the shop to the recipient's doorstep in less than 2 hours. So, make someone happy today with Happy Flowers!
5.     Simply Hamper
(Source)
| | |
| --- | --- |
| BEST FOR | Food hampers |
| SELECTION SIZE | Large |
| PRICE RANGE | SGD 45 – SGD 430 |
| DELIVERY FEE | Free |
| WEBSITE | www.simply-hamper.com |
| INSTAGRAM | @simplyhampersg |
| CONTACT | +65 6443 3011 | [email protected] |
| PAYMENT | Visa, MasterCard, American Express, Discover, PayPal |
Simply Hamper is an all-in-one shop for all the gift hampers you'll ever need. They have Christmas hampers, baby hampers, fruit hampers, wellness hampers as well as food hampers available for delivery in Singapore. Food hampers are particularly versatile as a gift hamper, because who doesn't like a sumptuous feast? Choose from a range of wine, cookies and chocolates imported from Europe. You can also personalise your hamper if you want to use it as a giveaway or token for corporate events.
What's even more admirable about Simply Hamper is their ongoing green initiative. Eco-friendly customers who return an empty basket to be reused will be given a voucher for discounts or perks. Their standard delivery is free, but if you want faster shipping, their flexy delivery charges SGD20. Orders by 1pm on weekdays and before 12nn on Saturdays are eligible for same day delivery, while Sunday and holiday purchases will be delivered on the next working day.
Note: They're still delivering, and have even crafted a COVID-19 Care Hamper.
6.     Hediard

(Source)
| | |
| --- | --- |
| BEST FOR | Bespoke gift hampers & luxe corporate gifts |
| SELECTION SIZE | Large |
| PRICE RANGE | SGD 34 – SGD 3,840 |
| DELIVERY FEE | Free for purchases above SGD 80 |
| WEBSITE | www.hediard.com.sg |
| INSTAGRAM | @hediardsingapore |
| CONTACT | +65 6832 8048 |
| PAYMENT | Visa, Mastercard, American Express, Discover, PayPal |
If you're looking for fancy treats for friends, family or colleagues, Hediard is your best bet. Their luxe gift sets include caviar and foie gras. You can also choose from their premium selection of wines and spirits to give to clients or bosses. Hediard was the first luxury delicatessen established in Paris, France in 1985 and now they're in Singapore introducing fine French living through their luxurious line of gif hampers. You can easily customise a hamper for a specific recipient or choose one of their ready-to-order gift sets, from Confectionery Gifts (chocolates & confectioneries) and Les Invitations (gifts with partner brands objects) to Small Gift Sets (for casual offering) and PicNic Baskets (wicker baskets).
Note: Their Singapore shop has ceased activity definitively, so you should try the other options on our list.
7.     Noel Gifts

(Source)
BEST FOR
Organic hampers and wine hampers
SELECTION SIZE
Large
PRICE RANGE
SGD 35 – SGD 400
DELIVERY FEE
SGD 6.96

SGD 19.2 for deliveries to Marina Bay Sands, Sentosa, Jurong Island and restricted airline and cargo areas such as Airport Cargo Complex and Airline Road

WEBSITE
www.noelgifts.com
INSTAGRAM
CONTACT
+65 6299 1133 | [email protected]
PAYMENT
Visa, Mastercard, eNets (DBS, UOB or Citibank), PayPal
Noel Gifts has won several awards with their decades of experience in the industry. Their selection ranges from hampers and flower bouquets to fragrances and the occasional household items. For wine connoisseur, you can choose from their collection of wine and liquor hampers with champagne, Scotland & Japan whiskeys, Moet and rosé. They also have organic hampers for health-conscious loved ones. You can also check out their Giftologist Pick for their fail-safe and fancy bestsellers. Same day delivery is applicable to orders by 4pm on weekdays and by 11am on Saturdays. Sunday and holiday orders will be delivered on the next working day. If you're pressed for time, avail their 98-minute express delivery at a nominal charge of SGD 19.26.
Note: They're still delivering, but can't deliver hampers to certain hospitals due to restricted access in those facilities. Their site has a list of the hospitals to which this applies.
8.     Bloomdale
(Source)
| | |
| --- | --- |
| BEST FOR | Fruit baskets, bath & body hampers |
| SELECTION SIZE | Medium |
| PRICE RANGE | SGD 40 – SGD 250 |
| DELIVERY FEE | SGD 6.50 |
| WEBSITE | www.bloomdale.com.sg/Hampers |
| INSTAGRAM | @bloomdaleflowers |
| CONTACT | +65 6749 3333 | [email protected] |
| PAYMENT | Visa, Mastercard, American Express |
Spoil your loved ones with one of Bloomdale's curated hamper. Beauty enthusiasts will enjoy their selection of wellness hampers and bath & body gifts sets. Most hampers tend to lean on the edibles, so it's a welcome change for Bloomdale to include beauty products in their selection of gift hampers for delivery in Singapore. They also have beautifully crafted fruit hampers with affordable price tags perfect for housewarmings, birthdays and holidays.
9.     Hummings

(Source)
BEST FOR
Vitality basket
SELECTION SIZE
Large
PRICE RANGE
SGD 50 – SGD 500
DELIVERY FEE
SGD 6.50 (SGD 6.96 w/GST)

SGD 16.05 (w/GST) for deliveries to Sentosa, Cargo Complex, PSA, Marina Bay Sands and Jurong Island

SGD 16.05 (w/GST) for deliveries to Mandai Crematorium

WEBSITE
www.hummings.com
INSTAGRAM
@hummingflowers
CONTACT
+65 6844 2222 | [email protected]
PAYMENT
Visa, Mastercard, American Express, Discover, PayPal
Hummings has a Vitality line of wellness hampers to give to anyone needing a much-needed health boost. A wellness gift is filled with organic products, fresh flowers as well as yummy food treats for a strong immune system. While some of their hampers can be a bit pricey, but if you want high quality items that would work well for your body's sustenance, then it will be worth the price. They do have affordable Get Well Soon hampers for the budget conscious. For instance, you can buy a fruit basket for only SGD 55 which is already packaged in a pretty pink or blue weaved basket. You can get your items delivered on the same day if you place your order before 4pm on weekdays and before 10:30am on Saturdays.
Note: Still delivering, but notes that it can't deliver hampers to certain hospitals, which now restrict access.
10.     Hello Chocolate

(Source)
| | |
| --- | --- |
| BEST FOR | Premium chocolate hampers |
| SELECTION SIZE | Medium |
| PRICE RANGE | SGD 3 – SGD 500 |
| DELIVERY FEE | Free shipping for orders above SGD 65 |
| WEBSITE | www.hellochocolate.asia |
| INSTAGRAM | @hellochocolateasia |
| CONTACT | [email protected] |
| PAYMENT | Visa, Mastercard, American Express, Apple Pay, PayPal |
Who doesn't love chocolates? Hello Chocolate appeals to the sweet tooth with their premium line of chocolate hampers. They import only the highest quality of craft chocolate from all corners of the world. You can actually buy a chocolate for as low as SGD 4. That gets you 4 delicious bars of gourmet chocolate to satisfy your craving. Their chocolate hamper is completely customisable as a birthday gift, thank you gift, anniversary gift, corporate token or as a treat to yourself! They provide both next-day and same-day hamper delivery in Singapore if you prefer not to choose the pick-up or collect option. For same day delivery, place your order before 12pm.
11.     Gift Hampers Singapore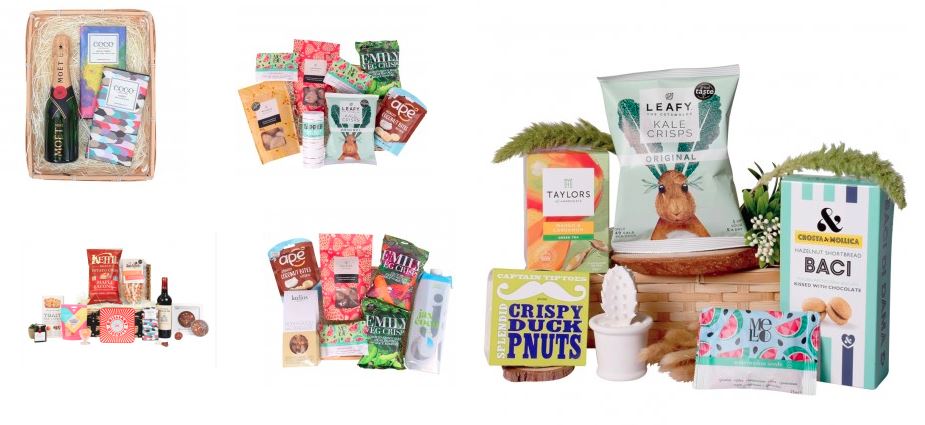 (Source)
Luxury gift hampers from Gift Hampers Singapore come in three different types: gourmet hamper, fruit and wellness hamper, and special occasion hamper. There are also various ways to customise your gift: handwritten note cards, small gift or flower-add ons, and selecting different flavors, fruits, or alcohol depending on the hamper you've selected.
Note: Temporarily closed until the end of Circuit Breaker. They'll resume deliveries on 2 June.
So, have you found the perfect gift hamper for the holidays? Reach out to any one of these online shops and give someone a reason to smile. While you're at it, you might want to hire a cleaning service in Singapore to tidy up those gift wrappings and make rooms spotless after all the parties and festivities.