The 6 Best Options for Preserved Flower in Malaysia
We have to admit that flowers are a bit high maintenance. They require utmost care and attention to keep them alive.
But, not with preserved flowers. These products can last for years without you having to pay attention to it too much. Let us show you where you can get these stunning flowers in Malaysia.
Note: Since the Movement Control Order has been extended to June 10, some flower shops in our list have likewise extended their service limitations, such as short working hours, limited delivery time, and the like.
Most of these shops continue with their operations, unless otherwise stated. Where applicable, we've updated the flower shops with notable policy changes.
1.      LAVIE FLO PRESERVED FLOWERS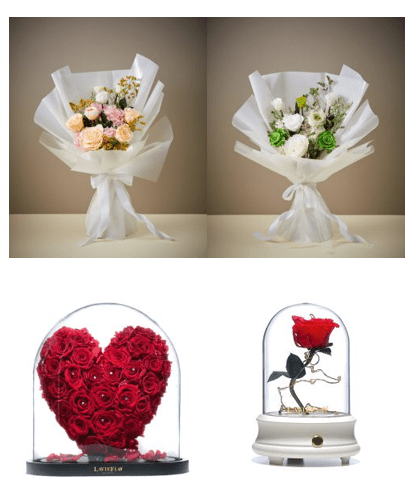 LavieFlo Preserved Flowers has tons of collection of deluxe preserved flowers, beautifully arranged in bell jars that adds to the elegance of the product. They even made these bell jars extra special by adding in Bluetooth speakers so you can listen to your favorite classical music while staring at the beauty of these flowers.
| | |
| --- | --- |
| SPECIALTY | Belljar collections |
| SELECTION SIZE | Large |
| STARTING PRICE | Starts at RM308 |
| DELIVERY FEE | Starts at RM 50.00 |
| WEBSITE | https://www.lavieflo.com/ |
| SOCIAL MEDIA | |
| CONTACT DETAILS | +603-7728 8333 |
WHAT PEOPLE LIKE
ELEGANT DESIGNS. If you will take a look at the preserved flowers collection of LavieFlo, you will definitely be stunned by the elegance and luxury vibe that it brings. These arrangements are perfect to be placed on office tables so add a pop of color.
LavieFlo allows their clients to customize or personalize their orders especially for corporate gifting so you can promote your own brand while keeping the personal creative touch of the shop.
PRODUCTS
Bouquets – RM318 to RM1200
Red Flowers – RM308 to RM7000
DELIVERY AND PAYMENT
Provides same-day & pick a date delivery services in selected Klang Valley areas.
Note: LavieFlo continues its operations even with the Movement Control Order. You may visit its Facebook to know which flower arrangements are available.
2.      MOLLY FLORIST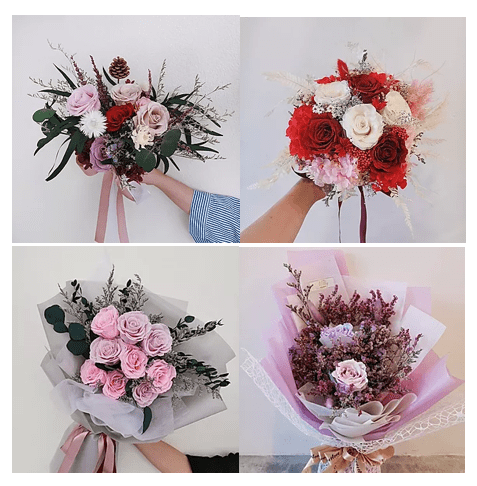 Molly Florist is known for their vast collection of beautiful floral decorations whose designs were inspired by European and Asian floral industry. The shop widely creates and delivers preserved flowers all over Malaysia.
These flowers were freshly picked from Japan and then exposing them to a very gentle and intricate drying process, before saturating their petals with gorgeous and vibrant colours. Once these flowers have been preserved, they could last from 3 to 5 years.
WHAT PEOPLE LIKE
100% CUSTOMER SATISFACTION. Molly Florists is praised for their excellent overall service. From sharing their collection of preserved flowers to their clients, to actually delivering it to them, they have never failed to amuse them with their efficiency.
PRODUCTS
Bridal Bouquet – RM39 to RM400
Bouquet – RM27 to RM300
DELIVERY AND PAYMENT
Contact shop for more details.
Note: Mollyflorist continues to accept orders but strictly only for deliveries. No walk ins or pickups are allowed.
3.      FLORISTIKA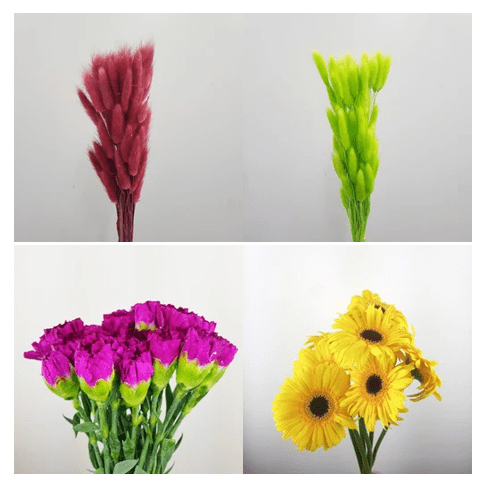 Floristika offers a wide range of flower arrangements selection and one of these is preserved flowers. These flowers are perfect for those who want to have a pop of color in their homes or offices, yet does not have the luxury of time to constantly take care of them.
The preserved flowers provided by Floristika is truly long lasting and low maintenance, yet are made with such beauty and elegance.
WHAT PEOPLE LIKE
AFFORDABLE PRICES. Just to have the premium quality products of Floristika is already a win for you, what more if you get them at very affordable prices. Their preserved flowers range from RM 14.50 to RM 70.00
LARGE SELECTION. You can trust Floristika to provide you with all kinds of flower arrangements, perfect for any occasions or events. Whether it's a fresh or preserved one, they guarantee to bring you the best kinds.
PRODUCTS
Preserved Flowers – RM16 to RM100
Fresh Flowers – RM9 to RM100
DELIVERY AND PAYMENT
Free Delivery Area for Kuala Lumpur & Selangor.
Note: Unlike the other shops in our list, Floristika accepts both pickups and deliveries. However, only 15 people are allowed inside their shop at the same time. Customers will also need to have their temperature checked.
4.      SCENTALES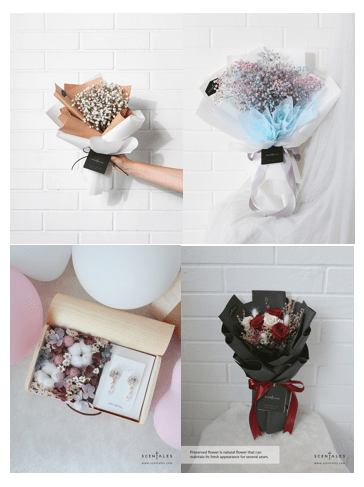 Scentales offers variety of fresh flowers and unique arrangements suitable for any kind of event. They can attend to the simplest birthday parties to the grandest wedding anniversary celebrations. Their staff are committed to achieve 100% customer satisfaction so they guarantee the highest quality of products and services.
WHAT PEOPLE LIKE
SAME DAY DELIVERY. If you forgot to place your orders a few days before the actual date of delivery, you still got plenty of time because Scentales offers same day delivery services.
PRESERVED FLOWERS. The shop does not only create arrangements out of fresh flowers but they also unleash their creativity with the preserved flowers that they showcases in their shop.
PRODUCTS
Fresh Flower Bouquets – RM99 to RM300
Preserved Flowers – RM39 to RM300
DELIVERY AND PAYMENT
Contact the shop for more details.
Note: It's open for deliveries throughout the Movement Control Order. You may send in your order through Facebook.
5.      FLOREVER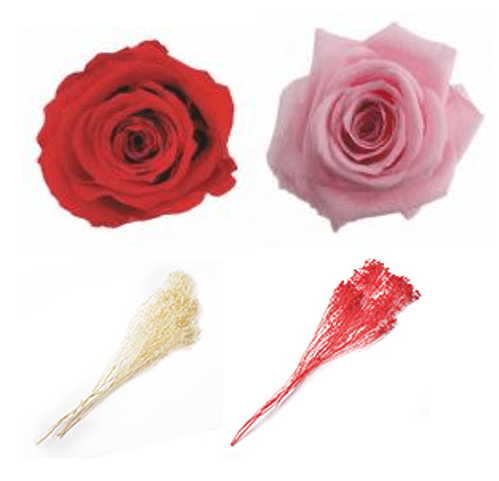 At Florever, they make their best efforts to preserve the beauty of flowers while making them still look like they have just been freshly picked, you can't even tell the difference. You can also freely select your desired arrangements from their extensive range of colors and flower type.
To help you decide which one to get, they have in their website a digital catalogue that shows their beautiful collection of preserved flowers which you can freely check and download.
| | |
| --- | --- |
| SPECIALTY | Premium preserved flowers |
| SELECTION SIZE | Large |
| STARTING PRICE | Contact the shop for the price list |
| DELIVERY FEE | Calculated at checkout |
| WEBSITE | http://www.florever.com/ |
| SOCIAL MEDIA | |
| CONTACT DETAILS | |
WHAT PEOPLE LIKE
EASY TO ORDER. You no longer need to drive all the way to the flower shop just to check their available products and place your order because with Florever, all you have to do is visit their website and in just a few clicks you can quickly make the purchase.
PRODUCTS
DELIVERY AND PAYMENT
Contact the shop for more details.
6.      GIFTR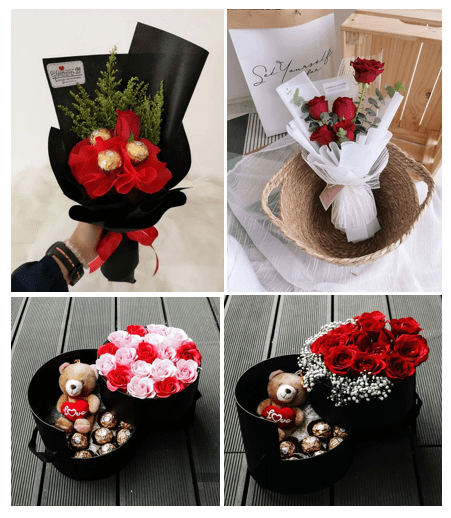 Giftr is an online marketplace where you can find tons of different high quality products best for all kinds of occasions and events. One of the products that Giftr prides themselves for is their preserved flowers. These preserved flowers are arranged in various ways like bouquets, bell jars, box arrangements, any a whole lot more.
WHAT PEOPLE LIKE
LARGE SELECTION. Whether you are looking for a fresh bloom or premium quality gift boxes, Giftr promises to always provide you with their finest and freshest products. Freely browse on the company's webshop so you can select the one that really captures your heart.
PRODUCTS
Flower Bouquets – RM78 to $300
Flower Baskets – $75 to $300
DELIVERY AND PAYMENT
Visa, MasterCard, AMEX, Discover, Bank Transfer, Major debit and credit cards