The 7 Best Options for Wine Delivery in San Francisco
It's nice to have your "me time" on a weekend night while drinking a glass of your favorite wine, but what if in the middle of your session you run out of bottle?
Don't worry because these 6 best shops in San Francisco have the resources to deliver your wines in just a snap so take a look at the list below for your references.
1.  DRIZLY

Are you having surprise party in a while and don't want to get caught by driving to the nearest grocery store? Well, let's cross of one important thing from your list by sharing with you the services provided by Drizy. The shop offers wine and beer delivery directly to your home for the entire area of San Francisco. So, party all night long and Drizly got your back.
WHAT PEOPLE LIKE
RELIABLE DELIVERY. Many customers have been amazed by how fast and efficient Drizly's delivery services are. In no time, they are able to send your orders directly to your home or events place.
AFFORDABLE LIQUORS. The shop does not only focus on the quality of their products but they also see to it that everyone in San Francisco can fully afford what they sell that is why they try to sell these products at very reasonable prices.
PRODUCTS
Champagne – $4.99 to $50
White Wine – $4.89 to $30
Red Wine – $4.89 to $30
DELIVERY AND PAYMENT
Visa, AMEX, MasterCard, Discover
2.  MINI BAR DELIVERY

With Mini Bar Delivery, the fun never stops because they always make sure that your place will never run out of cold beer and sweet wine as they offer delivery services. Wherever you are in San Francisco, you can always avail Mini Bar's delivery services of wines and beers. Just enter your delivery address and other details to complete the process.
SPECIALTY
Fast and easy liquor delivery
SELECTION SIZE
Large
STARTING PRICE
Starts at $3
DELIVERY FEE
Calculated at checkout
WEBSITE
https://minibardelivery.com/regions/san-francisco
SOCIAL MEDIA
FB:https://facebook.com/MinibarDelivery

IG:@MinibarDelivery

Twt:@MinibarDelivery

CONTACT DETAILS
( 855) 487-0740
WHAT PEOPLE LIKE
LARGE COLLECTION. Whatever kind of liquor you may want, whether it's wine, beer, hard mix, or spirits, Mini Bar Delivery always deliver them fastly.
EASY TO CONNECT. Mini Bar Delivery has 8 stores in San Francisco and they can be easily contacted through their website and their phone number.
PRODUCTS
DELIVERY AND PAYMENT
Contact shop for details.
3.  CHEERS ON DEMAND

Thinking of having a chill night at home while watching your favorite movie? Serve yourself a glass of some red wine brought to you by Cheers On Demand. The shop has various liquors to offers for as long as you take note that they only allow to sell liquors to clients of legal age. So, what are you waiting for? Browse through their collection now!
WHAT PEOPLE LIKE
FREE DELIVERY. For a minimum purchase of $30, you'd be able to avail their delivery service, free of charge for as long as the address of the recipient is within San Francisco only.
PRODUCTS
Beer – $5 to $20
Wines – $3 to $30
DELIVERY AND PAYMENT
Visa, MasterCard, AMEX, Discover, JCB, Diner's Club
4.  SAUCEY

Craving for some drink with a kick? Have your liquors be served directly to your place in San Francisco. Saucey offers a wide range of liquor options that are ready to be delivered anytime, anywhere within San Francisco. You can also send some to your friends and family by just simply communicating with the team of Saucey.
WHAT PEOPLE LIKE
100% CUSTOMER SATISFACTION. Saucey has been one of the go-to liquor delivery provider of the people in San Francisco and never in the entire business timeline of Saucey did they ever disappoint their clients.
PRODUCTS
DELIVERY AND PAYMENT
Contact shop for details.
5.  MIKE'S LIQUORS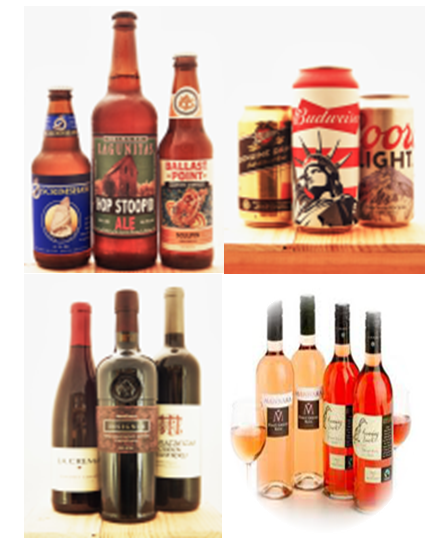 Mike's Liquors is committed to bringing you the best and most sophisticated sets of liquors that is why before they put them on the shelf to show to the public, they first give their verdict at the backdoor to ensure that they are all in the highest quality. Guaranteed that you will never regret purchasing your choice of drink from Mike's Liquors.
| | |
| --- | --- |
| SPECIALTY | |
| SELECTION SIZE | Large |
| STARTING PRICE | Contact the shop for the price list |
| DELIVERY FEE | Calculated at checkout |
| WEBSITE | https://www.mikesliquors.com/ |
| SOCIAL MEDIA | |
| CONTACT DETAILS | 415-587-5000 |
WHAT PEOPLE LIKE
FREE DELIVERY. The shop offer free delivery services for as long as you purchase a total amount of $150. For that amount, you will have the perfect amount of liquors and a reliable delivery service so who would even say no to that, right?
EXTENSIVE SELECTION. Although it says Mike's Liquors, the shop does not necessarily sell liquors alone. They also have some non-alcoholic drinks that your non-adult friends can enjoy.
PRODUCTS
DELIVERY AND PAYMENT
Contact shop for details.
6.  THE JUG SHOP

The Jug Shop has been known as one of the leading liquor providers in San Francisco since 1965. It is a family-owned and operated shop with thousands of different alcoholic beverages that you can freely choose from and they promise that whatever you choose, they are only of the best quality.
WHAT PEOPLE LIKE
DIVERSED WINE COLLECTION. The Jug Shop does not only showcase wines that are locally made in San Francisco but they also have in their collection some internationally imported ones all the way from Europe to make sure that their clients will have a wider range of options.
PRODUCTS
DELIVERY AND PAYMENT
Visa, Mastercard, AMEX, Discover
7.  DECANT SF

Decant SF is the newest addition to San Francisco's wine and beverage scene. Their specialty revolves around providing a personalized, sommelier experience.
Not only do they engage San Francisco residents but also connoisseurs and industry professional with their delicious brews, they're also a consulting firm and an educational institution. DECANTsf's brand and products are an institution – classy, stylish, and refined.
WHAT PEOPLE LIKE
BREWS FOR ANY OCCASION. From high end spirits to German style pilsen,  they have it all.
STORES GALORE. Whether you buy from their online stores or physical stores, you will be bound for a good time.
PRODUCTS
Domaine Leflaive 2016 "Sous le Dos d'Ane" Meursault 1er Cru, Burgundy, France – $220.00
Atxa, Vino Vermouth Rojo, Basque Country, Spain – $27.00
Mikkeller "Run This Town" Light German Style Pilsner, San Diego, CA [16oz Can] – $4.00
DELIVERY AND PAYMENT
Mastercard, Visa, American Express, PayPal, and all other major credit cards. Contact the store for more details.