The Complete Guide to Careers in the Floristry Industry
Do you want a blooming career in floristry, but don't know where to start? We have you covered!
Nearly 100 million flowers are cut, gathered, shipped and arranged each holiday season. On Valentine's Day alone, Americans spend an estimated $2 billion on flowers. If you want to find your niche in this blooming billion-dollar industry, here are some quick facts.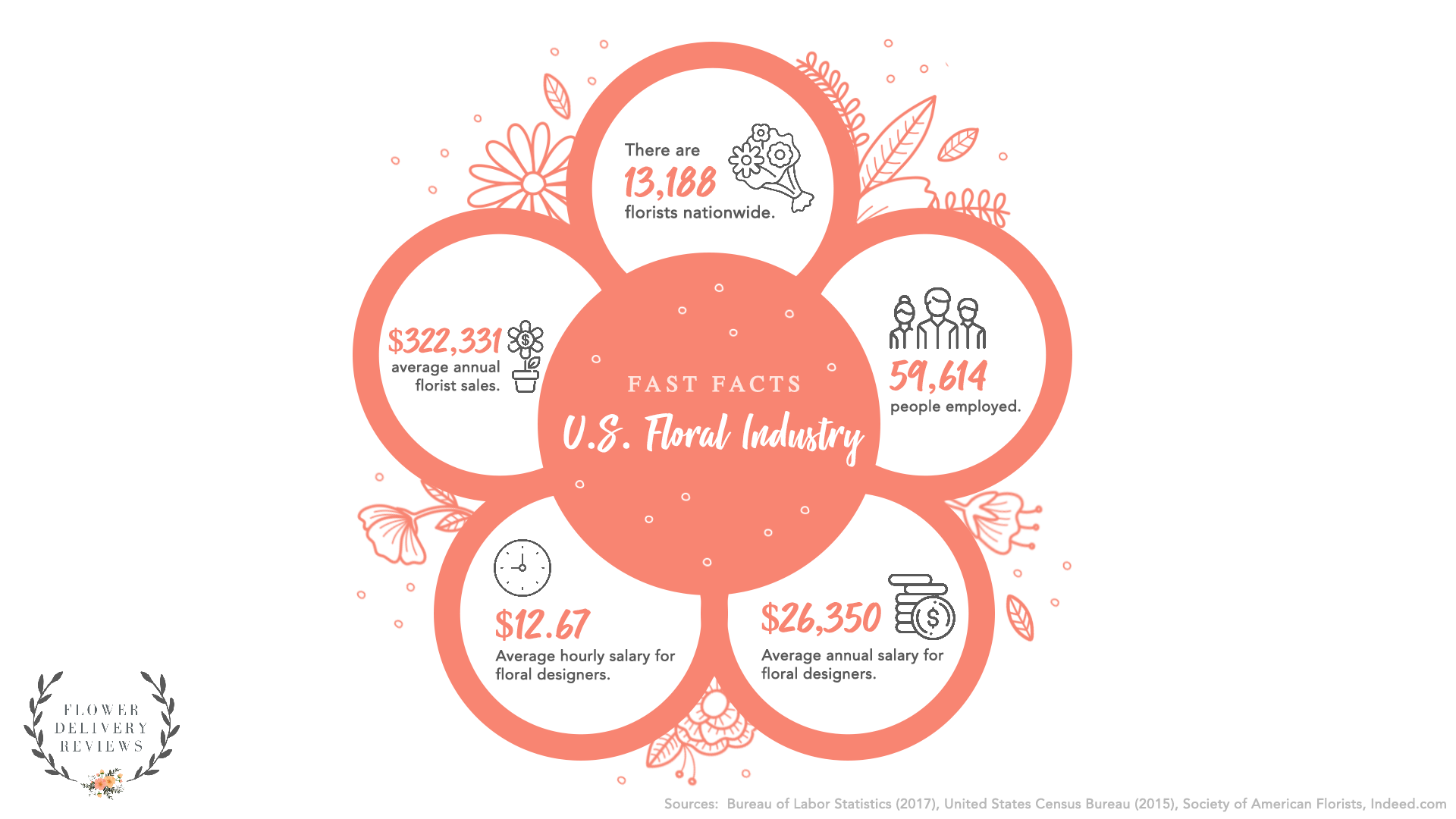 Floral Industry: Trends
Although the most popular flowers and consumer buying methods are shifting, the act of sending flowers is certainly here to stay. No matter where you are in the world, sending flowers can be a gesture of love, appreciation, apology, consolation or general goodwill.
The domestic floral industry in the United States is a $31.3 billion dollar industry. This includes wholesale growers, importers and brokers, local growers, shippers, mass marketers, nursery or garden centers, and retail florists.
Although there has been, and will continue to be a reduction in the number of florist jobs available in the US,  the changing preferences of consumers represents an opportunity for a budding florist, and with the right knowledge and skill set you can certainly thrive in this industry!
Job Opportunities
According to the US Census Bureau, between 2005 and 2016, the number of florists and floral establishments fell. The number of establishments fell 38% (from 21,135 to 13,188), and the number of florists fell 41% (from 101,861 to 59,614).
This decline is set to continue, but at a slower rate. The Bureau of Labour Statistics estimated there to be 55,000 Floral Designers in the US in 2016, but projected that from 2016 to 2026 that number will decline a further 6% (a reduction in 3500 jobs).
This future reduction can be attributed to a number of factors. Firstly, consumers are buying more bouquets and loose cut flowers from grocery stores. This reduces the job opportunities in dedicated florists shops. Although there will be some increase in the job opportunities in large grocery stores with floral sections, the total number of opportunities will still fall.
Secondly, the Produce Marketing Association reports an increase in DIY floral arrangements (as consumers can more easily discover floral ideas and DIY tips online), which reduces the demand for florists. Finally, it is predicted there will be a reduction in customer demand for elaborate floral arrangements.
Consumer Behaviour
Changing consumer behaviour is affecting the whole retail industry, and there are four key areas that are shaping the future of the floristry industry:
The rise of the Online florist

– The percentage of all flower sales that occur online, vs in physical retail outlets has risen every year for the past decade, and will continue to do so. As more purchases are made online, the importance of having a user-friendly website, and understanding social media, online advertising and Search Engine Optimisation (SEO) become increasingly more important for florists.

Farm to Table Sustainability

– Customers are becoming increasingly aware of where their purchases are coming from, and demand sustainable and unique products. Florists that are using locally grown flowers can market themselves to environmentally conscious shoppers.

On Demand

– Today's modern consumer requires instant gratification. The majority of orders for floral services are within a 2-day time period which some florists utilise by offering delivery in just a few hours as a point of differentiation.

Grocery Store Competition

– Consumers are turning to the grocery channel to pick up flowers more and more. This is a change that has been far more prevalent in the UK and Germany, but is taking some share from the retail florist.
The offline to online shift is by far the biggest consumer trend, but aside from this consumer's preferences remain largely unchanged; customers want freshness, high quality, value for money, and good standards of customer service.
Floral Careers: A Day in the Life
What you will do
The main responsibility of a florist is to cut and arrange live, dried and silk flowers and greenery to make floral products and decorative displays. There may be slight differences, depending on the nature of the florist. For example, a traditional high-street florist, an online-only florist, or a florist specialising in events will all have differing working days.
Here is a more exhaustive list of possible responsibilities:
Flower preparation:

Unwrapping bundles of flowers, dethorning, cutting, and storing the flowers needed (usually the role of more junior florists or floral assistants)

Designing:

Putting together hand bouquets or more elaborate arrangements

Organising:

Ordering flower stock, arranging items to deliver to customers

Purchasing:

Flowers from wholesalers, and many other supplies such as baskets, vases, wrapping paper, string, and much more

Planning:

Working with a customer to determine

the type of arrangement desired, the occasion, and the delivery details. You may be making recommendations in accordance with their budget and preferences, or have a pre-set catalogue

Customer service:

Dealing with walk in customers, or phone / email requests
Working Conditions
A florist is certainly not a traditional 9-5 job, and be prepared to spend a lot of time on your feet! In terms of work schedule, work hours will vary depending on where florists are employed. For example, retail florists and independent shops are usually open during business hours, while floral departments inside supermarkets and grocery stores may stay open longer. In a brick-and-mortar shop, the business hours are often during the lunch hours (12-2pm), and early evenings (6-8pm).
Florists will have longer work hours during peak seasons (Valentine's Day, Mother's Day, Christmas and Hanukkah). In addition, since cut flowers can wilt quickly, orders cannot be completed and stored too far in advance. This means, designers often work long hours just before and during holidays. You can expect to be mainly shop-based, with between 10%-50% of your time at events, suppliers, or meetings – depending on your seniority and the specialisms of your company.
The working hours for Wedding florists, and general events florists can be far more irregular. These florists are much more likely to work on Fridays and the weekends. Furthermore it is not unusual for an events florist to work 12-20 hours straight, often on site preparing a venue for a big occasion day on a very tight schedule.
Floral Careers: Getting Started
The journey from flower seeds, to the end customer involves a lot of steps, and a lot of different kinds of workers. You could be:
Cultivating your own blooms as a farmer or local grower

In a logistics or sales role for the wholesalers and florist auctioneers

Working more directly on the final arrangement as a florist!
In addition, some larger florists may hire dedicated staff in marketing, customer service, photography, logistics or financial roles. However, this article aims to mainly provide advice on becoming a florist (from a floral assistant, to an experienced floral designer or flower shop owner).
Required Skill Set
There are a lot of skills that will need to develop over time, especially if you aspire to running your own business or working in a more senior position.
Creativity
Knowledge

– an extensive understanding of flower names, and their unique properties will help when dealing with customers, and will help you order and create the most suitable arrangements

Organisation

– Essential for any company, but especially so as florists are dealing with a perishable product. Planning when to order each flower breed and how much to order can get quite complicated!

Logistics –

Someone will need to arrange all the flowers and arrangements coming in and out of the shop. For an events florist, this is especially important.

Communication

– to work within a team, and to deal with customers

Customer service skills

– for face to face customers, and on-site events

Financial controls

– some business acumen is needed to ensure the shop is making money!
Gaining Experience
On the job training is essential, and the best advice would be to first gain experience with an internship or junior position at a florist shop.
Whilst waiting for a florist internship, you could consider gaining other experience to develop the relevant skills and knowledge. For example, you could consider working in a local plant nursery, or jobs which involve elements of customer service, graphics design, social media marketing, or accounting; these could all make you a more attractive employee when the right opportunity comes up!
How to get an internship
To jumpstart a career in the floral industry, an internship or apprenticeship is essential. This helps you acquire real-world and first-hand experience about the business, while polishing your floristry skills at the same time. But how do you get an internship in floristry? Here are some tips and tricks to hustle your way into the industry:
1. Create an impressive portfolio
The biggest way to get noticed is to display your skills and creativity. There a plenty of self-taught hobbyist and tutorials on YouTube take inspiration from, and creating some small arrangements before you have even had any formal training experience can really make you stand out from the crowd.
You can collate all your floristry-related (or other artistic) work into a binder or upload onto a website. Buying a domain is an inexpensive worthwhile investment, and there are plenty of free website templates you can use.
2. Highlight all your relevant skills
As well as your creativity, you should think about the other reasons that a florist may want to hire you. If you can show a strong willingness to work hard, or highlight other useful skills, you could get your foot in the door. As a fresh graduate, you may be able to make a real impact on an existing florists business with your understanding of social media, amnd millennial customers changing preferences.
3. Update your socials
Employers often check social media as part of their background check for hiring. In fact, some contemporary florists got their start as Instagram Florists, so it's never too early to create an Instagram account for your floral creations!
4. Check out florist websites
Florists and floral studios often advertise job openings and internships on their website. Make sure you write a personal cover letter, and attach any relevant portfolio materials. Even if they don't have internships advertised, you can always email them to inquire just in case they need a helping hand. This is a numbers game, and you should contact every suitable florist in your local area.
5. Attend floristry workshops
Workshops are a great way to learn as well as show off your skill in floristry. It's also a great way to meet master florists who can either take you as an intern or refer you to a reputable business or company for a possible internship.
6. Visit your local florists
Inquire directly at your local florists and be prepared to highlight your skills and what you can contribute to their business, and bring a CV with contact details.
7. Prepare for interviews
To impress the interviewer, make sure you have cursory knowledge of the industry and the company you are applying for. Dress neatly and professionally. Make eye contact. Give a firm handshake and don't forget to ask questions.
8. Don't forget to follow up
Businesses can be busy with day-to-day operations, so following up about your application (with an email, calls, or even via their social media accounts)  is a good idea. This also lets them know that you are persistent and serious about your internship.
Workshops / Qualifications
On the job training is essential, but at any stage, you should consider attending workshops or gaining professional qualifications. This can help you get a better position, increase your skill set, increase your future earning potential, and help build your network.
For formal floristry training and certification, there are 2 main routes to consider:
Private floral schools

Vocational schools and community colleges
You should consider the reputation of the establishment, and look into exactly what you will learn to make sure this is a worthwhile investment. If a course is advertised as 'floristry and horticulture', you should research how much of your time will be spent learning about plant care, and if this is relevant to your future career aspirations. You may also be able to take up advertising, management and business courses, which will be relevant if you aspire to starting your own business.
Specifically, the American Institute of Floral Designers offers the Certified Floral Designer credential. This certification is voluntary, but having this credential indicates a level of expertise and credibility. To get this certification, a floral designer should be able to demonstrate a good grasp of floristry gained through both work experience or relevant education.
Floral Industry: Salaries
As of 2012, the Bureau of Labor Statistics found the average florist salary to be $11.35 per hour, or $23,610 per year. This is lower than the median average salary in the US (which is $31,099), but the potential for higher earnings is possible.
Salary Range
Lower – New, lower skilled florist designers or apprentices can expect to earn between $17,000 – $21,000 per year
Higher – More experienced and skilled florists in the top 10% of all florists can expect to earn an average of $26,500 per year
These figures vary depending on state. Furthermore, there is the opportunity for the most entrepreneurial or skilled florists to earn even more with their own business.
Location, Location, Location
In general, florists in urban areas will earn more than rural florists. The highest paid floral designers in the New York, White Plains and Wayne areas average $34,500 per year which is significantly higher than the national average.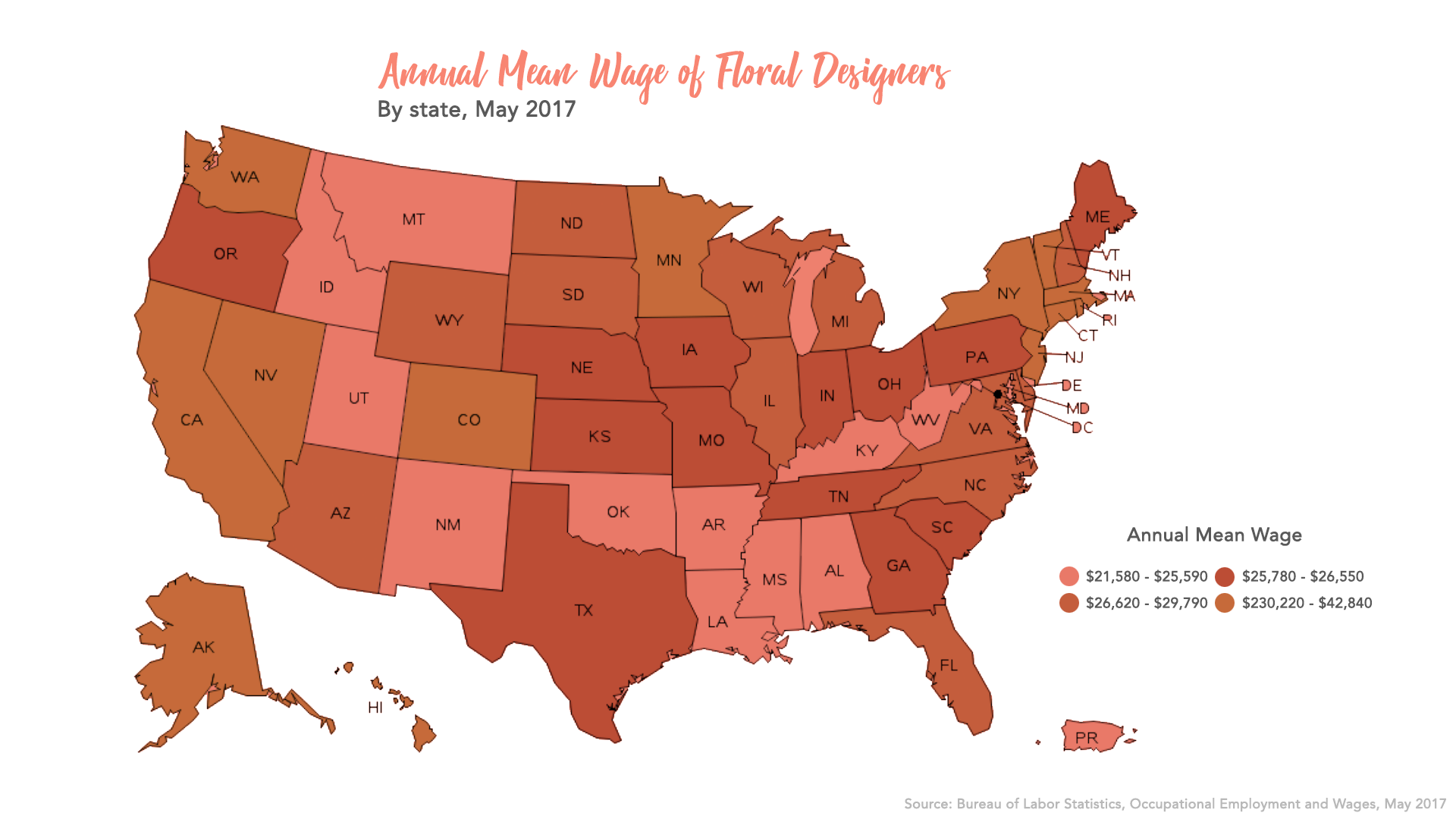 The District of Columbia pays the highest wages to floral designers, with an annual mean wage of $42,840. The lowest paying average salaries are to be found in West Virginia, where florists make on average just $18,660 per year.
Meanwhile, 10 states make up 49% of the market with California employing the most number of floral designers with 3,750 as of May 2017 or 9% of all floral designers in the US.
Floral Careers: Future Prospects
So you've landed your first internship or assistant position, now what? Hopefully there is the possibility of a full-time position within the Florists you are working for (if not, you may want to start looking elsewhere).
After 5-10 years as a full-time florist, you could progress to a senior florist, manage the floral departments at a grocery store or large hotel chain, or becoming self-employed.
Self employment
Be your own boss! About 1 in 5 of floral designers were self-employed in 2016, according to the U.S. Bureau of Labor Statistics. Though self-employed floral designers need to work more hours compared to regular employment previously discussed, they have the potential of earning much more.
Self-employed floral designers are involved in all aspects of the business, including choosing and purchasing flowers and foliage; designing and curating the catalogue; hiring, training and supervising the staff; dealing with clients; and keeping track of the finances. It's hard work, but the rewards will be greater.
Running your own business
Starting your own flower shop depends on what kind of florist you want to be. Do you want a brick and mortar shop catering local customers or do you want a large operation offering delivery nationwide or even worldwide? It is a crowded market, and it is important you find your niche. You will also require a level of financial support, and a lot of courage!
Here are the basic steps to starting your very own floral business: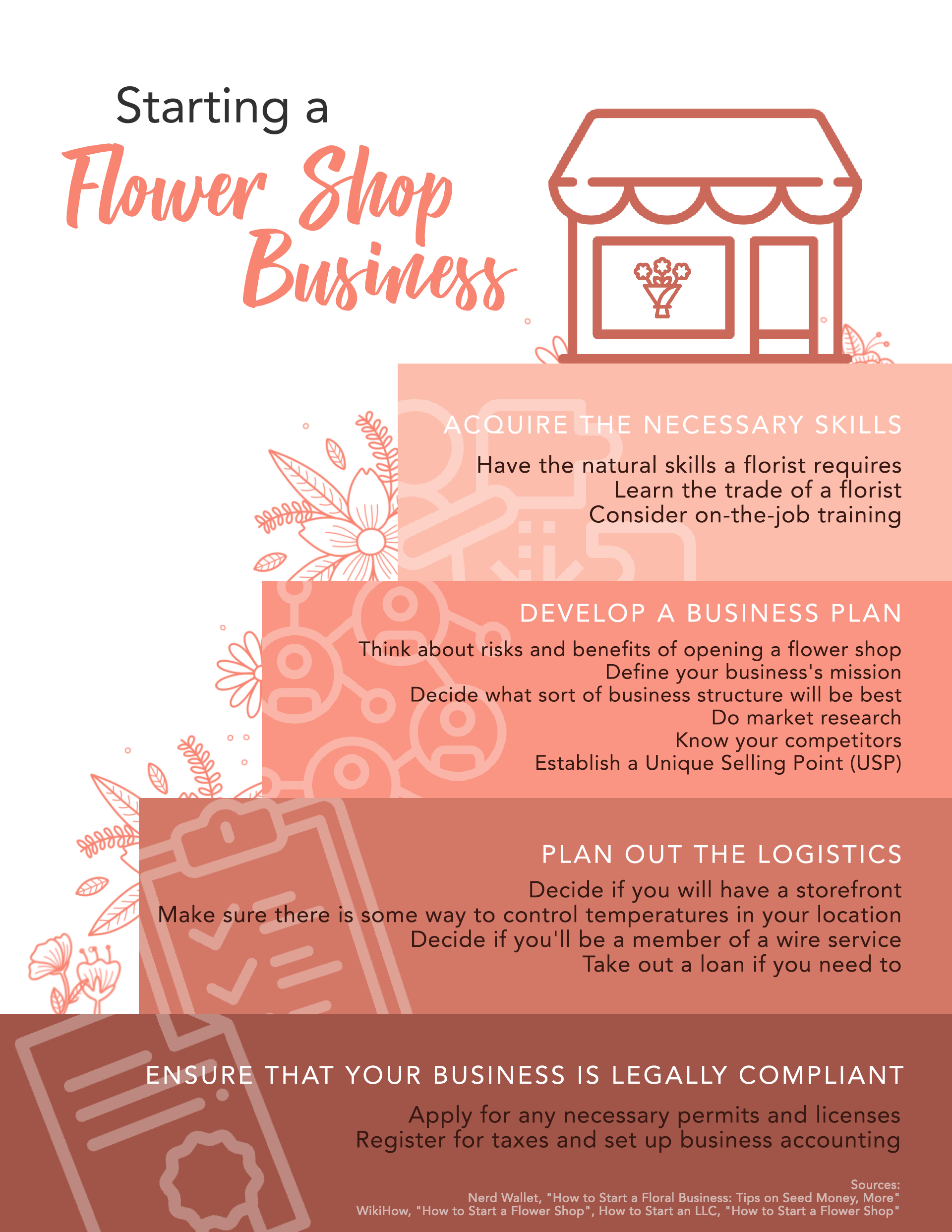 Costs of starting a Floral Business
Startup costs for a floral studio are modest, typically ranging between $10,000 and $50,000. This can lessen or increase depending on your decision to set up shop in your own home or rent a commercial space, as well as the equipment and furniture you purchase.
To minimize costs, you can opt to work from vans, garages and warehouses. Setting up your own business is the best way to stake your claim in the industry and earn more. You can even do away with an actual office and just set yourself up as an online florist. An e-commerce site for your floral products requires the least amount of capital. However, marketing and strategy will be crucial to stand out from numerous online florists and be able to find your niche in this industry.
Finally, you can always test the market by using Instagram to sell your flowers. The popularity of Instagram Florists is changing the landscape of the retail industry, including flower arrangements. Social media gives you direct access to customers and brings floral designs to the customers instead of the old model of brick and mortars.
Additional Resources
American Floral Endowment
> Floriculture Scholarships (PDF)
> Make People Smile: Grow Your Future in the Floral Industry (PDF)
American Institute of Floral Designers
> Certified Floral Designer (CFD) designation program
> AIFD Resource Center
Bureau of Labor Statistics
Indeed: Floral Designer Job
Market News
National FFA Organization
> FFA Career Development (CDE) Awards
Produce Marketing Association
Short Courses Portal
Society of American Florists
> Careers in Floriculture: Catalog of Schools (PDF)
United States International Trade Commission
The USDA Economics, Statistics and Market Information System (ESMIS)