Mother's Day Floral Statistics
Consumers may buy jewelry or clothes for their moms, but flowers are staples. They're traditional and thoughtful, and a Mother's Day surprise just seems incomplete without them. This is why floral spending on Mother's Day has been increasing over the years. This year, projected consumer spending was a record $2.6 billion, making Mother's Day the top floral holiday.
"Mother's Day is the largest of floral holidays for the U.S. floral industry, in terms of consumer dollar spending on floral products," said Tom Prince, Ph.D., of Prince & Prince in Columbus, Ohio. "More floral-buying households in the U.S. purchase floral products for Mother's Day than any other holiday, event, or occasion of floral purchase throughout the year." 
P&P's historical survey data also reveals that floral purchasing for Mother's Day has been trending up for households where children and/or teenagers reside. Some 20% of the US floral-buying households have at least one teenager residing in the household, and nearly one-quarter of floral-buying households have children within the household. This trend is also reflected in data from the NRF showing Millennials and Gen Z-ers as the top spenders for Mother's Day. After all, children are the main flower givers to show appreciation to their moms.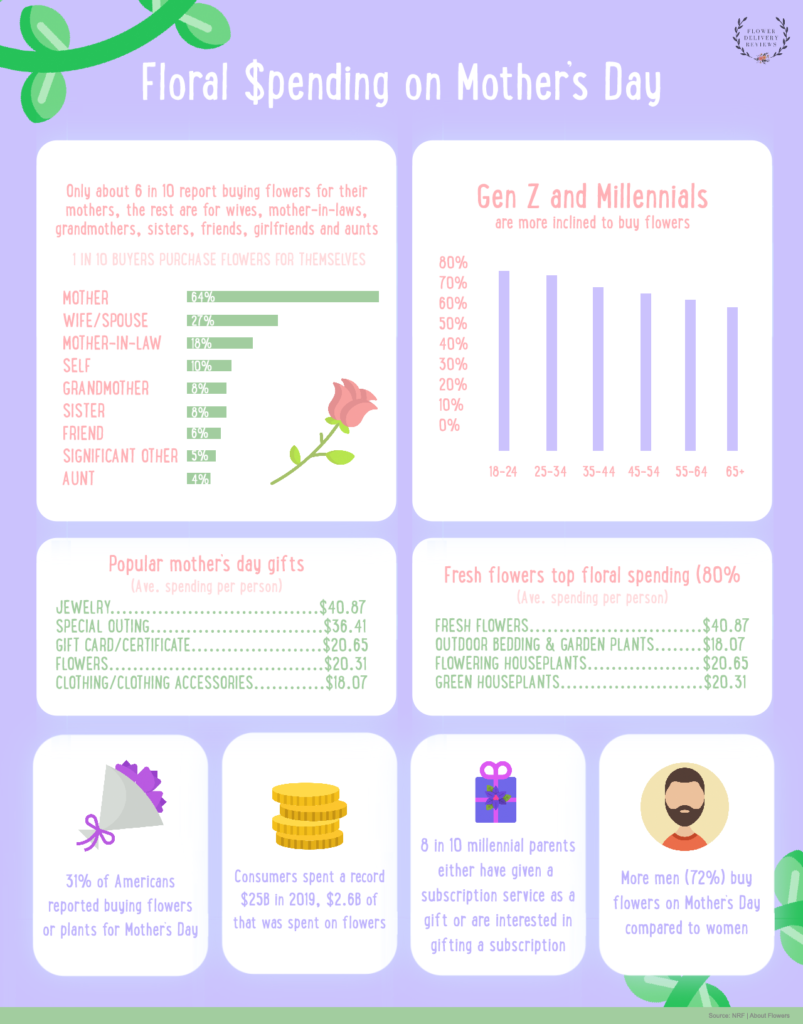 Mother's Day versus Father's Day
Father's Day is comparatively not a big floral holiday. In fact, flowers don't even breach the top 10 most popular Father's Day gifts. Greeting card is the choice of most consumers (61.7%), followed by special outing (46.8%), clothing (46%), gift cards (43%), and books/CDs (21.5%). Rounding out the top 10 are personal care items, electronics, tools or appliances, home improvement or gardening supplies, and sporting goods. On Mother's Day, flowers rank 2nd after greeting cards, while special outings, gift cards, and clothing make the top 5.
Popular flowers on Mother's Day
Unlike Christmas or Valentine's Day where there is a clear winner, preferred Mother's Day flowers vary. Though the white carnation was the original flower of Mother's Day, today it's whatever is Mom's favourite flowers. This seems like a practical choice since you want to please your mom, after all.
In addition, in comparison to Valentine's Day which favours bouquets predominantly, Mother's Day floral spending is more diverse to include potted plants and flowers–something that can be cultivated and grown for the long term. I suppose this is akin to a  mother's love that endures.
---