The 7 Best Options for Same Day Flower Delivery in Glasgow
Sometimes we make terrible mistakes of forgetting someone's birthday or your anniversary and only realize it on the actual day of celebration. In times like this, you should have a go-to shop that can accommodate your last minute gift requests and can also guarantee a quick same day delivery.
Here in Glasgow, we have plenty of options for you to choose from but here are the top 6 that we think are your best options.
1.      STEMS OF BURNSIDE

Not only do they take pride in their large inventory of fresh classic and modern flowers, but Stems of Burnside is also proud to have their team of expert and passionate florists who are dedicated to making artistic flower arrangements that will wow their customers every day.
From the simple, every day blooms to grandiose wedding flowers, Stems of Burnsides promises to constantly provide you with premium quality products that you deserve.
WHAT PEOPLE LIKE
LARGE INVENTORY. The shop always makes sure to maintain a large amount of flowers in their collection so they will never run out of supply when their clients place their orders. They also see to it that they always have available stocks of everything that their clients have requested.
CATERS TO EVENTS. The shop does not only showcase their products and services in retail but they also attend large events to make sure that it will become more colorful and livelier.
PRODUCTS
Wedding Flowers
Corporate Flowers – £37 to £100
DELIVERY AND PAYMENT
Visa, Maestro, MasterCard
2.      BLOOMS FOR FLOWERS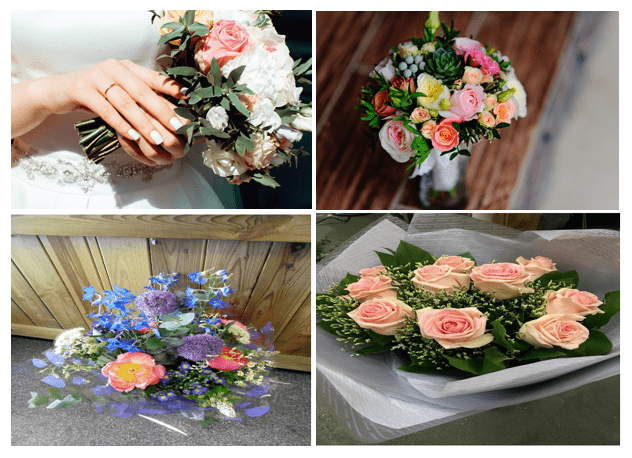 Blooms for Flowers is strategically located at the heart of Glasgow making them reach the whole metro area as well as nearby suburbs. The shop is best known for their large inventory of modern-styled flowers which are perfect as gifts or decorations.
Many businesses have also put their trust in the shop to provide them with high quality corporate flowers which they can either directly send to their clients and business partners or use as added accessories to beautify their offices.
WHAT PEOPLE LIKE
SAME DAY DELIVERY. This offer is suited best for those who have busy schedules and do not have the time to place their orders ahead of time. The shop offers same day delivery to any point in Glasgow, with specific delivery charges, depending on the distance of delivery address from the shop or from the center of the city.
PRODUCTS
Corporate Flowers
Wedding Flowers
DELIVERY AND PAYMENT
Contact shop for more details.
3.      FLORAL HAVEN FLORISTS GLASGOW

Floral Haven is highly committed to bringing their clients the best of the best flower arrangements all over Glasgow. They always make sure to create unique yet up-to-date designs so their clients will constantly get a breath of air from their shop.
They are also very strict about the quality of service that they offer and guarantee their clients with 100% customer satisfaction, especially their same day delivery service.
WHAT PEOPLE LIKE
CUSTOMER-FRIENDLY. One of the most applauded qualities of Floral Haven is their good relationship with their customers. They are able to attend to all their customers' concerns and they give utmost priority to their comfort and satisfaction. That is, their loyal clients constantly place their orders to them.
More than selling and delivering their flowers in retail, you can also trust Floral Haven to provide you with some of the most stunning flower arrangements for your wedding.
PRODUCTS
Flower Arrangements – £30 to £100
Hand-tied Flowers – £40 to £100
DELIVERY AND PAYMENT
PayPal, Visa, MasterCard, AMEX, Maestro, Delta
4.      HELLO PETAL

Hello Petal has been one of the crowd's favorites for many years now due to their large inventory of flowers that come in different types, styles, and colors yet guaranteed to be equally fascinating.
Because of the high quality of their products and services, Hello Petal has been recognized for quite a few times as an outstanding independent retail flower shop.
WHAT PEOPLE LIKE
SAME DAY DELIVERY. Should you need to send flowers right away and do not have the time to place your orders ahead of time? Worry not because they have the facility to accommodate orders on the same day that they will deliver them. Just make sure to coordinate closely with their team to make sure that all your orders are accounted for.
Flowers are very important to make a wedding even more beautiful and romantic that is why the shop included in their inventory some wedding flower arrangement selections for you to choose from.
PRODUCTS
Seasonal Flowers – £35 to £40
Occasional Flowers -£30 to £200
DELIVERY AND PAYMENT
Contact shop for more details.
5.      BONNIE FLEURS
Their many years of experience in the business combined with their creativity and talent in crafting uniquely beautiful flower arrangements is what's making Bonnie Fleurs a success.
When you visit their collection, you will be greeted with tons of exceptionally beautiful floral designs that are definitely worth every penny.
WHAT PEOPLE LIKE
IMPECCABLE DESIGN. The team of Bonnie Fleur Fleurs makes sure that their designs are original and unique and will speak to their clients on so many levels. They aim to share the beauty, love, and joy that their flower products bring exerting extra effort in creating and designing them. They also guarantee that they only use the finest and freshest flowers that you will see in town.
100% CUSTOMER SATISFACTION. There's no denying that the shop performs a truly excellent job in their field that is why they constantly receive good reviews and numerous recommendations from their clients.
PRODUCTS
Flower Arrangements – £19 to £70
Flower Baskets – £29 to £50
Flower Bouquets – £28 to £40
DELIVERY AND PAYMENT
Maestro, Visa, MasterCard, JCB
6.      FLORRESTERS

Florresters is your one stop shop for premium quality gift items from fresh flowers to delectable chocolates. They never miss an opportunity to fill their clients with happiness so they make sure that they always have the perfect products most suited for their needs.
Send someone today some thoughtful gifts and check out the collection of Florresters for affordable yet high quality products.
WHAT PEOPLE LIKE
LARGE SELECTION. It is always nice to have lots of options especially when it comes to choosing the best and most appropriate flower arrangement for a specific event or recipient. Whatever flower arrangement you may need, Florresters is always ready to provide you with tons of options that vary in size, color, and style.
PRODUCTS
Seasonal Flowers – £27 to  £50
Wedding Flowers – £27 to  £50
DELIVERY AND PAYMENT
Contact shop for more details.
7.      WITH LOVE FLOWERS

With Love Flowers has over a decade of experience with floral arrangements and deliveries. They could cater your floral needs in any occasion may it be a wedding, birthday, funeral, etc.
They are a team of lovely florists that will surely make your transaction a pleasant one. For further details contact them through their website and contact details or visit their physical store.
WHAT PEOPLE LIKE
CUSTOMER SERVICE. They are a team of friendly and attentive staff. Their excellent customer service is highly proved via Google Reviews by their previous clients.
WORTH IT. You get what you pay for. With their services, it is guaranteed that every penny you put out is worth it.
PRODUCTS
Mulled Wine – £35.00
Icicle – £35.00
Santas List – £30.00
DELIVERY AND PAYMENT
They accept payments via PayPal. They deliver between 9AM and 5PM on weekdays and 9AM to 4PM on Saturdays.