9 Best Options for Same Day Flower Delivery in Manchester
Surprises will never get old. Whether it's a prank or something more romantic, there's just no denying that it spices up any event.
Just like surprising someone with a bouquet of fresh flowers especially provided by these shops in Manchester that offer same day flower delivery.
1. VENUS FLOWERS

Venus Flowers is committed not only in offering you the highest quality of flower arrangements and same day delivery services but also incorporating artistry in all of their products.
The goal is to amuse their clients every day with their new and stunning floral designs that are totally extraordinary and will make you fall in love with art and nature all at the same time.
WHAT PEOPLE LIKE
AFFORDABLE PRODUCTS. Venus Flowers is best for customers who are working on a limited budget yet looking for a shop that never compromises quality.
EXTENSIVE SELECTION. Aside from flowers, the shop also saves some room for other complementary items like chocolates, balloons, stuffed toys, etc.
PRODUCTS
Occasional Flowers – £34 to £65
DELIVERY AND PAYMENT
AMEX, MasterCard, Visa, PayPal
2. DESIGNER FLOWERS BY RODGERS

Designer Flowers by Rodgers has always been one of the most favorite and sought after flower shops in Manchester since its inception in 1911.
Over the course of over a century, the shop had already established their name in the industry yet they continuously strive every day to amuse their clients with their dashing collection of fresh flower arrangements.
WHAT PEOPLE LIKE
EASY TO ORDER. Want to shop but does not have the luxury of time to do so? Well, sit back and relax because at Designer Flowers by Rodgers you can always order your favorite flower arrangements at the comfort of your homes through their webshop or by simply giving them a call.
EXPERT FLORISTS. The shop is composed of a team of expert florists that are all undeniably talented and creative. These florists always go the extra mile when creating floral designs for their beloved customers.
PRODUCTS
Seasonal Flowers – £31 to £100
Occasional Flowers – £40 to £100
DELIVERY AND PAYMENT
Maestro, Visa, MasterCard, AMEX, Delta
3. THE MANCHESTER FLORIST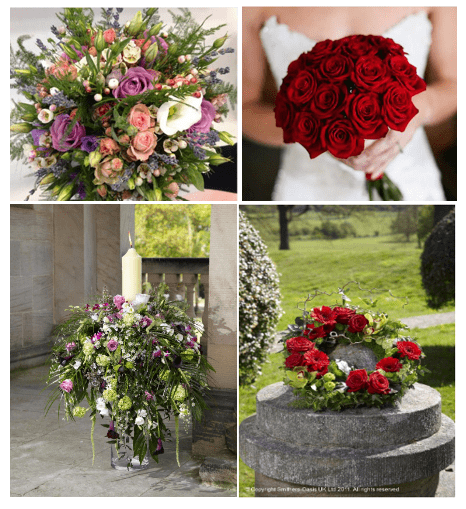 Remember that you can always rely on The Manchester Florists whenever you need a florist that has impeccable taste when it comes to flower arrangements and reliable background in flower delivery. The shop guarantees that they all have the kind of floral designs that you may need originally created by their talented and outstanding flower designers.
WHAT PEOPLE LIKE
FOR ALL OCCASIONS. The shop is highly committed to providing their clients with premium quality flowers that will best fit in any occasions that is why they constantly fill their inventory with fresh ones so they can deliver it straight to them.
CATERS TO EVENTS. If you want a flower shop that guarantees sophistication and luxury, look no further because The Manchester Florist extends their services to catering events as well.
PRODUCTS
Wedding Flowers
Corporate Flowers
Funeral Flowers
DELIVERY AND PAYMENT
Visa, MasterCard, AMEX, World Pay
4. MOSS & MAPLE FLOWERS

Moss & Maple is an offbeat, boutique style florist in Manchester serving high quality cut flowers and plants. They are very much dedicated in crafting flower arrangements that are oozing with sophistication and style.
Backed with their staff that has over 20 years of experience in the business, guaranteed that you will get the best value for money if you choose Moss & Maple Flowers as your florist.
WHAT PEOPLE LIKE
ELEGANT FLOWERS. Make your event even more beautiful and stunning by adding elegant flower arrangements created by Moss & Maple Flowers to your designs. All of their products are carefully created and chosen by their finest florist so you are guaranteed to be served with high quality products.
PRODUCTS
Wedding Flowers
Funeral Flowers
DELIVERY AND PAYMENT
PayPal, Visa, MasterCard, Maestro, AMEX
5. DAVID WAYMAN FLOWERS LTD

David Wayman Flowers prides themselves for being the only flower provider in Manchester that offers delivery on Saturdays and Sundays, not to mention their same day delivery that is also proven to be reliable and cost-efficient.
The shop is very critical in selecting flower products to be included in their inventory as they must always be in the freshest and highest qualities.
WHAT PEOPLE LIKE
STUNNING ARRANGEMENTS. One of the things that David Wayman Flowers pride themselves with is their precious collection of stunning flower arrangements that are all undeniably beautiful and perfectly made.
RELIABLE DELIVERY. David Wayman Flowers does not only create wonderful arrangements but they are also notable for their reliable delivery services that are very evident through their customers' good feedback.
PRODUCTS
DELIVERY AND PAYMENT
Visa, MasterCard, Maestro, AMEX, PayPal
6. BLOSSOM FLOWERS CHORLTON

Since 2006, Blossom Flowers has been delivering exceptionally beautiful flower arrangements for all the people in Manchester and up until today they have never failed to amuse them with their creativity and talent in crafting different styles of floral designs.
Take a look at the shop's inventory of fresh flowers and pick the one that appeals to you the most.
| | |
| --- | --- |
| SPECIALTY | Mixed flower arrangements |
| SELECTION SIZE | Large |
| STARTING PRICE | Starts at £25 |
| DELIVERY FEE | Calculated at checkout |
| WEBSITE | http://www.blossomflowers.co.uk/ |
| SOCIAL MEDIA | |
| CONTACT DETAILS | 0161 881 4567. |
WHAT PEOPLE LIKE
GREAT CUSTOMER SERVICE. The shop receives quite a handful of good feedbacks and positive comments from their previous customers, commenting how great their services and products are.
VALUE FOR MONEY. One thing that the shop can promise is that your money is worth spending if you choose to have your flowers arranged and delivered by Blossom Flowers
PRODUCTS
Hand-tied Bouquets
Flower Arrangements
Seasonal Flowers
DELIVERY AND PAYMENT
Contact shop for more details.
7. VERDURE FLORAL DESIGNS

Is wedding color simply white or you don't want to commit to only one shade? Verdure Floral Design provides floral arrangements that burst in colors, from buttonholes and bouquets to stairway and table decorations as well as the whole venue dressing.
WHAT PEOPLE LIKE
WHERE BEAUTIFUL FLOWERS ARE DESIGNED FOR YOU. Their team understands that each of their clients have different preferences, which is why they make sure to make each arrangement specific to your preferences.
PRODUCTS
Wedding Flowers
Funeral Floral Pieces
DELIVERY AND PAYMENT
Major credit cards
8. FLOWER CANDY

Flower Candy offers the sweetest bouquets for your everyday or your wedding day! As a freelance florist, she assures to give your orders a unique, personal touch that reflects your intentions.
They offer bespoke pieces matched with their unusual flowers that will certainly be an eye catcher to any event. They also offer special arrangements for weddings, funerals, or for houses and corporate flower arrangement.
WHAT PEOPLE LIKE
BESPOKE PIECES – Their designs are all creatively made, from its delicate arrangements to the unusual flower pieces and colors used to attain your goal.
DAILY DELIVERY – They offer daily delivery of flowers, both weekdays and weekends.
PRODUCTS
Rustic basket – £55

Deluxe Seasonal Bouquet – £55
DELIVERY AND PAYMENT
They deliver to Manchester only, 7 days a week between 10am and 7 pm. For same day delivery, please order by 11:30 am. They accept Visa, Mastercard, American Express, Discover Network.
9.   FLOWERS BY JEMMA HOLMES
Established in 2006, Flowers By Jemma Holmes has been providing stunning flower arrangements in the cities of Manchester and Great Britain. Stylish and modern, their works are sure to satisfy your needs when it comes to flowers.
Specializing in wedding flowers, they pride themselves for being Manchester's most sought wedding florists that will guarantee to provide you magical arrangements your most memorable day,
WHAT PEOPLE LIKE
WEDDING FLOWERS – Their professional and creative work will ensure that choosing them will be one of the best decisions you make for your wedding day.
ECO-FRIENDLY – They offer a new range of eco-friendly, natural and sustainable bouquets and gifts.
PRODUCTS
Marshmallow & Milk Hot Choc Stick – £2.50
Winter Warmer – £25.00
DELIVERY AND PAYMENT
They are based in Swinton and deliver to all area postcodes in the grid on their site. Delivery to these areas is available for same day and next day delivery priced at just £4.99.