10 Best Options for Same Day Flower Delivery in the Philippines
If you fail to place your flower order ahead of time, no need to worry too much because we swept through the different parts of the Philippines to find some of the most reliable and responsive flower shops in the country that offer seamless and quick same day flower delivery that will definitely not let you down.
1.      FLOWERDELIVERYPHILIPPINES.NET

Flower Delivery Philippines is the only flower shop in the Philippines that offers free same day delivery in the whole Metro Manila. You can even place your order until 4 in the afternoon and they can still deliver your order on the same day with no delay.
Plus, they make sure that their flower products are always fresh and handled with care.
| | |
| --- | --- |
| SPECIALTY | Fresh premium flowers |
| SELECTION SIZE | Large |
| STARTING PRICE | Starts at ₱1650 |
| DELIVERY FEE | Starts at ₱600 |
| WEBSITE | http://flowerdeliveryphilippines.net/ |
| SOCIAL MEDIA | |
| CONTACT DETAILS | +63 2 79447241 / +63 9773295031 |
WHAT PEOPLE LIKE
FREE SAME DAY DELIVERY. The shop prides itself with their truly reliable delivery services, and more importantly they offer it for free with a guarantee of sending your orders on the same day.
GIANT BOUQUETS. For those who want to be extra, the shop's extra giant bouquets is perfect for you. These gigantic flower arrangements will definitely reflect the big heart that you have.
PRODUCTS
Seasonal Flowers – ₱1650 to ₱5000
Occasional Flowers – ₱1650 to ₱5000
DELIVERY AND PAYMENT
Delivery service starts at 10AM to 9PM every day while the mode of payments can be through credit and debit cards, bank transfer, and remittance centers.
2.      FLOWER DELIVERY PHILIPPINES

Flower Delivery Philippines by Bayan Blooms offers a large selection of fresh flower arrangements which they offer for free same day delivery in a wide scale of areas in Metro Manila and nearby provinces. They take pride in crafting impeccable floral designs that give color and beauty to events, homes, and offices.
You may choose from their different types of arrangements such as flower bouquets, standee, boxed flowers, flowers on a vase, vertical flower arrangements, mixed floral arrangement and more.
| | |
| --- | --- |
| SPECIALTY | Large selection of fresh flowers |
| SELECTION SIZE | Large |
| STARTING PRICE | Starts at ₱1600 |
| DELIVERY FEE | Starts at ₱300 |
| WEBSITE | https://www.flowerdelivery.ph/ |
| SOCIAL MEDIA | |
| CONTACT DETAILS | (+632) 8736 0134 |
WHAT PEOPLE LIKE
FRESH-PICKED STYLE. If you like rustic-style bouquets that celebrate the flowers' organic aesthetic, check out the collection of Flower Delivery Philippines. The bouquets in this collection look like they were just freshly picked, wild even and just bunched up. So simple yet charming.
PRODUCTS
Occasional Flowers – ₱1600 to ₱10000
Flower Bouquets – ₱1800 to ₱150000
Flower Baskets – ₱2700 to ₱7900
DELIVERY AND PAYMENT
Visa, MasterCard, AMEX, PayPal, Maestro
3.      FLOWER CHIMP

Flower Chimp is notably known for its superior quality of flower products and the team's highly creative floral designs. In fact, the shop is not only known to be one of the best in the Philippines, but also in its nearby countries.
The shop is located in Metro Manila where a large group of Filipinos reside which makes them more accessible to whoever may want a premium class of flowers.
WHAT PEOPLE LIKE
SAME DAY DELIVERY. Manila is one of the busiest cities in the Philippines so having a same day delivery is really a helpful thing for their clients who had no time to place their orders earlier. For as long as you send them your orders not later than 4PM, you will still be able to avail such.
CHOOSE YOUR DELIVERY SLOT. Do you want your flowers to arrive very early in the morning? Or maybe exactly at dinner for added romance? With Flower Chimp, you will be able to choose your own schedule of delivery and they guarantee that your orders will arrive on time and in best condition.
PRODUCTS
Occasional Flowers – ₱899 to ₱2000
Hand Bouquets – ₱899 to ₱2000
Boxed Flowers – ₱1690 to ₱3000
DELIVERY AND PAYMENT
American Express, Alipay, Apple Pay, Visa, MasterCard, 7Eleven, BancNet
4. Ferns N Petals Philippines

Ferns N Petals Philippines is well-known gifting brand that offers a wide range of gifts, flowers, and cakes for any occasion a client may need it for. They are largely based online which is excellent for contactless yet convenient access to the goods that they offer at the time and leisure of the customer.
They have a wide selection of flower arrangements and offers same day delivery to any place within the Philippines along with secure payment methods and easily accessible transactions on their site as well.
Being in the industry ever since 1994, they have since then built their reputation for offering world-class services so clients can be assured that not only are they locally acclaimed but also tried and tested to international standards.
Their services can easily be personalized to give an extra touch of thoughtfulness for the receiver since they accept personalized photos, cards, and the like to be included in the gifts that they curate and offer.
While prices are readily available at their website, international clients may need to convert it to their own currency since all of which is in peso. No worries though, since their website also offers an online converter as well.
SPECIALTY
Wide range of flower arrangements for all ocassions
SELECTION SIZE
Medium
STARTING PRICE
Starts from P20
DELIVERY FEE
Free Delivery
WEBSITE
https://www.fnp.ph/
SOCIAL MEDIA
Instagram: @fernsnpetalsphilippines

Facebook: @fernsnpetalsphilippines

CONTACT DETAILS
https://www.fnp.ph/info/contact-us
WHAT PEOPLE LIKE
COMPREHENSIVE ONLINE SHOP. The company hosts one of the most innovative online platforms and is especially complete with all information needed when it comes to the product description, customization, and transaction as well.
WIDE RANGE OF GIFTING OPTIONS. Clients are able to choose not only a variety of flowers but also other gift basket products to complete and complement the flowers that they offer.
PRODUCTS
Birthday Flowers – $20 to $477
Anniversary Flowers – $25 – $231
Sympathy N Funeral Flowers – $20 – $156
DELIVERY AND PAYMENT
Same day delivery available for selected cities such as Manila, Quezon City, Davao City, Cebu City, Caloocan, Zamboanga City and Antipolo. MasterCard, Visa and Paypal are accepted payment methods.
5.      FLOWER PATCH

Flower Patch opened its doors to the Filipinos in 2012 with the goal of delivering fresh, elegant flowers every day and to cater for all kinds of occasions. True enough, the shop was able to satisfy their clients with their undeniably fascinating collection of flower arrangements in different types, styles, and colors.
You may also opt to add some extra gift items to your choice of arrangement like chocolates or fruits baskets to make your gift a total package.
| | |
| --- | --- |
| SPECIALTY | Vibrant mixed arrangements |
| SELECTION SIZE | Large |
| STARTING PRICE | Contact the shop for the price list |
| DELIVERY FEE | Calculated at checkout |
| WEBSITE | https://www.flowerpatchdelivery.com/ |
| SOCIAL MEDIA | |
| CONTACT DETAILS | (02) 8848-3071 |
WHAT PEOPLE LIKE
SECURED ONLINE TRANSACTION. One thing consumers have in mind when purchasing an item online is the site's safety. At Flower Patch, your personal information is guaranteed to be safely guarded by their secured pages.
PRODUCTS
Occasional Flowers
Seasonal Flowers
Flower Arrangements
DELIVERY AND PAYMENT
Contact shop for more details.
6.      FLOWERSTORE.PH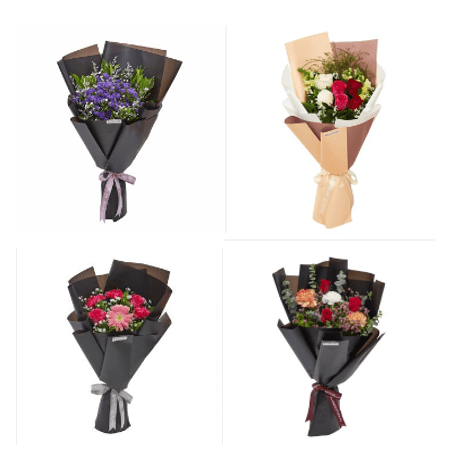 Flowerstore.ph offers some of the most affordable to free delivery in the entire country. Their shop houses tons of original and unique floral designs that will definitely be perfect as gifts, event decorations, or even a simple table flower.
The shop is continuously expanding until they are able to reach every single resident of the country. They are expected to open more shop branches soon.
WHAT PEOPLE LIKE
VALUE FOR MONEY. Nothing is more important for The Flower Store than making sure that their beloved customers get what they truly deserve— premium quality of flowers. For them, every peso spent on their products are appreciated.
LARGE SELECTION. For very affordable prices, the shop offers a large selection of flowers ranging from the simplest to sophisticated ones. They are sure that whatever kind of flower needs you may have, they can always provide you with the best ones and they can guarantee 100% satisfaction.
PRODUCTS
Seasonal Flowers – ₱899 to ₱1650
DELIVERY AND PAYMENT
PayPal, Dragon Pay, Bank transfers, Cash on delivery
7.      RAPHAEL'S FLOWERS & GIFTS

Raphael's Flowers & Gifts is a local flower shop in the Philippines that was established in 2006. But, even before the success of the shop, the team has already gained several experiences in the industry in collaboration with other flower arrangement businesses.
Currently, the shop is strategically located in Makati which is considerably the heart of the city.
WHAT PEOPLE LIKE
EXTENSIVE SPECIALIZATION. The team of Raphael's Gifts is composed of professional, highly skilled, and truly creative florists that have diverse talents and specializations when it comes to designing flower arrangements, thus the shop houses hundreds of different floral designs that are all truly stunning.
SEAMLESS ORDERING METHOD. Placing order at the shop is absolutely easy and fast. You may either give them a call or send them an email containing the details of your orders and they guarantee that you will be accommodated instantly.
PRODUCTS
Seasonal Flowers – ₱1190 to ₱30000
Occasional Flowers – ₱1190 to ₱30000
DELIVERY AND PAYMENT
Visa, MasterCard, BPI, BDO, PayPal, MoneyGram, American Express, Remittance Centers
8.    PHILIPPINESFLORA.COM

Sending flowers and gifts to the Philippines made easy with Philippines Flora. They have amazing products that you could send to your loved ones from all over the Philippines to express your regards. 
They constantly update their products and services to cater to all occasions and emotions. Like your loved ones, they take care of their products for they know how this is valuable for you and the receiver.
| | |
| --- | --- |
| SPECIALTY | Flowers |
| SELECTION SIZE | Large |
| STARTING PRICE | Starts at $22.95 |
| DELIVERY FEE | $12.95 |
| WEBSITE | http://www.philippinesflora.com/ |
| SOCIAL MEDIA | N/A |
| CONTACT DETAILS | |
WHAT PEOPLE LIKE
WIDE DELIVERY RANGE – They are one of the flower and gift delivery websites that could cater to all major cities in the country.
WIDE VARIETY OF PRODUCTS – Their products are not only limited to flowers, but they also have gifts such as cakes and balloons to further express your feelings.
PRODUCTS
Mango Bravo Cake by Conti Cake – $37.95

Be Happy Vase #5 0 $83.95

Acquaintance 12 Red Roses with Green Leaves – $38.95
DELIVERY AND PAYMENT
They accept payment from all major credit and debit cards. Their delivery costs $12.95 for both Metro Manila and provinces. Metro Manila deliveries cater same day deliveries while provinces delivery are next day delivery guaranteed.
9.    PHILFLOWER.COM

Deliver your emotions to your Filipino loved ones through the wonderful gift sets of PhilFlower.Com. As one of the leading gift delivery services in the Philippines, they make sure that your feelings are expressed despite the distance.
They do not only offer beautiful flower arrangements, but also chocolate gift sets, fun birthday cakes, fruit baskets, and a lot more. PhilFlower.Com is truly an all-around flower arrangement and gift shop that guarantees you and your recipients satisfaction.
WHAT PEOPLE LIKE
COMBO GIFT SETS – Their gift sets are made to be affordable and convenient for you to pick out.
NATIONWIDE DELIVERY

– Whatever part of the Philippines it may be, PhilFlower.Com will be able to reach its recipient.
PRODUCTS
Money with 6 Red Color Roses in a Bouquet – USD$195.95

Red Ribbon Cake with 6 Yellow Sunflower and Small Bear- USD$86.95
DELIVERY AND PAYMENT
They accept Visa, Mastercard, American Express, Discover Network, Paypal, Bdo, Bpi, Lbc, Cebuana, Palawan Express, Western union. Due to the pandemic, they are currently only delivering within Metro Manila areas & unable to offer same day delivery.
10.  CITIFLORA

Since 1996, Citiflora has been offering the freshest flowers locally and internationally. They understand that flowers as a gift imply multiple messages and they would love to be part of the process of expressing their clients' emotions. 
To achieve excellent customer service, owner Larry Darroca and his wife Lena are very hands-on with their business. They both ensure that the products they deliver are in great condition to bring joy to their clients.
| | |
| --- | --- |
| SPECIALTY | Flower Deliveries |
| SELECTION SIZE | Large |
| STARTING PRICE | Starts at P990 |
| DELIVERY FEE | Starts at Php.190 |
| WEBSITE | https://www.citifloraflowers.com/ |
| SOCIAL MEDIA | @citifloraflowers |
| CONTACT DETAILS | 09178799069 / 8772-3654 |
WHAT PEOPLE LIKE
QUICK TRANSACTION –
WHAT YOU SEE ON THEIR WEBSITE IS WHAT YOU GET –
AMAZING CUSTOMER SERVICE –
PRODUCTS
BQT-99-Valentine – Php. 2,590

BQT-98-Valentine – Php. 3,990

BQT-97-Valentine – Php. 3,500
DELIVERY AND PAYMENT
Their delivery service covers most parts of the Philippines including provinces. They also accept international deliveries during weekdays as long as the order was placed 48 hours before the delivery date. They have three options for payment: Online Payment, Bank Deposit / Wire Transfer, and Money Transfer.