The 7 Best Options for Cake and Flower Delivery in Singapore
Cakes and flowers make a winning combination! Flowers make for a symbolic, personal gift, while cake satisfies your sweet tooth! However, it can be a hassle to go to the bakery and flower shop separately, especially if you have a busy schedule. Thankfully, these 6 shops will deliver straight to your door.
Note: Because of the current pandemic and Circuit Breaker, some of the cake delivery Singapore shops we've listed here have implemented service limitations and some have even temporarily suspended operations.
Where applicable, we've noted the policy or service changes for the shops below. Unless noted otherwise, though, these are generally still baking and delivering.
1. Crème Maison Bakery


Crème Maison is an award-winning cake and events shop. They have been featured on several publications, including Her World Plus, Young Parents, UW, Nylon, Straits Times, Prestige and many more. They're the best choice for parties, events and special occasions.
2. Le Petit Empire Designer Cakes

Le Petit Empire Designer Cakes is the best option if you want something a bit more extravagant. Their flower cakes are well-designed; they use a combination of fresh and sugar flowers to create a textured look. They specialize in customized cakes.
3. Flowers in Mind

Flowers in Mind is the perfect store if you want to buy cakes and bouquets in one place. They offer a wide variety of flower arrangements for every occasion. They also have a lot of different cake flavors, so you can pick one that best satisfies your sweet tooth.
4. Humming Flowers & Gifts

Since 2007, Humming Flowers & Gifts provides since 2007, Humming Flowers & Gifts provides satisfactory flower service for every occasion. They envisioned to be the best gifting company in Singapore.
Thus, they offer almost everything that you need for an event such as cakes, banners, and balloons. Moreover, they have hampers that you can buy as a get well soon token.
5. Le Shop

If you're planning for your nuptials, Le Shop SG is the best place to buy your necessities. You'll find a number of delicious cakes – all perfect for weddings. They also have a number of bridal bouquet designs available. To add to this, they even have dresses and an event space.
6. Xpress Flower

Xpress Flower is a good choice if you want easy ordering with no hassles. They have a wide number of cakes and flowers in their inventory, so you're sure to find something for every occasion. You can even specify the delivery times when you order, so you can get your order when you need it.
Note: Still delivering and has even crafted a Stay Home Collection you can send to others going a little stir-crazy from Circuit Breaker.
7. Cupplets

Cupplets is the best choice if you're looking to find a unique aesthetic in cakes. They specialize in artistic renditions of flower cakes. They use fresh and preserved flowers to decorate their creations, making them look rustic and modern. They're a good option if you're looking for a non-traditional cake.
8. Rainbowly

Rainbowly's fruit arrangements are the first of its kind in Singapore. It can come in a basket or as a bouquet, but both are made with the freshest fruits of the season.
Delicately designed by their artisans to look and taste good, each handcrafted arrangement is created on a made to order basis. You can rest assured that your orders will be made and delivered at their best condition.
If you're interested, check out their shop online. They also offer chocolate treats and edible boxes.
9. The White Ombre

The White Ombré is the culmination of both Nick and Tricia's hopes and dreams. Where Nick is the master of cake design, Tricia balances the economics of the business. Though both different in background and character, they have managed to complement each other greatly and come together to become a golden couple in the cake decorating world.
10. Yume Patisserie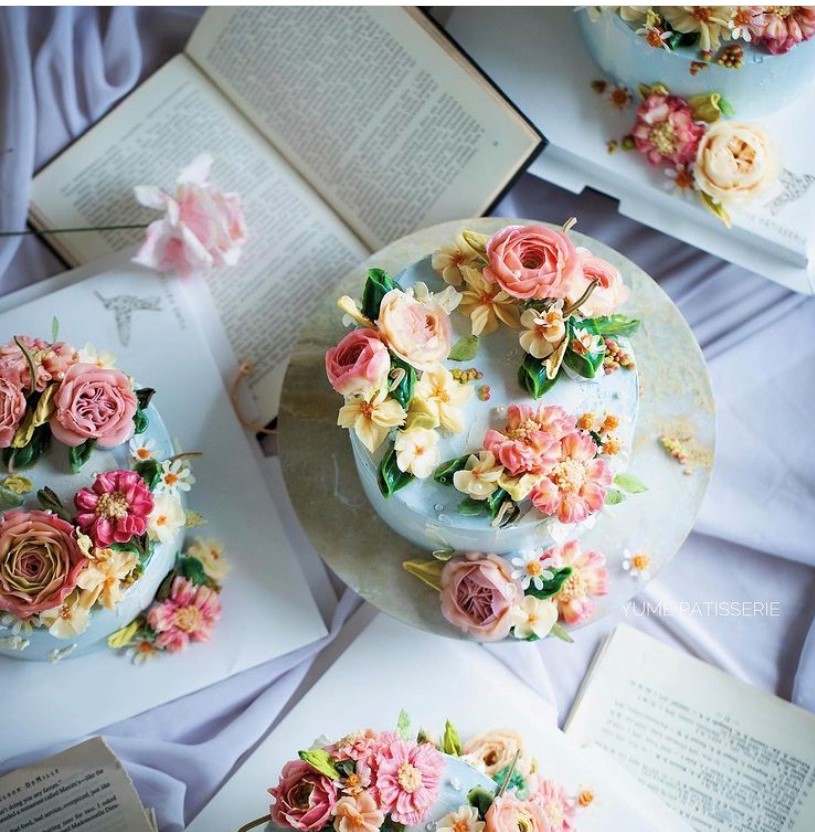 Yume Patisserie specializes in elegant floral cakes and classy simplistic design. Browse through their existing cake design and select from nine of their signature flavours. If you can't find the cake design you like, then drop them a text to get a customised cake of your theme choice.
11. Bob the Baker Boy

Aside from making delicious cakes, Bob the Baker Boy also aims to make diabetic-friendly cakes by using healthier ingredients and less sugar. Despite using less sugar, they guarantee that the cakes will still be sweet enough to satisfy your sweet tooth.
They boast a sizable collection of customised cakes of all sizes for every occasion. For those who just want to try their cakes, they also offer pre-made cakes for delivery.
12. Temptations Cakes Shop

Temptations Cakes Shop is a legacy home grown cake shop in Singapore that has been baking delicious cakes and pastries since 1985. They are known to our loyal fans as a Heritage Singapore Cake shop, and they're most grateful to our loyal group of customers – foodies, cakes and dessert lovers, who have supported us on our journey in becoming one of the most famous cake shops in Singapore.
13. Yours Sincerely Bakery

In today's digital world, Yours Sincerely Bakery insists on maintaining a human touch. No mass-produced cakes. Just humble, quality bakes from their shop to you. They draw great satisfaction in making wonderful desserts for their community.
14. Zee and Elle

Zee & Elle, a couple who love the art of baking, started out sharing their baking creations with others in the little moments of each day. With love and support from the community, they eventually opened this fully-fledged baking studio where each cake is unique and handmade by scratch.
Attention to detail is paramount for special occasions like birthdays and weddings. You can also request a cake delivery in Singapore whenever you need a tasty treat.