The 52 Best Options for Flower Delivery in Singapore
Flowers are perfect for, well, everything! However, we know finding a reliable florist can be a hassle. So, to save you time, we've compiled a list of our favorite flower delivery options in Singapore.
Each florist has earned their spot on the list because they really beat the rest in quality, price, and delivery time.  
Without further ado, here are the best options for flower delivery in Singapore! Let's go! 
Note: Because of the current pandemic and Circuit Breaker, some of the shops we've listed here have implemented service limitations. For example, most of them do not allow collection/pickup of bouquets by customers during Circuit Breaker, to limit COVID-19 exposure.
Where applicable, we've noted relevant policy or service changes for the shops below. Most of these are still taking orders online or by phone during Circuit Breaker, unless noted otherwise.
1. Happy Flowers Singapore

| | |
| --- | --- |
| BEST FOR | Simple, affordable and long-lasting bouquets & arrangements |
| SELECTION SIZE | Medium |
| PRICE RANGE | SGD 68 – SGD 400 |
| DELIVERY FEE | Free Same Day Delivery |
| WEBSITE | www.happyflowers.sg |
| CONTACT | +65 3163 1525 |
Happy Flowers serves as an ambassador of happiness in Singapore through its beautifully crafted and affordable blooms. To make sure they put a smile on their customer's faces, quality and speed go hand-in-hand. That's why their slogan is "Happiness delivered wherever in 90 minutes!" Their professional florist handcrafts each order using the freshest blooms sourced from flower farms in Cameron Highlands for long-lasting floral designs. From modern hand bouquets, gorgeous grand opening stands, and comforting funeral wreaths, Happy Flowers pays special attention to details to convey the appropriate story and emotion. Then, their impressively fast flower delivery in Singapore ships the order from the shop to the recipient's doorstep in less than 2 hours. So, make someone happy today with Happy Flowers!
2. A Better Florist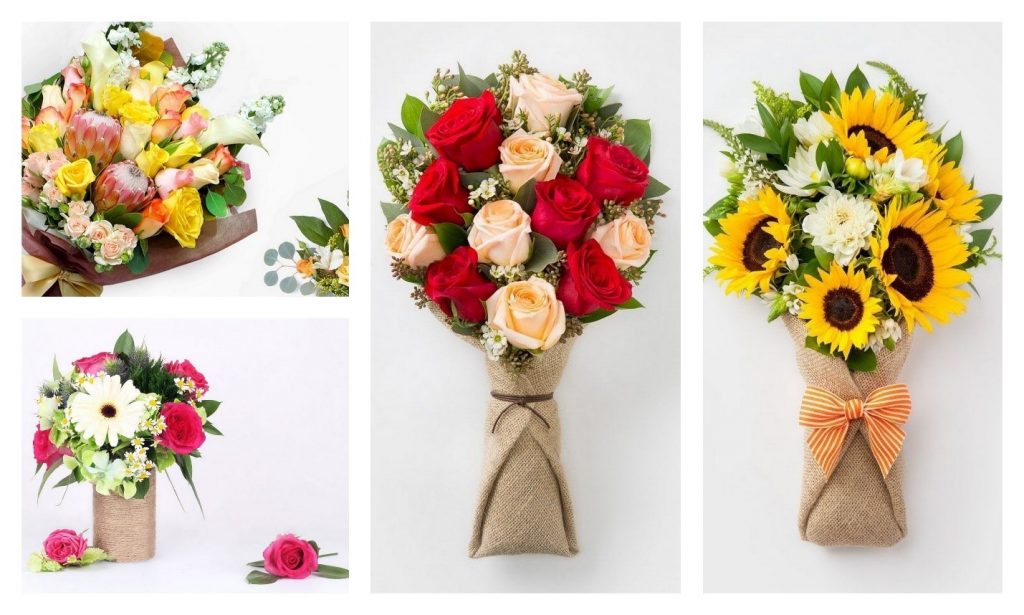 A Better Florist's signature service is their lightning-fast flower delivery in Singapore. With their express flower service, they guarantee the delivery of your fresh flowers from their shop to your loved one within 90 minutes! This is very impressive and quite convenient especially if you have inadvertently forgotten an anniversary, a birthday or you need the flowers urgently to make amends. Fortunately, they also have a range of beautifully arranged hand bouquets and modern vase arrangements suitable for all occasions. You get both quality and speed from this top-notch Singapore online florist.
3. HQ Flowers

| | |
| --- | --- |
| BEST FOR | Fresh, simple and beautifully wrapped bouquets |
| SELECTION SIZE | Medium |
| PRICE RANGE | $35 – $430 |
| DELIVERY FEE | Free delivery for orders above $60 |
| WEBSITE | www.hqflowers.com |
| INSTAGRAM | @hqflowers |
HQ Flowers provide simple yet meticulously arranged bouquets and arrangements in various designs depending on the occasion. Their bestselling pastel-perfect rainbow Baby's Breath bouquet is perfect for baby showers, birthdays, graduations or to cheer up a friend on a regular day.
For special and romantic events like Valentine's Day, you can choose from a selection of large and luxurious bouquets guaranteed to make the moment extra memorable.
If that's not enough for you, their LED bouquets will provide the extra shine and sparkle. For the budget conscious, they have pretty mini bouquets. They post monthly promotion codes on their social media, so follow them to get discounts on your next purchase.
You can also use the code "hqfd5" when you order via WhatsApp! This code entitles you to a $5 OFF their best selling Pastel Rainbow Baby Breath! Delivery is included as well.
4. Ana Hana Flower

| | |
| --- | --- |
| BEST FOR | Same-day flower and gift deliver |
| SELECTION SIZE | Large |
| PRICE RANGE | From $12 |
| DELIVERY FEE | Contact for more details |
| WEBSITE | https://anahanaflower.com/ |
Ana Hana Flower is a modern gifting company specializing in floral gifts. Make someone's day by sending flowers, plants and gifts same-day or next-day in Singapore. Ordering gifts and flowers online has never been easier.
5. RAINBOWLY

Rainbowly has been Singapore's number one fruit arrangement specialist since 2013. Every product in their edible bouquet and fruit box collections are of the highest quality you can find.
Get creative with your gift-giving options with Rainbowly! Instead of giving typical flower bouquets and fruit baskets, this is the perfect chance to give out one-of-a-kind edible flower bouquets that can sweeten any celebration.
In comparison to other shops, since their products are made up of fresh fruits, every purchase is made to order. This is to ensure that all their clients would receive their order in perfect condition.
Aside from edible bouquets, they also offer traditional flower bouquets and even dried flower bouquets.
On deliveries, they are one of the few that work with professional delivery personnel to make sure that your edible flower bouquets arrive safely at the doorstep.
6. Her Flowers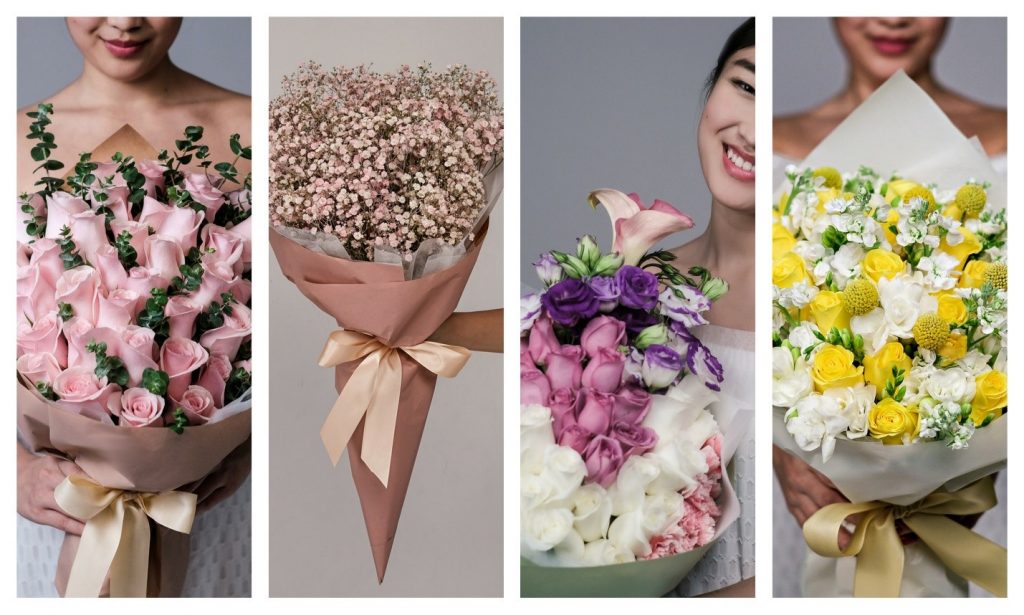 The large, feminine hand bouquets from Her Flowers include a generous amount of focal blooms yet their luxurious flower arrangements remain affordable. This flower delivery in Singapore touts self-care as the philosophy behind their gorgeous floral collection. Bouquets are inspired by women who deserve to treat themselves to wonderful arrangements of fresh flowers. They also offer free Singapore flower delivery island-wide which is a big plus! So if you want to send a bouquet to cheer up a loved one or empower your female friends, go check out Her Flowers.
7. Petite Fleur

BEST FOR
Pastel-perfect and romantic arrangements
SELECTION SIZE
Medium
PRICE RANGE
$22 – $369
DELIVERY FEE
$10
Same day delivery for orders before 1pm
WEBSITE
www.petitefleursg.com
INSTAGRAM
@petitefleur_sg
Petite Fleur handcrafts bouquets for every occasion using only premium blooms. This makes their creations made with high-quality blooms last longer than the average bouquet. With a keen eye for detail, founder Patricia makes sure each arrangement evokes a vibrant expression of art and beauty. Their petite floral boxes are pastel perfection ideal for bright and happy occasions. For a showstopping surprise, their floral basket brimming with gorgeous blooms and foliage should do the trick. You can also check out preserved roses in chic, acrylic boxes as a stylish keepsake for romantic moments.
Note: Still doing same-day delivery during Circuit Breaker from 2 May to 8 May but not 9 May to 10 May. Same-day delivery resumes from 11 May onwards.
8. Flowers & CO

| | |
| --- | --- |
| BEST FOR | Beautifully curated bouquets for all occasions |
| SELECTION SIZE | Medium |
| PRICE RANGE | SG$65 – SG$130 |
| DELIVERY FEE | Free Same Day Delivery |
| WEBSITE | www.flowersandco.sg |
| CONTACT | +65 3163 9387 |
With Flowers & CO Singapore, you don't have to suffer through last-minute supermarket dashes and disappointing deliveries. You can conveniently buy their beautiful bouquets for all occasions online, at your own time and comfort, and simply wait for the flowers to be delivered in no time with their 90-minute guaranteed express delivery islandwide! They have developed their bespoke presentation boxes that not only highlight the beauty of the flowers inside, they also serve to preserve and protect every petal. Lastly, you won't have to blow your budget with their budget-friendly options that are equally stunning.
9. Happy Bunch

| | |
| --- | --- |
| BEST FOR | Unique and budget-friendly daily bunches |
| SELECTION SIZE | Small |
| PRICE RANGE | From $35 |
| DELIVERY FEE | Free Same Day Delivery |
| WEBSITE | www.happybunch.com.sg |
| INSTAGRAM | @happybunchsg |
At Happy Bunch, you can order fresh flowers online in 5 easy steps. First, pick a delivery date from Monday to Saturday. Second, choose your preferred bunch design from their range of simple and affordable bouquets. Third, select a size from double, triple, quadruple or quintuple depending on the impression you want to make. Fourth, indicate whether the flowers are for delivery or pick-up. Finally, sit back and relax as they deliver the flowers to bring a smile on someone's face. Order by 12:30pm for same day flower delivery in Singapore.
10. Floral Singapore

At Floral Singapore, their team is experienced and focused at floral creations for various events: Bridal Celebrations, Corporate Functions, Events. Flexibility in accommodating to customers' requests and delivering a personalised service is what the team pride themselves on.
They constantly update their product range in order to keep up with the market trends and customers' demands. Be it unique seasonal flowers, all time favourite fresh flowers or the more lasting preserved flower creations, they have something for everyone tailored to occasions and budget, so contact them at 6741 3088 for your requests.
11. Petalfoo

| | |
| --- | --- |
| BEST FOR | Unconventional bouquets |
| SELECTION SIZE | Small |
| PRICE RANGE | $97 – $597 |
| DELIVERY FEE | $20 |
| WEBSITE | www.petalfoo.com |
| INSTAGRAM | @_petalfoo_ |
Petalfoo was originally spelled as "Petalful" as in "full of petals." Founder Kelly Chua eventually decided to name her business after her late father, Chua Yat Foo. Hence, Petalfoo. Petalfoo excels at unconventional bouquets and flower arrangements, whether it's incorporating fairy lights, using confetti tubes, or crafting edible bouquets from various tasty treats.
Note: One of the shops with a clear no-pickup policy during Circuit Breaker. You'll have to get the bouquet delivered.
12. Soap n Petals

Soap n Petals create stunning yet affordable bouquets to make more Singaporeans appreciate the beauty of flowers. They deliver fresh flowers free, anywhere in Singapore. They do hold frequent promotional campaigns, so you can get great deals and discounts for your orders. As indicated in their name, they also sell soaps. Their all natural cold process soaps are infused with essential oils and decorated with colourful swirls. Grab the ultimate care package of fresh florals and soaps for your friends and family from Soap n Petals.
13. The Florté

BEST FOR
Luxurious bloom boxes
SELECTION SIZE
Large
PRICE RANGE
$29 – $588
DELIVERY FEE
Standard Timeslot Delivery – $10
Specific Time Delivery (please contact us) – $20
Special locations (Changi Airport, MBS, Sentosa, Military Base Camps, Tuas, etc) – $15
Flower stands – $20
WEBSITE
www.theflorte.com
INSTAGRAM
@theflorte
The Florté uses flowers individually handpicked from trusted gardens and nurseries to ensure that customers get the freshest and top-notch quality. Their floral designs include elegant bloom boxes, lush bouquets, customised arrangements, table top blooms, everlasting flowers, congratulatory stands and condolences stand. Each product are meticulously arranged for a polished and professional final product. Sign up to their newsletter for a discount.
14. Floral Connoisseur

BEST FOR
Customised floral boxes
SELECTION SIZE
Medium
PRICE RANGE
$36 – $260
DELIVERY FEE
Calculated at checkout
Same day delivery available
WEBSITE
www.floralconnoisseur.com
INSTAGRAM
@floralconnoisseur
Floral Connoisseur caters to floral enthusiasts with a discerning eye for style. Their European-inspired arrangements of fresh flowers in hatboxes and transparent acrylic containers shows off the premium blooms to maximum effect. They also accommodate customised orders of their bestselling floral designs. Just let them know your budget, preferred flowers and colour theme.
Note: One of the flower shops that has elected to suspend operations until 11 May as a measure to avoid COVID-19. It resumes operation on 12 May, however.
15. Enchanted Fiore

| | |
| --- | --- |
| BEST FOR | Luxury Preserved Roses |
| SELECTION SIZE | Medium |
| PRICE RANGE | SGD39 – SGD699 |
| DELIVERY FEE | Free delivery for all orders in Singapore, excluding secured and special zones |
| WEBSITE | www.enchantedfiore.com |
| INSTAGRAM | @enchantedfiore |
Enchanted Fiore is Singapore's premier preserved rose specialist, but they also provide fresh bloom boxes available for flower delivery in Singapore. Fresh or preserved, their flowers are flawlessly arranged in various stylish containers, including hat boxes, acrylic boxes, gift boxes, glass domes, rustic wooden boxes, among others. Unlike the usual cut flowers, their preserved roses can last for a year! Enchanted Fiore crafts each piece to order, and caters to custom designs and preferences.
16. Tropifame Flora

| | |
| --- | --- |
| BEST FOR | Large, luxurious bouquets |
| SELECTION SIZE | Medium |
| PRICE RANGE | SGD 60.45 – SGD 362.40 |
| DELIVERY FEE | SGD 10 per location |
| WEBSITE | www.tropifameflora.com |
| INSTAGRAM | @tropifame |
Tropifame Flora By Karen branched out from her parent company Tropifame Floral Design School Pte Ltd in 2017 to focus on creating unique designs with everyday materials. They specialise in life-size bouquets and custom flower arrangements. Their online shop showcases a wide range of floral products, gift products and other flower-related services thoughtfully curated and tailored for each occasion.
17.  Craftway Floral

| | |
| --- | --- |
| BEST FOR | Contemporary floral designs for all occasions |
| SELECTION SIZE | Medium |
| PRICE RANGE | SG$30 – SG$350 |
| DELIVERY FEE | Same day delivery for orders before 1pm |
| WEBSITE | www.craftwayfloral.com.sg |
| INSTAGRAM | @craftwayfloral |
Craftway Floral opened shop in the 1990s. They professionally crafted floral arrangements for any occasion or sentiment you wish to express. The provide delivery of indvidual floral bouquets, flowers for weddings, corporate corsages, congratulatory flowers, condolence flowers, garlands, artificial flowers, artificial plants and table arrangements to all areas in Singapore. You can browse through their online catalogue for the perfect bouquet or arrangement. If you don't find anything suitable, feel free to reach out to them so their skilled floral designer can customise a floral arrangement just for you.
Note: Still delivering throughout Circuit Breaker, but their slots fill up fast, so you'll have to check on their website if any slots are still available.
18.  Flowers and Kisses

BEST FOR
Affordable modern and stylish bouquets
SELECTION SIZE
Medium
PRICE RANGE
$13.90 – $99.90
DELIVERY FEE
Standard delivery: $5.90.
Outskirt delivery: $15.
Specific time delivery: $19.90
Order by 3pm for same day delivery
WEBSITE
www.flowersandkisses.com.sg
INSTAGRAM
@flowersandkisses_sg
Flowers and Kisses started in 2017 borne out of the owner's aim of selling "quality and stylish floral bouquets at an affordable price." Damien's floral fascination was sparked during his childhood by watching his mother lovingly tending her garden. From a flower enthusiast and hobbyist, he eventually became a professional florist sharing his expertise and delivering handcrafted creations to his customers. Popular floral products at Flowers and Kisses are fun, vibrant bouquets of sunflowers, baby's breath and daisies perfect for cheering up loved ones on regular days or as graduation bouquets.
Note: Still delivering through Circuit Breaker, like the previous entry, but also with limited slots. You'll have to check if any are still open.
19.  First Sight

| | |
| --- | --- |
| BEST FOR | Exquisite, Korean-style bouquets |
| SELECTION SIZE | Small |
| PRICE RANGE | $24 – $98 |
| DELIVERY FEE | $15 |
| WEBSITE | www.firstsightsg.com |
| INSTAGRAM | @firstsight_sg |
Established in 2015, First Sight Singapore is an online floral boutique offering cute and charming fresh bouquets and preserved flowers. Their founder has made numerous trips to South Korea not only to perfect her floristry skills, but also to acquire impeccable materials to incorporate in every bouquet. As a result, customers can enjoy scrolling through their curated selection of vibrant floral designs.
20.  Lush and Love

| | |
| --- | --- |
| BEST FOR | Customisable and affordable floral arrangements |
| SELECTION SIZE | Small |
| PRICE RANGE | $49 – $160 |
| DELIVERY FEE | Free |
| WEBSITE | www.lushandlove.sg |
| INSTAGRAM | @lushandlove.sg |
Lush and love showcases a small yet varied and versatile floral designs suitable for any special occasion or feelings you may want to convey through flowers. They have garden-style, rustic arrangements in wooden boxes; pretty, petite posies in "ice cream" cones; romantic, wrapped hand bouquets; whimsical arrangements; and polished, elegant bloom boxes. Their floral creations are all reasonably priced to bring professionally handcrafted bouquets and arrangements more accessible to Singaporeans.
21.  Candy Floriculture Pte Ltd

Candy Floriculture Pte Ltd is Garden Nursery company and your one-stop shop for gardening needs, from plants, soil, and fertilizer, They also provide wholesale fresh-cut flowers in bundles imported from other countries.
Candy Floriculture was incorporated in 2006 to meet the evolving demands and requirements of their clients and patrons. They have an in-house, dedicated team well trained in the areas of floral designing, which has made Candy Floriculture win numerous awards at events such as the Singapore Garden Festival held bi-annually and many others.
In terms of pure florist options, their sister company GreenAces at https://greenacres.com.sg/ provides hand bouquets, table-top flower arrangements, centre-pieces arrangements, etc.
22.  Daisies Field

At Daisies Field, the first online and retail store of preserved flowers in Singapore, you will find the classy and bespoke preserved flower art pieces made to last longer than fresh cut flowers. The Japan-imported preserved flowers are able to last for about a year with little maintenance required. All art pieces are curated by certified preserved flower artisan who would be able to customise for your special occasions and interior deco. For those who are interested to learn, individual and corporate workshops are available too.
23.  Floristique

| | |
| --- | --- |
| BEST FOR | Artisan flower bouquets |
| SELECTION SIZE | N/A |
| PRICE RANGE | From $29 |
| DELIVERY FEE | Fees may vary |
| WEBSITE | https://www.floristique.sg/ |
| INSTAGRAM | https://www.instagram.com/floristiquesg/ |
Floristique offer a huge collection of premium flowers at affordable prices. In fact, they have been voted as the most recommended florist in Singapore and they're preferred the most for their 24 Hours express delivery island-wide.
Note: Still delivering, but has limited slots. At the time we wrote this update, all their slots were full until 12 May — orders from 13 May onwards are the only ones available now.
24.  Bucket of Blooms

| | |
| --- | --- |
| BEST FOR | Customised floral arrangements |
| SELECTION SIZE | N/A, Bespoke |
| PRICE RANGE | From $60 |
| DELIVERY FEE | Fees may vary |
| WEBSITE | www.bucketofblooms.com |
| INSTAGRAM | @bucketofblooms |
Bucket of Blooms provides floral styling for weddings, special occasions and events. They also offer one-off individual bouquets for weddings and other special events.  Instead of choosing from a selection of floral designs, Bucket of Blooms will tailor a bouquet or arrangement according to your preferences or your recipient's personality. This makes buying fresh flowers online a more interactive and personal experience. They currently offer free delivery, so make sure you stay updated with their promotions.
Note: Closed due to COVID-19 restrictions, but only temporarily. Check their page to find out when they may reopen.
25.  TOKI Flowers & Gifts

TOKI means "Time of Opportunity." This term exemplifies their belief that every day is an opportunity to celebrate and show appreciation to loved ones. TOKI is owned by a couple, Kim and Wyner, who share a passion for flowers and floristry. While they make excellent floral creations for all occasions, their romantic bouquets for proposals, anniversaries or Valentine's Day stand out. To hone their skills and keep refreshing their floral selection, they make it a point to learn from international florists (Korea, Japan, Hong Kong and US) and infusing their own personalities and creativity into their craft.
Note: Still operating throughout Circuit Breaker. If you want to get free delivery, use their code STAYHOME (valid only for orders above $59.99).
26. Bloomwerks

BEST FOR
Beautiful bespoke flowers
SELECTION SIZE
Large
PRICE RANGE

SG$50 – SG$190

DELIVERY FEE
Calculated at checkout
Orders have to be placed 2 days in advance
WEBSITE
https://www.bloomwerks.com/
INSTAGRAM
@bloomwerks
Bloomwerks is an online floral & design studio in Singapore offering flowers, styling and hands-on services. Their online catalogue showcases uniquely designed flowers fit for every occasion. Their team can handcraft arrangements be it weddings, birthday parties and any event.
27.  The Daily Blooms

(Source)
BEST FOR
Bloom of the Week, Daily Candles
SELECTION SIZE
Large
PRICE RANGE
Starts at $35
DELIVERY FEE
Delivery is free for each bloom box purchased
WEBSITE
https://thedailyblooms.com/
INSTAGRAM
CONTACT
Email:

[email protected]


Whatsapp: +65 9455 1240
PAYMENT
PayPal, Mastercard, Visa, Google Pay and Apple Pay
The Daily Blooms allows you to put a smile on your loved one's face– no matter the distance. They're well-known for uniquely shaped arch boxes, which serves to highlight the beauty of their flowers well.
Besides their weekly blooms, they also offer scented candles. If you're looking for a gift that a loved one will enjoy, make sure to buy it from The Daily Blooms.
28. K.Flower

For any celebration or event that their customer can think of, K.Flower ensure that their authentic designs should be both, unique and worthy of presenting as a decoration or gift. There also no surprises when it comes to your payment: the shop ensures that there is only flat cost, no mark-ups and no surcharge.
Note: Still open, but they're fully-booked and sold out as of this time, so you'll only be able to order flowers for delivery on 12 May onwards.
29. Outerbloom Florist
Outerbloom is a newly opened, trusted online florist based in Singapore that provides a wonderful premium selections of flower arrangements and romantic gifts for a warm surprise and complete happiness in unforgettable moments. Every single product arrangement is beautifully crafted using the finest materials, including their preserved/florever flowers where every stalk is professionally handled for it to last a year or more.
30. The Green Room

| | |
| --- | --- |
| BEST FOR | Lush and playful bouquets |
| SELECTION SIZE | Medium |
| PRICE RANGE | $40 – $200 |
| DELIVERY FEE | $20 |
| WEBSITE | www.thegreenroom.com.sg |
| INSTAGRAM | @thegreenroomsg |
The Green Room is an online flower shop in Singapore taking inspiration from the graceful beauty of nature to create beautiful, garden-style floral designs for all occasions. They keep their packaging pretty yet practical, always aiming to enhance the beauty of the blooms and foliage instead of overpowering them. Buy their flowers quickly and conveniently online or get in touch for floral consultations for weddings, events or bespoke requests.
Note: Still open during Circuit Breaker, but only as an online retailer (i.e. you have order online and get it delivered). This will last until the end of Circuit Breaker.
31.  Floral Passion

| | |
| --- | --- |
| BEST FOR | Wildflowers, preserved flowers, Baby's Breath bouquets |
| SELECTION SIZE | Medium |
| PRICE RANGE | $8 – $280 |
| DELIVERY FEE | From $15 |
| WEBSITE | www.floralpassion.sg |
| INSTAGRAM | @floralpassion.sg |
Floral Passion started in Valentine's Day 2017 fueled by a passion to share joy through the beauty of flowers. The result of this desire to spread happiness is a thoughtful collection of floral products in a variety of designs to suit different tastes and customer preferences. From a single sunflower stalk to an elegant bloom box of gold preserved roses and premium hydrangeas brimming out of a stylish hat box, you can find the perfect style and price point for you.
32.  Fleuri Garden

BEST FOR
Modern hand bouquets, Signature Designs
SELECTION SIZE
Large
PRICE RANGE
SG$15 – SG$220
DELIVERY FEE
Free delivery during working hours
There will be additional delivery charge of SG$10 for orders below SG$50
WEBSITE
www.fleurigarden.com
INSTAGRAM
@fleurigarden
Fleuri Garden is an online flower and gift shop providing fresh, affordable and customisable floral designs. You'll find various floral styling to suit different needs. Choose from unique designs, modern, classic, stylish, exotic and elegant arrangements. If you want something dramatic and showstopping, then head over to their Signature Designs featuring black marbled packaging as a chic finishing touch.
Note: Still open, but will only take orders via WhatsApp for now.
33.  The Floral Experiment

| | |
| --- | --- |
| BEST FOR | Bespoke floral arrangements |
| SELECTION SIZE | N/A, bespoke |
| PRICE RANGE | Contact the shop for prices |
| DELIVERY FEE | Fees may vary |
| WEBSITE | www.thefloralexperiment.com |
| INSTAGRAM | @theFloralExperiment |
The Floral Experiment specialises in bespoke bouquets and arrangements. If you want a unique floral gift to give to your special someone or add personal touches, then The Floral Experiment can help you create a one-of-a-kind arrangement to make flower delivery extra memorable for you and your recipient. Check out their website and social media for samples of their designs.
34.    Ferns N Petals

(Source)
BEST FOR
Flowers and gift needs for all occasions
SELECTION SIZE
Large
PRICE RANGE
S$39 – S$200
DELIVERY FEE
Depends on location
WEBSITE
https://www.fnp.sg/
INSTAGRAM
@fnp_singapore
CONTACT
+65 97279363 |

[email protected]

PAYMENT
Visa, MasterCard, PayPal, American Express
For any special occasion in your life, Ferns N Petals has your flower needs covered. Serving Singapore since 1994, they have over 1000 flowers and gifts to choose from.
With a neat filled with trained and skilled florists, they provide flowers for birthday parties, anniversaries, Valentine's day, weddings, newborn baby celebrations, and many more. Aside from flowers, they even have cakes and plants to spice up your gifts to your loved ones.
35. The Wallflower Bud

| | |
| --- | --- |
| BEST FOR | Everyday fresh and dried bouquets |
| SELECTION SIZE | N/A, bespoke |
| PRICE RANGE | From SGD 28 |
| DELIVERY FEE | Fees may vary |
| WEBSITE | https://www.thewallflowerbud.com/ |
| INSTAGRAM | http://instagram.com/thewallflowerbud |
The Wallflower Bud's creations show us that simplicity brings out the individual beauty of each flower added to your selected arrangement. From featuring seasonal buds to bridal and dried/preserved flowers, they have a variety of floral offerings to choose from.
Note: Still open, but closed on 11 May to 25 May 2020.
36. Flower Chimp

Flower Chimp offers top notch nationwide flower delivery in Singapore. They firmly believe that their service should be as laudable as the flowers they deliver. 
Moreover, the bouquets that they produce are perfect for every occasion there is. 
37. Fav Florist
Allow a special experience with buying flowers when you purchase them from Fav Florist. Handcrafted arrangements are their style and you surely will love them! Fav Florist knows how frustrating it is to order something online and to have something completely different looking to arrive in your doorstep. That's why they make sure to only post pictures of their already-made arrangements, proving just how beautiful they can design these flowers. With them, what you see is definitely what you get.
38. Applebee Flower

Applebee Flower is a home-based online florist from Sengkang that offers a customisation service for your daily flower needs for all occasions, be it anniversary celebrations or birthday surprise. Rest easy knowing that their professionals will arrange each floral arrangement so that the receivers smile once they set their eyes upon it.
39. Plush Lovers

Plush Lovers offers a wide range of products that you can gift to your loved ones for any occasions. Their bouquets are very fresh, with their newly picked flowers, and will surely make any recipient smile. They also have a wide price range, which will be great for any gift givers out there who are on a budget.
40. BloomThis

BloomThis is a premium flower shop in Singapore comprised of a diverse team that are highly skilled in different fields. The shop does not only showcase their flower products in retail but they also extend their services to 4 and 5 star hotels which eventually led to them bringing the shop online.  Their online shop is highly accessible anytime, anywhere so you would be able to easily browse through their wonderful collection.
41. Mizzu Flora

Mizzu Flora takes great pride in offering a wide range of flowers for their clients. Whether you're looking for large bouquets, boxed roses, or dried flowers, they will surely have what you need.
42. The Little Flower Shop

The Little Flower Shop's story has humble beginnings. They started off as a little flower shop in a tiny corner of a wet market in the 1990s, serving the little community. It was the dream of a small, beloved mother to have a flower shop to call her own, and little by little, the little flower shop was established in 2007.
43. LA Atelier

LA Atelier Singapore is a luxury flower design studio in Singapore that combines stylish, luxurious and elegant couture of floral collections. They bring in flowers from all over the world. With every creation they made, every arrangement they styled, and every bloom they selected, they ensured the exquisiteness of  they floral designs.
44. Floral Mikelle

Floral Mikelle specializes in bespoke floral creations and event flower bars for all occasions, both for individuals and corporates. Believing in curated flower creations to express powerful messages when words are inadequate, they hope to evoke happiness, joy, and inspiration to all through the visual beauty of floral arts. Promising the freshest flowers handpicked daily with love and designed tailoring to your needs.
45. Le Secret Fleur

Being in a male dominated industry for most of my career, Le Secret Fleur became a part of how the owner could create and design flowers with a feminine touch. Their prices are made affordable as they feel that florals shouldn't be only given on a special occasions, it should be any time to make that someone smile! Each floral designs come limited and will likely not be repeated again to provide a more unique experience for both the sender and recipient.
46. LavieFlo Singapore

LavieFlo is an online florist that specializes in Preserved Flowers. Their aspiration is to always bring an element of longevity to gift-giving by combining the everlasting nature of preserved flowers with an artistic flair. It makes an unique gift for any occasion.
47. Le Blanc Florist

| | |
| --- | --- |
| BEST FOR | Bright and creative floral pieces |
| SELECTION SIZE | Small to Large |
| PRICE RANGE | From $28 |
| DELIVERY FEE | $18 flat rate (Free delivery above $80) |
| WEBSITE | https://www.leblancflorist.co/ |
Specialising in Korean-Style Bouquet, Le Blanc Florist is an online florist based in Singapore, founded and run by Muf. Combining her creative background in the arts, graphic design, branding and her obsession with flowers, Muf's arrangements combine color and organic nature to stunning effect. Muf brings this passion to her work as a floral designer, always working collaboratively with her clients to ensure the results exceed expectations.
48. The Interior Collections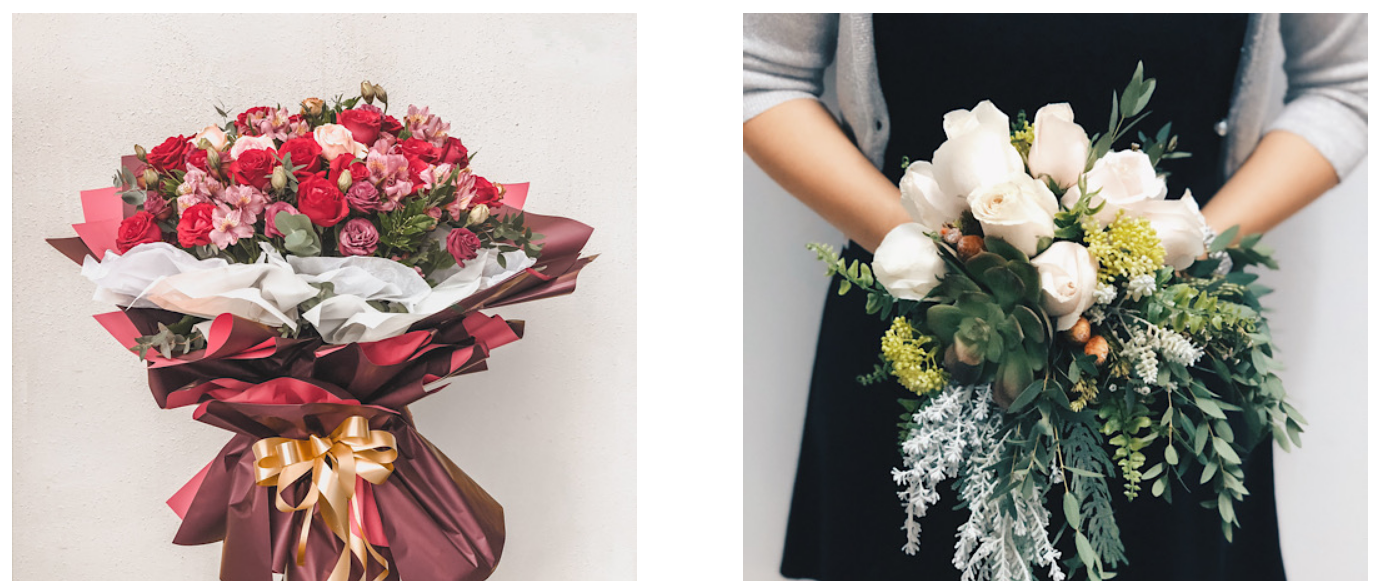 The Interior Collections team takes pride and pleasure in bringing the most unique decorative products and captivating floral arrangements to their clients. Thety leverage on their core businesses, which are complementary to each other and enables them to be more creative and cost-effective when drafting out that dream wedding or event.
49. Flower Addict

BEST FOR
Affordable high-end floral arrangements
SELECTION SIZE
Small
PRICE RANGE
$49 – $249
DELIVERY FEE
$10 for standard delivery
$25 for 3-hour express flower delivery
WEBSITE
www.floweraddict.com
INSTAGRAM
@floweraddictsg
Flower Addict handcrafts creative, contemporary designs with flexible delivery options for their customers. They use premium blooms with an emphasis on unique packaging in bespoke boxes all at reasonable prices. For every design, customers get the chance to arrange the blooms yourself or choose to have it delivered professionally arranged as a hand-tied bouquet. If you select the "Style Yourself" option, you will receive loose flowers, carefully conditioned and beautifully presented in a bespoke box. Crafty and creative customers can style and arrange the cut flowers as they please.
50. Floratorie

BEST FOR
Simple and affordable floral arrangements, wedding flowers
SELECTION SIZE
Medium
PRICE RANGE
$38 – $438
DELIVERY FEE
From $16
Same day delivery for orders by 9am
WEBSITE
www.floratorie.com
INSTAGRAM
@floratorie.co
Floratorie provides all sorts of flower-related services, including flower delivery, floral workshops, wedding floral and event styling. Their floral designs are clean and polished with lots of dainty and feminine touches. Their floral creations can blend seamlessly with any interiors, especially those with a minimalist aesthetic. Send Floratorie flowers to friends and loved ones or as a gift to yourself. Their Instagram-worthy fresh flower arrangements can serve as great accents to your home.
51. Little Red Dot Florist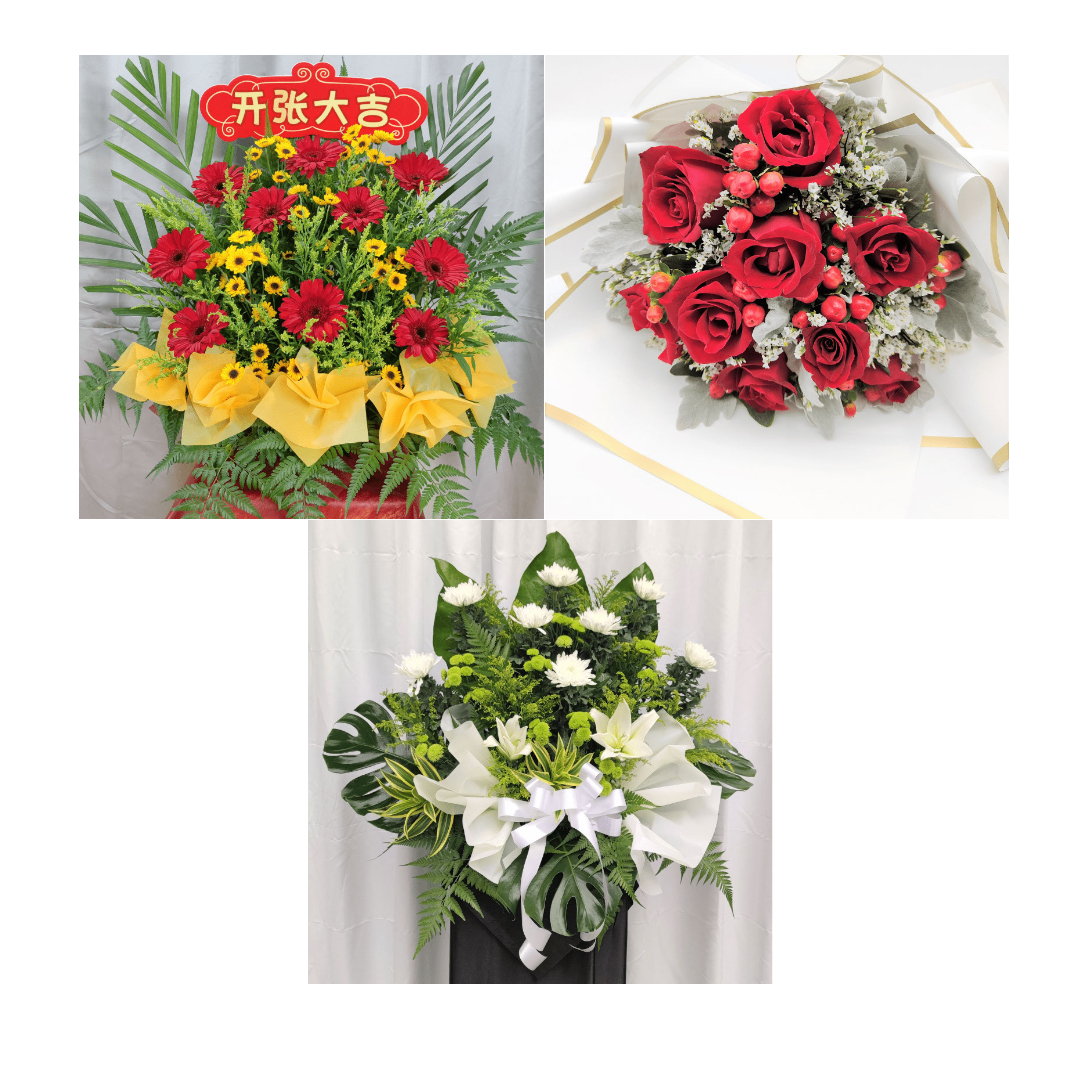 Little Red Dot Florist is a florist shop that offers same-day delivery to ensure that the flowers they give to clients are not only of quality but also of freshness. May it be for a specific occasion or simply for casual purposes, they are able to accommodate a variety of styles and flowers to deliver the right one in accordance with what the client prefers.
We like the fact that their services extend to hamper baskets to further complement their floral products which clients can avail of and customize online.
Another thing we find impressive is their lifetime membership that offers exclusive flower freebies and a 20% discount on all flower arrangements they offer for only an affordable price.
Sporting over 200 positive reviews, we find their customer service to be not only knowledgeable and reliable but also very professional when it comes to transacting and dealing with clients.
Overall, we recommend them for clients looking for a pleasant and fuss-free experience with them and flower deliveries that are always of speed and precision.
52. Petal Elements

Established in 2020, Petal Elements has been delivering gorgeous custom arrangements for all occasions. They believe that arrangements are not only meant to celebrate moments, but also to empower and inspire. 
Though they may be one of the younger florists on our list, don't let that deter you. We like that their flowers are carefully selected and freshly handpicked by their florists.
Petal Elements offer high-quality bouquets, and fresh and refined arrangements delivered right at your or your recipient's doorstep. Another thing that we like is that their delivery service stretches across the island. 
They offer standard delivery and same-day delivery. And since Petal Elements believe in "omakase," or special customized bouquets for all occasions, no matter what the size is, they will make it and they will deliver. 
Their pre-arranged bouquet price starts at $88 on their website, but the overall cost of your bouquet would depend on your specifications. 
All in all, we really like Petal Elements and their attention to the customers' wants. Their desire to make each piece standout and special is what makes this florist all the more commendable.
So that was our list of the best options for flower delivery in Singapore. How do you think we did? As always leave us a comment with who you picked in the comment section below.
Looking to delivery something else? Try our list of the best cake delivery options or fruit baskets or hampers!
---
Product photos are taken from each flower delivery or florist's official website.