Not everyone can go to the flower market and make a beautiful bouquet for special occasions. That's why flower delivery in Singapore is such a convenient service for people like us who are not crafty or are simply too busy to walk into a flower shop to pick out cut flowers.
Sometimes, we just need to send a bouquet, flower box or flower stand right away, perhaps to wish speedy recovery to a friend who was unexpectedly hospitalised or send condolences to grieving loved ones. The good news is that there are tons of online florists in Singapore offering same day flower delivery, though it may be time-consuming to go through each one just to find a reliable service.
To save you the time and effort, we have narrowed down some of the fastest and most reliable same day flower delivery in Singapore:
1. Her Flowers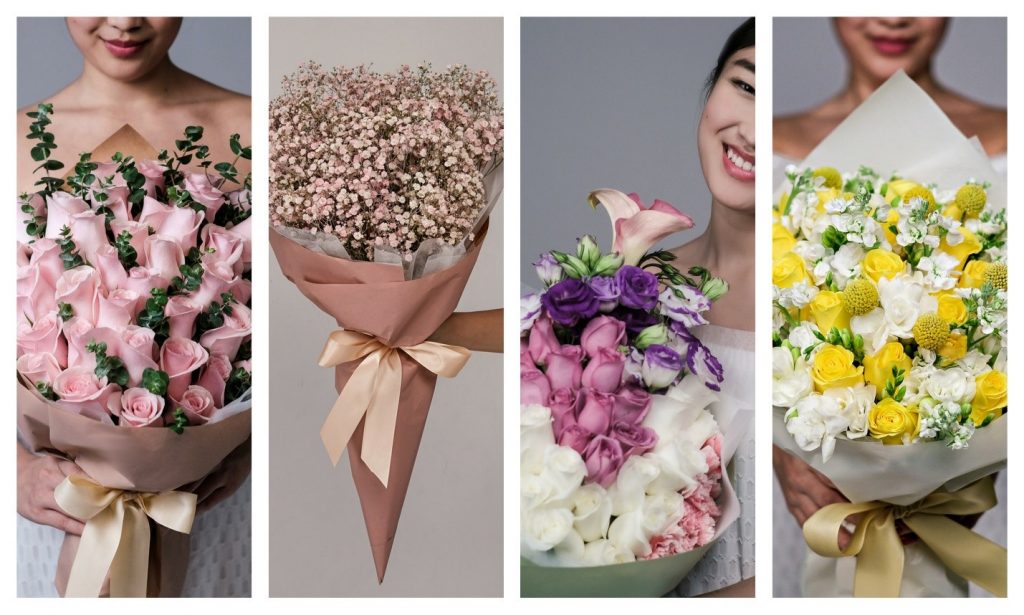 | | |
| --- | --- |
| BEST FOR | Lush handmade bouquets |
| SELECTION SIZE | Small |
| PRICE RANGE | $68 – $119 |
| DELIVERY FEE | Free same day delivery |
| WEBSITE | www.herflowers.sg |
| INSTAGRAM | @herflowerssg |
Her Flowers has large and lush hand bouquets which are surprisingly affordable. While they only have a small selection of flower arrangements, the curated collection does cover all major events and occasions like Valentine's Day, Mother's Day, birthdays and anniversaries. They also offer vase arrangements and table arrangements for funerals as well as flower stands for grand openings. Standard delivery is free to all Singapore locations, including their same day flower delivery service. Their daily delivery timeslots are 9-12pm, 12-3pm and 3-6pm.
2. A Better Florist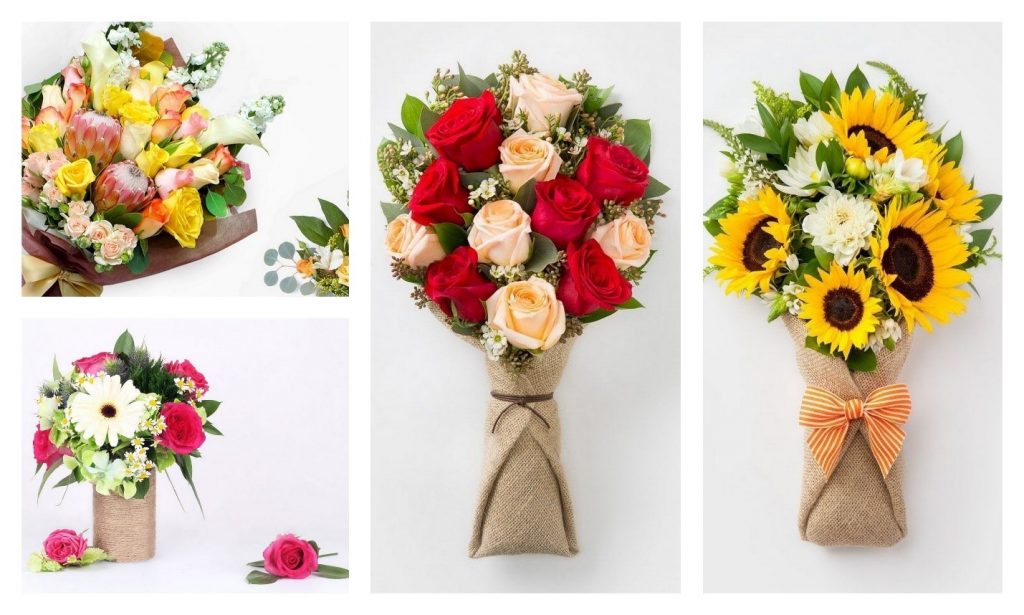 Mason jars, burlap, twine-wrapped containers and glass vessels are just some of the creative ways A Better Florist packages their bouquets and flower designs. Though the real impressive thing about them is their lightning-fast and free same day flower delivery service in Singapore, so long as you complete your transaction before 3PM. Not fast enough? Try out express flowers which delivers your order within 90 minutes!
3. Freeman Florist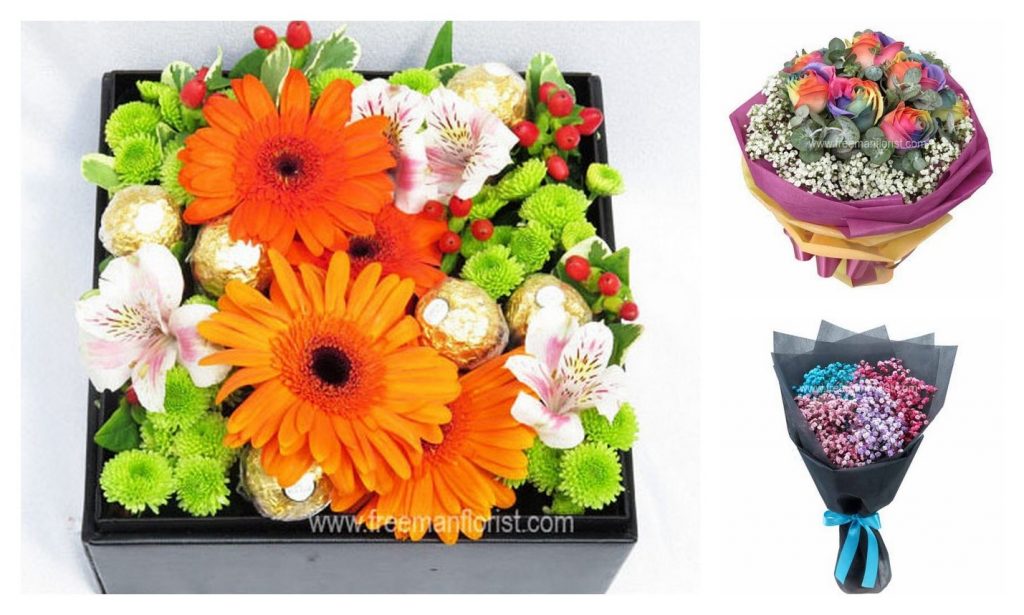 | | |
| --- | --- |
| BEST FOR | Floral arrangements for weddings and events |
| SELECTION SIZE | Large |
| PRICE RANGE | $35 – $1320 |
| DELIVERY FEE | Products are inclusive of delivery fee |
| WEBSITE | www.freemanflorist.com |
| INSTAGRAM | @freemanflorist |
Their expertise are flower arrangements for weddings and events, but they also sell retail bouquets for tech-savvy customers needing a quick delivery of flowers in Singapore. Product prices already include the delivery charge, but there is an additional surcharge of $10 for flower delivery to Army Camps, Sentosa, Changi Cargo Complex, Alps Avenue, PSA Ports and All Universities and Polytechnics.
4. Katong Flower Shop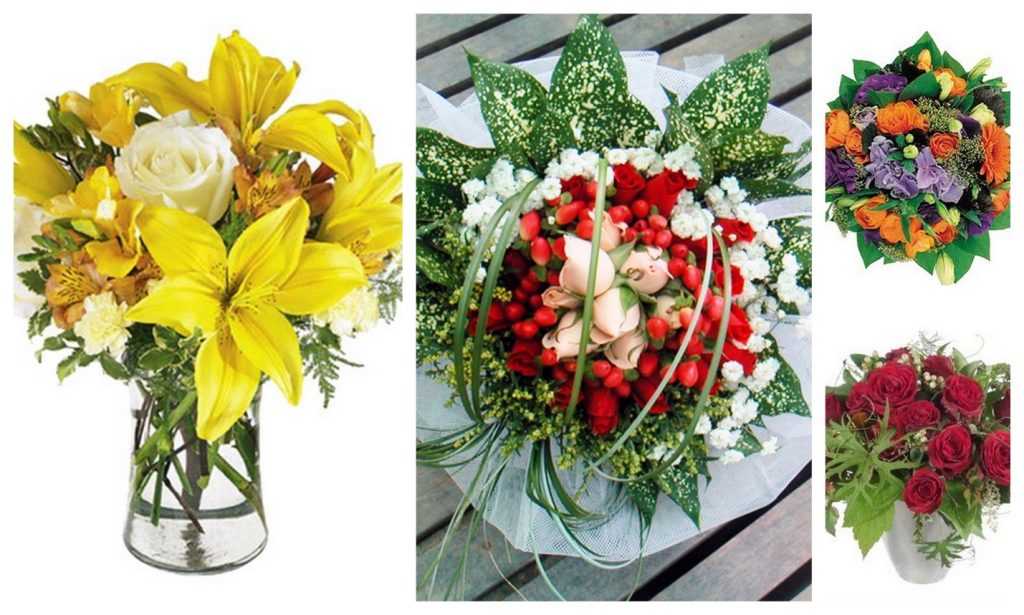 | | |
| --- | --- |
| BEST FOR | Bouquets for all budgets |
| SELECTION SIZE | Large |
| PRICE RANGE | $40 – $480 |
| DELIVERY FEE | Free |
| WEBSITE | www.katongflowershop.com |
Katong Flower Shop has been around since 1948. They have a large selection of flowers for all occasions and options from cheap flowers to deluxe bouquets. They provide free flower delivery island-wide except for Sentosa or on-board vessels where an additional $21.40 delivery surcharge applies. To get your flowers within the day, purchases must be made before 2pm.
5. Urban Meadow


Best known for their long-lasting daily surprise bunches that don't cost the earth, the people at Urban Meadow believe in making the small moments special and the big occasions perfect! They are inspired by nature's wild meadows and use the freshest flowers in Singapore to handcraft their bunches. To make it fast and simple for customers to buy flowers online, they design one arrangement of flowers per day instead of overwhelming them with endless options. Plus, you can make someone smile for just SG$35 including delivery. What's better than that?
6. Prince's Flower Shop

| | |
| --- | --- |
| BEST FOR | Romantic bouquets and flower arrangements for all occasions |
| SELECTION SIZE | Large |
| PRICE RANGE | SG$58 – SG$350 |
| DELIVERY FEE | Free Same Day Delivery (Order before 4pm) |
| WEBSITE | www.prince.com.sg |
| INSTAGRAM | @princeflowershop |
Founded in 1966, Prince's Flower Shop provides flowers for all occasions available for flower delivery in Singapore. From birthdays to grand openings and Valentine's Day, their wide selection of floral designs allows customers to  conveniently buy flowers online for free same day delivery island-wide. Their modern hand bouquets are particularly lovely and suitable for surprising your significant other or simply to make a regular day extra special with a surprise flower delivery.
7. June Florist


| | |
| --- | --- |
| BEST FOR | Weddings & events |
| SELECTION SIZE | Medium |
| PRICE RANGE | From SG$32 |
| DELIVERY FEE | Calculated at checkout |
| WEBSITE | www.juneflorist.com.sg |
| INSTAGRAM | @junefloristsg |
Established in 1982, June Florist specialises in large scale floral arrangements for special events, including wedding and banquet decorations, flower arrangements, decorations for conferences as well as exhibitions. Their extensive experience and in-depth knowledge of all aspects of wedding planning allows them to help numerous couples create their dream weddings with high quality, creative floral designs. You can also order online for individual bouquets and arrangements professionally handcrafted for all occasions.
8. Beato


| | |
| --- | --- |
| BEST FOR | Bespoke floristry |
| SELECTION SIZE | Medium |
| PRICE RANGE | SG$60 – SG$750 |
| DELIVERY FEE | From SG$20 |
| WEBSITE | www.beato.com.sg |
| INSTAGRAM | @beatofiore |
Beato stands out from other florists and flower shops for their unwavering attention on originality and creativity. Flower lovers looking for one-of-a-kind bouquets and arrangement will enjoy Beato's bespoke floristry. You can choose between omakase (floral designer's choice) or ala carte where you'll find a diverse range of styles, such as a single stem, lush mix of seasonal hand bouquets, exquisite styling in vases, their signature gift styling / hampers or flower stand arrangements suitable for any occasion or intention.
Aside from providing flowers, Beato also offers floral therapy through Whitespace. Whitespace is an idea to create mindfulness and promote mental well-being while participants get the opportunity to unleash their creativity and bring their masterpiece home. You can visit their page for more details: https://beato.com.sg/product/whitespace/
9. FlowerEmpire


| | |
| --- | --- |
| BEST FOR | Artisan flower bouquets & bespoke arrangements |
| SELECTION SIZE | Medium |
| PRICE RANGE | From SG$88 |
| DELIVERY FEE | Calculated at checkout |
| WEBSITE | www.flowerempire.sg |
| INSTAGRAM | @flowerempire.sg |
FlowerEmpire, a Singapore-based bespoke florist, creates chic and outstanding celebratory bouquets and floral designs for weddings, events, photoshoots and workshops. The owner, a European floral designer and decorator based in Singapore, has over 10 years of experience. Customers can purchase her floral designs and compositions online which showcases a diverse range of original, luxe bouquets and arrangements suitable for any occasion.
10. Mood Fleur


BEST FOR
Daily Bouquets, Weddings & Events
SELECTION SIZE
Medium
PRICE RANGE

SG$ 15 (mini bouquets) – SG$250

DELIVERY FEE
Standard delivery rates at SG$15 per item in cart
Additional items in cart at SG$4 each
Surcharge of SG$10 applies for delivery to Sentosa, Tuas & Changi AirportOrder before 10am for same day delivery
WEBSITE
www.moodfleur.com
INSTAGRAM
@moodfleur
Mood Fleur is a floral art studio based in Singapore. They specialise in various floral works, including daily bouquets, floral styling for weddings & events, floral jams and workshops. Customers can conveniently buy flowers to surprise loved ones with same day delivery. Couples can also rest easy as Mood Fleur takes care of the floral details, from bridal bouquets, bridal car decorations to wedding decorations.
11. Daisiesfield

| | |
| --- | --- |
| BEST FOR | Preserved Flowers |
| SELECTION SIZE | Medium |
| PRICE RANGE | $50 – $600 |
| DELIVERY FEE | Free delivery for purchase S$150 & above, otherwise S$10 flat fee is applicable. |
| WEBSITE | www.daisiesfield.com/floral-shop |
| INSTAGRAM | @Daisiesfieldsg |
Daisiesfield offers elegant and premium quality of preserved flowers imported from Japan. Each of the flower art piece is created with love by certified artisan to create gorgeous flower arrangements which last for months and beyond. Little maintenance is required with no water or sunlight needed. You can now keep your flowers longer and more meaningfully. Contact us for bespoke flower gifts or wedding accessories now.
12. Poppy Floral Studio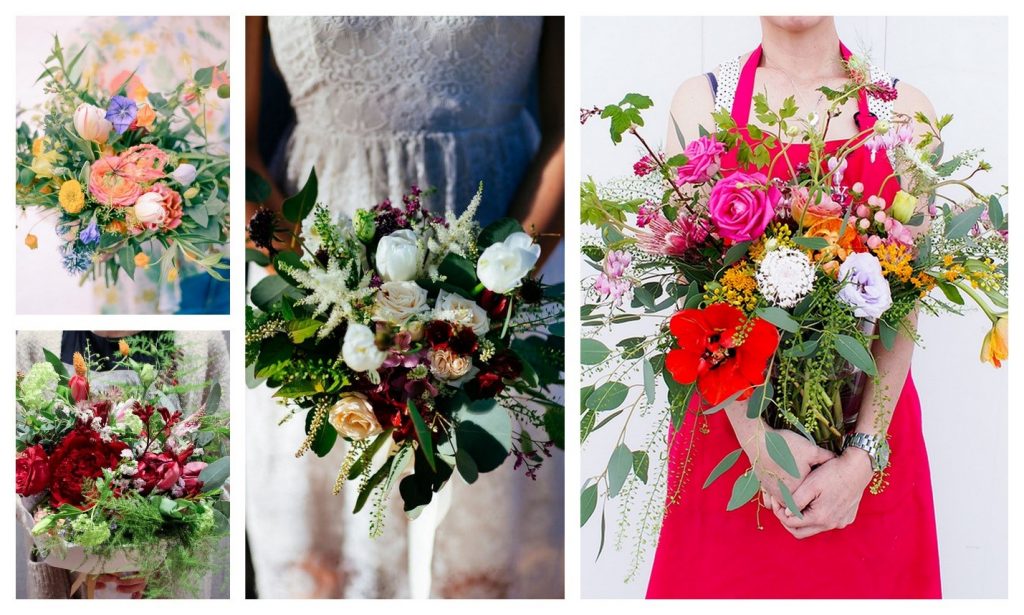 BEST FOR

Rustic flower arrangements

SELECTION SIZE

Small

PRICE RANGE

$105 – $145

$218 and up for bespoke arrangements

DELIVERY FEE

$25

WEBSITE

www.poppy.com.sg

INSTAGRAM

@poppyflorastudio
Poppy Floral Studio manages to use wildflowers and filler foliage to make their flower arrangements look farm-fresh and blooming. Their signature aesthetic has that laid-back and freshly-picked touch. Expect your bohemian blooms to be delivered to your doorstep in perfect condition with a standard fee of $25. Just make sure your order before 2pm.
13. Hazel Florist and Gifts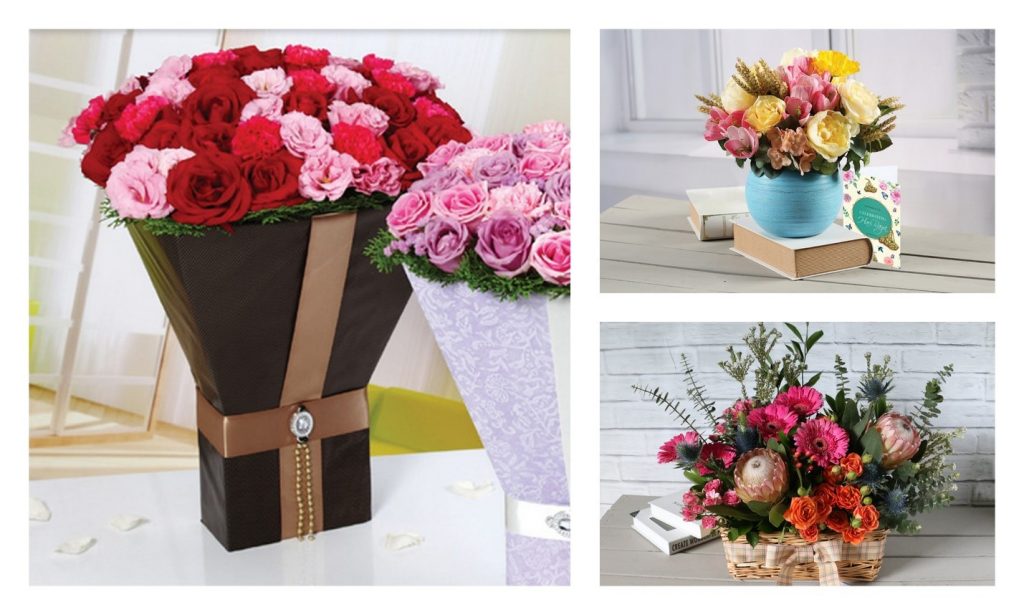 | | |
| --- | --- |
| BEST FOR | Artificial blooms |
| SELECTION SIZE | Large |
| PRICE RANGE | $50 – $1500 |
| DELIVERY FEE | Free delivery for purchases $67.41 and up |
| WEBSITE | www.hazel.com.sg |
| INSTAGRAM | @hazelflorist |
Hazel Florist has a variety of packaging options for your fresh flowers, from baskets to flower cones and transparent bags. If you just want to send a gift without burdening the recipient with flower upkeep, Hazel Florist also has a range of natural-looking artificial blooms. There is a surcharge of $20 for deliveries to Singapore islands (e.g. Sentosa and Jurong Island) and restricted areas such as the Airport Passenger Terminals, Airport Cargo Complex, PSA ports and military camps. Order before 3pm to avail their same day flower delivery in Singapore.
14. Sing See Soon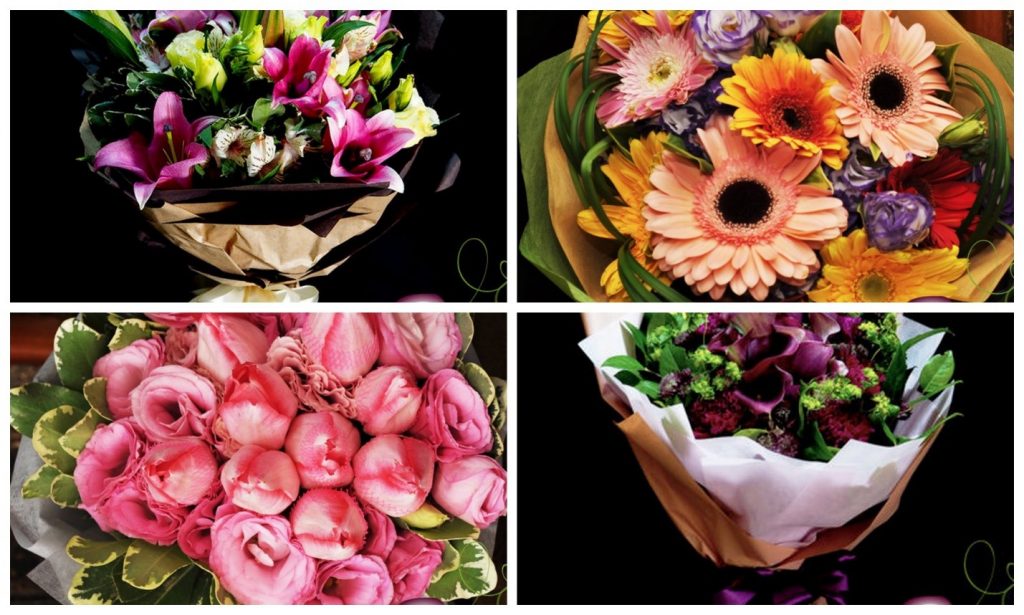 Sing See Soon works with big companies for corporate events. They've already worked with The Ritz Carlton and Marina Bay Sands to make their venues more luxurious with their flower arrangements. You can experience the same kind of luxury with their lovely bouquet of fresh flowers. Their flowers are sourced from several countries, including New Zealand, Thailand, India, Malaysia and Holland. To get your order within the day, just pay their standard flower delivery fee of $10.
15. Roses Only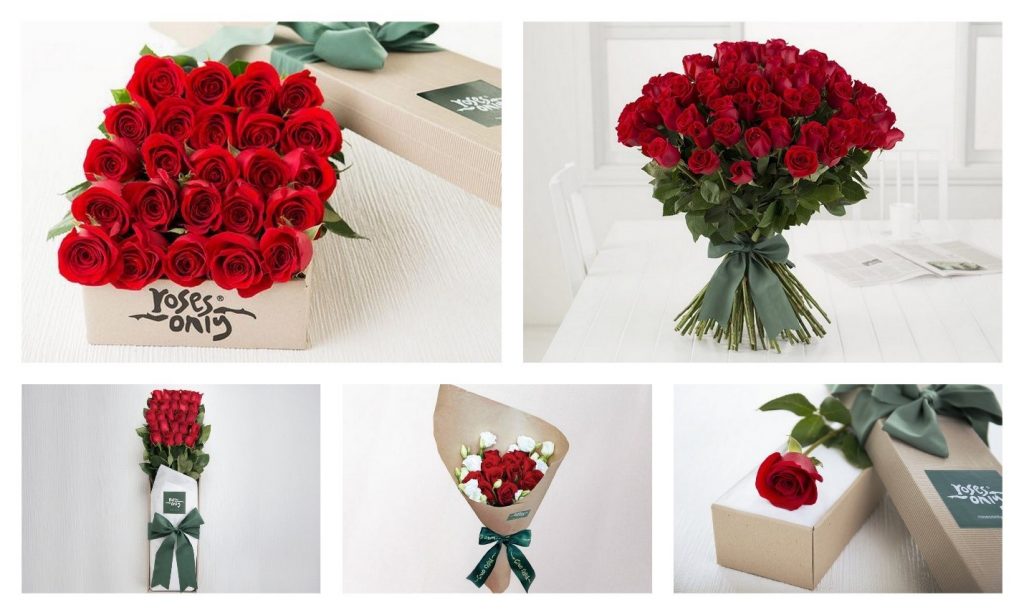 This Australian flower company specialises in roses, but they also have other flower varieties on their online shop. But if you want a lot of options and rose varieties for your flower delivery purchase, then they're the online florist for you. The classic long-stemmed roses are their specialty, in colourful hues of reds, whites, yellows and purples. Order by 5pm for their free same day flower delivery.
16. Dancing Petals

| | |
| --- | --- |
| BEST FOR | Eco-friendly creations |
| SELECTION SIZE | Large |
| PRICE RANGE | From $55 |
| DELIVERY FEE | Free |
| WEBSITE | https://www.dancingpetals.sg/ |
| INSTAGRAM | N/A |
If your recipient is environmentally conscious, he/she will love Dancing Petal's dreamy creations. Dancing Petal's signature GAIA collection is Singapore's first 2-in-1 flower bouquet that incorporates a specialized message with an eco-friendly linen wrap.
17. Flora Moments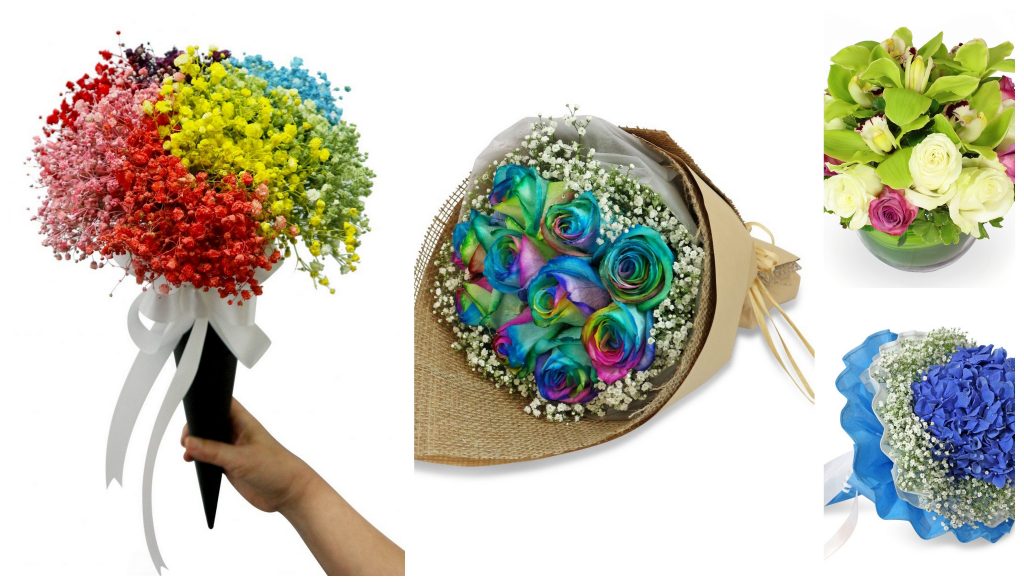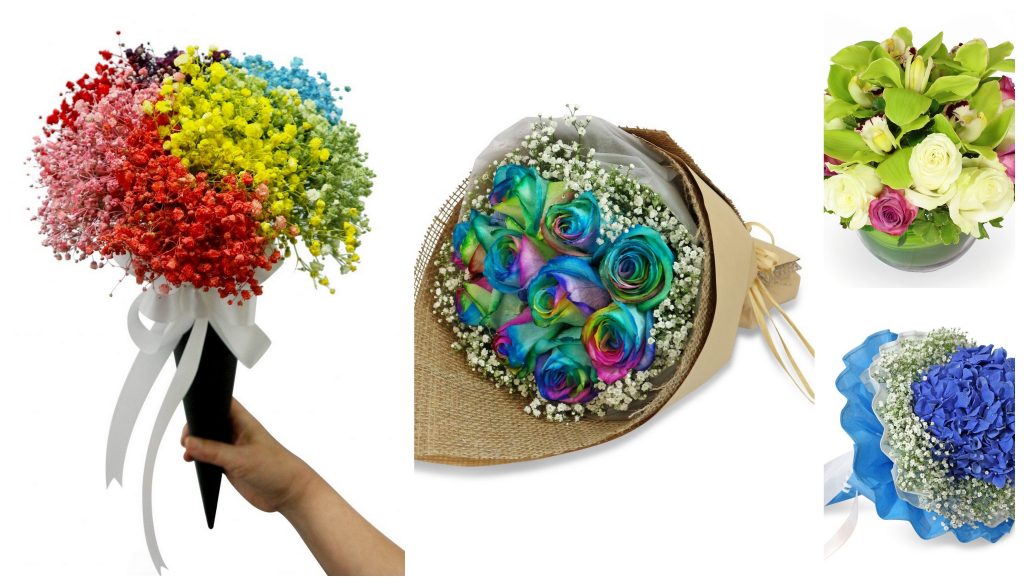 For extra colourful bouquets, you may want to try out rainbow bouquets from Flora Moments. Their flower arrangements are equally colourful and vibrant, so they're great for happy and festive occasions. You can also customise your order with their online shop's filter options for occasion, recipient and preferred colour for the bouquet. Same day delivery in Singapore is free during regular office hours, but with varying surcharge rates during early morning and late evening deliveries as well as holidays. They have daily deliveries from 7am to 12midnight.
18. Secret Garden

| | |
| --- | --- |
| BEST FOR | Proposal bouquets |
| SELECTION SIZE | Large |
| PRICE RANGE | $85 – $380 |
| DELIVERY FEE | Free |
| WEBSITE | http://www.secretgarden.com.sg/ |
| INSTAGRAM | |
Do you want to sweep your loved one off his/her feet with a stunning flower arrangement? Let Secret Garden help you complete the romantic celebration with their graceful-looking proposal bouquets.
19. Floral Singapore
| | |
| --- | --- |
| BEST FOR | Large selection of bouquet and gift options |
| SELECTION SIZE | Large |
| PRICE RANGE | From $58 |
| DELIVERY FEE | Free |
| WEBSITE | https://floralsingapore.com/ |
| INSTAGRAM | https://www.instagram.com/floral5411/ |
Floral Singapore has more than 1,500 flower and gift options that are available all day, every day. We have an affectionate customer service team to provide you a very easy way for a solution. Running 24/7, they can offer same day flower delivery services and urgent deliveries (in as quick as three hours) for an anniversary or birthday to any selected location in Singapore.
---
Product photos are taken from each flower delivery or florist's official website.