The 10 Best Options for Same Day Flower Delivery in Singapore
Picking a florist is hard. On top of that, they also have to be reliable? Have the bouquet you love? Available TODAY? Now that's just too hard to find. 
Luckily, we did the work for you.
Lo and behold, 20 hours, 89 emails, and far too many coffees later, here is our list of the 17 best florists for same day delivery in Singapore, ranked the best in quality, variety, and price!
We promise they're all tried-and-true, mother-approved. So, without further ado, here are the best options for same-day flower delivery in Singapore!
Note: Because of the current pandemic and Circuit Breaker, some of the shops we've listed here have implemented service limitations. For example, most of them do not allow collection/pickup of bouquets by customers during Circuit Breaker, to limit COVID-19 exposure.
Where applicable, we've noted relevant policy or service changes for the shops below. Most of these are still taking orders online or by phone during Circuit Breaker, unless noted otherwise.
1. Her Flowers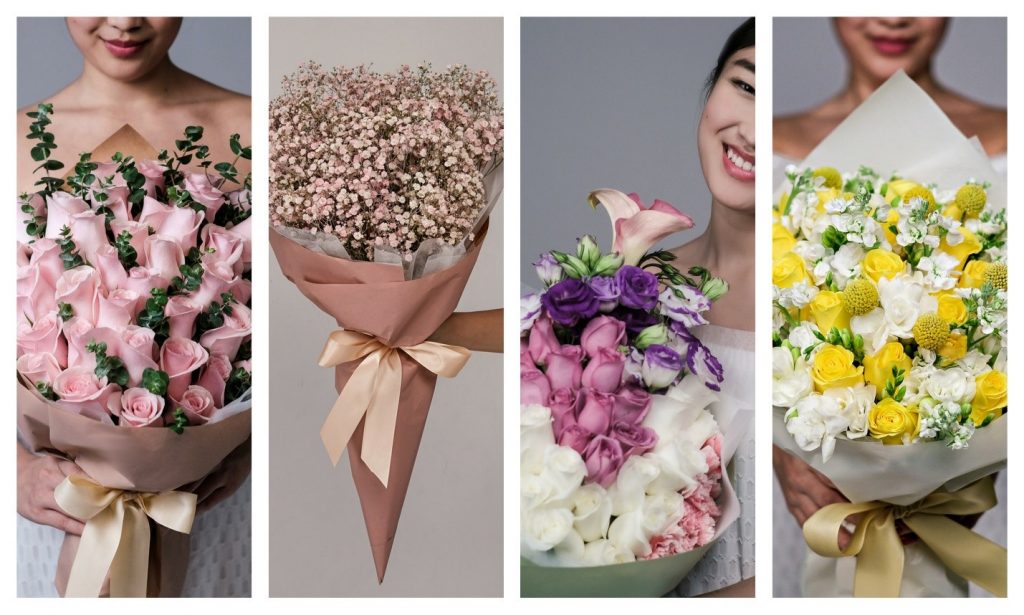 | | |
| --- | --- |
| BEST FOR | Lush handmade bouquets |
| SELECTION SIZE | Small |
| PRICE RANGE | $68 – $119 |
| DELIVERY FEE | Free same day delivery |
| WEBSITE | www.herflowers.sg |
| INSTAGRAM | @herflowerssg |
Her Flowers has large and lush hand bouquets which are surprisingly affordable. While they only have a small selection of flower arrangements, the curated collection does cover all major events and occasions like Valentine's Day, Mother's Day, birthdays and anniversaries. They also offer vase arrangements and table arrangements for funerals as well as flower stands for grand openings. Standard delivery is free to all Singapore locations, including their same day flower delivery service. Their daily delivery timeslots are 9-12pm, 12-3pm and 3-6pm.
2. A Better Florist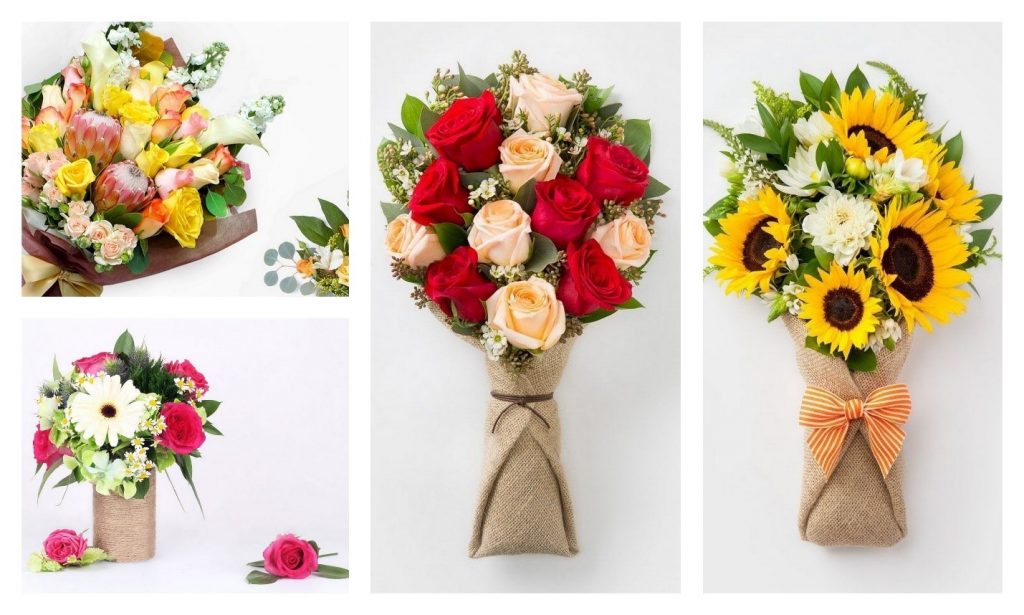 Mason jars, burlap, twine-wrapped containers and glass vessels are just some of the creative ways A Better Florist packages their bouquets and flower designs. Though the real impressive thing about them is their lightning-fast and free same day flower delivery service in Singapore, so long as you complete your transaction before 3PM. Not fast enough? Try out express flowers which delivers your order within 90 minutes!
3. Urban Meadow

| | |
| --- | --- |
| BEST FOR | Unique daily designs from market-fresh flowers |
| SELECTION SIZE | Small |
| PRICE RANGE | From SGD 35 |
| DELIVERY FEE | Free Delivery, island wide |
| WEBSITE | https://www.urbanmeadowflowers.com.sg/ |
| INSTAGRAM |  @urbanmeadowflowers |
| CONTACT | [email protected] |
| PAYMENT METHODS | Visa, Mastercard, American Express, PayPal |
Best known for their long-lasting daily surprise bunches that don't cost the earth, the people at Urban Meadow believe in making the small moments special and the big occasions perfect! They are inspired by nature's wild meadows and use the freshest flowers in Singapore to handcraft their bunches. To make it fast and simple for customers to buy flowers online, they design one arrangement of flowers per day instead of overwhelming them with endless options. Plus, you can make someone smile for just SG$35 including delivery. What's better than that?
Note: They're temporarily closed, but that's only until Circuit Breaker ends. Operations resume at the beginning of June.
4.     Flower Story

(Source)
| | |
| --- | --- |
| BEST FOR | Luxurious bouquets with tons of personality |
| SELECTION SIZE | Medium |
| PRICE RANGE | SGD 28 – SGD 150 |
| DELIVERY FEE | From SGD 15* |
| WEBSITE | www.flowerstory.com.sg |
| INSTAGRAM | @flowerstorysg |
| CONTACT | 65551116 | [email protected] |
| PAYMENT | Visa, Mastercard, Fund Transfer via Bank |
*Delivery prices vary depending on delivery time
Just like people, Flower Story's bouquets are brimming with personality. One can be dark and edgy, while another would be sweet in pastel perfection. Their Valentine's Day flowers in Singapore are full of hand-picked flowers from the best flower farms in Ecuador, Holland, China, Vietnam, Malaysia, Taiwan, Africa and many more countries to give you the best and largest varieties of flowers.
Flower Story is open daily, including public holidays. During the Valentine's Day period, flower delivery fee is at $25 per trip before 5pm. Orders before 5pm will be delivered on the same day.
Note: They only do deliveries at the moment and accept no walk-ins. Their current operating hours run from 9am to 5pm.
5. June Florist

| | |
| --- | --- |
| BEST FOR | Weddings & events |
| SELECTION SIZE | Medium |
| PRICE RANGE | From SG$32 |
| DELIVERY FEE | Calculated at checkout |
| WEBSITE | www.juneflorist.com.sg |
| INSTAGRAM | @junefloristsg |
Established in 1982, June Florist specialises in large scale floral arrangements for special events, including wedding and banquet decorations, flower arrangements, decorations for conferences as well as exhibitions. Their extensive experience and in-depth knowledge of all aspects of wedding planning allows them to help numerous couples create their dream weddings with high quality, creative floral designs. You can also order online for individual bouquets and arrangements professionally handcrafted for all occasions.
6. Mood Fleur

BEST FOR
Daily Bouquets, Weddings & Events
SELECTION SIZE
Medium
PRICE RANGE

SG$ 15 (mini bouquets) – SG$250

DELIVERY FEE
Standard delivery rates at SG$15 per item in cart
Additional items in cart at SG$4 each
Surcharge of SG$10 applies for delivery to Sentosa, Tuas & Changi AirportOrder before 10am for same day delivery
WEBSITE
www.moodfleur.com
INSTAGRAM
@moodfleur
Mood Fleur is a floral art studio based in Singapore. They specialise in various floral works, including daily bouquets, floral styling for weddings & events, floral jams and workshops. Customers can conveniently buy flowers to surprise loved ones with same day delivery. Couples can also rest easy as Mood Fleur takes care of the floral details, from bridal bouquets, bridal car decorations to wedding decorations.
Note: They were temporarily closed, but resumed operations on 12 May.
7. Floral Singapore

| | |
| --- | --- |
| BEST FOR | Large selection of bouquet and gift options |
| SELECTION SIZE | Large |
| PRICE RANGE | From $58 |
| DELIVERY FEE | Free |
| WEBSITE | https://floralsingapore.com/ |
| INSTAGRAM | https://www.instagram.com/floral5411/ |
Floral Singapore has more than 1,500 flower and gift options that are available all day, every day. We have an affectionate customer service team to provide you a very easy way for a solution. Running 24/7, they can offer same day flower delivery services and urgent deliveries (in as quick as three hours) for an anniversary or birthday to any selected location in Singapore.
8. Happy Flowers Singapore

| | |
| --- | --- |
| BEST FOR | Simple, affordable and long-lasting bouquets & arrangements |
| SELECTION SIZE | Medium |
| PRICE RANGE | SGD 68 – SGD 400 |
| DELIVERY FEE | Free Same Day Delivery |
| WEBSITE | www.happyflowers.sg |
| CONTACT | +65 3163 1525 |
Happy Flowers serves as an ambassador of happiness in Singapore through their beautifully crafted and affordable blooms. To make sure they put a smile on their customer's face, quality and speed go hand-in-hand. That's why their slogan is "Happiness delivered wherever in 90 minutes!" Their professional florist handcrafts each order using the freshest blooms sourced from flower farms in Cameron Highlands for long-lasting floral designs. From modern hand bouquets, gorgeous grand opening stands and comforting funeral wreaths, Happy Flowers pays special attention to details to convey the appropriate story and emotion. Then, their impressively fast flower delivery in Singapore ships the order from the shop to the recipient's doorstep in less than 2 hours. So, make someone happy today with Happy Flowers!
9. Flowers & CO

| | |
| --- | --- |
| BEST FOR | Beautiful curated bouquets for all occasions |
| SELECTION SIZE | Medium |
| PRICE RANGE | SG$65 – SG$130 |
| DELIVERY FEE | Free Same Day Delivery |
| WEBSITE | www.flowersandco.sg |
| CONTACT | +65 3163 9387 |
With Flowers & CO Singapore, you don't have to suffer through last-minute supermarket dashes and disappointing deliveries. You can conveniently buy their beautiful bouquets for all occasions online, at your own time and comfort, and simply wait for the flowers to be delivered in no time with their 90-minute guaranteed express delivery islandwide! They have developed their bespoke presentation boxes that not only highlight the beauty of the flowers inside, they also serve to preserve and protect every petal. Lastly, you won't have to blow your budget with their budget-friendly options that are equally stunning.
10. Flower Chimp

Flower Chimp offers top notch nationwide flower delivery in Singapore. They firmly believe that their service should be as laudable as the flowers they deliver. 
Moreover, the bouquets that they produce are perfect for every occasion there is. 
---
Product photos are taken from each flower delivery or florist's official website.