The 8 Best Options for Chocolate Delivery in Dubai
They say chocolates are a good source of energy. One bar of it is enough to keep you happy and giddy all day long.
Share this energy and happiness with your friends and families and send them delicious boxes of chocolates especially from the collection of these shops in Dubai offering chocolate delivery.
Note: Due to the COVID-19 crisis, some of the chocolate delivery companies included below could have delayed orders and limitation in their offerings, unless stated otherwise. Come back often, as we will regularly update this post if you plan to order some chocolates.
1.      JOI GIFTS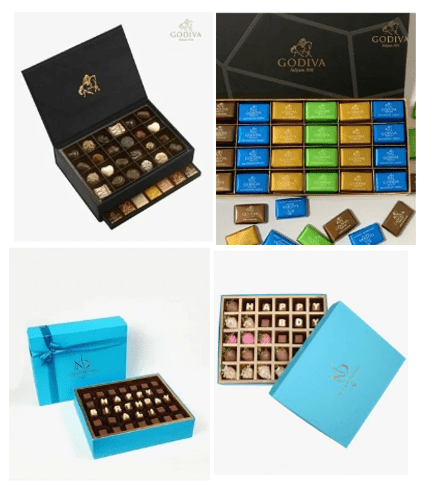 Joi Gifts is your one-stop shop when it comes to premium quality gift products. One of their most popular products are chocolates which are also available for delivery.
These chocolates come in different sizes, shapes, and presentation but one thing in common is they are all scrumptious and best in quality.
Note: You can order some tempting chocolate treats from their website. Following cleanliness guidelines, they will deliver your chocolates to you contact-less so that it helps to limit everyone's exposure from COVID contaminants.
WHAT PEOPLE LIKE
You will be pleased to know that their chocolate products are sold at very affordable prices without having to compromise the quality and quantity.
CHOCOLATES FOR ALL OCCASIONS. Whether you are sending chocolate gifts for a birthday celebration, mothers' day, Valentine's Day, Christmas, etc., Joi Gifts can always provide you with the best kind they have in their collection.
PRODUCTS
Chocolate Gifts – AED 70 to AED 300
Birthday Gifts – AED85 to AED 300
DELIVERY AND PAYMENT
Visa, MasterCard, AMEX, PayPal, Mada
2.      MANGE TOUT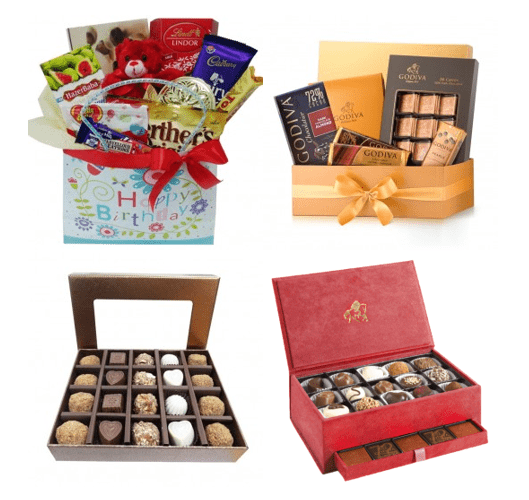 Mange Tout offers an extensive range of gift hampers, primarily food products. This includes fruit baskets, cakes, picnic hampers, and of course chocolate treats.
The shop holds a passion for guaranteeing client satisfaction by offering a seamless and complete online shopping experience. Not only do they offer a secure and complete online shopping experience, we also do gifts delivery to any location in Dubai.
Note: You can order chocolates on their website, although your order might take a bit longer than usual because of the current situation.
WHAT PEOPLE LIKE
EASY TO ORDER. The shop makes it easier for their clients to place their orders and purchase their desired chocolates by simply visiting their website and settling their payments.
PRODUCTS
Chocolate Treats – AED183 to AED700
DELIVERY AND PAYMENT
Visa, MasterCard, AMEX
3.      THE PERFECT GIFT LLC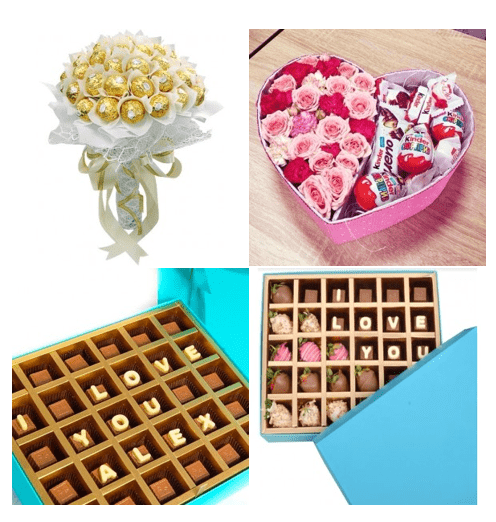 The Perfect Gift LLC stays true to its name because this is where you can find the best and perfect gifts for all occasions. From fresh flowers to fruit baskets to tasty chocolates, the shop guarantees that they have everything you need.
All of their products were also pre categorized according to kind and purpose so you no longer have to spend too much time checking each of their items and you can just easily shop.
WHAT PEOPLE LIKE
GOOD SERVICE. The shop is not applauded for their delicious products, they are also recognized for their wonderful service starting from giving you the best options of chocolates up until their reliable delivery services.
VALUE FOR MONEY. The Perfect Gift LLC gives back to their beloved clients for all the money and trust invested in them and their products by creating premium quality products that will definitely please your mouths.
PRODUCTS
Chocolate Bouquets – AED 230 to AED500
Chocolate with message – AED250 to AED 500
DELIVERY AND PAYMENT
Contact shop for more details.
4.      CAKES & GIFTS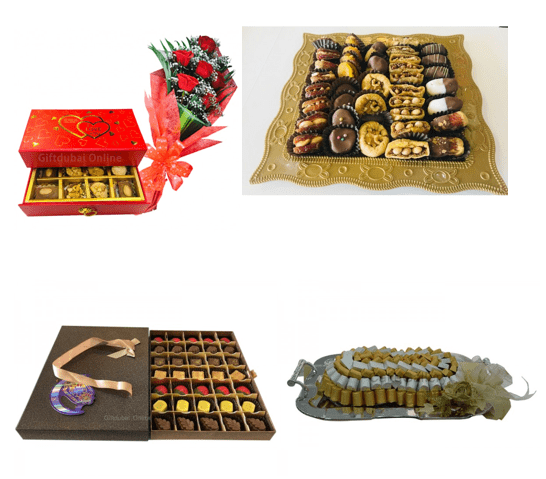 Cakes & Gifts offers a large selection of gift products from fresh flowers to delicious cakes and chocolates. Whatever kind of occasion you may be celebrating or you're just having cravings for some delicious chocolates, Cake & Gifts guarantees to deliver premium quality chocolates right at your doorstep.
Note: Deliveries from Cakes & Gifts are available online. However, orders might take longer because of the global pandemic.
WHAT PEOPLE LIKE
DIVERSE PRODUCTS. Aside from amusing their clients with their deluxe chocolates, Cakes & Gifts also fill up their tanks with other sweet products such as cakes, cupcakes, and other sweet treats.
CORPORATE GIFTS. Make your clients and business partners happier by sending them chocolate boxed as your corporate gift especially made by the talented team of Cakes & Gifts.
PRODUCTS
Assorted Chocolates – AED107 to AED300
DELIVERY AND PAYMENT
Contact shop for more details.
5.      CHOCOVANA CHOCOLATERIE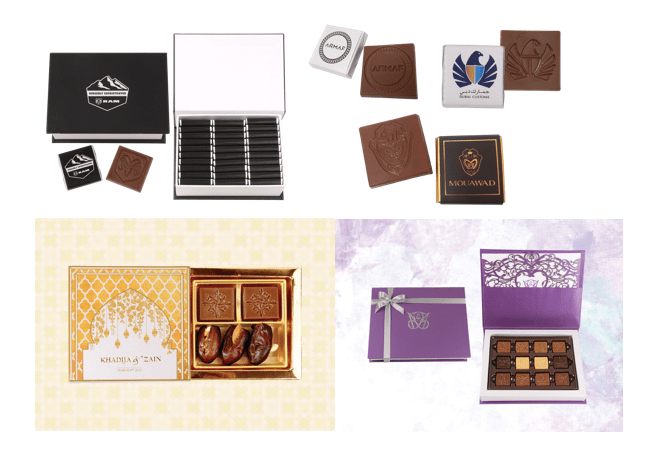 Make someone's day sweeter than ever by sending them these boxes of chocolates that Chocovana Chocolaterie offers. These boxes are full of premium qualities that vary in quantity and each box is molded into unique designs for added creativity.
Should you decide to have your order customized, the team of Chocovana Chocolaterie will gladly create them as you requested.
| | |
| --- | --- |
| SPECIALTY | Custom made chocolates |
| SELECTION SIZE | Large |
| STARTING PRICE | Contact the shop for the price list |
| DELIVERY FEE | Calculated at checkout |
| WEBSITE | http://www.chocovana.com/ |
| SOCIAL MEDIA | |
| CONTACT DETAILS | +971 50 7349202 |
WHAT PEOPLE LIKE
SPECIALTY MOLDS. Do you prefer to eat chocolate that looks like your favorite superhero? Or maybe a chocolate that looks exactly like your pet? You can have all of those at Chocovana Chocolaterie as they offer custom made chocolate molds.
PRODUCTS
Wedding Chocolate
Corporate Chocolate
DELIVERY AND PAYMENT
Contact shop for more details.
6.      LEE CHOC CHOCOLATE
What do you think is the best gift that you can give to your friends? Something that will make them feel how much you adore them? Do you want to explore the world of chocolates?
If you do, then let us introduce you to Lee Choc Chocolate. They have a huge collection of deluxe chocolates. Some of them even come in gift boxes so you can instantly send it to them and don't have to bother wrapping them.
WHAT PEOPLE LIKE
100% CUSTOMER SATISFACTION. Based on the good reviews that the shop is getting, you will see how great they are in the work that they do and how pleased their clients are with the products and services that they are getting.
EXPERT TEAM. The team that creates the chocolate products consist of professional chocolatiers that always go the extra mile in providing excellent products and delivery services.
PRODUCTS
DELIVERY AND PAYMENT
Contact shop for more details.
7.      4YOU CHOCOLATES

4 You Chocolate Company was established in Dubai the United Arab Emirates in 2015. They task themselves to import unique products that are not available in the UAE market which are chocolates, chips, biscuits, drinks and other products.
They pride themselves to be one of the first companies to bring new and unique products for occasions such as birthdays, Valentine's Day, Diwali, Ramadan, Eid and and holidays in the UAE.
WHAT PEOPLE LIKE
EXPERT TEAM. Their team is professional and highly skilled in performing their business which results in customer satisfaction.
ASSORTED CHOCOLATES. The variation of sweets and chocolates available at their shop to satisfy what your taste buds are craving.
PRODUCTS
Harrods London Bear Post Box Toffee Tin 200g – DHS 90
Harrods Choc Chip Shortbread Tin 200g – DHS 90
DELIVERY AND PAYMENT
Shipping is made available to all UAE regions with a rate of DHS 30.0. All credit card transactions are accepted on the site.
8.      LE CHOCOLATIER DUBAI

Le Chocolatier Dubai provides their customers with outstanding service and quality. The choice of products they serve are from fine chocolates to souvenir gifts and giveaways.
They exert their best efforts to satisfy their client's tastes and go the extra mile to define unforgettable experiences and build long-term relationship with their customers.
WHAT PEOPLE LIKE
EASY TO ORDER. The online shop of Le Chocolatier Dubai was made easy to search through and look for products that are right for you.
CHOCOLATE FOR ALL OCCASIONS. Variety of chocolate and sweets that are at their collection to be easily selected through.
PRODUCTS
Baby Boy Chocolate
Baby Girl Chocolate
Bridal Luxury Dessert Table
Corporate Giveaways and Chocolate Boxes, Trays, and Hampers
Christmas, Ramadan, Eid, Diwali, And Other Religious ChocolateBoxes, Trays, and Hampers
Valentine's Day, Mother's Day, Birthday Chocolate Arrangements and Boxes
DELIVERY AND PAYMENT
The offered shipping is made available to most countries. However, they don't ship outside UAE except giveaway items. Payments by credit card are done in the store.