The 7 Best Options for Cupcake Delivery in Adelaide
Cupcakes require no specific time to be consumed or to be sent as a delightful gift for your friends and families. Plus, you can even send it to them anytime you want with help from the pros.
Wanna know who they are? Well, take a look at the list we made on your best options for cupcake delivery in Adelaide.
NOTE: Due to the current pandemic crisis, most stores in our list have implemented changes on their services. We've noted the necessary restrictions on our list below. 
1.      THE CUPCAKE LADY

The Cupcake Lady showcases both their talents in creating delicious cupcakes and stunning cupcake designs. With the perfect combination of art and baking, the shop is able to provide cupcakes that look good as they taste.
These cupcakes are perfect if you are having a themed party as the team guarantees to deliver them to you in best quality and without any delays.
WHAT PEOPLE LIKE
FRESH COLLECTION. The shop always makes sure that every single baked good that you see from their collection is kept fresh and in the best quality.
EASY TO ORDER. No need to visit their physical shop, by just simply going to their website you can easily and quickly place your orders at the comfort of your home.
PRODUCTS
Traditional Flavours – $24 to $50
Fancy Flavours – $27 to $50
DELIVERY AND PAYMENT
Contact shop for more details.
NOTE: You can still make online and phone orders and their showroom is open by appointment for collection purposes only.
2.      CUPCAKES DELIVERED

The shop prides itself with their daily freshly baked cupcakes that they purely make with love and joy. These positive outlooks have translated to the quality of their cake products because if you get to see their collection, it clearly shows that their cakes and cupcakes were truly made out of burning passion.
If you want to see what else the shop has in store for you, you can always visit their webshop or their physical store.
WHAT PEOPLE LIKE
AFFORDABLE PRICES. You can always get yourself some delicious cupcakes even on a strict budget because Cupcakes Delivered offers their premium products at very affordable prices.
DELICIOUS CUPCAKES. The shop always goes the extra mile in creating their cupcakes to make sure that they serve only the best kind and they will truly satisfy their beloved clients. They also use fresh ingredients to maintain high quality of products.
PRODUCTS
DELIVERY AND PAYMENT
Free delivery all over Australia.
3.      THE CUPCAKE QUEENS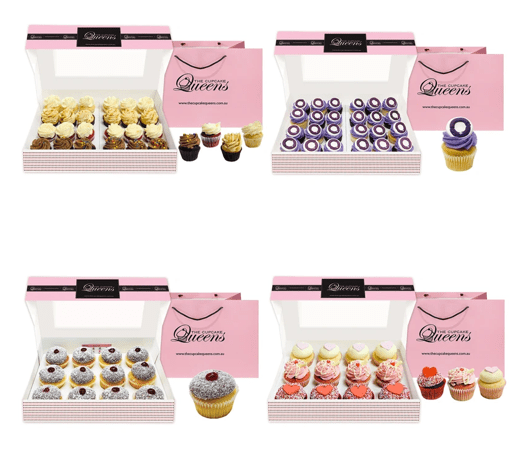 The Cupcake Queens is a family owned and operated business that was nominated as one of the outstanding cake and cupcake shops serving Adelaide.
The shop prioritizes the satisfaction of their customers so they make sure to always give their best efforts and create only the most delicious and freshest cupcakes in town.
WHAT PEOPLE LIKE
VALUE FOR MONEY. The shop shows their appreciation for their customers by providing them excellent quality of products and services. Through this, they are able to give back and make their clients know that they are getting what they truly paid for.
CREATIVE IDEAS. Aside from cupcakes, the shop is known for their beautiful doll cakes and this is exhibit A of their unending creativity and talent when it comes to designing cake products.
PRODUCTS
Mini Cupcake – $60 to $100
Deluxe Cupcake – $48 to $60
DELIVERY AND PAYMENT
AMEX, Visa, MasterCard
NOTE: They've closed their storefronts for the time being but they still take online orders with contactless flower deliveries.
4.      CUPCAKE CENTRAL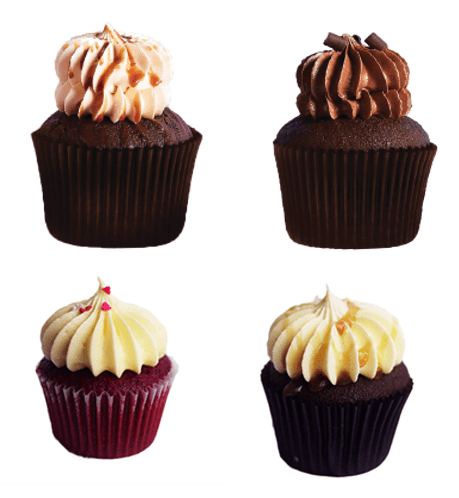 Indulge yourself with some of Adelaide's tastiest and creamiest cupcakes exclusively crafted by Cupcake Central. The shop offers a huge selection of cupcakes in different flavors so you will have plenty of options to choose from.
You can also hire them to cater your desserts table for your next event.
WHAT PEOPLE LIKE
CATERING SERVICES. If you think that the products of Cupcake Central is something that you shouldn't keep just for yourself, then you should hire them for your next event, say a wedding, and let the rest of Adelaide know how amazing their products are.
PRODUCTS
Cupcakes – $0.50 to $20
Baby Cupcakes – $0.50 to $20
DELIVERY AND PAYMENT
Contact shop for more details.
NOTE: They've temporarily closed their physical retail store but they're still accepting online and phone orders and providing delivery service.
5.      SUGAR AND SPICE CAKES

Sugar & Spice Cakes has a lot of things that they are proud to have. First is they own the largest showroom in Adelaide with display cakes, photo albums, and magazines from their previous transactions.
Next is they have created cakes and cupcakes for various well known celebrities like Oprah, Beyonce, JLo, and many more! These are just some of the reasons why you should entrust your next cake delivery to Sugar & Spice Cakes.
WHAT PEOPLE LIKE
RELIABLE SERVICE. The shop is well known in Adelaide for being one of the best cake and cupcake providers in the area and this is well justified because of the great reviews that the shop has got and is continuously getting.
PRODUCTS
DELIVERY AND PAYMENT
Contact shop for details.
6.      SWEET AFFAIRS CAKES & CUPCAKES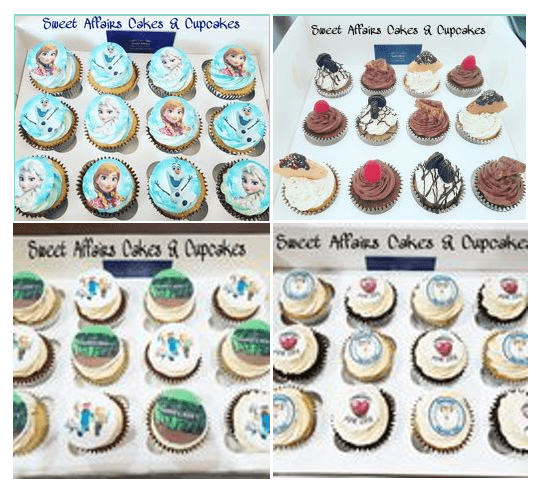 The shop mainly creates cupcakes that are perfect for themed events as they unleash their creativity by making personality cakes and even naughty ones!
Whatever kind of occasion and events you may have, for as long as there is a need for a beautifully designed and wonderfully tasting cupcake, Sweet Affairs Cakes and Cupcakes is always available to help.
WHAT PEOPLE LIKE
DELICIOUS CUPCAKES. They always make sure to provide their customers with the best products that they truly deserve that is why they always go the extra mile when it comes to making delicious cake products.
PRODUCTS
Classic Cupcake – $48
Mini Cupcakes – $36
DELIVERY AND PAYMENT
Contact shop for details.
7.      AZIDELICIOUS CUPCAKES

Azidelicious Cupcakes takes great pride in offering premium exquisite cakes and cupcakes in Australia. They bake fresh healthy cakes and cupcakes onsite every day and combine tradition, health, and beauty with the finest products sourced from around the world.
WHAT PEOPLE LIKE
ASSORTED BOXES. Have a taste of their various baked goods by ordering assorted boxes today! Simple send them a message of what you want to have, and they'll make it for you.
PRODUCTS
Saffron Fiesta – $60
Roseberry – $56
Persian Vanilla – $53
DELIVERY AND PAYMENT
Contact shop for details.