The 7 Best Options for Cupcake Delivery in Austin
Have a bite of your favorite chocolate or vanilla cream-filled cupcakes anytime and anywhere you are in Austin by tapping these wonderful bakeshops that offer to deliver their freshly baked cupcakes.
In just a single click, you'd be able to select your desired cupcake and it would not take any longer before you can devour every part of it.
Note: Due to the dangers of COVID-19 disease, cupcake delivery shops in Austin have temporarily closed until further notice. However, you can still order from them online or by phone to be picked up or delivered contact-free. And while they can do so, know that there might be delays and availability issues. We'll frequently be updating this post, if there are new developments.
1.  MY SWEET AUSTIN

My Sweet Austin is one of the top cake and cupcake providers in Austin. The shop specializes in celebration pastries that are perfect especially for huge events such as birthdays, weddings, and corporate events. They also create other desserts like macarons and party platters for a more extensive option.
| | |
| --- | --- |
| SPECIALTY | Party cakes |
| SELECTION SIZE | Large |
| STARTING PRICE | Contact the shop for the price list |
| DELIVERY FEE | Calculated at checkout |
| WEBSITE | http://www.mysweetaustin.com/ |
| SOCIAL MEDIA | |
| CONTACT DETAILS | 512-994-0652 |
WHAT PEOPLE LIKE
CUTE DESIGNS. The shop never limits themselves when it comes to the designs of the cakes and cupcakes. They always come up with something new and unique to show their clients and never did they fail to surprise them with their great talent.
EVERYDAY CAKE. If you want to go lowkey and just simply want to have an everyday cake delivered to you to devour while watching your favorite TV series, you may always do so by simply contacting them,
PRODUCTS
Wedding Cakes
Custom Cakes
DELIVERY AND PAYMENT
Contact shop for details.
2.  AUSTIN CAKE BALL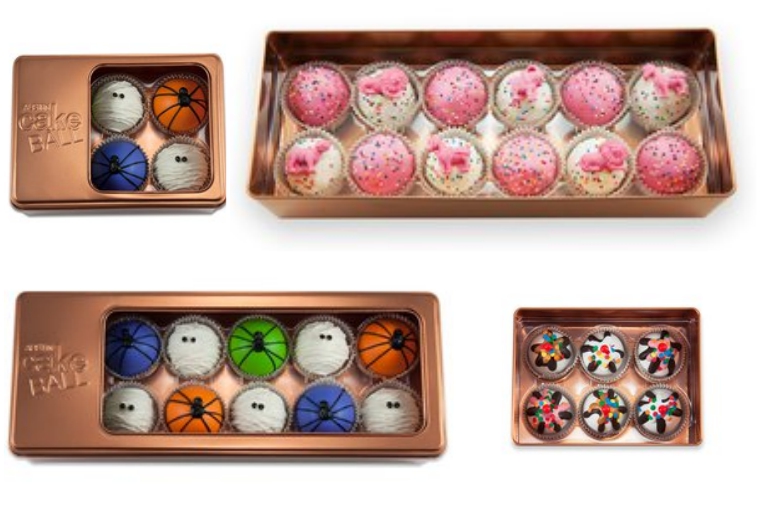 Austin Cake Ball is more than just a bakeshop that creates delicious cakes and cupcakes but it is also an avenue for the creators to unleash their inner artist and make something that would combine their passion for art and culinary. With this, Austin Cake Ball was made and until today, they have been creating luscious cake balls for everyone in Austin.
WHAT PEOPLE LIKE
CUSTOM MADE. Sure, there will always be a cake or cupcake design that you mostly prefer despite seeing an enormous amount of cake designs. But, no worries because the team can always help you create that desired cupcake of yours.
CAN BE SENT AS GIFTS. The shop makes sure that their products are not only limited to personal consumption and in retail but they also see to it that they look as good as they taste so they will be perfect for a gift.
PRODUCTS
Halloween Cake – $24 to $50
Birthday Cake – $24 to $60
DELIVERY AND PAYMENT
Contact shop for details.
3.  HEY CUPCAKE

Get your daily dose of sweetness and scrumptious cupcakes from Hey Cupcake. The shop has a collection of traditional cupcakes with varieties of icings and toppings that will surely be loved by all ages and are certainly perfect any time, and whatever kind of occasion or event may you be in.
WHAT PEOPLE LIKE
GLUTEN-FREE. While not all cupcakes are guaranteed to be initially gluten-free, you can always request for such upon placing your order so the team will create that specific order for you. All you have to do is put "GF" on your selected cupcake and make sure to do so at least 48 hours before the delivery schedule.
If you think that a piece or a box is not enough to satisfy your cravings for these delicious cupcakes, you can always hire them as one of your dessert caterers for your upcoming events.
PRODUCTS
DELIVERY AND PAYMENT
Contact shop for details.
4.  NOTHING BUNDT CAKES

In 1997, two talented women, Dena Tripp and Debbie Shwetz, have joined forces to create a shop that will not only showcase their skills and passion in baking but will also fill up the stomach and heart of the people in Austin by making delicious cupcakes. By combining the perfect ingredients, the founders of the shop were able to achieve this goal and were acknowledged as one of the best cake and cupcake providers in Austin.
WHAT PEOPLE LIKE
EXPERT BAKERS. Since the shop started 20 years ago, they have never failed to bring scrumptious and delicate cakes to the tables of the people in Austin and behind this success is their team of talented bakers that consistently go the extra mile in providing the best products and services that they can.
PRODUCTS
Birthday Cakes
Wedding Cakes
DELIVERY AND PAYMENT
Contact shop for details.
5.  MICHELLE'S PATISSERIE

Michelle's Patisserie remains to be one of the most favorite cake shops of the people in Austin even after 16 years when it was first opened. With the perfect balance of flavors, designs, and style, and even the service that the shop offers, Michelle's Patisserie has won the hearts of many people in Austin. To know more about this amazing shop, you may visit their website or their physical bakery.
WHAT PEOPLE LIKE
STUNNING CAKE DESIGNS. Nowadays, cakes are not only meant to satisfy your cravings but they are also made to please your eyes with their wonderful and stunning designs that are totally impeccable and this is one of the prides of Michelle's Patisserie.
CATERS TO EVENTS. The shop extends its service by providing services and sending their products to different kinds of events like weddings, birthdays, and corporate parties.
PRODUCTS
Wedding Cakes
Custom Cakes
DELIVERY AND PAYMENT
Contact shop for details.
6.  CAKES ROCK!!!

At Cakes Rock!!! You will be guaranteed to receive exactly as you preferred because they highly prioritize the satisfaction of their clients, thus they thrive to create a set of cakes and cupcakes that would totally match your likings. The shop also promises to provide you with the highest quality of products created by the finest and all-natural ingredients.
WHAT PEOPLE LIKE
LARGE SELECTION. Aside from creating customized pastries for you, the shop has also managed to predesign their cakes and cupcakes that you may also find stunning. They have a huge collection of cakes and cupcakes that vary in flavor and designs but guaranteed to be equally tasty.
PRODUCTS
DELIVERY AND PAYMENT
Contact shop for details.
7.  HUMBLE PIE DESSERTS

Who would've thought that you can eat a delicious triple-layered diorama! If you can dream it, Humble Pie Desserts can bake a cake bigger and better than your wildest imagination. With over 12 years under their belt, this establishment guarantees cakes that will amaze.
WHAT PEOPLE LIKE
A GRAND DISPLAY. It doesn't matter if it's single layer, double layer, triple layer, 2D, or 3D. Their top priority is to bake a legendary cake that will live rent-free in your memories.
PROFESSIONALISM. Fantastic customer relations across the board. Upon perfection of the contract, the customer need only relax and wait for sculpted cakes to arrive.
PRODUCTS
Aladdin Lamp Cake
Emoji Poop and Toilet Paper Cake
Custom Events Cakes
DELIVERY AND PAYMENT
Contact shop for details.
8.  SUGA'S CAKERY

Suga's Cakery is a home-based custom cake shop that bakes with love. Focusing on customer service, their excellent team is ready to assist with any questions pertaining to the creation of their client's dream cake.
WHAT PEOPLE LIKE
QUALITY INGREDIENTS. They use fresh ingredients, even providing gluten free or vegan varieties for their customers.
HIGHLY SKILLED AND PASSIONATE TEAM. Their passion for cakes manifests, creating high-quality products for people to enjoy.
PRODUCTS
Heavenly Italian Cream
Southern Red Velvet
Spiced Carrot
DELIVERY AND PAYMENT
Contact shop for details.