The 6 Best Options for Cupcake Delivery in Boston
Are you craving for some sweet treats but too lazy to go to your favorite bakeshop? Fret no more because Boston has numerous shops that offer cake and cupcake delivery services.
You can also share these tasty treats with your families and loved ones by sending them some boxes of cupcakes within the area of Boston. So, what are you waiting for? Pick your favorite bakeshop now from the list below.
Note: While a lot of cupcake delivery shops haven't opened doors yet, they are accepting your orders by phone or online. Wearing of face covering, sanitation, and social distancing are strictly implemented in their services. Due to the rising COVID-19 cases in Boston, there may be product limitations, as well as delays. We will keep you posted on more updates as they come in.
1.      SWEET STREET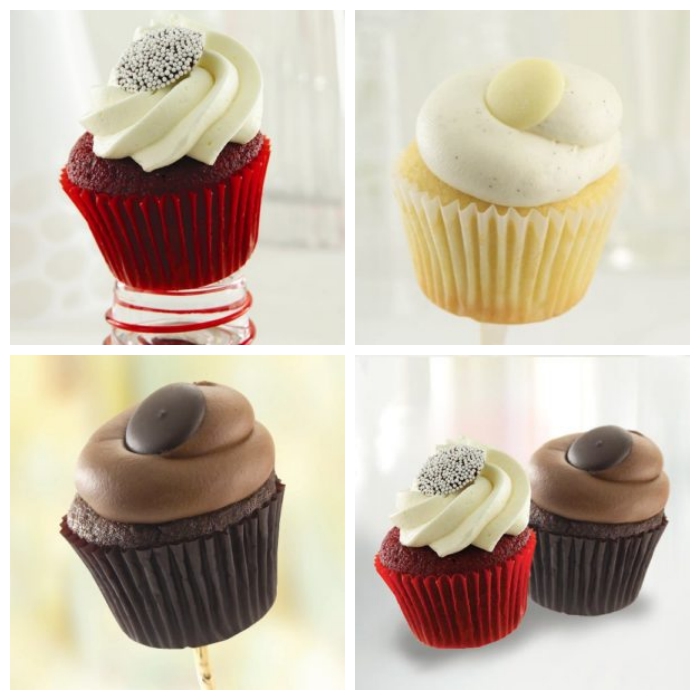 Sweet Street has been creating delicious and beautifully looking cupcakes in Boston since 1979. All throughout those years, the shop was able to establish itself in the industry as one of the best and most reliable cupcake providers in the area. Until today, Sweet Street always meets and even exceeds their clients' expectations when it comes to good quality of products and services.
SPECIALTY
Buttercream cupcakes
SELECTION SIZE
Medium
STARTING PRICE
Starts at $49
DELIVERY FEE
Calculated at checkout
WEBSITE
https://www.sweetstreet.com/desserts/cupcake-delivery-boston.html
SOCIAL MEDIA
FB:https://www.facebook.com/sweetstreetdesserts

IG:@sweetstreetdesserts

Twt:@SweetStDesserts

CONTACT DETAILS
 800.793.3897
WHAT PEOPLE LIKE
HEALTHY OPTIONS. While the shop wants you to enjoy all of their sweet indulgences, they also make sure that you keep a healthy body that is why they offer GMO-free and gluten-free products for those who are very conscious about what they eat.
AFFORDABLE PRICES. You don't need to have a lot of money just to get yourself a decent plate of dessert. At Sweet Street, you will be able to taste their heaven-sent cupcakes at very low prices.
PRODUCTS
DELIVERY AND PAYMENT
Contact shop for details.
2.      SWEET CUPCAKES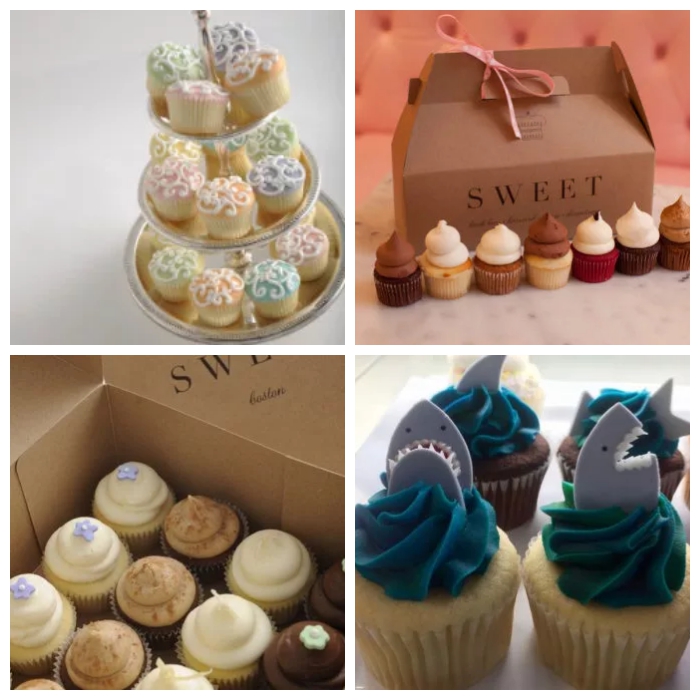 Are you currently on a diet, yet you want to devour some sweet and tasty cupcakes? That is totally possible with Sweet Cupcakes. Aside from their classic collection, the shop also offers vegan, dairy-free, and gluten-free cakes and cupcakes that you can still enjoy and guaranteed to be as tasty as the regular ones.
SPECIALTY
Healthy cakes
SELECTION SIZE
Medium
STARTING PRICE
Starts at $60
DELIVERY FEE
Calculated at checkout
WEBSITE
https://sweetcupcakes.com/
SOCIAL MEDIA
FB:https://www.facebook.com/SweetBakeryBoston/

IG:@Sweetbakeryboston

Twt:@SweetCupcakes_

CONTACT DETAILS
+ 1 (617) 247-2253
WHAT PEOPLE LIKE
RELIABLE DELIVERY. Do you feel a sudden craving for some delicious cupcakes? Thankfully, Sweet Cupcakes is available all days of the week to deliver their baked goods right at your doorstep.
COMPETITIVE MENU. The shop has categorized and inspired their products on different seasons and holidays so when you browse through their collection you can easily choose your favorite cupcake as they are grouped accordingly.
PRODUCTS
Birthday Cupcakes – $60 to $100
Wedding Cupcakes – $60 to $150
DELIVERY AND PAYMENT
Contact shop for details.
3.      GEORGETOWN CUPCAKE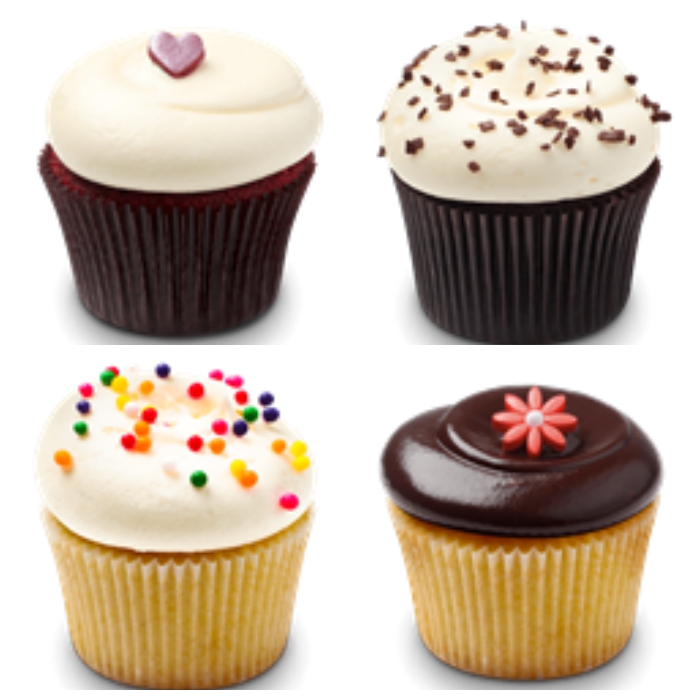 Georgetown Cupcake was co-founded by sisters Katherine Kallinis Berman and Sophie Kallinis LaMontagne who have traded their careers in fashion and venture capital to pursue their passion in baking. Currently, Georgetown Cupcake does not only serve the Boston area, but they have also expanded their business to Bethesda, New York City, Boston, Los Angeles, and Atlanta.
WHAT PEOPLE LIKE
Can't get enough of the shop's heavenly-tasting cupcakes? Don't worry because the shop extends their service to catering events where you can get as much as you want.
DAILY SPECIALS. Georgetown Cupcake aims to make everyday exciting and sweet as they offer daily specials. You will never get tired of trying same flavours everyday and you will look forward to waking up each morning knowing that you have a new cupcake flavour to try.
PRODUCTS
Classic Cupcakes – $3 to $36
DELIVERY AND PAYMENT
Contact shop for details.
4.      TREAT CUPCAKE BAR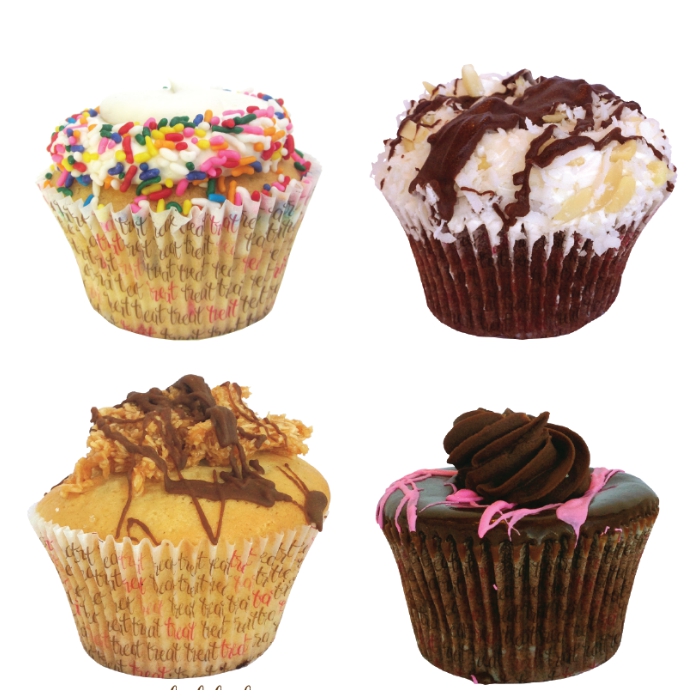 Treat Cupcake Bar allows you to pick freshly-made gourmet cupcakes or you can even make your own by availing their DIY cupcake. Here, you can unleash your imagination and creativity by making and designing your own cupcake, which you can eventually send to a friend, family, or a special someone.
WHAT PEOPLE LIKE
PERSONALIZED PRODUCTS. Do you have special requests for your cupcake? Maybe additional sprinkles or a double layer of chocolate frosting? All of those are possible and can be easily done by the friendly and talented staff of Treat Cupcake Bar.
PRODUCTS
DELIVERY AND PAYMENT
Contact shop for details.
5.      SWEET TOOTH

Sweet Tooth is committed to giving you the sweetest and tastiest experience and they want to make sure that you are always happy and satisfied with all the food items and even the services that you are getting from the shop. If you are looking for a cupcake shop that can provide you with the best products and service, you should contact Sweet Tooth.
| | |
| --- | --- |
| SPECIALTY | Artistic cakes |
| SELECTION SIZE | Large |
| STARTING PRICE | Starts at $3 |
| DELIVERY FEE | Calculated at checkout |
| WEBSITE | http://www.sweettoothboston.com/ |
| SOCIAL MEDIA | |
| CONTACT DETAILS | (617) 268–2555 |
WHAT PEOPLE LIKE
LARGE SELECTION. The shop has a huge collection of various pastries and desserts that are all equally delicious and of premium quality. Whether you need one for a birthday party, anniversaries, weddings, etc., you can always rely on the service of Sweet Tooth.
PRODUCTS
Classic Cupcakes – $3 to $45
DELIVERY AND PAYMENT
Contact shop for details.
6.      CAKE SHOP CAFE

Cake Shop Cafe specializes in creating custom made desserts for any occasions. They offer pastries, cakes, and sandwiches made from hand picked scratch ingredients, so you know that their products are definitely delicious and of best quality.
They also offer custom designs straight from photos, so If you have a cake you wanna replicate, they can definitely do it for you. So If you're looking for custom sweet treats for your special day, contact Cake Shop Cafe!
WHAT PEOPLE LIKE
PERSONALIZED PRODUCTS. Choose your flavor and your filling! Get your desired taste and design because Cake Shop Cafe can customize it for your liking.
LARGE SELECTION. From cakes to cupcakes to savory sandwiches, Cake Shop Cafe can provide all your pastry needs for your event.
PRODUCTS
Gourmet Filled Jumbo Cupcakes – $3.75 /each
Sweet Almond Raspberry Cake – $25.00 – $68.75
DELIVERY AND PAYMENT
Their delivery is limited to only orders over $100 and their availability is on a first come basis. All orders also require a deposit first.