Are you trying to decide which florist to buy from in Bangsar? Lucky for you, we've taken the time to analyse and rate the best florists in the area! We won't bore you with all the details, so here are the 8 best florists in Bangsar!
1.     Michelle's Flowery

Michelle's Flowery offers rustic, wild bouquets, pastel bouquets, birthday bouquets, proposal bouquets, bridal bouquets, graduation bouquets, and more. Michelle, the founder, taught herself to make these bouquets and grew and business out of it.
Their work is unique and unquestionably professional. A good choice for anyone who's willing to go a bit over the average floral budget.
2.     Orchid Culture

Orchid Culture offers the finest phalaenopsis orchid arrangements and gifts. They have a huge selection of flowers. You should be able to satisfy the floral wants of whoever you wish to give flowers to, even if that's you!
They deliver straight to your door and promptly at that. You'd be hard-pressed to find a complaint about late delivery against Orchid Culture aside from during unique circumstances.
3.     Flowers by YT (Yours Truly)

The company Flowers by Yours Truly has both a clever name and incredible floral arrangements to go with it! Their products have a certain flair that you won't get from any other florist. They've been around since 2006 and aren't showing any signs of slowing down.
Their arrangements are designed with both panache and delicacy to provide you with a well-balanced floral gift.
4.     Buds N Blooms Florist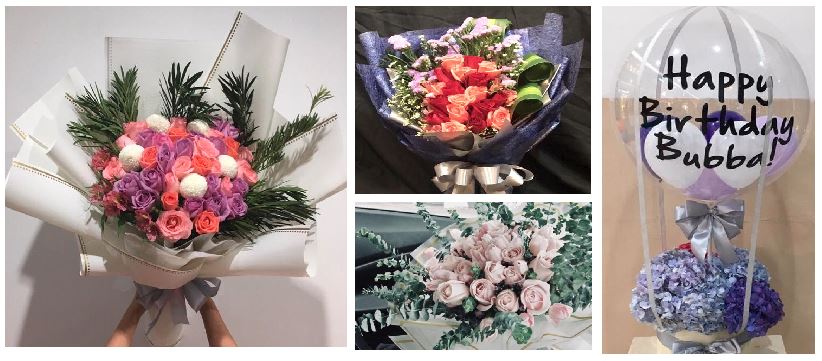 | | |
| --- | --- |
| BEST FOR | Flower arrangements for special events |
| SELECTION SIZE | Medium |
| PRICE RANGE | MYR 108 – MYR 1,199 |
| DELIVERY FEE | Free same day delivery |
| WEBSITE | www.budsnblooms2u.com |
| INSTAGRAM | @buds_and_blooms_my |
| CONTACT | +60 11-2154 1769 | [email protected] |
Buds N Blooms Floral has been around for more than 30 years. Their level of experience and consistent success over that time puts them way ahead of most florist. Barely a complaint in three decades is not an easy task, let me assure you!
Their specialty involves floral arrangements customised for a specific event. If you have need of flowers that fit a particular setting, look no further than Buds N Blooms Floral!
5.     Floralife

| | |
| --- | --- |
| BEST FOR | Imported flowers from around the world |
| SELECTION SIZE | Large |
| PRICE RANGE | Enquire for prices |
| DELIVERY FEE | Free same day delivery |
| WEBSITE | www.floralife.com.my |
| CONTACT | +603-6273 5728 | [email protected] |
Looking for a floral arrangement containing flowers that don't grow in Malaysia? Lucky for you, Floralife offers flowers from countries such as China, Holland, Australia, New Zealand, Thailand, and India. The variety provided by Floralife is unmatched by any florist. Imported arrangements come at a price, but a gift from around the world has so much more meaning, don't you think?
6.     Petal Bees

| | |
| --- | --- |
| BEST FOR | Personalised bouquets |
| SELECTION SIZE | Large |
| PRICE RANGE | MYR 42 – MYR 530 |
| DELIVERY FEE | Free same day delivery |
| WEBSITE | www.petalbees.com.my |
| CONTACT | +60 3-2161 7718 | [email protected] |
Petal Bees is coming up on a decade of age. The company prides itself in selling nothing but premium, high-quality merchandise.
The popular go-to choice for customers is their customizable floral bouquets. The customer gets to choose each type of flower and the colors that they want for the flowers and the wrapping. Petal Bees is the place for those of us who love to get everything down to the minute details!
7.     LavieFlo

BEST FOR
100% naturally preserved flowers
SELECTION SIZE
Medium
PRICE RANGE
MYR 234 – MYR 2,338
DELIVERY FEE
Scheduled Delivery – RM25.00
Same Day Delivery – RM40.00
WEBSITE
www.lavieflo.com
CONTACT
+60 3-7728 8333 | [email protected]
LavieFlo offers imported preserved flowers available for flower delivery in Klang Valley. Unlike artificial flowers, preserved flowers are natural blooms which have undergone a state-of-the-art preservation process using natural preservatives, so the flowers can last much longer than most. Their name, LavieFlo, literally means "life flower." Preserved flowers generally last for up to 3 years, but if stored in a sealed casing, they can last up to more than 10 years!  They specialise in wedding bouquets, corporate decor customisation, home and office décor, floral gifts, corporate gifts, and hand bouquets.
8.     Cheri Pink

| | |
| --- | --- |
| BEST FOR | Well thought-out arrangements |
| SELECTION SIZE | Medium |
| PRICE RANGE | MYR 88 – MYR 1,000 |
| DELIVERY FEE | Free same day delivery |
| WEBSITE | www.cheripinkflower.com |
| INSTAGRAM | @cheripinkflowersandgifts |
| CONTACT | +603-2095 1673 | [email protected] |
Cheri Pink has beautiful arrangements that we just couldn't ignore. While their online information may be straight to business, their shop and delivery options are equally as direct and fantastic.
We like how they give a detailed explanation of what thought each of their bouquets is likely to convey. Using their explanation, you can easily make a decision and know that you made the right one!
Which One Will You Choose?
That's it for our description on the top 8 best florists in Bangsar! If you're curious about any of these, you can take a look at their pages yourself. The only thing left for you to do is figure out which one of them sounds perfect for you!
---
Product photos are taken from each flower delivery or florist's official website.