The 16 Best Options for Flower Delivery in Amsterdam
Groomed with culture and arts, Amsterdam's florists exude distinct artistic values on their own floral arrangements. From nature-inspired to dark romantic pieces, you will find all kind of creative expression on their works. And for any kind of occasion that needs a flower piece, you will have a local flower shop that can help you—no less with artistry and uniqueness.
Here, you will find the best options for your flower delivery in Amsterdam. Ready to give your vision, these local florists will show you what creativity is.
Note: Despite the growing cases of COVID-19 in Netherlands, there hasn't been an order to shut down non-essential businesses, although shops are instructed to enforce social distancing among their customers.
All flower shops in our list are continuing their regular operations, albeit with strict distancing measure for pickup customers. We've noted the ones with significant service policies below.
1.      Netherland Blooms

| | |
| --- | --- |
| BEST FOR | Budget-friendly modern flower arrangements |
| SELECTION SIZE | Medium |
| PRICE RANGE | €57.00 – €124.00 |
| DELIVERY FEE | Free same day delivery |
| WEBSITE | https://www.netherlandblooms.com/ |
| PAYMENT | Visa, Mastercard, Paypal, Bank Transfer |
Netherland Blooms was established because the founder was frustrated with his bad experiences buying from online florists. He wanted to provide a simpler and more reliable flower delivery service through Netherland Blooms.
Their bestselling hand bouquets are perfect for the modern minimalist aesthetic. Netherland Blooms will not overwhelm you with options. Instead, you get a neat overview of their curated collection of  bouquets and arrangements, each one versatile enough to suit several occasions. More importantly, they offer a free 90-minute guaranteed flower delivery to anywhere in Amsterdam which makes each transaction fast and fuss free! Their free same day flower delivery in Amsterdam applies to orders placed before 3pm.
2. A.P Bloem

BEST FOR
Artistic floral assortment
SELECTION SIZE
Large
PRICE RANGE
€25.00 – € 100.00
DELIVERY FEE
€10 delivery fee for Amsterdam area

 

Outside Amsterdam €15 – Abcoude, Badhoevedorp, Broek in Waterland, Diemen, Duivendrecht, Landsmeer, Lijnden, Ouderkerk, Vinkenveen, Weesp, Westgaarde, Zaandam, Zwanenburg

Greater Netherlands €20 – Aalsmeer, Haarlem, Hoofdorp, Monickendam, Schiphol

WEBSITE
https://www.apbloem.nl/webshop
INSTAGRAM
@apbloem
CONTACT
(0)20 223 1616|

[email protected]

PAYMENT
Visa, MasterCard, AMEX and iDEAL
As look at A.P Bloem's gallery, you will see floral pieces that exude artistry and uniqueness. They have a signature style that speaks solely of their brand as a flower shop. With variant flower choices to well-combined colors in muted or vibrant scheme, A.P Bloem's floral arrangement reminds you of the effortless beauty of nature. And because of this, they have been featured to different publications that recognize their floral artistry.
They offer delivery services to the area of Amsterdam and its near places, between Monday to Saturday.
Note: Unlike most shops in our list, it only accepts deliveries in the meantime. No walk-ins or pickups are allowed.
3. Bloemenweelde
Founded in 1942, Bloemenweelde has been serving floral needs in Amsterdam. They deliver to their customers' orders and to over 400 companies in Amsterdam and cities near it. Through the Fleurop Interflora network orders to every corner in NL can be taken care of by Bloemenweelde. With a long history in doing floral arrangements, they have designs that are classic European sensibility to contemporary arrangements that speak of today's floral trends. Being in the business for a long time, they can provide any floral arrangements for any occasion and deliver it to you.
4. Gerda's Bloemen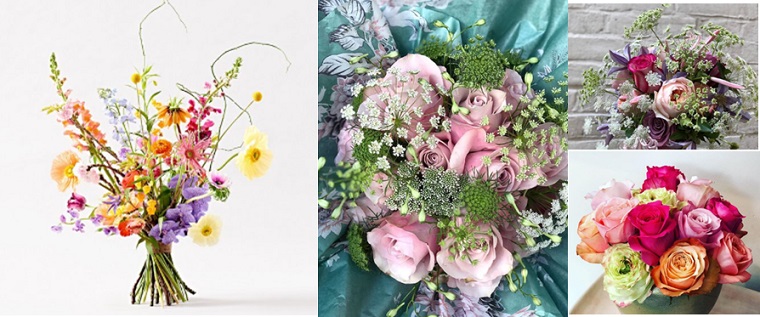 BEST FOR
Colorful bouquets
SELECTION SIZE
Large
PRICE RANGE
€20.00 – € 90.00
DELIVERY FEE
Starts €5.00 to €9.00 delivery fee for Amsterdam area.
WEBSITE
https://gerdasbloemen.nl/
INSTAGRAM
@gerdasbloemen
CONTACT
(0) 20 624 2912 |

[email protected]

PAYMENT
Visa, MasterCard, AMEX, iDEAL and Paypal
Gerda's Bloemen is located in the heart of Amsterdam's culture. Hence, it is no wonder that their floral arrangements exude the city's craftsmanship, with contemporary curation on colors and beautiful play on flower sizes. Founded in 1980, they continue to foster creativity with their designs, producing an extensive range of designs that are distinct to their floral identity. Specializing in wedding work to decorations to bouquets, they can deliver to different places in Amsterdam.
Note: It's open during normal working hours. It still accepts orders for deliveries, but not all flowers are in stock. Customers may check their website to know which ones are still available.
5. Mooi Anders Bloemen

Mooi Anders redefines romantic bouquets with their distinct floral style. With a certain romantic darkness to it, it reminds of a forest's beauty on its natural state. Their floral arrangements are far from ordinary, which makes it refreshing to look at. Beautifully and uniquely presented, their floral style is something you want to put in your home or to send to someone you passionately adore. And they offer same-day delivery for these unique floral pieces.
6. Season Flowers

| | |
| --- | --- |
| BEST FOR | Flower and plant subscriptions |
| SELECTION SIZE | Medium – Large |
| PRICE RANGE | Contact the shop for prices |
| DELIVERY FEE | Fees may vary |
| WEBSITE | www.seasonflowers.nl |
| INSTAGRAM |   |
| CONTACT | +31(0)20 330 7571 | [email protected] |
| PAYMENT |   |
Season Flowers is a full-service florist with two branches: a flower studio on the Zuidas in Amsterdam and a flower studio in Zaandam where they arrange and design beautiful flower arrangements every day. They supply flowers and plants to various business, such as hotels, restaurants, events and offices. They also provide floral styling for weddings and residential spaces. Contact them for a floral consultation to start blooming your home.
7. Upperbloom

| | |
| --- | --- |
| BEST FOR | Beautiful flowers in planters for balconies |
| SELECTION SIZE | N/A, Designer's Choice |
| PRICE RANGE | From €79.50 |
| DELIVERY FEE | Free |
| WEBSITE | www.upperbloom.nl |
| INSTAGRAM | @upperbloom |
| CONTACT | 020 – 21 01 081 | [email protected] |
| PAYMENT | iDeal, American Express, Mastercard, PayPal, Visa |
Place beautiful plants and flowers on your balcony all year round with the help of Upperbloom. Their convenient and hassle-free service gives customers planters already filled and arranged with the lovely seasonal blooms, plants and potting soil. Your order comes with free delivery and they'll even hang them up for you! The Upperbloom gardeners bring there knowledge and expertise to your balcony. Refresh your balcony blooms every season. With Upperbloom's swap-service, they can fix your balcony within 15 minutes by swapping your old planters with new ones.
8. Voort Bloemen

| | |
| --- | --- |
| BEST FOR | Floral subscription, sympathy and funeral flower arrangements, wedding flowers |
| SELECTION SIZE | Medium |
| PRICE RANGE | €8.95 – €250 |
| DELIVERY FEE | Calculated at checkout |
| WEBSITE | www.voortbloemen.nl |
| INSTAGRAM |   |
| CONTACT | 020 667 3301 | [email protected] |
| PAYMENT | Credit Card |
Voort Bloemen delivers fresh flower bouquets and arrangements throughout Amsterdam. Since 2000, they have been supplying floral services with their extensive range of fresh flowers and plants that they buy in-house at the auction of Aalsmeer / Flora Holland. Even though they already have a wide range of bouquets you can choose from, they would also be happy to accommodate bespoke requests for customers who want a bouquet of flowers of their own choice!
9. Anggrek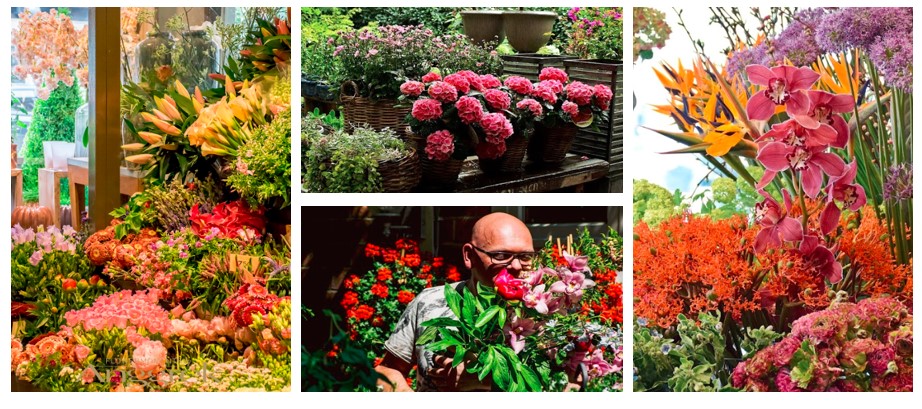 | | |
| --- | --- |
| BEST FOR | Flowers for all occasions |
| SELECTION SIZE | Medium |
| PRICE RANGE | From €16.95 |
| DELIVERY FEE | Calculated at checkout |
| WEBSITE | www.anggrekamsterdam.nl |
| INSTAGRAM | @anggrekamsterdam |
| CONTACT | 020 – 679 13 72 | [email protected] |
| PAYMENT | Major credit cards |
Anggrek has been in business for over 65 years. They put a strong emphasis on quality, creativity, punctuality and service. The Anggrek team (which means 'Orchid' in Indonesian) is young, but also experienced. They provide a wide range of products and services from bouquets, flower arrangements, plants, and special occasion arrangements like sympathy flowers and wedding arrangements.
10. Scheepstra Bloemen

From traditional assortment to contemporary designed bouquets, Scheepstra Bloemen can help you customize your own floral arrangements. They encourage their clients to personalize whatever they need, with the creative help of their florists. Whatever you have in mind, they will translate your taste into a concrete floral arrangement. They offer delivery services in Amsterdam and all nearby areas. And being part of an international florist network, your flowers can be delivered throughout Europe.
11. AmsterdamFlora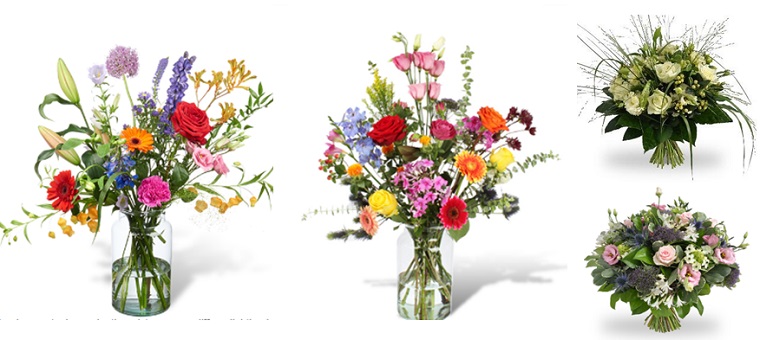 BEST FOR
Bouquet in vase
SELECTION SIZE
Extra Large
PRICE RANGE
€15.00 – € 60.00
DELIVERY FEE
Starts at €5.00
WEBSITE
https://amsterdamflora.nl/
INSTAGRAM
 
CONTACT
020-6127895|

[email protected]

PAYMENT
Visa, MasterCard, AMEX, iDEAL and Paypal
Serving the Amsterdam neighborhood for more than 20 years, AmsterdamFlora make flowers for individual orders to business request to bridal work. From large-scale occasions to small one like bouquets and anniversary flowers, they infuse contemporary techniques by assorting different lengths of flowers and adding variety of plant accent. Delivering in Amsterdam and its nearby areas, they offer online transactions for your floral arrangement orders.
12. Mennon Kroon

BEST FOR
High-end floral arrangements
SELECTION SIZE
Large
PRICE RANGE
€30.00 – € 200.00
DELIVERY FEE
Fees may vary.
WEBSITE
https://www.mennokroon.nl
INSTAGRAM
 
CONTACT
(0) 20-6791950 |

[email protected]

PAYMENT
MasterCard, Visa and iDEAL
Menno Kroon is known for their high-end style in floral arrangements. As one of the most luxurious florist in Amsterdam, they have been creating floral designs for almost 20 years. Their designs has an effortless modernity on it—full of elegance and femininity. Aside from floral needs, their store also sells interesting interior design products, from handmade pieces to ornamental decors. They cater to different floral orders, like weddings to tailored individual orders.
13. KNSMFLOWERS

BEST FOR
Unique occasional flowers
SELECTION SIZE
Large
PRICE RANGE
€25.00 – € 50.00
DELIVERY FEE

Delivery  cost 10.00

Verzonden vanaf mijn Galaxy

Minimum  cost bouget 37.50 up to 150.00

WEBSITE
http://www.artandflowers.nl/
INSTAGRAM
 
CONTACT
0624674556|

[email protected]

PAYMENT
Credit Cards
If you are looking for something different and eye-catching, Art and Flowers is the right choice for you floral needs. With artful designs, their floral arrangements are uniquely presented compared to other flower shops. Whether you need flowers to be delivered, for you home interiors or simply send to someone, they can cater to your needs if you want something grand and artistic. You can also visit their studio, which is open from Monday to Sunday.
14. Bloembinderij Madelief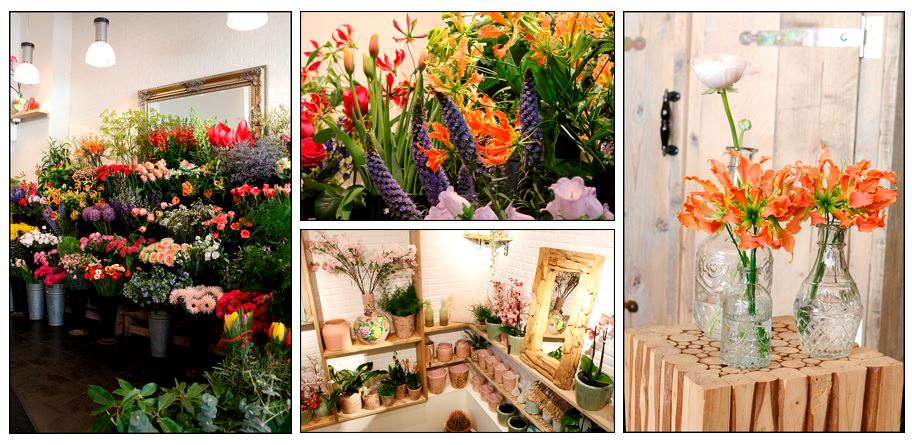 Bloembinderij Madelief's lead florist Jacqueline grew up with flowers from her childhood and eventually took over the shop from her father, continuing the tradition of offering premium flower arrangements. Open from Monday to Saturday, they deliver in the Amsterdam region.
15. Bloemen Op Locatie

| | |
| --- | --- |
| BEST FOR | Flowers for every occasion and subscription packages |
| SELECTION SIZE | Small, Medium, and Large |
| PRICE RANGE | From €15 |
| DELIVERY FEE | Fees may vary |
| WEBSITE | https://bloemenoplocatie.nl/ |
| INSTAGRAM | https://www.instagram.com/bloemenoplocatie/ |
| CONTACT | 06-28956537 |
| PAYMENT | Credit Cards |
Bloemen op Locatie is located in Javaplein in Amsterdam East, open on Friday and Saturday. They're an event florist who can design flower arrangements for locations, moments and events. If you need to order flowers for weddings, exhibitions, company parties, hotels, fashion shows or product presentations, you can consult with Bloemen Op Locatie.
8. Bloemetje Bezorgen Groningen

Bloemetje Bezorgen Groningen is a florist that collects clients' favorite flowers, such as roses and tulips, and arranges them into bouquets on occasion. Their bouquets are guaranteed to be always fresh and always in consultation with the client's wants because they have a basic and clear picture of what they offer.
Their website is easy to navigate and provides sufficient information about what they have to offer, including price ranges and product variety. Additionally, consumers may effortlessly checkout the arrangement that they wish from their site, making ordering online a breeze.
Because they already sell pre-arranged bouquets, there appears to be a lack of online forms and information for floral customization. Additionally, because the flowers they sell are seasonal and local availability, the choices may be limited from time to time.
They offer a full courier service that is both trustworthy and sophisticated, allowing customers to enjoy and retain the freshness of their flowers. Aside from that, if customers place their order early enough on their list, they can get it delivered the same day.
In general, they might have provided more background material so that clients could have a greater sense of their floristry approach. Their high rating evaluations, on the other hand, compensate for this and ensure that customers always receive the most out of their deal.