The 10 Best Options For Flower Delivery in China
Featured prominently in China's art and poetry, the allure of flowers is truly otherworldly. Dedicated tourists even flock to China's renowned national gardens to see different flowers bloom every month. With its rich floral history, China has experienced florists who are held in high esteem. If you want to send the best flower arrangements to someone in China, then you're in luck! We've explored different flower delivery services in the area and listed the top ones here.
NOTE: Due to the current pandemic outbreak, we've noted the relevant service changes for some of the shops listed below. Most stores are still accepting online or phone orders as well as deliveries.
1. Happy Flowers China

| | |
| --- | --- |
| BEST FOR | Simple, affordable and long-lasting bouquets & arrangements |
| SELECTION SIZE | Medium |
| PRICE RANGE | $42 – $83 |
| DELIVERY FEE | Free Same Day Delivery |
| WEBSITE | www.happyflowerschina.com |
| PAYMENT | PayPal, VISA, Mastercard, Bank Transfer |
Happy Flowers aims to be the ambassador of happiness in China through their beautifully crafted and affordable bouquets. To make sure they put a smile on their customer's face, quality and speed go hand-in-hand. This is why their slogan is "Happiness delivered wherever in 90 minutes!" Their professional florist handcrafts each order using the freshest blooms sourced from the best nurseries and flower farms for long-lasting floral designs. From modern hand bouquets, gorgeous grand opening stands and comforting funeral wreaths, Happy Flowers pays special attention to details to convey the appropriate story and emotion. Then, their impressively fast flower delivery in China ships the order from the shop to the destination in less than 2 hours. So, make someone happy today with Happy Flowers!
2. Yong's Gift

(Source)
Yong's Gift actually delivers in most countries in East Asia, such as Seoul, Korea and China. The prices are in USD since they cater to customers worldwide and not just Chinese residents. So even if you are based overseas with your recipients in China, flower delivery is fast and easy with Yong's Gift. You can also find various gifts to add to your chosen bouquet, like cakes, chocolates, wine and stuffed animals.
3.   Pickupflowers

(Source)
Pickupflowers connects you with the local florist network in China to ensure that your recipient receives the freshest flowers on time. When deciding on your gift, there are lots of categories to choose from. You can sort the products by occasion, recipient (for him or her), as well as the type of flower you want to include in your bouquet. On top of these choices, you can make your surprise a lot sweeter with cakes and confectionery also offered in the shop.
For those who are in a hurry, Pickupflowers offers same-day delivery. If you're on a budget, note that they provide free delivery when you opt to deliver beyond four days from the date of your request. Additionally, you can sign up to their email newsletter to get 10% off on your next purchase.
NOTE: Due to flower supply challenges & product availability issues, they're giving the customers the freedom to design uniquely special gift baskets/bouquets/ arrangements using a mix of their available stocks, freshest in-store blooms with them. However, they'll do their best to try and create an arrangement as close as possible to what you ordered.
4. China Flower 214

(Source)
BEST FOR
Classic and chic bouquets
SELECTION SIZE
Large
PRICE RANGE
Starts from USD 22
DELIVERY FEE
Free
WEBSITE
www.chinaflower214.com
CONTACT
86 20 36962293 |

[email protected]

PAYMENT
Major international credit cards, PayPal, bank transfer
Sometimes, you just want to go back to the basics or stick with the bestsellers. This is where China Flower 214 shines, offering not just roses but lily bouquets as well. Take your gifting up a notch by sending up to 99 roses to your significant other!
Another shopper-friendly feature of China Flower 214's site is the order tracking feature, where you can monitor if your flowers have been delivered to Beijing, Guangzhou, Shenzhen, Shanghai, Tianjin, Chongqing, Wuhan, Hangzhou, Nanjing, or any part of mainland China.
5. ChinaFlowers

(Source)
| | |
| --- | --- |
| BEST FOR | Romantic and round floral arrangements |
| SELECTION SIZE | Large |
| PRICE RANGE | USD 23 – USD 139 |
| DELIVERY FEE | Free delivery |
| WEBSITE | www.chinaflowers.com |
| CONTACT | 086 020 38799329 |
| PAYMENT | Visa, Mastercard, American Express, Discover, JCB, PayPal |
ChinaFlowers is a one-stop shop for stunning bouquets and delectable cakes. If you want to give more than roses or lillies, then ChinaFlowers also sells sweets and even a cute bouquet of stuffed bears crafted just for your recipient.
ChinaFlowers is connected with over 6,000 florists and 500 local Chinese florist shops, so they can offer flexible delivery times. For rush orders, flowers can be sent within 3-6 hours of delivery request.
6. YaoFlowers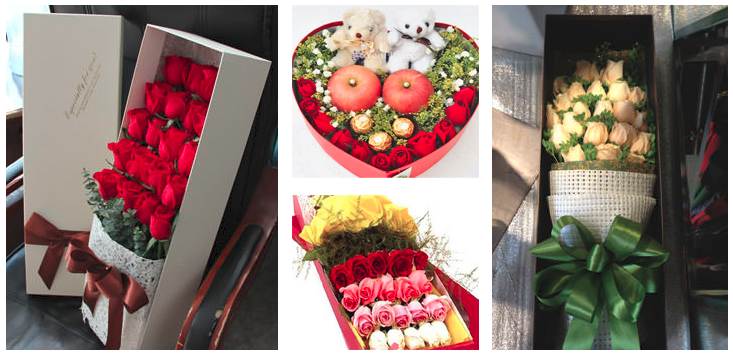 (Source)
YaoFlowers might have some customers worried at first because their bestselling bouquets come in boxes, but don't fret! Their high-quality flowers are placed in spacious gift boxes (as opposed to other shops which use plain cardboard boxes) to ensure that they're intact and fresh no matter how far they're delivered. The shop also ensures that their locally-grown flowers will not stay in their warehouses for too long.
Besides gift boxes, YaoFlowers has a huge online catalog that displays their gift-giving offers for all kinds of gatherings.
7. FloraQueen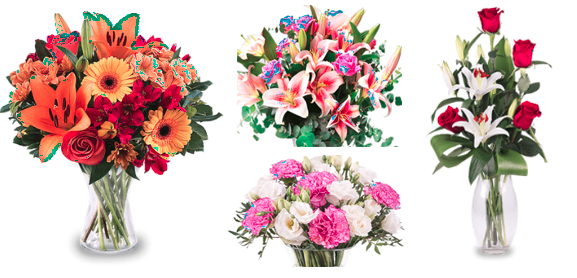 (Source)
FloraQueen aims to live up to their tagline of making people smile with their top three promises: fresh flowers, punctual delivery, and availability anywhere, anytime. Started as a humble little flower shop in Barcelona, FloraQueen remains committed to their pledge as they continue to serve satisfied customers for over 15 years.
While they cater to personal orders, FloraQueen can also handle bulk requests for companies who are looking to provide floral gift packages as incentives. They also provide VIP order options for various events.
8. Iweiyi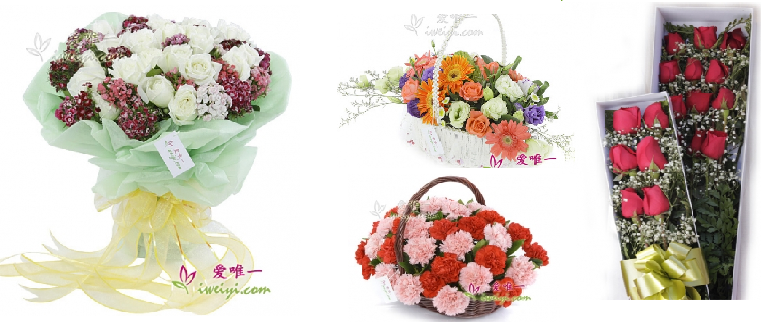 (Source)
For some people, nothing softens the heart more than seeing lovely flowers wrapped prettily together. If you know this is your recipient's sweet spot, then consider choosing from Iweiyi's beautiful collection. Their delicately packaged flowers also come with bouvardia, euphorbia marginata, bupleurum and other fresh greens. Traditional-looking but nostalgic, Iweiyi's flowers unmistakably conjure the sweetest memories.
9. Flora 2000

(Source)
BEST FOR
Romantic flower arrangements
SELECTION SIZE
Large
PRICE RANGE
Starts from USD 25
DELIVERY FEE
Calculated upon checkout
WEBSITE
www.flora2000.com
CONTACT
1800 456 1797 |

[email protected]

PAYMENT
Mastercard, Visa, American Express
Flora 2000 has been thriving in the floral business for over a decade now, having served over two million customers. What's the secret to their success in the floral industry? Simply take a look at their collection and you'll see that their approach to flower arrangement (which is simple but colorful) will never be out of fashion. Name the occasion and Flora 2000 can provide the appropriately-designed floral packages for it. In case you're not satisfied with your request, you can cancel or refund your order within 24-48 hours of delivery.
10. Flowers for China

(Source)
BEST FOR
Affordable flower bouquets
SELECTION SIZE
Large
PRICE RANGE
Starts from USD 53
DELIVERY FEE
USD 8
WEBSITE
www.flowers4china.com
CONTACT
1 877 753 8216 |

[email protected]

PAYMENT
Visa, Mastercard, PayPal
Flowers for China, part of the Internet Florist network, offers deluxe gift packages and exquisite floral arrangements designed for every event. When ordering a floral product, you have the option to choose among standard, deluxe, and premium sizes. If you're simply ordering a tussie-mussie, you can couple it with the shop's vases as an add-on.
Apart from offering famous floral choices (may it be tulips or daisies), Flowers for China is also prepared to provide seasonal beauties such as poinsettia.