THE 6 BEST FLOWER DELIVERY SERVICES IN HONG KONG
Bauhinia × blakeana, also called Hong Kong Orchid Tree, is the official flower of Hong Kong which appears on its current flag. It is cultivated widely in the country, though it's not the only flower you can enjoy. With the best flower delivery in Hong Kong, you can send fresh flowers to yourself or your loved ones anytime.
Buying fresh flowers will be a breeze if you choose the best Hong Kong florists. Here are our top picks:
1. BYDEAU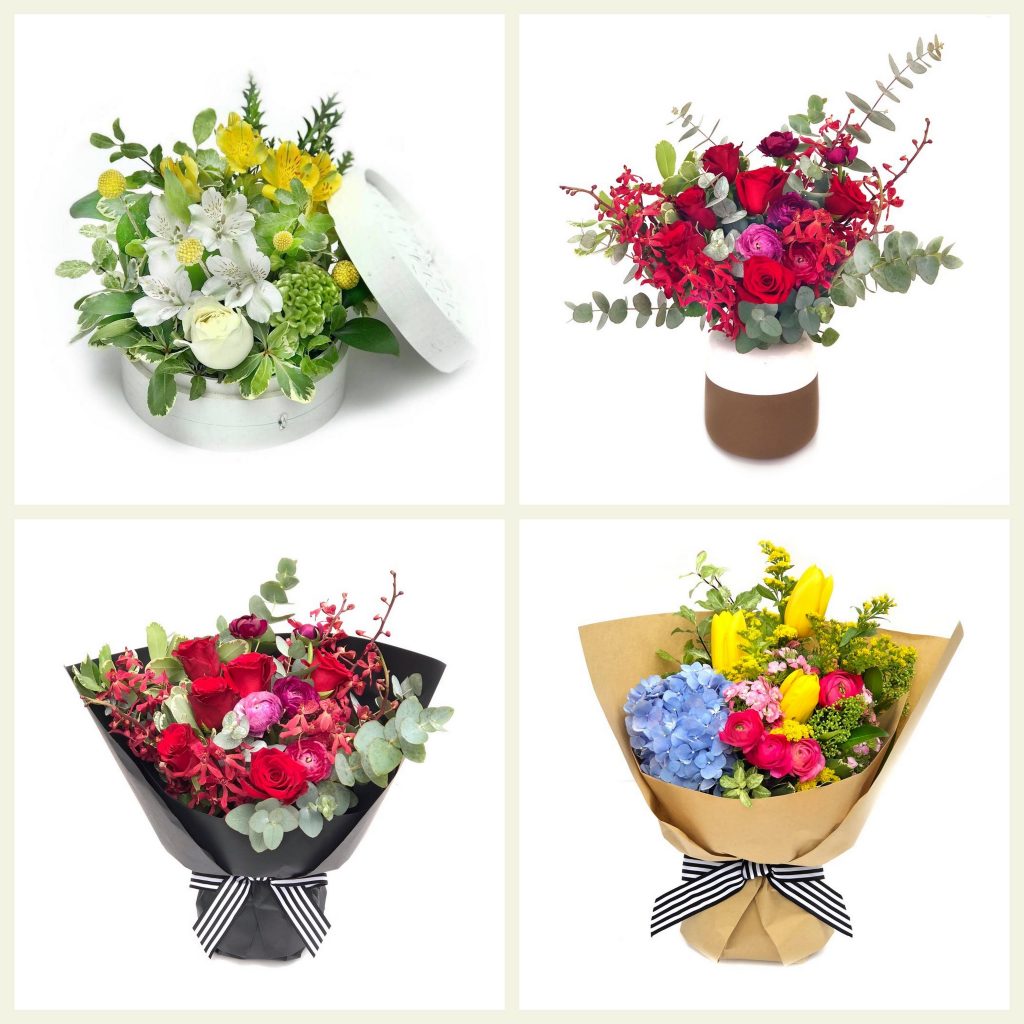 Founder and CEO Jennifer Margolin fell in love with the art of gift giving from her mom. The little details really add something extra, from the cute note, the unique wrapping, the joy of finding out what's inside. The same attention to detail is incorporated in BYDEAU with their modern arrangements in chic packaging.
SPECIALTY
Vibrant vase flower arrangements
SELECTION SIZE
Moderate
STARTING PRICE
From HK$400
DELIVERY FEE
Free delivery to certain locations on northern Hong Kong Island
WEBSITE
www.bydeau.com
SOCIAL MEDIA
Instagram: @givebydeau

Facebook: /bydeau

CONTACT DETAILS
(+852) 5525 0037 / [email protected]
STRONG POINTS
SUSTAINABLE PACKAGING. BYDEAU flowers are wrapped in their signature sustainable packaging. The fresh blooms are secured in black linen cloth or kraft paper and B&W grosgrain ribbon. Meanwhile, gifts are packaged in recyclable corrugated cardboard boxes or in their branded wooden box that can be reused as a keepsake.
FLOWER SUBSCRIPTION. They offer weekly, monthly and annual flower or gift subscriptions. Their current options in handheld & vase arrangements range from small, medium to large. You can also reach out to their customer service for your specific preferences.
SAME DAY DELIVERY. Their same-day delivery service is another one of their strong points. Any order placed before 4pm qualifies for same-day delivery.
PRODUCTS
HAND-TIED: From HK$400
VASE ARRANGEMENTS & SUCCULENTS: HK$250 – HK$1800
GIFT BOXES: From HK$120 (home ornament)
FLOWER SUBSCRIPTION: From HK$500 (monthly)
DELIVERY DETAILS
BYDEAU delivers gifts and flowers Monday through Saturday. While they wish they can deliver 24/7, their Sundays are reserved for rest and dreaming up new flower + gift options. They will, however, deliver on large events such as Valentine's Day, whenever possible.
2. ANGLO CHINESE FLORIST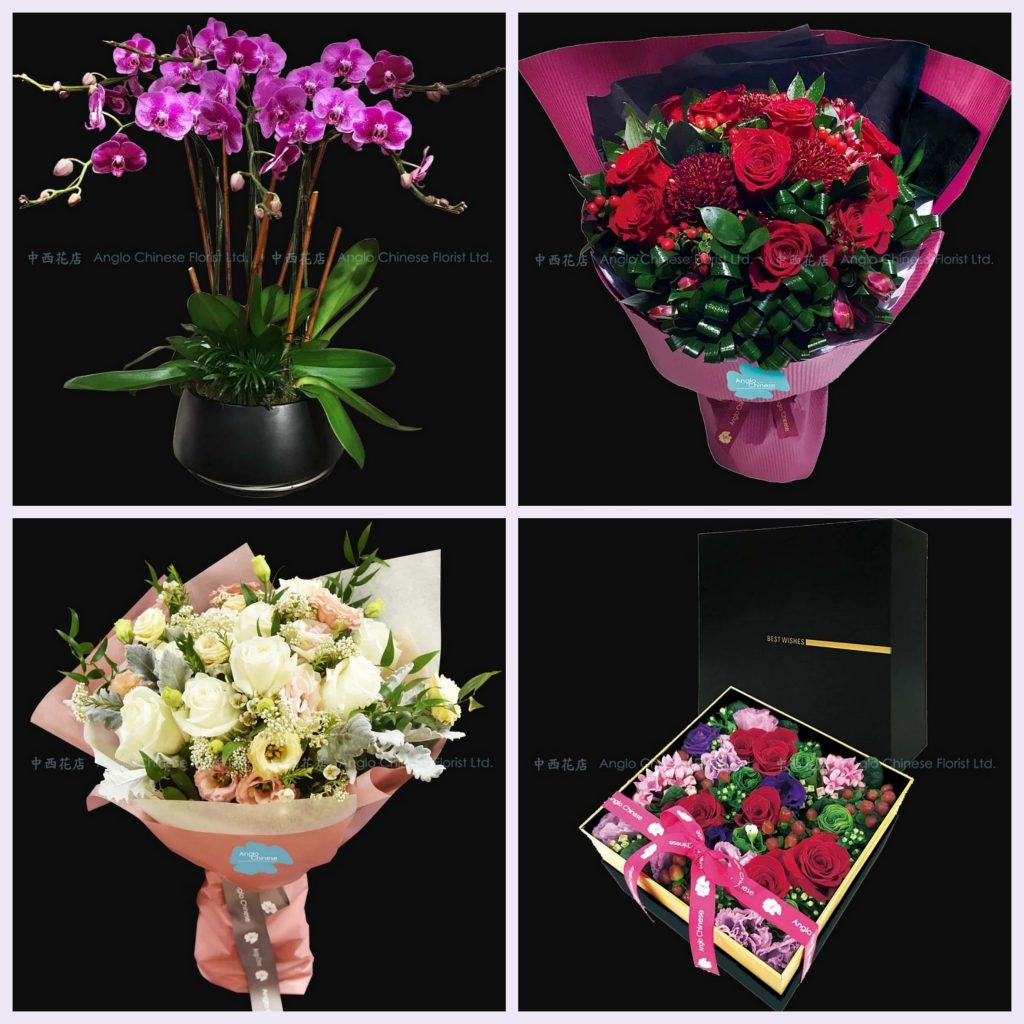 Anglo Chinese Florist has a long history. This established company has been in business since the 1940s. They also offer a wide range of plant, flower and gifting services for Hong Kong residents.
SPECIALTY
Traditional floral designs
SELECTION SIZE
Large
STARTING PRICE
HK$680
DELIVERY FEE
From HK$60 (Hong Kong Island District 1)

Shipping fee will be calculated and added at checkout

Minimum order for delivery is HK$500

WEBSITE
www.anglochinese.com
SOCIAL MEDIA
Facebook: /anglochinese
CONTACT DETAILS
+852 2921 2986 / Whatsapp +852 623 888 23
STRONG POINTS
LONG LEGACY. Anglo Chinese was established in 1946. Currently, they have a well-known flower boutique located at Lyndhurst Terrance in Central, a florist situated on Flower Street (擺花街) literally. Their years of experience, expansive services and established networks allow them to serve their customers with professionalism and reliability.
LARGE INVENTORY OF FLOWERS. All their flowers and plants are freshly imported from Holland, South America and New Zealand. Their decoration accessories are likewise handpicked from all over the world. This streamlined supply chain gives them the freedom to bring new floral gift ideas to their beloved customers.
2-HOUR EXPRESS DELIVERY. Customers pressed for time need not worry as their 2-hour express flower delivery service in Hong Kong means your flowers will arrive at your recipient's door in no time.
PRODUCTS
BOUQUETS: From HK$680
FLOWER ARRANGEMENTS: From HK$780
GRAND OPENING: From HK$980
SYMPATHY FLOWERS: From HK$800
ORCHIDS: From HK$440
HAMPERS: From HK$698
DELIVERY DETAILS
Mon-Sun 9am- 6pm. Standard time slot is 9am- 1pm, 2pm- 6pm, with a minimum 3-hour delivery time range (e.g. 2pm- 5pm).
3. ELLERMAN DESIGNS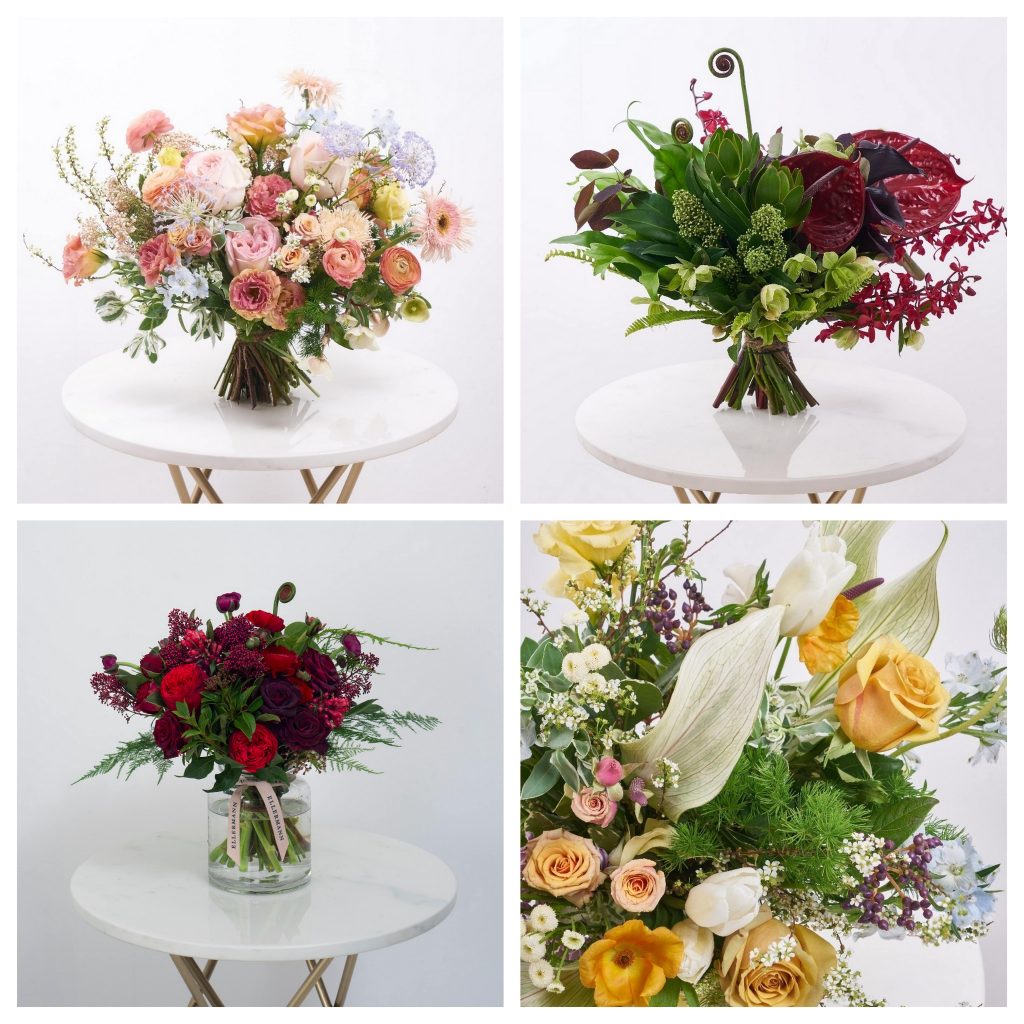 Ellerman Designs showcases floral designs with lots of interesting texture and layers. The base price is higher than other florists in the list, but what you get is a unique style and bespoke approach with each purchase. Apart from retail flowers, Ellerman Designs is also a sought-after florist for wedding and event floral styling.
SPECIALTY
Original, organic floral designs
SELECTION SIZE
Curated
STARTING PRICE
From HK$980
DELIVERY FEE
From HK$60
WEBSITE
www.ellermanndesign.com
SOCIAL MEDIA
Instagram: @ellermannflowers

Facebook: /ellermannflowers

CONTACT DETAILS
+852 2618 0910 (Landmark) / +852 2118 3518 (Pacific Place)
STRONG POINTS
ORIGINAL FLORAL DESIGNS. Floral styles and designs can start to look the same, so Ellerman Designs make it a point to keep their collection current and unique. They draw inspiration from classically continental floral design influences. Their stunning arrangements are organic, with interesting, layers and textures as well as an element of the unexpected.
SEASONAL COLLECTIONS. Ellerman Designs regularly refreshes their catalogue based on upcoming occasions as well as the changing of the seasons. This ensures up-to-date curated designs and making the freshest, high-quality flowers available to their customers.
They also offer various floral installations for events and hold workshops for hobbyists and budding florists, from hand-tied to table settings and centrepieces. Apart from individuals, they can also organise a private workshop for a company or a group of friends looking for a fun social activity. This can be arranged at their Wong Chuk Hang Atelier or at the client's own off-site location.
PRODUCTS
BOUQUETS & ARRANGEMENTS: HK$980 – HK$2,580
PLANTS: HK$1,600 – HK$2,300
HAMPERS: HK$2,200 – HK$2,400
DELIVERY DETAILS
Cut-off times for placing orders for delivery are as follows:
Monday to Saturday (excluding public holidays):
Order before 12 noon; earliest delivery next day before 2pm.
Order before 5pm; earliest delivery next day 2pm – 7pm.
Order after 5pm; orders will be processed on the next day and therefore earliest delivery is the day after.
Sundays and Public Holidays:
Orders will be processed on the next working day.
Therefore, if placing an order on Sunday the earliest delivery would be from Tuesday morning onwards.
Deliveries are scheduled either before 2pm, or between 2pm and 7pm.
4. GIVE.GIFT.BOUTIQUE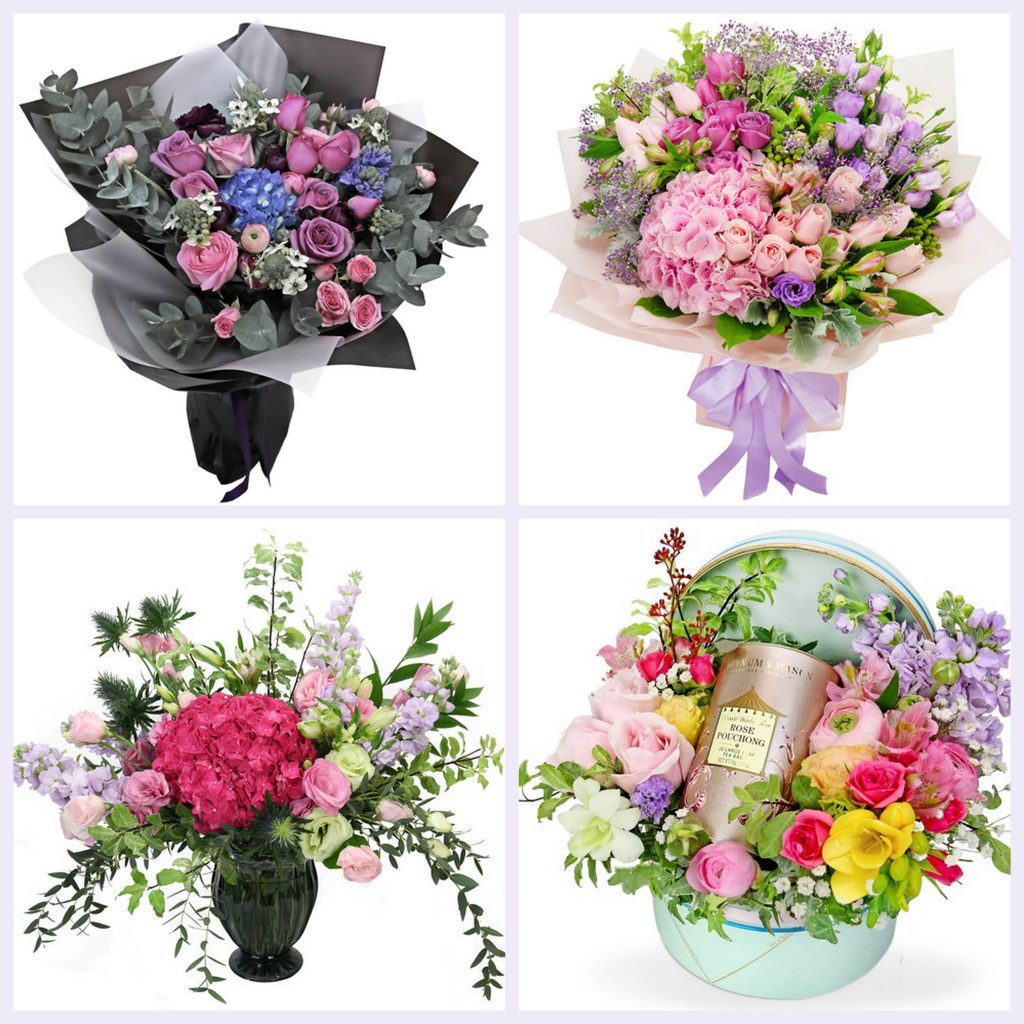 Established in 2008, Give.Gift.Boutique has grown into a one-stop shop for gifts and flower delivery in Hong Kong, Macau and worldwide through their network of florists and suppliers. The catalogue is huge, suitable for all occasions and a wide range of budgets. There are also various add-on gifts you can include in your order to sweeten the surprise delivery, including plushies, wine, accessories or cake.
SPECIALTY
Budget-friendly bouquets & arrangements
SELECTION SIZE
Large
STARTING PRICE
From HK$315
DELIVERY FEE
From HK$40
WEBSITE
www.givegift.com.hk
SOCIAL MEDIA
Instagram: @givegiftboutique
Facebook: /givegiftboutique
Twitter: @Givegift_GGB
CONTACT DETAILS
(852) 2736 6670 / [email protected]
STRONG POINTS
LARGE CATALOGUE. They are a design-oriented firm, with one of the most extensive active flower and fresh gift repertoire in Asia and Worldwide. They have a wide variety of floral products for customers to choose from, over 2000 products in 38 catalogues, with weekly releases to stay close to customer needs and latest trends.
BULK ORDERS. To save money, you can opt for bulk orders, whether for a DIY event or if you want to send flowers to several recipients. To make it easier, they have a standard bulk order excel form that customers can download and fill out. When finished, you simply the excel form to them to place the orders. They will then setup the account and all the orders for you.
FLOWER & PLANT RENTAL. Since 2017, their online flower shop added a new service range which is the Flower Rental Service to offices, banks and hotels. They renew the flowers every Monday (or dates chosen by customers). They can also tailor a Flower Rental Service Plan for their clients, to ensure satisfaction and high-quality service.
PRODUCTS
BOUQUETS: $430 HKD – $1750 HKD
GRAND OPENING: $500 HKD – $2680 HKD
VASE ARRANGEMENTS: $320 HKD – $655 HKD
FUNERAL FLOWERS: $700 HKD – $2830 HKD
ORCHIDS: $315 HKD – $3850 HKD
FLORAL DECOR: $350 HKD – $1425 HKD
BOX FLOWERS: $315 HKD – $2675 HKD
PRESERVED FLOWERS: $800 HKD – $1300 HKD
GRADUATION FLOWERS: $315 HKD – $875 HKD
5. AGNES B.FLEURISTE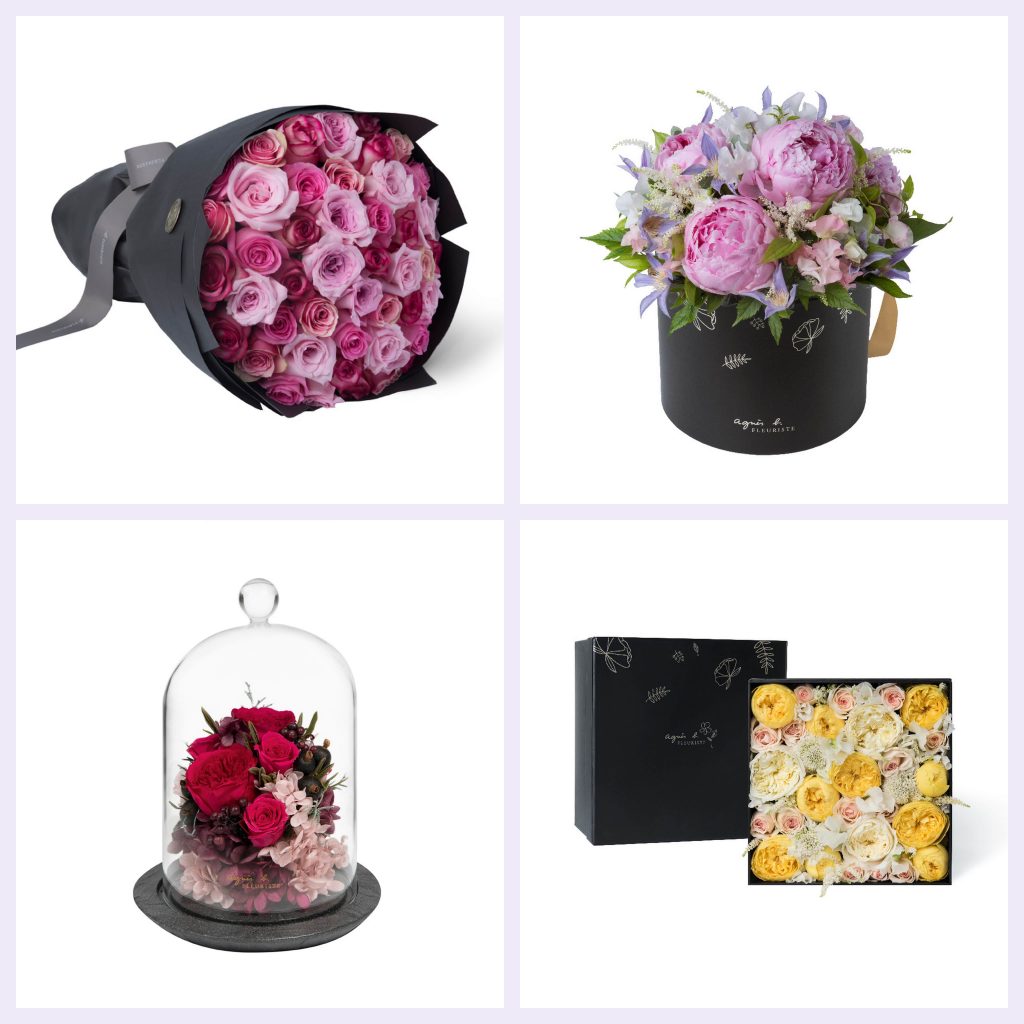 Designer Agnès b. combines her three great passions into her brand. Agnes B.Flueriste focuses on her passion for flowers, showcasing chic French-inspired floral designs.
SPECIALTY
Luxurious, French floral designs
SELECTION SIZE
Moderate
STARTING PRICE
From HK$900
DELIVERY FEE
Delivery service is available upon spending HK$700 net or above per transaction, delivery charge varies depending on the delivery area.
WEBSITE
www.agnesb-happyb.com.hk/en/fleuriste
SOCIAL MEDIA
Instagram: @happyb_officiel

Facebook: /agnesb.fleuriste

CONTACT DETAILS
[email protected]
STRONG POINTS
DESIGNER BOUQUETS. Their luxe floral products are romantic and evocative of the French countryside, preserved or fresh. Careful thought and meticulous styling go into each floral creation, so customers get a truly inspired, upscale product.
PRESERVED FLOWERS. Their "Love Goes On" collection featured preserved flowers sourced from Japan and the Netherlands. They have everlasting flowers inside a glass jar to retain their form and freshness for up to several years!
BESPOKE To get something truly unique and special, opt for their bespoke options. Their talented team will make something that's one-of-a-kind.
PRODUCTS
BOUQUETS: HK$900 – HK$2580
FLOWER BOXES: HK$980 – HK$1080
PRESERVED FLOWERS: HK$1080 – HK$2580
BLOOMING BOXES: HK$1480 – HK$1680
FLOWER POTS: HK$1280 – HK$1480
GRAND OPENING: HK$2200 – HK$3280
WEDDING FLOWERS: HK$190 – HK$2980
6. VAN DER BLOOM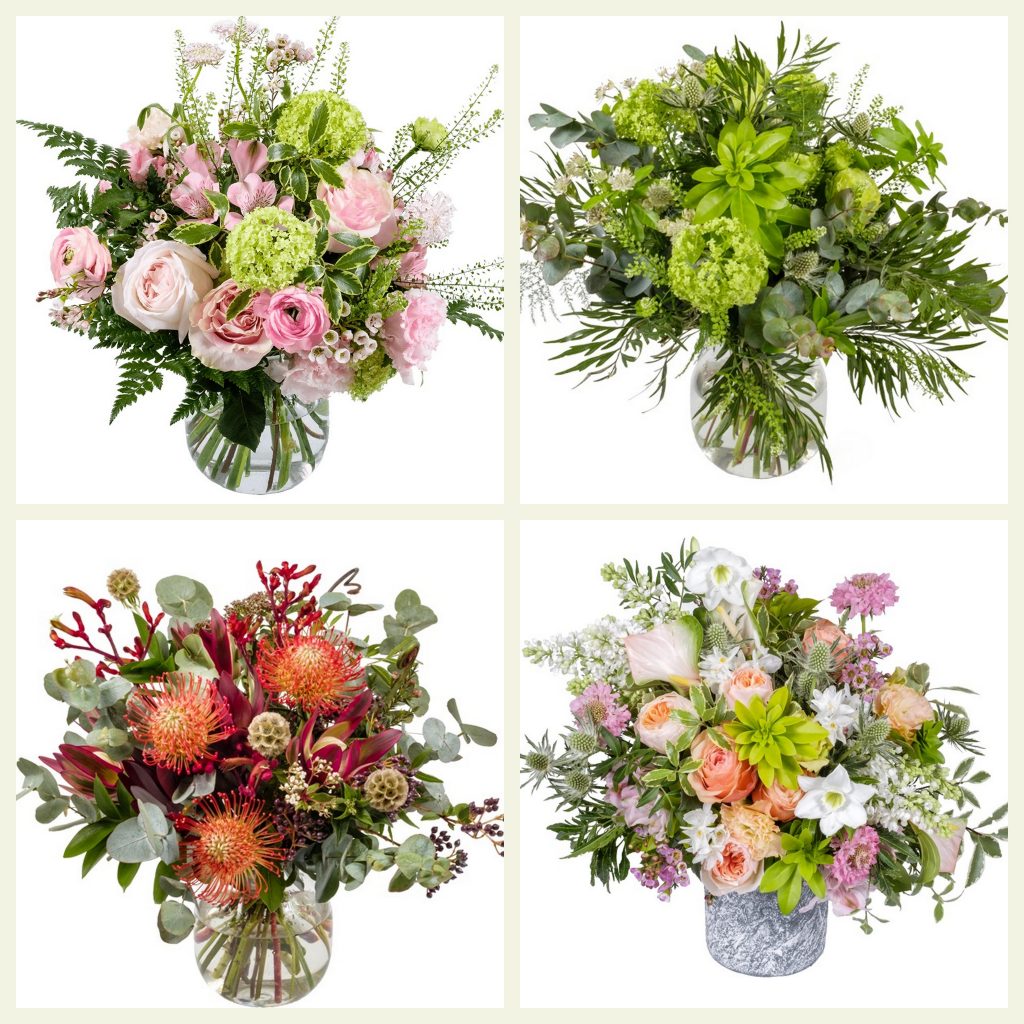 Van der Bloom specialises in European floristry, delivering stylish fresh blooms every time to your door. Their lush, bucolic bouquets evoke images of the British countryside. The designs come in three sizes: small, medium and large. You can also sign up to a floral subscription for regular deliveries of fresh flowers, choose weekly, bi-weekly or once a month.  For same day flower delivery, order before 2pm.
SPECIALTY
Bespoke bouquets
SELECTION SIZE
Made-to-order
STARTING PRICE
HK$720
DELIVERY FEE
Calculated at checkout
WEBSITE
www.vanderbloom.com.hk
SOCIAL MEDIA
Instagram: @vanderBloomhk

Facebook: /vanderBloomhk

CONTACT DETAILS
+852 5505 1661 / [email protected]
STRONG POINTS
MADE-TO-ORDER BOUQUETS. Instead of generic choices, Van Der Bloom created unique bouquets for customers. To purchase your bespoke bouquet from Van Der Bloom, simply pick a style and size, add a personal message, input delivery details, and wait for the surprise delivery to your chosen recipient!
SAME DAY DELIVERY. Van Der Bloom can deliver your flowers on the same day of purchase if you order before 2pm.
FLOWER SUBSCRIPTION. For regular deliveries, Van Der Bloom makes the process simple. Select the size and quantity of each delivery, choose frequency of delivery, then select amount you want to spend. Credit will only be deducted upon each delivery.
PRODUCTS
CUSTOM BOUQUETS: HK$720 – HK$1800 (Sizes are S, M, L)
---
Images taken from each company's official websites/social media.