The 7 Best Options for Flower Delivery in Malacca
The historic state of Malacca has tons of sights, sounds and scenes for all types of tourists. If you wish, you can also marvel at the many species of fragrant and beautiful blooms at the Garden of Thousand Flowers or at the Malacca Botanical Garden. For residents, Malacca florists and flower shops can supply lovely fresh flowers all year round and especially during special occasions. Here are the top 5 options for flower delivery in Malacca if you want to surprise a loved one for a birthday, Valentine's Day or even a regular day.
Note: With the extension of the Movement Control Order, some flower shops in our list have likewise extended their service limitations. Most shops have limited their working hours and only allow orders for deliveries.
Where applicable, we've updated the shops with notable policy changes.
1.     Alice Florist

(Source)
BEST FOR
Classic, rose bouquets
SELECTION SIZE
Large
PRICE RANGE
MYR 100 – MYR 750 for hand bouquets
DELIVERY FEE
Free flower delivery to Melaka Town Area (MTA). For areas outside MTA, fee starts at MYR 30
WEBSITE
www.aliceflorist.com
INSTAGRAM
 
CONTACT
+606.281.7798, 283.4798 or mobile +6016.607.2180 |

[email protected]

PAYMENT
Credit and Debit Cards, Direct debit (online banking) includes Public Bank, Maybank, CIMB, RHB, AmBank, UOB Bank & Hong Leong Bank
If you want to inject a little romance in your life, Alice Florist supplies classic arrangements of the timeless roses in varying shades. The style and packaging do not overshadow the beauty of the blooms. They have deeper shades for more passionate declarations and pastel colours for sweet gestures.
For same day flower delivery in Malacca, orders must be received before 2pm on weekdays. Orders received past 2pm would be delivered on the next working day, same as for orders made on weekends. For urgent deliveries, you can contact them directly via their hotlines.
Note: Even with the Movement Control Order, Alice Florist is still doing flower deliveries. However, they can only offer a limited selection of bouquets. Check their Facebook to know which ones are available.
2.     Paradise Flower House

(Source)
BEST FOR
Large, luxurious bouquets
SELECTION SIZE
Large
PRICE RANGE
MYR 130 – MYR 4,500
DELIVERY FEE
Free flower delivery in Melaka City only
WEBSITE
www.paradiseflowerhouse.com
INSTAGRAM
 
CONTACT
(+606) 281 1998 012-6286503 Fax : (+606) 281 8329 |

[email protected]

PAYMENT
Visa, Mastercard, Bank Transfer
If you're the type who goes all out when it comes to gift-giving, Paradise Flower's 999 Rose bouquets are exactly the grand gesture you'd want. Not surprisingly, if you want this huge arrangement to surprise someone, you'd have to order at least 10 days before the event. Otherwise, choose from their more simple and affordable designs. The less opulent versions can be delivered on the same day so long as you order before 1pm and next working day for weekends and public holidays.
3.     Kimarie Florist & Gift Shop

(Source)
| | |
| --- | --- |
| BEST FOR | Korean-style floral designs, premium preserved flowers |
| SELECTION SIZE | Large |
| PRICE RANGE | RM 19 – RM 480 |
| DELIVERY FEE | Fees may vary |
| WEBSITE | www.kimarieflorist.com |
| INSTAGRAM |   |
| CONTACT | 016-957 9596 | [email protected] |
| PAYMENT | Bank Transfer |
For fun floral arrangements, from colourful Korean-style floral designs to whimsical arrangements, Kimarie Florist got you covered. Whether you want to say "I love you," "Thank you" or "I'm sorry," their floral creations can bring a smile to any person's face and make any day a little bit brighter.
Note: Kimarie Florist remains in operation even during the Movement Control Order. For orders, you may send them a message on Facebook.
4.     Rimba Flora

(Source)
Rimba Flora offers a vast range of flowers. From signature bouquets to congratulatory flowers. they got you! They are dedicated to creating exquisite bouquets and gifts that fit into any occasion.
What people find unique about them are their prestige bouquets. They mentioned that with this feature, they were able to choose how big of an upgrade their signature bouquet can have since they can pick either single, double, triple, and so on upgrades to make their prestige wrap as gorgeous as possible.
Other than bouquets, people like that they have the option to choose flower baskets, boxes, or vases. Plus, they are also allowed to customize their own by simply saying their preferred colors and flowers to the experts. The price range for this is also very affordable, the small ones cost RM149 to 199, medium is from RM199 to 246, RM249 to 299 for the large ones, and so on. If you want a bigger set, feel free to contact them and they will see what they can do to meet your requirement.
Not that much of a fan of flowers? Do not fret because, unlike other flower shops, they also offer green plants! If you simply want to put some pop of green on your desk or workspace, this is the perfect choice for you.
The previous clients that contacted them for weddings events mentioned that they are the best when it comes to bridal arrangements. They made sure that all the flowers fit each other and look pleasing in close up and from afar.
5.     De Jasmine Florist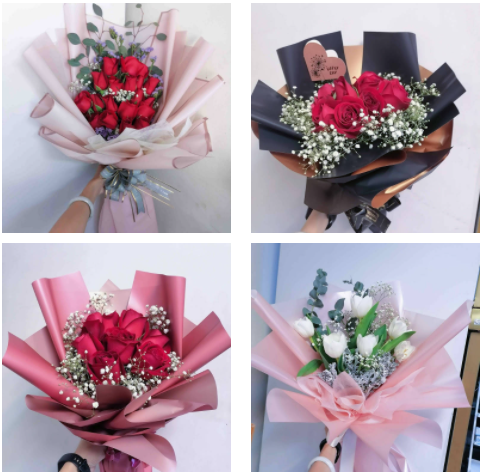 (Source)
BEST FOR
Hand-tied Bouquets
SELECTION SIZE
Contact for more information
PRICE RANGE
Contact for more information
DELIVERY FEE
Contact for more information
WEBSITE
https://de-jasmine-florist.business.site/
INSTAGRAM
N/A
CONTACT
016-238 1576
06-337 1576
PAYMENT
Contact for more information
De Jasmine Florist is one of the most trusted floral shops. They offer the best hand-tied bouquets that are arranged uniquely and beautifully.
Based on the testimonials of their previous clients, they responded quickly with friendly customer service. They also mentioned that their flowers were delivered fresh and lasted longer than the flowers they bought from other shops.
People adore their wrapping style so much. They said that the style really suits the arrangement well and the color of the wrappers they use always fits the color scheme of the flowers.
No matter what event you are attending, contacting them for bouquets is the best choice. If you do not know what to get, let them know and they will help you curate the perfect floral arrangement!
6.     Bunga Coklat Melaka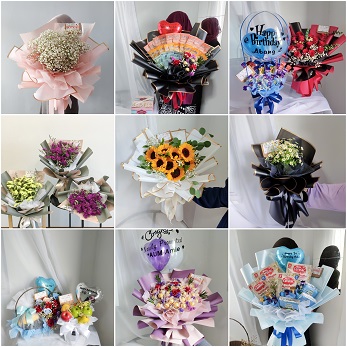 (Source)
| | |
| --- | --- |
| BEST FOR | Fresh flowers and amazing gifts |
| SELECTION SIZE | Contact for more details |
| PRICE RANGE | Starts from RM149 |
| DELIVERY FEE | Contact for more details |
| WEBSITE | https://bungacoklatmelaka.business.site/ |
| INSTAGRAM | @bungacoklatmelaka |
| CONTACT | 011-5354 1164 |
| PAYMENT | Contact for more details |
Mother's Day is the perfect opportunity for you to give your mom the most amazing floral arrangement! With Bunga Coklat Melaka special sets, your mom will be definitely delighted to receive your gift.
In comparison to other shops, their Mother's Day Special Set starts at RM149. What's unique about this is it already includes a fresh bouquet and a box of brownies. If you are feeling extra special, availing the set that costs RM 169 upgrades your brownies to a Ferrero Box.
People prefer to buy from them during this special occasion because it is totally worth it. Their previous customers mentioned that the size of their bouquets ranges from 55 to 60cm. Receiving bouquets this big will surely brighten someone's day.
Their delivery area are Melaka Tengah, Alor Gajah, Jasin, and surrounding areas. If you do not find your area on this list, feel free to call them and they will see if they can meet your requirements.
7.     RETMI Florist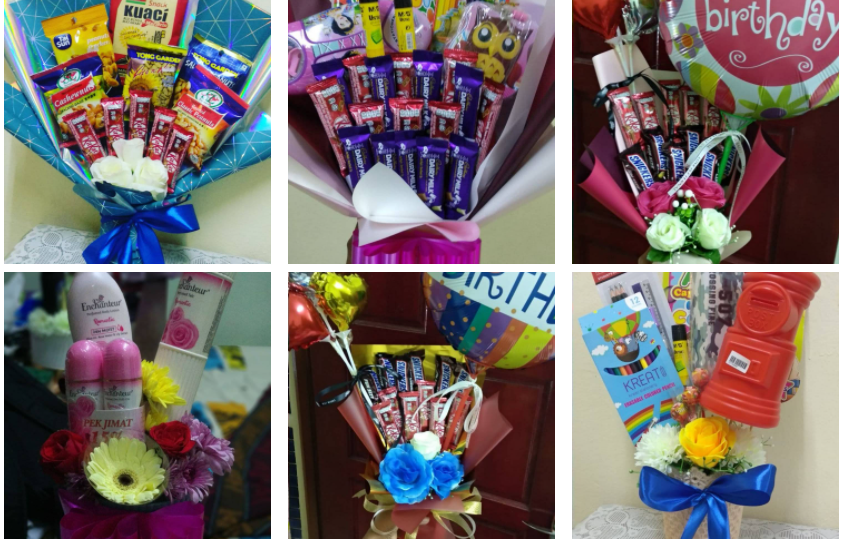 (Source)
| | |
| --- | --- |
| BEST FOR | Customized bouquets |
| SELECTION SIZE | Contact for details |
| PRICE RANGE | Contact for details |
| DELIVERY FEE | Contact for details |
| WEBSITE | https://retmi-florist.business.site/ |
| INSTAGRAM | Contact for details |
| CONTACT | 011-2112 2543 |
| PAYMENT | Contact for details |
With RETMI Florist, your bouquet will definitely stand out. As you can see from the photo above, they have the most unique arrangements anyone has seen.
We can recommend them because they accept all kinds of requests for their bouquets. Aside from customized bouquets, they also offer flower & fruit baskets, bridesmaid corsage, bridal cascading, bridal, money, chocolate, and your ordinary flower bouquet.
If you need an emergency gift, you can contact them or go to their store at JA 3005 JALAN JED, TAMAN PERMATA 77000 JASIN Melaka Malaysia and choose the perfect product that will make your loved one feel more special than ever.
Unfortunately, they are closed on Tuesdays. However, they are open from 8:00 AM to 10:00 PM on Mondays and from Wednesday to Sunday.