The 10 Best Options for Gift Baskets in California
If there are some words or thoughts that your cannot utter, let gifts speak for you. By sending them some gift baskets full of wonderful things that you think they might like, it's as if you are already telling them how much you appreciate them.
So, what are you waiting for? Send your hugs and kisses now through these amazing gift baskets specially created by 6 of the best options for gift baskets in California.
Note: Staying at home is still the best option to fight the coronavirus disease (COVID-19), and fortunately, you can still order from the companies below through online or phone. In delivering to you, there might have delays, but that is to ensure your safety and as well as their employees. Here, we will keep you in the loop on more updates.
1.      CALIFORNIA DELICIOUS

Imagine a night of wine, cold cuts, and cheese. Cozy right? Did you know that you can have all of those in just one basket?
With California Delicious, you can get these premium quality meat, wine, and cheese products through their gift baskets. You can even send these as gifts because their baskets are designed and packaged so beautifully.
WHAT PEOPLE LIKE
PREMIUM QUALITY. The shop is known for their top quality products especially their meat and cheese. They source these only from trusted suppliers so you are guaranteed that you are getting only the best.
BEAUTIFULLY PACKAGED. The shop also give high attention to the way they package their baskets because they want their products to be gift-giving ready.
PRODUCTS
Fruit Baskets – $49 to $200
Wine Baskets – $85 to $200
DELIVERY AND PAYMENT
Contact shop for details.
2.      FANCIFULL GIFT BASKETS

Fanciful Gift Baskets is yet another online shop that offers gourmet gift baskets that they guarantee to be all natural and organic. They make sure that chemicals have no space in their kitchen while they maintain a high standard in all of their food items.
WHAT PEOPLE LIKE
100% CUSTOMER SATISFACTION. The shop is applauded for their excellent services and collection of artisan products. They never fail to go the extra mile, thus the satisfaction that their customers feel.
PRODUCTS
Bakery Gift Baskets – $20 to $200
Chocolate Gift Baskets – $20 to $200
DELIVERY AND PAYMENT
Contact shop for details.
3.      WINE COUNTRY GIFT BASKETS

Wine Country Gift Baskets is one of the top rated gift providers in California that provides all kinds of gift products suitable for all occasions. The company aims to share love and happiness to their clients through their excellent quality products.
Whether you are looking for baby gift baskets, holiday gift basket, or birthday gift basket, you can trust Wine Country Gift Baskets to provide you with the best that you deserve.
WHAT PEOPLE LIKE
HIGH CREDIBILITY. One of the basic procedures when looking for a shop especially when shopping online is to check if they have good feedback from their previous customers, this is to ensure that your money will not be put into waste and that you will receive high quality of products. With Wine Country Gift Baskets, you are guaranteed that they always priority customer satisfaction and they make sure to check the quality of their products before releasing it to the market.
PRODUCTS
Wine Gifts – $34 to $200
Cheese Gifts – $64 to $300
DELIVERY AND PAYMENT
Contact shop for details.
4.      SANTA BARBARA GIFT BASKETS

Sometimes it is really hard to choose what type of gift hamper is suited best for an occasion or to a specific person, but Santa Barbara Gift Baskets could help you select with their gigantic options that you can choose from.
Whether you are sending gift hampers to a newly wed, or to your mom for Mother's day, Santa Barbara Gift Baskets could truly be your pal.
WHAT PEOPLE LIKE
LARGE COLLECTION. Santa Barbara Gift Baskets has a ton of hamper collections that vary in content, size, design, and style. They offer affordable and luxurious hampers that are all appropriate for any kind of occasions and events.
RELIABLE SERVICE. Still don't know what to purchase? You might consider calling their staff for a couple of suggestions or questions/queries on what gift hampers to give or not to give. They would be very happy to be of service to you.
PRODUCTS
Wine Gifts – $59 to $400
Gourmet Gifts – $20 to $500
DELIVERY AND PAYMENT
Contact shop for details.
5.      THE BEST TO YOU

The Best To You boasts a wide variety of hand-selected gourmet hampers and gifts for every occasion. Good thing that their website is easy to navigate so you can effortlessly select what you want. iHampers makes sure that they maintain a good relationship with their customers so rest assured that their sales and customer care team will handle each transaction professionally.
WHAT PEOPLE LIKE
FREE SHIPPING. Do not miss the chance to avail the shop's free shipping option. Just go to their website, click on the "Free Shipping Option" button and you will be shown with the list of products available for free delivery.
PRODUCTS
Gourmet Gifts – $68 to $300
Coffee & Tea Gifts – $38 to $400
DELIVERY AND PAYMENT
PayPal, MasterCard, Discover, Visa, Apple Pay, AMEX
6.      HAMPERS USA
Hampers USA specializes in stunning wrapped bouquets which they consider to be one of their top selling gifts from their collection.
They also sell chocolates and balloons which can be a perfect combo for your choice of flowers. The shop guarantees that whichever you get from their shop will be a perfect choice.
WHAT PEOPLE LIKE
100% CUSTOMER SATISFACTION. Most of the reviews that the shop is getting from their clients are praises and compliments due to their amazing gift collection and not to mention these are sold at very reasonable prices. They are also applauded for their professionalism and quick responses to queries and requests.
RELIABLE DELIVERY. A combo of excellent products and efficient gift delivery services is what makes Hampers USA one of the top choices of the people in the USA in the industry of gift-giving.
PRODUCTS
Wine Gifts – $89 to $800
Corporate Gifts – $116 to $800
DELIVERY AND PAYMENT
Contact shop for details.
7.    JET GIFT BASKETS

Aside from our impeccable taste for all things good and gourmet, every gift basket idea Jet Gift Baskets combines is made with love. They understand how daunting a task it is at times to pick out the perfect present – let alone the time pressure it entails. As master gifters, they put in the hard work for you already! Professionally curated, they mix and match top-shelf products that complement each other for your gastronomical pleasure.
WHAT PEOPLE LIKE
A WIDE SELECTION. Whether you need a gift that expresses how thankful or sorry you are, rest easy knowing that they have a wide range of choices for you. And if you don't see what you're looking for on their website, then don't fret! Simply message them and their team would be more than happy to create you a custom gift basket.
FEATURED ON VARIOUS MAGAZINES. The quality of their products services has been vouched for by The New York Times, Business Insider, USA Today, and more.
PRODUCTS
Thank You Gifts
Birthday Gifts
Sympathy Gifts
Corporate Gifts
Holiday Gifts
DELIVERY AND PAYMENT
Contact shop for details.
8.   ALL THE BUZZ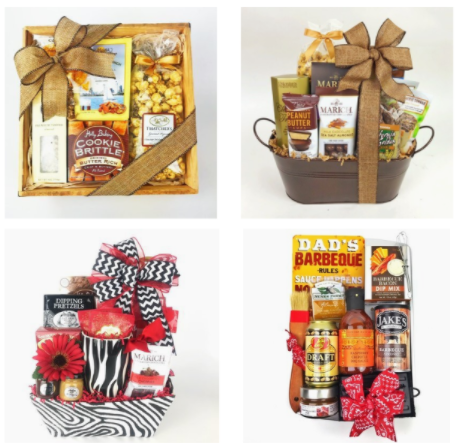 All the Buzz offers a wide range of pre-made baskets. However, if the customer is still not satisfied with these, they can customize their own to achieve perfection in a gift.
If customers are in San Jose, they can easily pick it up at their store. They may also opt for free delivery!
SPECIALTY
All Occasion Baskets
SELECTION SIZE
Large
STARTING PRICE
Starts at $12
DELIVERY FEE
FLAT RATE SHIPPING BASED ON ORDER AMOUNT

$1-$45: $11 ground, $24 2-day, $18 for 3-day
$46-$94: $15 ground, $30 2-day, $35 3-day
$95-$150: $20 ground, $55 2-day, $40 3-day
$151-$300: $24 ground, $75 2-day, $60 3-day
$301-$450: $40 ground, $98 2-day, $70 3-day
$451-$750: $60 ground
$751-$1000: $95 ground
$1000+: $125

WEBSITE
https://www.jetgiftbaskets.com/
SOCIAL MEDIA
FB: https://www.facebook.com/AllTheBuzz

IG: https://www.instagram.com/allthebuzzgifts/

Twitter: https://twitter.com/AllTheBuzzGifts

CONTACT DETAILS
 408-504-3703
WHAT PEOPLE LIKE
DISCOUNTS.  The store offers a 10% off for customers with $125 and above.  They also offer other  discounts as soon as you subscribe to their newsletter.
PRODUCTS
Baby Gifts
Birthday Gifts
Business Gifts
California Gifts
Congratulations/Graduation Gifts
Holiday Gifts
Get Well Gifts
Hospitality Gifts
Real Estate Gifts
Spa & Wellness Gifts
Sympathy Gifts
Comfort and thank you Gifts
Essential and Frontline Staff Gifts
DELIVERY AND PAYMENT
They only ship in the U.S.
Visa, Mastercard, American Express, Discover and Paypal.
9.   BELLA BASKETS

Bella Baskets is a business that was established in 2007 whose goal is to curate the best selection of Humboldt products. At Bella Baskets, you can get to find all of your favorite local Humboldt specialty gourmet food and a lot more.
| | |
| --- | --- |
| SPECIALTY | Gourmet food and gift boxes |
| SELECTION SIZE | Medium-Large |
| STARTING PRICE | Starts at $22 |
| DELIVERY FEE | Contact shop for more details |
| WEBSITE | https://bella-baskets.com/ |
| SOCIAL MEDIA | FB: @BellaBasketsHumboldt |
| CONTACT DETAILS | 1-877-445-0152 |
WHAT PEOPLE LIKE
HIGH QUALITY PRODUCTS. They are dedicated to providing only the best and freshest food that you can get to enjoy with your loved ones.
ALWAYS OPEN. They are open to cater your orders seven days a week.
PRODUCTS
Enchanted Forest – $180
Large Barbeque Basket – $119
Corporate office gift basket – $185
DELIVERY AND PAYMENT
Orders placed by Friday noon will be dispatched Monday while orders placed by Monday noon will be shipped the following Tuesday or Wednesday. Contact shop for more details about payment.
10.   HUMBOLDT MARKETPLACE

Having been in the industry for over 15 years, Humboldt Marketplace has been providing delightful gift boxes to numerous guests and friends in the city. Created with the environment in mind, their gift boxes are proudly plastic-free and decorated with only real cedar leaves and pine cones. 
Their unique and one of a kind gift boxes are loved for its locally sourced snacks and items that truly show the Humboldt spirit to those who receive them. Show you appreciation and make someone's day with Humboldt Marketplace.
WHAT PEOPLE LIKE
ECO-FRIENDLY – They have a reduced carbon footprint by 20% and do not use plastic. All their gift boxes are decorated with real cedar leaves and pine cones.
VEGETARIAN GIFT BOX – They offer a vegetarian gift box for your preference.
PRODUCTS
The North Coast Catch! – $105.00

Eureka! – $75.00
DELIVERY AND PAYMENT
They accept Amex, Apple pay, Gpay, Mastercard, Venmo, Visa, Paypal.