The 8 Best Options for Gift Baskets in Ireland
Thinking what gift to send is one thing but selecting which store to get it from is another. Lucky for you we already worked with the second one. All that's left for you to do is select gift baskets from their collection that you think best fit your preferences.
Check out our list of your best options for gift baskets in Ireland.
1.      BASKETS GALORE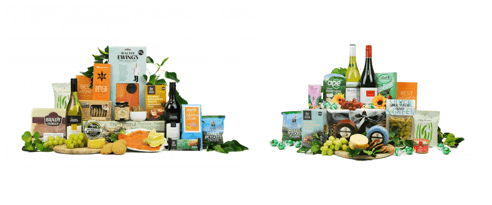 Baskets Galore is a family-run and owned business in the United Kingdom that serves a large collection of gift baskets and hampers for all occasions and events. Their hampers are conveniently categorized according to type and content so customers can easily pick the one best suited for their celebration.
Aside from their products and services, Baskets Galore also takes pride in their team of exceptionally amazing staff that are committed to bringing you only the best hampers that you deserve.
WHAT PEOPLE LIKE
100% CUSTOMER SATISFACTION. Baskets Galore is applauded for their overall wonderful customer service that always brings joy to their clients. They make sure to consistently provide them with the best products and to safely deliver to them their orders.
TRUSTED BRANDS. To secure the quality of the products that the shop provides, they partner up with various brands that have long been established their names in the industry of gift-giving.
PRODUCTS
Gourmet Hampers – €47 to €300
Chocolate Gift Hampers – €69 to €400
DELIVERY AND PAYMENT
Visa, MasterCard, AMEX, PayPal
2.      HAMPERS AND CO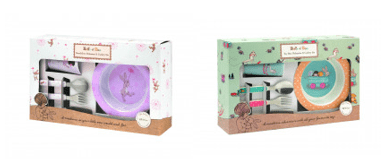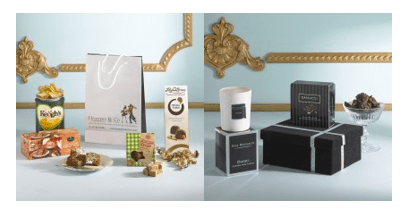 Hampers and Co is one of Ireland's leading gourmet hampers companies. It offers a wide range of luxury hampers, filled with both food and non-food products.
For over 29 years, they have packaged, sourced, designed & delivered beautifully presented hampers of exceptional quality to Individual & Corporate clients.
WHAT PEOPLE LIKE
Who would have thought that a gift basket consisting of high quality products would be sold at a very affordable amount? Well, at Hampers and Co, this is never impossible because they currently sell them at low prices.
EXTENSIVE SELECTION. The shop is equipped with different kinds of gift baskets and retail gift items so you have plenty of options to choose from.
PRODUCTS
Baby Hampers – €20 to €100
Pamper Hampers – €4 to €100
DELIVERY AND PAYMENT
Contact shop for more details.
3.      ALLGIFTS.IE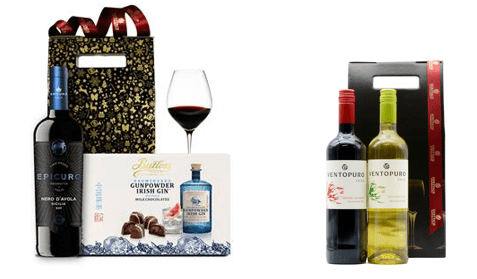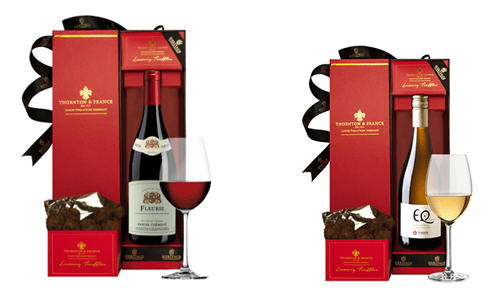 Allgifts.ie has got everything that you are looking for in a gift shop. They have tons of hampers and hampers to choose from. All filled with premium quality products that will definitely make any person who receives them truly happy.
Their products are already arranged according to the type and occasion they are most suited in. Just visit their website and you will see hundreds of different hampers and hampers readily available for delivery.
WHAT PEOPLE LIKE
HIGH QUALITY PRODUCTS. One of the prides of Allgifts.ie is the ensured 100% high quality of all of their products. From selecting the products to arranging the baskets, they always make sure that they live up to the high standards that they set.
100% CUSTOMER SATISFACTION. Their clients can vouch for the shop when we say that they truly provide not only an excellent product collection but good customer service as well.
PRODUCTS
Wine Gifts – €21 to €150
Champagne Gifts – €32 to €200
DELIVERY AND PAYMENT
Visa, MasterCard
4.      IRISH GOURMET

Irish Gourmet specializes in locally sourced gourmet food and hampers. They select great tasting Irish food products, discriminating in favour of smaller artisan producers and mix in innovative foods from around the world.
They are also home to some of the finest hampers not only in Dublin but in the entire country of Ireland. The shop delivers all throughout the year and even customize their collection to match with a special occasion or holiday season.
| | |
| --- | --- |
| SPECIALTY | Gourmet hampers |
| SELECTION SIZE | Large |
| STARTING PRICE | Starts at €52 |
| DELIVERY FEE | STarts at €7.99 |
| WEBSITE | https://irishgourmet.ie/ |
| SOCIAL MEDIA | |
| CONTACT DETAILS |  +353 (0)1 657 1935 |
WHAT PEOPLE LIKE
DEDICATED TEAM. The team of Irish Gourmet is composed of truly dedicated and highly accommodating people that provides good service to all of their beloved customers. They always make sure that they get the best that they deserve and that they have a good experience with them.
PRODUCTS
Christmas Gifts – €52 to €300
Wine and Cheese Gifts – €69 to €400
DELIVERY AND PAYMENT
Contact shop for details.
5.      BOX OF WINE

Box of Wine was established in 2020 by a team of wine enthusiasts who have a combined 25 years of drinking wine and more than three decades of experience in the hospitality industry. Since their establishment, they have shipped more than 20,000 wine bottles to every county in the country.
WHAT PEOPLE LIKE
WIDE RANGE OF PRODUCTS. We like that they have a range of wine hampers and gift baskets to choose from. They don't only have the cutest wine hampers, but they also have candles, soaps, tumblers, and more gift choices!
EXCEPTIONAL SERVICE. We think that their team is very knowledgeable about wines, and that translates to excellent service. The wine they said isn't just consistently good, but they're able to offer personalized service.
PRODUCTS
Wine Hampers and Gift Boxes
Wine Subscription Boxes
Wine Bottles
Wine Accessories
DELIVERY AND PAYMENT
They ship nationwide in the Republic of Ireland. Where applicable, standard shipping is free and will be dispatched 2-5 business days from order date. Express shipping costs €7.95 and will be dispatched on the same business day if the order is placed before 1pm or the following business day if ordered after 1pm. They accept secure payments via Credit Cards and Debit Card.
6.      THE IRISH STORE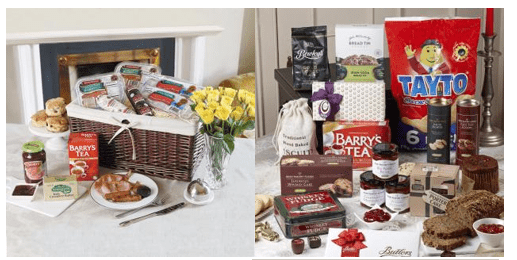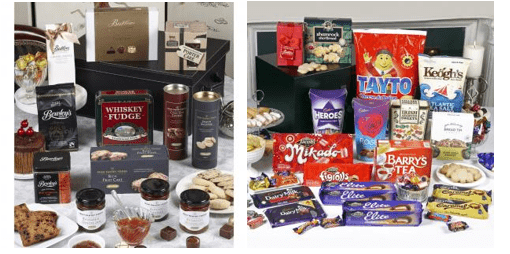 Get some of Ireland' best at The Irish Store and be amused by their quick delivery as well. Their hampers consist of delicious snacks and sweet goodies that you will definitely love. Even your non-Irish friends will certainly enjoy devouring these Ireland delicacies.
Aside from edible products, you can also find fine jewelries and other gift items for both men and women.
WHAT PEOPLE LIKE
WIDE SELECTION. You will really never run out of options if you choose to order your gift items from Gift Box Gallery because they have a huge collection of different gifts, each are perfect for all kinds of occasions and events.
PRODUCTS
Irish Gift Baskets – $69 to $300
DELIVERY AND PAYMENT
PayPal, AMEX, Visa, MasterCard, Diner's,
7.      WRIGHTS OF HOWTH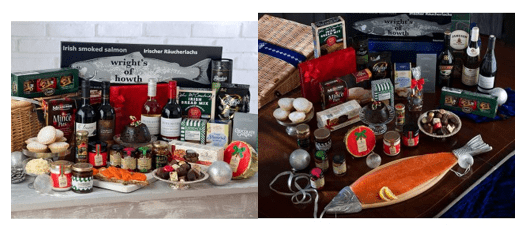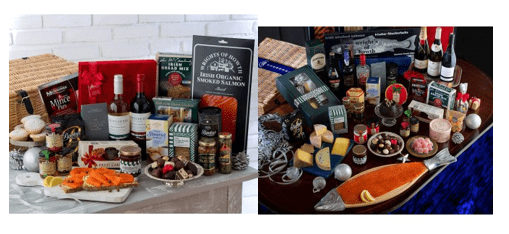 Wrights of Howth is famous for their smoked salmon— a family recipe that began in 1893. Eventually, the shop has expanded their collection and added more products like gift baskets that consist of Ireland's finest.
These hampers are perfect to be sent as gifts or to bring in a family gathering because they are composed of luxury products like wines, cheese, salmon, and other products.
| | |
| --- | --- |
| SPECIALTY | Smoked salmon |
| SELECTION SIZE | Large |
| STARTING PRICE | Starts at €129.00 |
| DELIVERY FEE | Calculated at checkout |
| WEBSITE | http://shop.wrightsofhowth.com/ |
| SOCIAL MEDIA | |
| CONTACT DETAILS | +353 1 531 2256 |
WHAT PEOPLE LIKE
PREMIUM HAMPERS. If there is one thing that the shop can assure you, it is the quality of their products that they always maintain to be exceptional and perfect as gifts.
PRODUCTS
Gift Hampers – €129 to €400
DELIVERY AND PAYMENT
All of their deliveries are made from Monday to Friday between business hours in that country.
8.      ATHLONE HAMPERS

Athlone Hampers is a local family operated business that offers delicious hampers and food baskets suitable for any occasions. They are 100% irish owned that support local brands and suppliers.
They understand that giving gifts are special and this is why they give nothing but exceptional services to put a smile on both of you and your receiver's faces.
SPECIALTY
Gift Baskets
SELECTION SIZE
Large
STARTING PRICE
Starts at €29.99
DELIVERY FEE
Depends on location
WEBSITE
https://athlonehampers.ie/
SOCIAL MEDIA
Instagram: @athlonehampers
Facebook: @AthoneHampers
CONTACT DETAILS
0873769858 |

[email protected]
WHAT PEOPLE LIKE
SERVICE. Athlone Hampers go above and beyond to assist and serve you with their high quality products and services.
WIDE-RANGE. They have a wide-range of services suitable for any occasion.
PRODUCTS
A Whiskey Lovers Hamper – Jameson Whiskey: €65.00
Cadburys Chocolate & Prosecco Gift Hamper: €45.00
A Prosecco Deluxe – Prosecco and Chocolate Gift Hamper: €42.99
DELIVERY AND PAYMENT
They deliver in Ireland & Northern Ireland, UK, Europe, Canada, USA, and Australia with varying fees. For their modes of payment, contact them for further details.