The 7 Best Options for Gift Baskets in the Philippines
Filipinos are known to be hospitable and generous in any way. They also choose no time in sending gifts especially to their loved ones. Whether it's a birthday, graduation, anniversary, or even just a random ordinary day.
So, if you are looking for shops within the Philippines that can help you with your gift basket needs, check out the list below for your best options.
1.      FLOWERDELIVERYPHILIPPINES.NET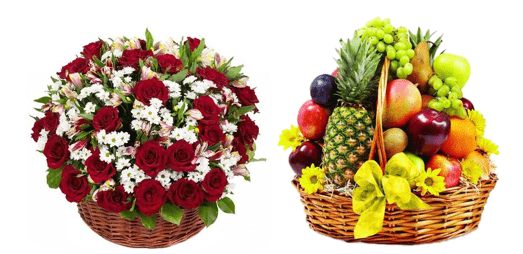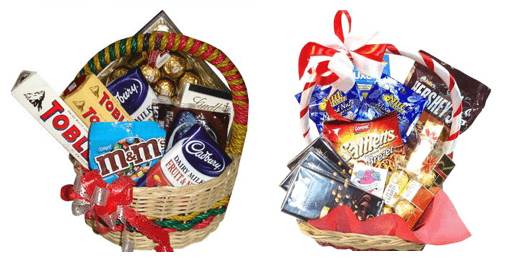 FlowerDeliveryPhilippines.Net is one of the largest online gift and souvenir shops serving the whole country of the Philippines. From fresh flowers, gourmet food selection, to premium gift baskets, the shop never fails to provide their customers with high quality products, backed with their reliable customer services.
WHAT PEOPLE LIKE
Who would have thought that a gift basket consisting of high quality products would be sold at a very affordable amount? Well, at FlowerDeliveryPhilippines.Net, this is never impossible because they currently sell them at low prices.
EXTENSIVE SELECTION. The shop is equipped with different kinds of gift baskets and retail gift items so you have plenty of options to choose from.
PRODUCTS
Flower Baskets – ₱2000 to ₱5000
Gourmet Baskets – ₱2000 to ₱5000
DELIVERY AND PAYMENT
Visa, MasterCard, Maestro, AMEX, PayPal
2.      GIFT BASKET PHILIPPINES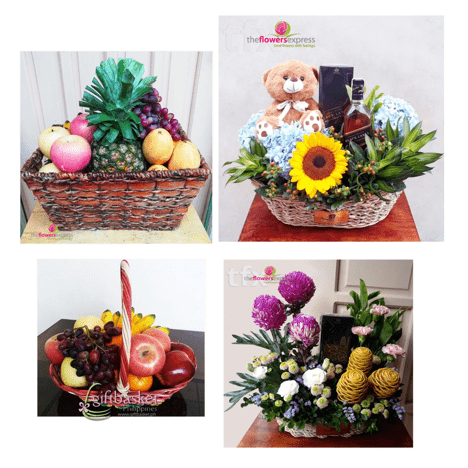 Gift Basket Philippines is one of the top rated gift providers in the country that provides all kinds of gift products suitable for all occasions. The company aims to share love and happiness to their clients through their excellent quality products.
Whether you are looking for baby gift baskets, holiday gift baskets, or birthday gift baskets, you can trust Gift Basket Philippines to provide you with the best that you deserve.
WHAT PEOPLE LIKE
CUSTOMER SATISFACTION. With Gift Basket Philippines, you are guaranteed that they always prioritize customer satisfaction and they make sure to check the quality of their products before releasing it to the market.
PRODUCTS
Fruit Baskets – ₱1750 to ₱5000
Flower Baskets – ₱1850 to ₱5000
DELIVERY AND PAYMENT
Visa, MasterCard, Western Union
3.      RAPHAEL'S GIFTS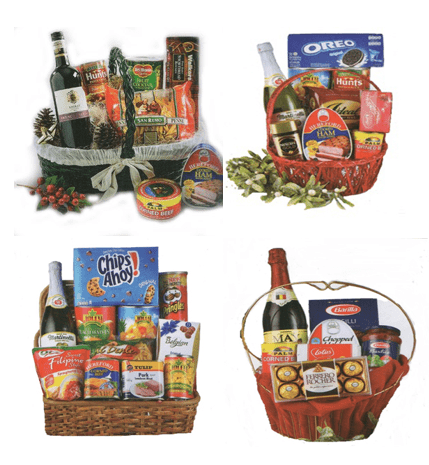 Sometimes it is really hard to choose what type of gift hamper is suited best for an occasion or to a specific person, but Raphael's Gifts could help you select with their gigantic options that you can choose from.
Whether you are sending gift hampers to a newly wed, or to your mom for Mother's day, Raphael's Gifts could truly be your pal.
WHAT PEOPLE LIKE
SEAMLESS ORDERING METHOD. Placing orders at the shop is absolutely easy and fast. You may either give them a call or send them an email containing the details of your orders and they guarantee that you will be accommodated instantly.
SPECIAL ADD ONS. The team only wants what is best for their clients that is why they make sure to offer you endless options when it comes to gift-giving. Aside from their wonderful gift baskets, they also offer fresh flower arrangements to complete the package.
PRODUCTS
Gourmet Baskets – ₱3500 to ₱5000
DELIVERY AND PAYMENT
Visa, MasterCard, BPI, BDO, PayPal, MoneyGram, American Express, Remittance Centers
4.      GIFTS N IDEAS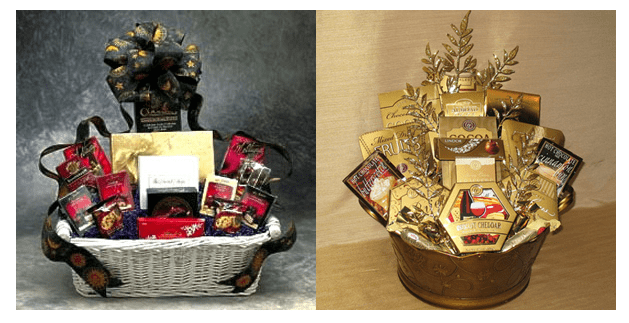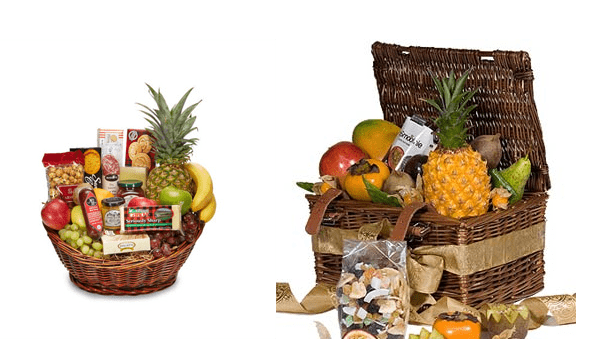 Gifts N Ideas is one of the most popular gift basket providers not only in the Philippines but in nearby cities and countries. The shop houses thousands of different gift items and baskets that consist of various products starting from chocolates, balloons, and flowers to premium wines and collectibles.
If you want to know more about these items, make sure to regularly visit their website.
WHAT PEOPLE LIKE
VARIETY OF OPTIONS. The shop extends its reach by not merely widening their coverage of delivery area but also by adding more items in their collection so all kinds of gift needs will be addressed by their team.
100% CUSTOMER SATISFACTION. The shop never fails to amaze their clients with the quality of products and services that they are providing. That is why they cons
PRODUCTS
Chocolate Baskets – ₱2000 to  ₱5000
Fruit Baskets – ₱1000 to ₱5000
DELIVERY AND PAYMENT
Visa, MasterCard, AMEX, Discover, Diner's
5.      KNOTS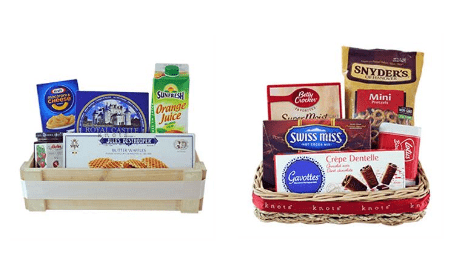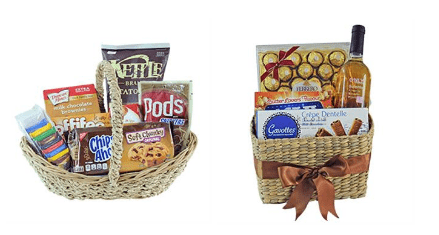 Knots boasts a wide variety of hand-selected snack gift baskets for every occasion. Good thing is that their website is easy to navigate so you can effortlessly select what you want.
Knots also makes sure that they maintain a good relationship with their customers so rest assured that their sales and customer care team will handle each transaction professionally.
WHAT PEOPLE LIKE
HIGH QUALITY GIFT BASKETS. When you visit Knots' webshop, you will be greeted with their exceptionally beautiful gift baskets which are perfect for corporate and special gifting. They also make sure that all the products in it are in the best quality and taste.
PRODUCTS
Gourmet Hampers – ₱1600 to  ₱3000
DELIVERY AND PAYMENT
PayPal, MasterCard, Visa
6.      ALTA GIFT BASKET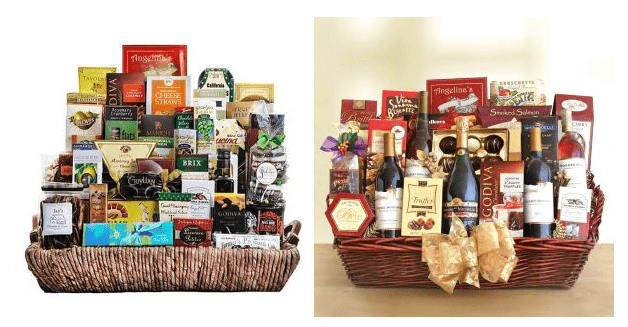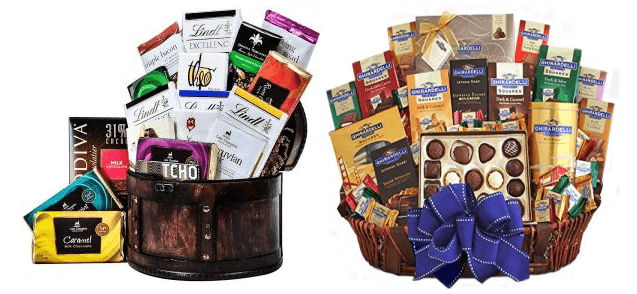 Alta Gift Baskets takes pride in their impeccable selection of gift baskets containing only the finest wines and chocolates coming all the way from Europe and some parts of Asia.
These gourmet baskets are perfect if you are looking for a fancy gift item to send for your corporate gifting or you can bring it as go-to snacks for your romantic getaway.
WHAT PEOPLE LIKE
100% CUSTOMER SATISFACTION. Most of the reviews that the shop is getting from their clients are praises and compliments due to their amazing gift collection and not to mention these are sold at very reasonable prices. They are also applauded for their professionalism and quick responses to queries and requests.
PRODUCTS
Chocolate Gift – ₱37000
Birthday Gift Baskets – ₱24000
Thank you baskets – ₱11000
DELIVERY AND PAYMENT
PayPal, MasterCard, Visa, BDO
7.      SPEED REGALO

Speed Regalo is one of the largest online shopping companies in the Philippines having its own logistics company that can deliver not only in Manila area but in the entire country. The shop is committed to bringing you the best kinds of gift products that will definitely make your purchase worth its price.
WHAT PEOPLE LIKE
DIVERSE BRANDS. Do you have certain brand preference? Well, you can get that at Speed Regalo. They have several options for branded merchandise and you can purchase them directly from this shop so no need to visit the brand in their shop itself.
PRODUCTS
Gourmet Gifts – Php 1890 to Php 5000
Wine & Liquors Gifts – Php 1300 to Php 7000
DELIVERY AND PAYMENT
PayPal, AMEX, Visa, MasterCard, Dragon Pay, Paymaya, Bancnet