The 7 Best Options for Gift Baskets in Tauranga
Whether you are thinking of sending a gift to a sick friend, or a colleague who just had her baby, or maybe a present for your mom's birthday, you definitely have a lot of options if you check out the gift baskets offered by various shops in Tauranga.
We have listed for you 6 of the best and budget-friendly one so make sure to keep on reading!
Note: Since lockdown measures have been eased down, all gift shops in our list have resumed normal operations, accepting walk-in customers, doing deliveries, and the like, although strict contactless transactions and physical distancing.
1.      GIFTBOX BOUTIQUE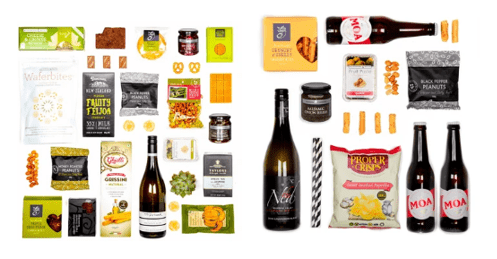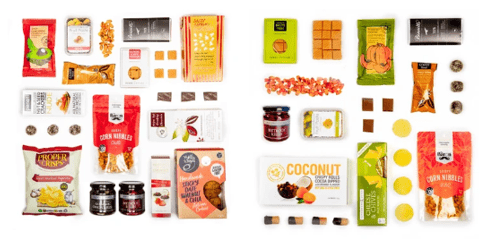 Giftbox Boutique designs and delivers custom gift boxes, gift bags and baskets full of Tauranga-made goods, made with the highest quality ingredients and materials.
They have always been recognized for their stunningly beautiful collection of gift products that is why they have gained the trust of many people in Tauranga. Should you need a professional opinion on what gift to choose, their team will happily assist you.
WHAT PEOPLE LIKE
FREE DELIVERY. As long as you made a purchase with a total of $150 and above, you are guaranteed that your order will be delivered right next to the recipient's doorstep without any delivery fees.
VALUE FOR MONEY. Giftbox Boutique shows their appreciation for their customers who spend their time, money, and trust to their shop by giving them the best quality of products that they truly deserve that is why you will never regret purchasing your hampers from them.
PRODUCTS
Wine Gifts – $70 to $200
Gluten Free Gifts – $65 to $200
DELIVERY AND PAYMENT
MasterCard, PayPal, Visa, AMEX
2.      BLISS BASKETS & GIFTS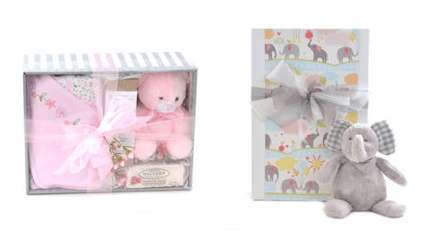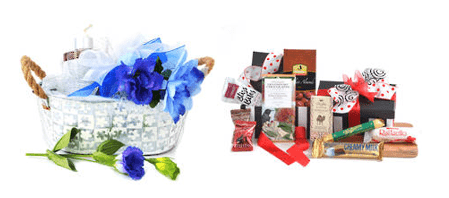 Bliss Baskets & Gifts is a local Tauranga gift provider that they pride in the area's heritage. They aim to preserve and introduce the local gems and pride of Tauranga. That is why they always make a big effort to create and design gift baskets that will be enjoyable for your friends and families.
Their collection is filled with various gift baskets which can be a perfect present for any occasion and any time of the day.
WHAT PEOPLE LIKE
RELIABLE HAMPER DELIVERY. One of the best things about Bliss Baskets & Gifts is they really give high importance to the quality of their delivery service. They make sure that from the shop until the recipient's address, their gift hampers remain in the best condition so they're clients can paint a smile on their faces.
AFFORDABLE ARRANGEMENTS. The shop offers hampers that are very affordable. As listed on their website they sell for as low as $35 yet have the same quality with the pricier ones.
PRODUCTS
Baby Gifts – $55 to $200
Romantic Gifts – $43 to $200
DELIVERY AND PAYMENT
PayPal, Visa, MasterCard, AMEX, Diner's, LayBuy, PayStation
3.      CHERRYWOOD FLORIST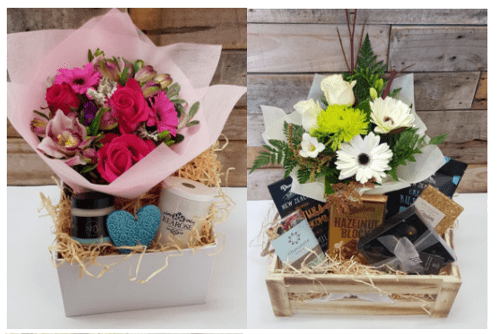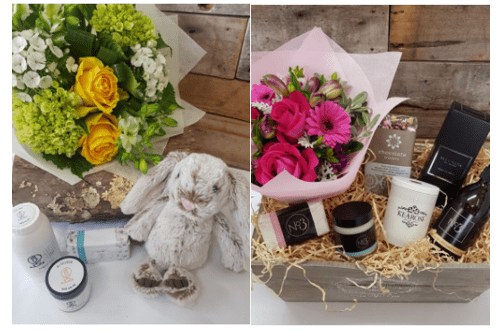 Cherrywood Florist is mostly known for their huge collection of fresh flower arrangements but upon acknowledging the need for a more competitive product collection, the shop then expanded their selection of premium products and added truly promising gift baskets.
Their gift baskets are beautifully arranged still with dazzling flowers on the side to complete the stunning look.
WHAT PEOPLE LIKE
RELIABLE SERVICE. Still don't know what to purchase? You might consider calling their staff for a couple of suggestions or questions/queries on what gift hampers to give or not to give. They would be very happy to be of service to you.
PRODUCTS
Flower Gift Baskets – $70 to $200
DELIVERY AND PAYMENT
Contact shop for more details.
4.      BASKET CREATIONS GIFTS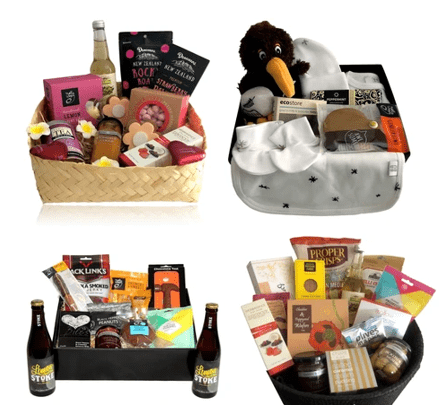 Basket Creations Gifts is your best way to go if you are looking for a bunch of gift baskets perfect to be sent anytime, anywhere. Whether you are looking for the perfect birthday gift, a gift for baby shower, your parents' anniversary, a friend's graduation, all of those celebrations can be covered with Basket Creations Gifts' collection of premium quality gift baskets.
WHAT PEOPLE LIKE
CUSTOM GIFT DESIGNS. The shop allows their clients to unleash their creativity and bring out their ideas by customizing their gift baskets exactly how they want it to look. Whether it is the likings of the sender or the recipient, they can get you the gift basket that you have always wanted.
CORPORATE GIFTING. No need to worry about the gift items to be sent to your clients and business partners because Basket Creations Gifts also offers corporate gift giving services.
PRODUCTS
DELIVERY AND PAYMENT
Visa, MasterCard, AMEX, PayPal, Apple Pay
5.      CREATIVE GIFT BASKETS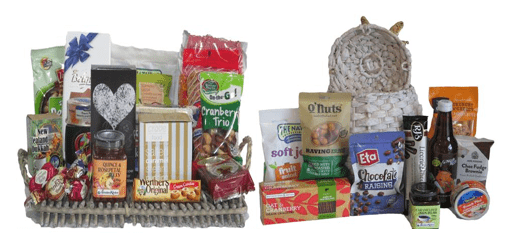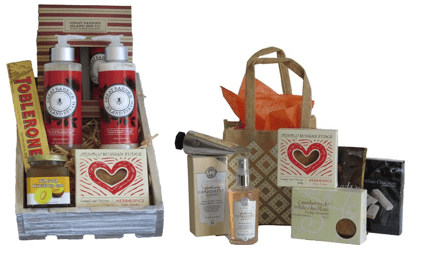 Creative Gift Baskets has probably one of the largest gift basket selection readily available for delivery across Tauranga. They also have some of the best quality products that is why it has easily become the crowd's favorite.
Most, if not all, of the products that can be found in Batch are handcrafted and handpicked by their ever so talented staff.
WHAT PEOPLE LIKE
LARGE SELECTION. One of the prides of Creative Gift Baskets is their ability to address all of the gift needs of the people in Tauranga basically because of their large collection of gift baskets consisting of various products all in premium qualities.
PRODUCTS
Corporate Gift Baskets – $39 to $100
Romantic Gift Baskets – $55 ro $100
DELIVERY AND PAYMENT
Contact shop for more details.
6.      THE PRESSIE BOX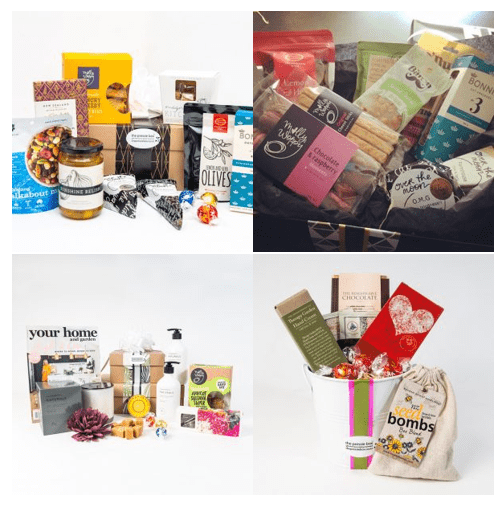 The Pressie Box started because of the founder's burning passion for gifts and gift giving. With this, the shop offers a wide range of gift options that are perfect for both small and big celebrations.
The shop is committed to bringing you with only the best products. That is why they live by their promise of "If it's not right, I'll fix it". So, by availing the gift basket from The Pressie Box, you are guaranteed to receive high quality products.
WHAT PEOPLE LIKE
LARGE SELECTION. Just name the kind of hamper you need and The Pressie Box will do their best effort to give you their best creation. They have a lot of gift baskets to choose from that are equally of the premium qualities.
AFFORDABLE PRICES. The shop has gift baskets designed to suit any budget, especially lower ones. But, they never compromise the quality of their products.
PRODUCTS
Gourmet Food Baskets – $28 to $300
Pamper Gift Baskets – $7 to $200
DELIVERY AND PAYMENT
Contact shop for details.
7.      WILLOW AND WOLFE

Willow & Wolfe is about spreading happiness with gifts that are stylish and contemporary whilst trading fairly, respecting people and the environment. Their wide range of products are made up of mostly New Zealand Artisan brands sourced directly from individual suppliers for their premium quality and ethical practices.
Their ethos is to curate gift hampers where both design and ethics are not compromised. Their suppliers work with Artisans all over the world, empowering communities to rise above poverty by providing sustainable employment, for a fair price, in healthy working conditions. It's a work in progress.
WHAT PEOPLE LIKE
UNIQUE ARTISAN PRODUCTS. Caring for the discerning and particular, we personally select from artisan brands known for their premium quality and unique products. They've got you covered for any occasion.
PRE-CURATED OR BUILD YOUR OWN. Choose from over 80 specially designed hampers or curate the perfect gift from over 400 products. You are totally in charge and the possibilities are endless.
PRODUCTS
A Triple of White – $95
A Little Bit of Luxury – $120
Delish – $105
DELIVERY AND PAYMENT
Delivery days are Monday – Saturday in Main centers.