The 6 Best Options for Preserved Flowers in Tokyo & Japan
Tokyo and Japan is such a wonderful place to visit, especially during spring where cherry blossoms are more noticeable and are scattered around the area.
Aside from the beautiful cherry blossoms, Tokyo is also known for their numerous flower shops that offer even preserved flowers that they guarantee to be long lasting.
Here is a list of the 6 best options that you have.
Note: Due to the current pandemic outbreak and State of Emergency in Japan, we've noted the relevant service changes for some of the shops listed below. Most stores are still accepting online or phone orders as well as deliveries.
1.      OHCHI NURSERY
Ohchi Nursery Ltd. is the largest manufacturer in Japan of Preserved Flowers and Dried Flowers since it opened in the 1960s. The shop was founded by Mr. Masaichi Ochi in Tamba, a town in Hyogo Prefecture, surrounded by the mountains.
Aside from sharing the wonder that is their work in Tokyo and Japan, they also export their products in different parts of the world.
| | |
| --- | --- |
| SPECIALTY | Premium dried florals |
| SELECTION SIZE | Large |
| STARTING PRICE | Contact the shop for the price list |
| DELIVERY FEE | Calculated at checkout |
| WEBSITE | https://ohchi-nursery.com/ |
| SOCIAL MEDIA | IG:@ohchi_official |
| CONTACT DETAILS | +81-795-77-2311 |
WHAT PEOPLE LIKE
ANNUAL EXHIBITIONS. The shop showcases their wonderful creations to the people in Japan every month of May, September, and November so make sure to catch those dates.
LARGE SELECTION. The shop has over2500 products and more than 900 item types so shop until you drop with Ohchi Nursery.
PRODUCTS
Preserved Roses
Preserved Greens
DELIVERY AND PAYMENT
Contact shop for details.
2.      ETSY

Etsy is known for their elegant and premium collection of gift items which includes a recreation from dried flowers. This product of their really possess elegance and beauty as they are preserved so carefully and redesign so beautifully that you would not think that they are made of withered flowers.
WHAT PEOPLE LIKE
BEAUTIFUL CRAFTS. The shop does not only focus on the quality and life longevity of their preserved roses but they also give close attention to its physical appearance to make sure that their products are gift worthy.
AFFORDABLE PRODUCTS. You'd think that with the kind of products that they offer, they will sell them at very affordable prices but you are entirely wrong because these beautiful preserved roses are actually very budget friendly.
PRODUCTS
Preserved Flowers – $14 to $200
DELIVERY AND PAYMENT
Contact shop for details.
3.      AMOROSA

Amorosa comes from an exclusive farm in Ecuador, South America. The farm fosters unique species of rose which are especially suitable for the use of flower preservation.
Their preserved roses are packaged so beautifully in boxes and they even include some real and natural diamonds to make your orders shine and become even more stunning.
WHAT PEOPLE LIKE
STUNNING PRODUCTS. Wouldn't it be great to know that their flower products are not only composed of the flowers alone but are also attached with some of the finest diamonds? Well, for Amorosa, nothing is impossible.
HIGH QUALITY PRODUCTS. One of the priorities of the shop is making sure that all of the products coming in and out of their shop is always on their best quality so their clients will receive their orders with smiles on their faces.
PRODUCTS
Diamond Rose Box
Fragrance Rose Box
DELIVERY AND PAYMENT
Contact shop for details.
4.      TOKYO FLORISTS

Tokyo Florists is one of the premier florists in Tokyo. It prioritizes customer satisfaction over anything that is why they make sure to provide you with only the finest and freshest flowers that you can find in the area.
Aside from their fresh blooms, they also offer beautiful preserved flowers perfect for all occasions as well.
WHAT PEOPLE LIKE
PREMIUM SELECTION. The shop possess premium quality of preserved flowers that you will definitely fall in love with. These flowers can be sent as a gift or become accessories or accent to your room or office.
DIVERSE FLOWERS. The shop does not only preserve roses but they also make use of other flowers that are equally stunning and colorful.
PRODUCTS
Preserved Roses – $64 to $500
DELIVERY AND PAYMENT
Contact shop for details.
5.      FLORA JAPAN

Flora Japan is one of the largest flower providers in Japan and not only that, they have also equipped their collection with other gift items that are appropriate for all occasions.
Their products also come in pastel colors so they are truly perfect if you are looking for a gift that is both long lasting and pleasing to the eyes.
WHAT PEOPLE LIKE
VALUE FOR MONEY. The shop really put great effort in creating the most luxurious preserved roses and with this you can be certain that your money really showed its true value and not even a centavo is wasted if you choose to buy one from Flora Japan.
PRODUCTS
Preserved Roses – $74 to $300
DELIVERY AND PAYMENT
Contact shop for details.
6.      BELLES FLEURS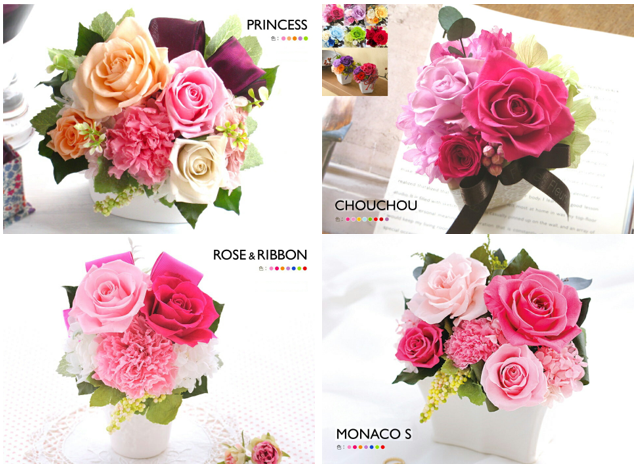 Belles Fleurs was founded in 1981 and is a flower design company that comprehensively produces numerous unique floral arrangements. We think they are great because of how wide their range of services is.
From custom-made products and gifts to bridal and displays, they got you covered.
As a leading company in preserved flowers, their products are, under supervision, all handmade by first-class flower designers in their own specialized studio. Apart from this, they also have physical stores at Ginza Main Store and Toranomon wherein you can visit and see their amazing products first hand.
What's great about them is how you can easily search for your preferred flowers on their website with a few simple clicks.
WHAT PEOPLE LIKE
WIDE RANGE OF PRODUCTS. You wilwill be able to find what you are looking for on their website.
PRODUCTS
Roses
Carnation
Phalaenopsis orchid
Plumeria
Gerbera
Moss
Sunflower
Chrysantheum
Sakura
DELIVERY AND PAYMENT
Free shipping on orders totaling 10,000 yen or more (excluding tax) per delivery destination.
Visa, MasterCard, JCB, AMEX, and Diner Club, cash, bank transfer, convenience store deferred, Rakuten Pay, and Pay Pay.