The 11 Best Options for Same Day Flower Delivery in Brisbane
Struggling to find the perfect gift? Do you desperately need it today? Look no further! We've got just the right thing.
From cute posies to big bouquets, Brisbane florists can whip up the most stunning bundle of flowers and deliver it all in one day! You've definitely come to the right place.
We just compiled our top picks so make sure you check out our list of the 6 best options for same-day flower delivery in Brisbane. Trust us, these experts truly are the best ones in your area.
1.    STALKS AND STEMS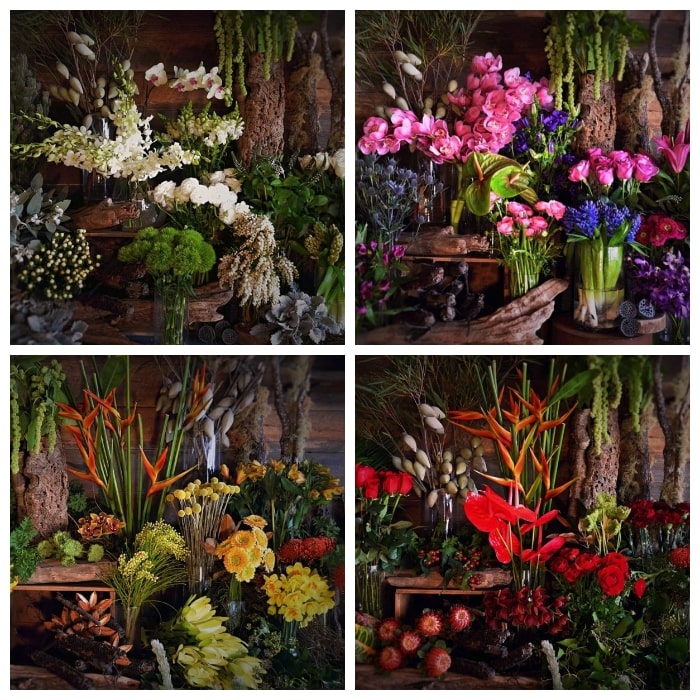 Lush floral designs with enough botanical elements is the signature style of Stalks and Stems. And we're a big fan of it! What started as a small flower shop is now a thriving Brisbane flower company that we recommend you check out. They also cater to weddings, corporate, and events.
SPECIALTY
Seasonal offerings
SELECTION SIZE
Large
STARTING PRICE
From $45
DELIVERY FEE
Billing details required
WEBSITE
www.stalksandstems.com.au
SOCIAL MEDIA
Instagram: @stalksandstemsbrisbane

Facebook: @stalksandstems

CONTACT DETAILS
[email protected]
(07) 3899 9038
Contact Form
WHAT PEOPLE LIKE
UNIQUE COLLECTION OF FLOWERS. Aside from having a wide selection of flowers, their catalog is also full of unique designs you can't see anywhere else. Surely, this company is a balance of quantity and quality.
STUNNING PACKAGING. Stalks and Stems' attention to detail does not stop at their flower arrangements. It's also evident in the presentation of their floral creations. A wrapping style that is both functional and stylish was developed in order to protect your flowers while in transit. Practical? Yes. Aesthetically pleasing? YES.
PRODUCTS
HAT BOX ROSES: $45.00 – $140.00
SUNFLOWER BOUQUET: $45.00 – $95.00
DISBUDS: $55.00 – $165.00
PURITY: $65.00 – $220.00
DELIVERY & PAYMENT
Same day delivery is available for orders placed before 12 pm from Monday to Friday and 10 am Saturday. For next day delivery order anytime. Their website takes both Paypal and Credit card payment.
2. FLOWER HAUL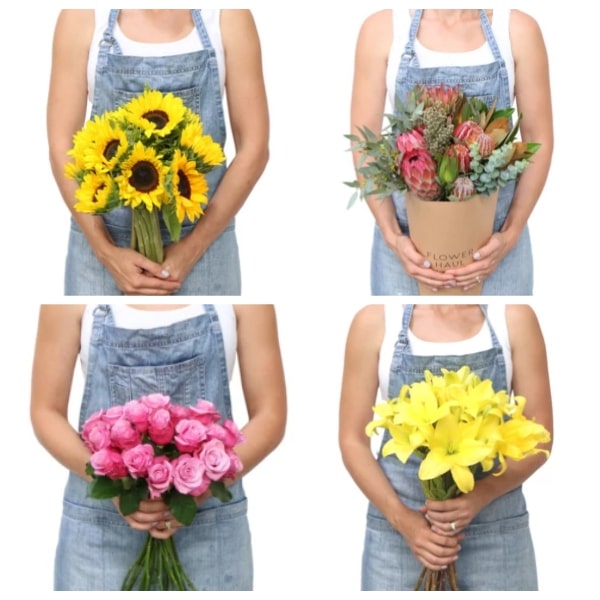 When you want flowers that are literally market-fresh, Flower Haul is the one for you. They're a floral studio based at a flower market. So your bouquets are made from flowers picked-to-order daily and delivered straight from the market. Need we say more?
WHAT PEOPLE LIKE
FROM MARKET TO YOURS. When a flower delivery company is located directly where the fresh flowers are, you know you've got a winner. Flower Haul's bouquets are always made from the freshest seasonal flowers in the market. So it's literally delivered from the market to your doorstep.
NATURALLY STYLED BOUQUETS. A simple arrangement and packaging that highlights the flowers are all you really need. Especially when you're working with the freshest flowers in the market. And that's exactly what they did. Simple designs. Quality flowers. Amazing bouquets.
FAST, EFFICIENT AND FREE DELIVERY. The bouquets are fresh. The flower arrangements are charming. The prices start at $49. AND the delivery is free? What a steal!
PRODUCTS
MARKET BUNCHES: From $49
MIXED BUNCHES: From $49
DELIVERY & PAYMENT
Order before noon for same-day flower delivery in Brisbane. For next day delivery order anytime. Their website takes both Paypal and Credit card payment. Afterpay is also available.
3. POPPY ROSE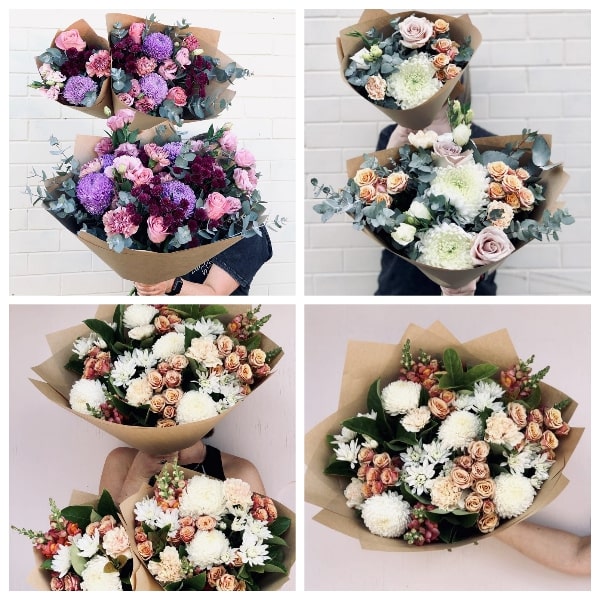 What makes Poppy Rose different from your usual online florists? Simple.  Single style bouquets that change each day of the week. Sustainability plays a big part in this company so they do whatever they can to cut back on waste and what better way to achieve that than offering one bouquet style per day?
SPECIALTY
Farm to Table Flowers
SELECTION SIZE
Curated
STARTING PRICE
From $44
DELIVERY FEE
Free Delivery to Selected Suburbs in Brisbane

*refer to this list

WEBSITE
www.poppyrose.com.au
SOCIAL MEDIA
Instagram: @poppyrosebrisbane
Facebook: /poppyroseflowersbrisbane/
CONTACT DETAILS
[email protected]
(07) 3395 4273
Contact Form
WHAT PEOPLE LIKE
SUSTAINABLE COMPANY. Limiting the style of bouquet available for the day makes it easier for the company to only buy what they need. Doing so, they've cut back on wastes and costs. They also use Kraft brown recyclable paper and natural jute twine for packaging. Biodegradable. Cute. What's not to like?
ECONOMICAL CHOICES. Since there's only one choice of bouquet each day; all you have to do is choose what size you want it to be. There are small, medium and mega-sized bouquets ready for you every day.
CUSTOM BUNCH. Though their pre-arranged bouquets only come in one style, you can still choose their more personalized option. From the available seasonal flowers, they can make you a bouquet of mixed florals you can bring to any occasion.
PRODUCTS
SMALL BOUQUETS: $44
MEDIUM BOUQUETS: $70
MEGA BOUQUETS: $125
CUSTOM BUNCH: From $145
*Prices include delivery to selected suburbs in Brisbane
DELIVERY & PAYMENT
Same day delivery is available for orders placed before 12 pm. For next day delivery order anytime. Their website takes both Paypal and Credit card payment. Their retail store has EFTPOS and accepts cash payments.
4. POCO POSY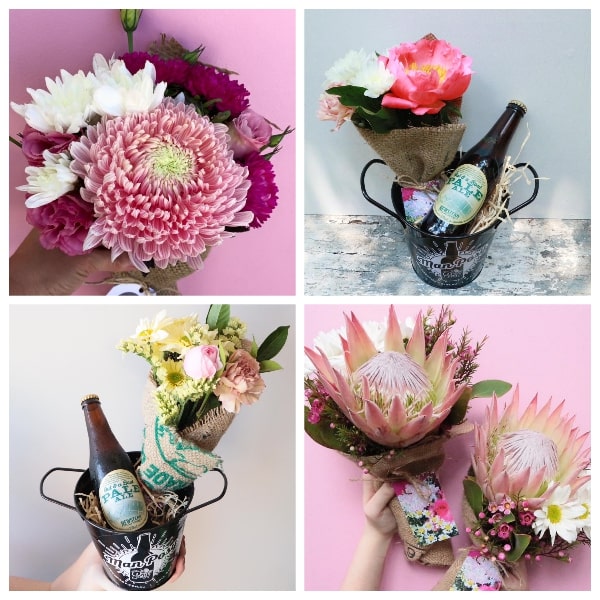 Who needs gigantic, over-the-top bouquets when you can buy posies which are cheaper and just as beautiful? Plus they're hella cute! Here at Poppy Rose, the focus is on creating charming posies that can rival your usual bouquets.
WHAT PEOPLE LIKE
RUSTIC STYLED POSIES. These bouquets may be small, but their appeal can still charm anybody! The aesthetic quality of their bouquets fits so well with their minimalist packaging. And they only use recycled hessian sourced from local coffee merchants in Brisbane for wrapping.
DAILY BOUQUETS. Poco Posy only offers a single style of bouquet each day that changes throughout the week. Pushing them to look for the best and freshest flowers each morning at the market.
FREE SAME DAY DELIVERY. This company offers free same-day flower delivery in selected suburbs in Brisbane. They run deliveries twice daily, to an AM and a PM schedule assuring that each delivery will be there on time.
PRODUCTS
POCO POSY: $39
MEDIUM POSY: $65
LARGE POSY: $95
POCO POTS: $40
MAN POSY: From $55
DELIVERY & PAYMENT
They guarantee deliveries by 5 pm for commercial properties and 7 pm for residential properties. They accept online payments via PayPal or credit card.
5. FLOUR AND BLOOM
Boutique style bouquets? Check. Chic packaging? Check. Free delivery? Check! Flour and Bloom is simply one of the florists in Brisbane you shouldn't sleep on. They deliver the highest quality of flowers at ridiculous honest prices that we want one for ourselves.
SPECIALTY
Big intricate bouquets
SELECTION SIZE
Moderate
STARTING PRICE
$49
DELIVERY FEE
Free
WEBSITE
https://flourandbloom.com.au/
SOCIAL MEDIA
Instagram: @flourandbloom

Facebook: /FlourandBloom/

CONTACT DETAILS
[email protected]
0738430785
WHAT PEOPLE LIKE
MIXED FLORALS. We just love how Flour and Bloom handles their flower arrangement. Everything is just perfectly designed. The choices of flowers, the sizes and amount of blooms in each bouquet is planned out intricately. We're definitely a big fan.
PERSONALIZED BOUQUETS. If you want your flowers tailor-fit to the person you're giving it too, choose the customized bouquet option. Reach out to their lovely florists so you can work with them for that perfect bouquet.
PRODUCTS
MIXED FLOWER BOUQUET: $49.00 – $129.00
CUSTOMIZED BOUQUET
DELIVERY & PAYMENT
Order before 12 pm for same-day delivery until sold out. They deliver from Tuesday-Friday between 12 pm & 6 pm. They accept VISA, PayPal, Stripe, and Mastercard.
6. 7 DAYS FLORIST CHERMSIDE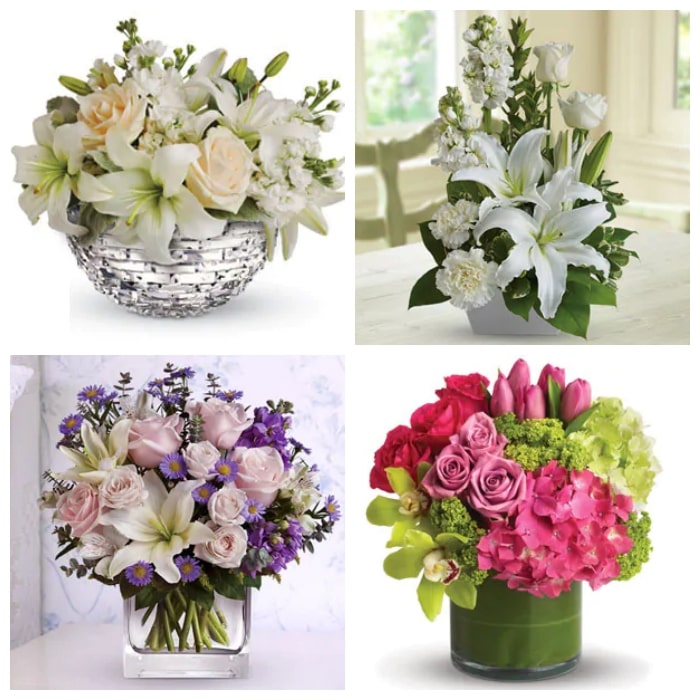 7 Days Florist has been one of the go-to flower shops in Brisbane. And that's not surprising. They've been on the business for over 25 years! Their secret? Fresh flowers at great value. Every time.
SPECIALTY
Designer's Choice Bouquets
SELECTION SIZE
Large
STARTING PRICE
$35.90
DELIVERY FEE
Depends on Location
WEBSITE
www.7daysfloristchermside.com.au
SOCIAL MEDIA
Instagram: @brisbaneflowers
Facebook: /brisbane.flowers/
CONTACT DETAILS
07 3359 2088
WHAT PEOPLE LIKE
LARGE COLLECTION OF FLOWERS. From 'I'm Sorry' to 'Get Well Soon' flowers, you won't have a hard time looking for a bouquet that would fit any occasion. And for days that you just want to surprise someone for no reason, check out their 'Just Because' collection.
DESIGNER'S CHOICE BOUQUET. If the almost endless choices of flowers are intimidating for you, there's a designer's choice bouquet you can opt to buy. Just choose the color scheme that you want or for what occasion is it for. Their florists will handle the rest.
PRODUCTS
DESIGNER'S CHOICE BOUQUET: $60.90 – $80.90
BOUQUETS: $60.90 – $177.90
ROSES: $35.90 – $227.90
NEW BABY FLOWERS: From $37.00
DELIVERY & PAYMENT
Order before 2 PM weekdays and 10 AM Saturdays, for same day delivery.  Billing information required to see payment options.
7. SWEET MOMENTS FLORIST

Sweet Moments Florist makes sure to craft the perfect flower arrangements for their clients. They take into account the occasion, the colors, the theme and everything needed to live up to your requests.
Recently, they have been named as one of the best florists in Brisbane and the best flower delivery services in Australia.
WHAT PEOPLE LIKE
HASSLE-FREE, SAME-DAY DELIVERY. Now, you won't have to worry whether or not your loved ones will receive their flowers within the day. Sweet Moments Florist makes it easy for you to make your family member or friend's day even better.
PREMIUM QUALITY FLOWERS. Rest easy knowing that they deliver bouquets that are constantly in excellent condition.
PRODUCTS
Aster – $84.50
Basket of Memories – $144.50
Blue Lover $74.50
DELIVERY & PAYMENT
They can have your order shipped on the same day if you were able to place it by their cut off time of 1pm weekdays. Contact shop for payment options.
8. CARINA FLORIST

Nina Roebig, the owner of Carina Florist, has been working in the flower industry for over 30 years. In 2007, she took over the shop from its previous florist and made it a space of her own.
They offer a wide range of products and take pride in their excellent customer service.
SPECIALTY
Flowers, Potted Plants and Gifts
SELECTION SIZE
Curated
STARTING PRICE
$60
DELIVERY FEE
Depends on location
WEBSITE
https://www.carinaflorist.com.au/
SOCIAL MEDIA
IG: @carinaflorist
FB: @CarinafloristCarina
CONTACT DETAILS
(07) 3395 0793
WHAT PEOPLE LIKE
Friendly and genuine customer service
Exquisite wedding flowers
Offers same day delivery
PRODUCTS
Louise – $95
Corine $130
Diamond – $180
DELIVERY & PAYMENT
If you want to have your orders shipped the same day, place your order by:
12pm (Midday) Monday – Friday or 10am Saturday. Payment options include Visa, MasterCard, AmEx and Paypal.
9. Samuel Art Flowers

Samuel Art Flowers is an Australian online flower shop that specializes in luxury boxed blooms.
They offer various floral products for all occasions, weekly floral arrangements, and handmade accessories as well as floral arrangement services for weddings.
WHAT PEOPLE LIKE
Flowers for all budgets and all occasions

Freshly picked flowers
PRODUCTS
Sweet Lover $55
Believe $85
Laura $120
DELIVERY & PAYMENT
Samuel Art Flowers delivers with a flat delivery fee of $9.90 for orders. Payments may be made via PayPal, Visa, MasterCard, and American Express.
10. Indigo Flowers and Gifts

Indigo Flowers and Gifts offers a wide array of floral arrangements. They hand deliver to areas in Yeerongpilly and its surrounding suburbs.
The flowers that they sell are sourced daily by their skilled florist.
SPECIALTY

Fresh flowers

SELECTION SIZE

Large

STARTING PRICE

Starts at $50

DELIVERY FEE

Calculated at checkout

WEBSITE
https://www.indigoflowers.com.au/
SOCIAL MEDIA

FB: @indigoflowersandgifts

IG: @indigoflowersandgifts

CONTACT DETAILS

Phone: +61 409 800 666
WHAT PEOPLE LIKE
FLOWERS FOR EVERY OCCASION –

 They have a great selection of flower arrangements, including Australian Natives and Tropicals,  that are perfect for every occasion there is.

SAME DAY DELIVERY – They offer same day delivery for orders placed before their cut off time.
PRODUCTS
Tulips Bunch – $59

Purple Lover – $65

Potted Orchid – $70
DELIVERY & PAYMENT
Orders placed before 11am will be shipped on the same day. Payment options include AmEx, Apple Pay, Google Pay, MasterCard, Paypal, Shop pay and VISA.
11.  FLOWER ACROSS BRISBANE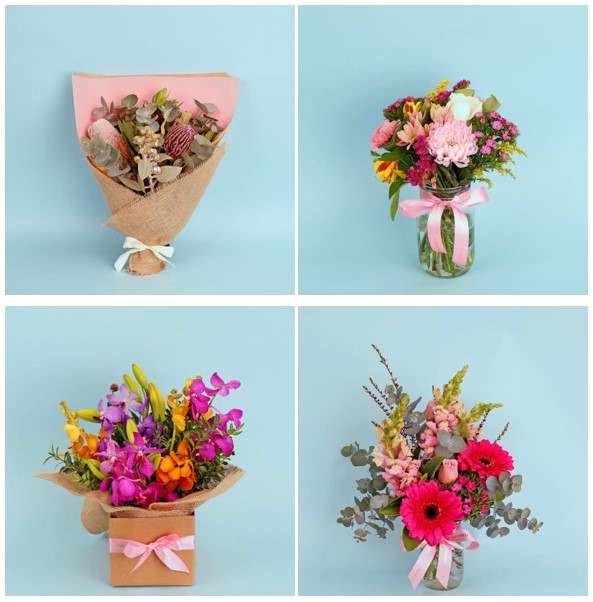 Flowers Across Brisbane is a locally owned and operated flower shop that offers clients an extensive range of flower arrangement options that are ideal just for any budget and for any occasion the client may need it.
WHAT PEOPLE LIKE
AFFORDABLE SELECTIONS. With flowers available for well under $50, their flowers are fresh, and bouquets are made to order to ensure that clients get the best out of their selected flower arrangement. Furthermore, they have an updating system that readily sent to the customer all the needed information when it comes to confirming and receiving orders to have a hassle-free experience with them.
EXPERIENCED TEAM OF FLORISTS. Overall, with their professional team of florists, prompt customer service, excellent selection of flowers, and premium quality flower arrangements, we recommend clients in the area to check their shop out and see if they have the perfect bouquet.
PRODUCTS
Sweet Petite Bunch – $36.50
Surprise Little Flowers – $39.00+
Bright Blooms – $39.90
DELIVERY & PAYMENT
They charge different delivery fees to various areas that they serve but they do accept a wide range of payment modes such as Visa, MasterCard, PayPal, Zip, and Afterpay among others.
Images were taken from each company's official websites/social media.