Valentine's Day Floral Statistics
In 2019, the average consumer would spend about $15.07, slightly up from $14.75 last year as reported by the NRF. A separate survey conducted by the Society of American Florists yielded $75 as the average amount spent for flowers on Valentine's Day. This means that the projected floral spending by the NRF at $1.9 billion could be progressively higher in reality.
Fewer people are celebrating Valentine's Day
Spending is certainly up on a yearly basis during this heartwarming celebration despite the fact that fewer people are actually planning to celebrate. From 55% in 2018, only 51% reported plans on celebrating Valentine's Day in 2019. At the same time, planned spending increased from $144 to $162. 
The decreased interest in celebrating Valentine's Day can be attributed to a growing perception that the occasion is overly commercialized.
"We did some surveying to understand why people might choose not to participate, and three overwhelming reasons were that: there was a sense of feeling among some consumers that Valentine's Day is over-commercialized; people also tend not to participate if they do not have a significant other; and then they just weren't interested anymore." — Katherine Cullen, NRF director of industry and consumer insights via MarketWatch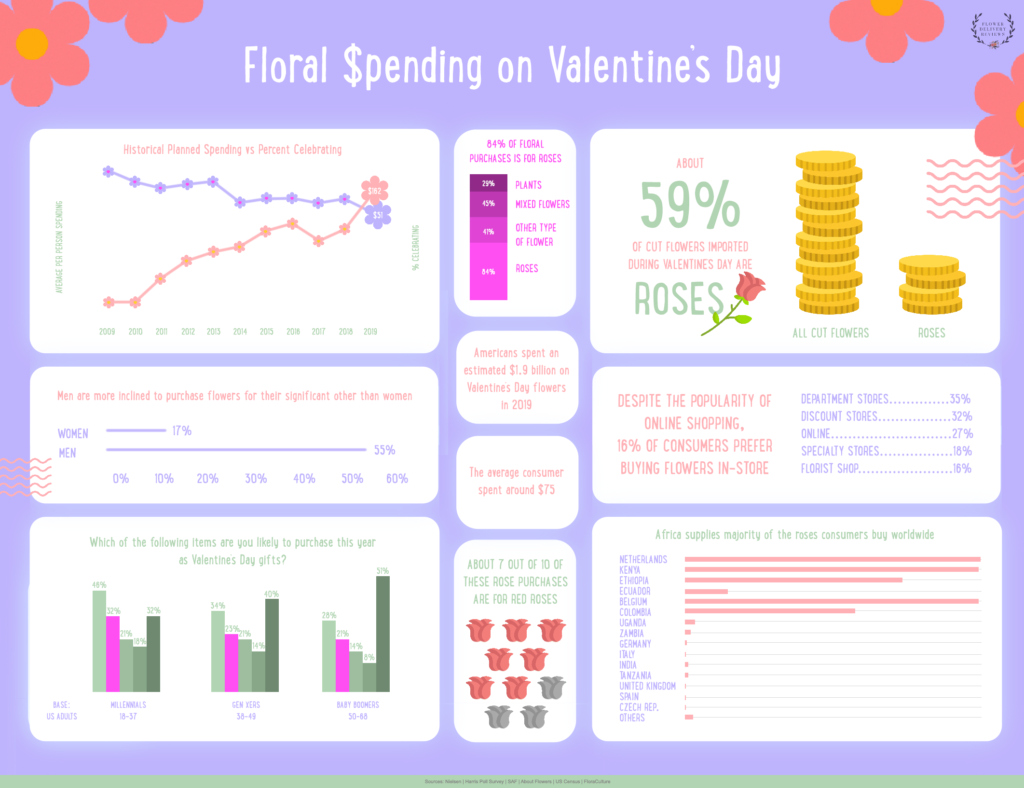 Men outspend men in floral spending
Valentine's Day is one of the few occasions when men outspend women on flowers. Some 55% of men report planned floral purchases for Valentine's Day compared to only 17% of women. Another occasion where men outspend women on flowers is Mother's Day. In contrast, far more women (74%) are buying flowers during thanksgiving than men (26%). In such occasions, men purchase flowers as gifts, while women purchase flowers for personal use such as for decorative purposes.
Millennials set the trend
In terms of age group, Millennials are more likely to buy flowers (32%) than other generations. Part of the reason could be the fact that there are now more than 74 million Millennials, overtaking the Baby Boomers. As such, their large take when it comes to consumption means marketers need to strategically target them based on Millennial spending patterns and behavior. For instance, Millennials prefer practical yet aesthetically pleasing gifts. They are also pushing for eco-friendly products and sustainable practices. Millennials are also active on social media which means brand can benefit from visibility in their chosen platforms.

Furthermore, Millennials want gifts that give back, so we see an increase of florists offering flowers for a cause. Floral subscription is also a favoured service by millennials who want to streamline their purchases. Plus, a greener homespace is usually equated to a better and healthier lifestyle as backed by studies.
Roses still favoured in romantic gestures
Unsurprisingly, roses still reign supreme when it comes to consumer's flower of choice. In 2018, about 250 million roses were produced exclusively for Valentine's Day. Roses, after all, symbolize deep and passionate love. Through a series of events dating back from Victorian times, the rose has become intertwined with the concept of love and romance. This enduring symbolism is good news for florist as almost 9 out of 10 buyers will buy roses, although 45% of floral purchases are typically mixed flowers.

Finally, Valentine's Day is all about creating moments and experiences. This is probably why 16% of buyers still prefer buying flowers from brick and mortar shops; about one in 10 consumers purchase blooms in-store. Buying in-store also allows you to choose the flowers and see the product first-hand before personally handing it to your significant other or intended recipient. On the other hand, procrastinators and busy bees can benefit from the speed and convenience of purchasing flowers from online florists. It all depends on circumstances and priorities.
---